You can never run out of things to do on the weekend. So why are so many of us mulling around and sitting in front of our TV's watching American Idol and Survivor reruns on Comcast On Demand while everybody else is out there having a blast?
Last night, my brother invited me to a Sunday barbecue at his house and I had no choice but to politely turn him down for one simple reason; by Wednesday of any given week, my weekend is booked solid with plans for things to do! That's not to say I wouldn't ever be flexible and change my plans for him but when I have two kids and a wife whose hearts are set on going to the Florida Keys for a Sunday outing, the choice is easy! I asked him if he wanted to come along and he politely turned me down. Regardless, I set up a family get-together with him the following week and I'm sure we'll have a great time.
One of the keys to consistently having a great time on the weekend is to be flexible and spontaneous. I have had some of the most memorable times through spontaneity. You may be a single girl or guy with big plans on going to the pool or beach this weekend until you get a call from you cousin Michael who's inviting you to go out on his boat to the most 'happening' place in the water, with many other good-looking guys and girls in tow. How do you say 'no' to that? Dude………THE PARTY of the month has just landed in your lap!
Some people have a difficult time chasing some weekend fun because their days off don't fall on the weekend. Still, many of those same people find themselves adjusting to their friends' and families' schedules so they don't miss out on all the fun by taking days off or by accepting the fact that although they work on the weekend, they are still going to have their fun. Many of these folks wake up on a Saturday or a  Sunday with a terrible hangover but they still go to work! And guess what? They still enjoy their weekends immensely but they occasionally have to slow down and lay low every now and then in recuperation so they can start having fun all over again! These people deserve a standing ovation.
If you feel you can improve your weekend a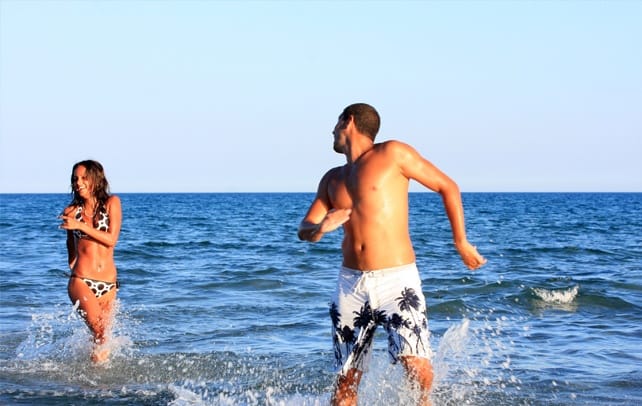 ctivity, plan out at least one fun thing to do in advance and stick to the plan.It's ok to stay home and spend quality family time on a Sunday, especially when you need to recharge your batteries from the stress and fatigue of a long work week. Also, don't forget that when you have great times on the weekend, it gives you something positive to talk about during the week and something to feel great about when you are talking amongst your friends while you are texting, Skyping, on Facebook or Twitter, or simply having lunch with your work mates. People are drawn to others who like to have fun!
One important thing to note before we get to the nitty gritty; once you find a yearly event you like, make sure you take note of the date so you can attend the same event next year.
Here are some ideas for fun to spark your imagination so you never run out of things to do on the weekend:
 Go to the beach or local pool. Take plenty of sunscreen and spend time in the water with your loved ones. There is nothing more refreshing or relaxing than this, especially if you are in possession of your favorite beer holder! Some of the greatest times I have had included chicks, beer, and a pool or beach!
Go on a fishing trip.  If you don't have any rod and reels, borrow them from your Uncle Charlie and tell him you'll have them back within the next few days. If you have never fished or have limited knowledge of how to do it, surf through the Internet and see the type of fishing you can do in your area and don't be afraid to ask the bait and tackle shop people questions on how to fish. Then, the following weekend, go fishing again to complete your two for one deal and stop by Charlie's house on the way back and thank him for providing such awesome entertainment for you. One word of advice; if you are getting more bites from mosquitos than you are from the fish, you are doing something wrong! Go back to Google, get more information, and make an adjustment. These will be some of the most fun weekend trips you will ever take.
Invite people over for a barbecue or get-together. You can do this at your place or in a park. It doesn't have to be expensive at all. Hamburgers, hot dogs, and a few suds have never been a threat to anybody's wallet or pocketbook! If you can add a few tiki torches at your place and spring for a small assortment of drinks for all ages, you will be everyone's king or queen for a day. Encourage others to bring their favorite baked dishes and you'll be set!
Have a karaoke party. Karaoke sets are fairly inexpensive these days and they carry loads of fun. Some of the best times I have ever had have been at a friend's house where we would swim in the pool all day and barbecue churrasco steaks before warming up our vocal chords with Corona beers in order to start belting out the hits! So what if you can't sing! After a few more Coronas, who cares?
Invite friends over to watch a double feature on your big screen TV. This one will take about four hours or so and all you have to do is get the movies, a few bags of popcorn, and ask them to bring their own refreshments. Fun has never been more practical than this. You get to hang out with your friends and talk about how awesome Julia Roberts was in her role, and you can decide what your next

move

is if the night is still young! Duffy's Tavern, anyone?
Keep an eye out for local events. In most cities and towns, there is always something free and interesting to do but people hardly ever take advantage of it. Meetup, Goby, and Shake Up are three apps you can use on your smart phone and thy will give you all the information you need to find something locally. Additionally, I use Local Yahoo sometimes to find out what's going on in my town on the weekend. Watch for arts and crafts shows, free concerts, wine tastings, and food and music festivals; out of all the fun things to do on weekends, these can turn into your favorites if they are not already!
Volunteer your time and get your friends and family members involved.  Find a local charity and donate your time at least once a year. The personal satisfaction of helping others have the fun you constantly have will more than warm your heart and you will appreciate your weekends even more!
Visit garage sales or flea markets. These are loads of fun and there's no telling what you will find. Make plans to have a nice lunch at your favorite restaurant while you are at it, and mix in a movie night; you will be set! If you are looking for fun weekend activities, this one may turn into a regular outing for you.

Go clubbing

. When was the last time you got dressed up and painted the town to take advantage of the city's nightlife? This can be the easiest way to instantly rev up your spirit; club music has a way of waking up even those who are lifeless! Plan on hitting a few different clubs; you just may like one and come back over and over again!
Have a picnic. Weekend fun would be incomplete if I didn't include visiting your favorite park, taking a nice long walk, settling down in your favorite spot, pouring yourself a glass of wine, and chowing down on those amazing chicken chipotle sandwiches you prepared at home. After the picnic, stop by your favorite coffee shop, get a to-go cup of coffee or tea, and take a long scenic drive somewhere interesting. Some weekends were made for ultimate relaxation!