A Home Depot application can be the start of an exciting journey in the retail business and a chance to make a nice living, and something often overlooked with this company is the variety of jobs available within the company.
On the surface, when one thinks about applying at this home improvement store chain, he or she is usually thinking of an entry-level or management retail position. However, if you dive a little deeper into the information provided by this company on their main website, you will see a vast array of job openings that will boggle your mind!
Look For Home Depot Jobs
If you are hoping to apply at Home Depot, you should know there are job openings in five different categories to choose from:
Retail Store Jobs
These hourly positions include:
1. Sales Associate – you are the first face the customers see and they go straight to you if they need answers to questions about products. Your job is to help them navigate through the store, to find what they are looking for, and to help them with any type of home improvement they are hoping to complete.
2. Lot Associates – with this position, you will be retrieving shopping carts, helping customers place their purchases inside their vehicles, and you will be responsible for the general cleanliness in the front of the store.
3. Cashier – this one is self-explanatory but realize you may be working the cashier one minute and the next, you may be filling in for a sales associate within the store.
4. Freight Team Member – this position is one behind the scenes where you will be working nights so you can stock merchandise and make the sales floor presentable.
5. Asset Protection – as part of the security team, you will be on the floor as well as monitoring, observing, and reporting illegal activity within the store.
As an hourly worker you are expected to be flexible enough to work different shifts if necessary and this includes weekends, nights, and holidays.
Store Management Positions
These are professional positions requiring strong leadership capabilities:
1. Store Manager – you will be expected to ge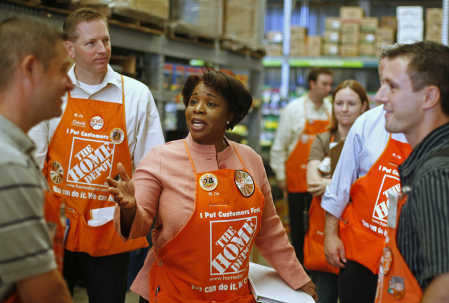 nerate revenue for your store, you will effectively manage your employees and resolve issues as necessary, the financials of the store will be directly in your hands, and you will guide your team of assistant managers in completing all necessary tasks for the benefit and success of your particular store.
2. Assistant Manager – here, you must also have strong leadership skills and you should be able to effectively manage those under you. You will be working directly under your store manager and you will be entrusted to assume many of his or her responsibilities.
As managers, you also have to work flexible hours just as associates do.
Supply Chain (Distribution Center Jobs)
These opportunities are some of the most important Home Depot Jobs available. With over 70 distribution centers in North America, chances are you may be able to find a career here that suits your qualifications.
There is plenty of physical work required for many of these positions and you are offered training as well as a chance to exercise and stretch to avoid bodily injuries while working.
Some of the available Home Depot jobs in distribution centers are:
1. Office Associates – with these positions you will play a critical role in resolving any customer issues that arise and you will perform various clerical duties.
2. Warehouse Associates – this is a physical position where you will load and unload products and operate forklifts after receiving the necessary training. You will also be required to lift 75 pounds.
Call Centers
These jobs deal primarily in customer service where you will be able to resolve any customer issues and needs through your problem solving skills learned through training. There are two primary call centers; one in Ogden, Utah and the other in Kennesaw, Georgia. There are other Contact Centers to work at and all you have to do is look on the official website for a center near you.
Merchandising
A Home Depot application in this area will lead you to various professional positions in merchandising such as; merchandising executive area supervisor, merchandising execution associate, merchant product development, senior business analyst, region merchandising manager, and many others.
Corporate Positions
Located in Atalanta, Georgia, the Home Depot corporate offices provide many professional and hourly positions which include marketing and finance as well as social media and product development. There are also a few affiliate companies to work for in this area such as the Home Depot Direct and the Decorators Collection.
Where Can I Find a Home Depot Job Application?
You can visit the Home Depot Careers Site and create a free account before you can look for all the jobs available in your area. The entire application process will take you approximately 30 minutes to an hour and a half, so plan on being there for a while so you can set the wheels in motion to finding a good job.
Once you apply, they usually call you back within two weeks to schedule an interview but if you find it is taking too long you should go and visit the store of your choosing in person and introduce yourself to the management team. Tell them you are following up on your application online and leave them your contact information in case a job opening comes up so they can consider you for the position.
How Difficult is the Interview?
Not difficult at all and the interview will vary from position to position. In other words, they won't generally ask an entry-level worker the same questions as someone who is applying for certain professional careers.
The more prepared you are for the interview, the better you will do and your chances of getting hired will rise in dramatic fashion. Take a few moments to practice answering common interview questions with the help of a friend.
It's hard to argue with the fact that a Home Depot career just might be anyone's chance to improve their home life and finances and it can be the ticket to ultimate success. It's a proven company with an amazingly successful history that is here to stay.