Michaels gets great reviews from its employees regarding the positive culture and working atmosphere. When it comes to hourly pay, this company generally gets mixed reviews.
Below, you'll see:
Michaels starting pay
Full-time and part-time hours you can work
Shift hours you will be assigned
All the jobs available and what they pay on average
When Michaels pays its employees
When Michaels gives pay raises and how much
What the break policy is 
The dress code
Michaels Starting Pay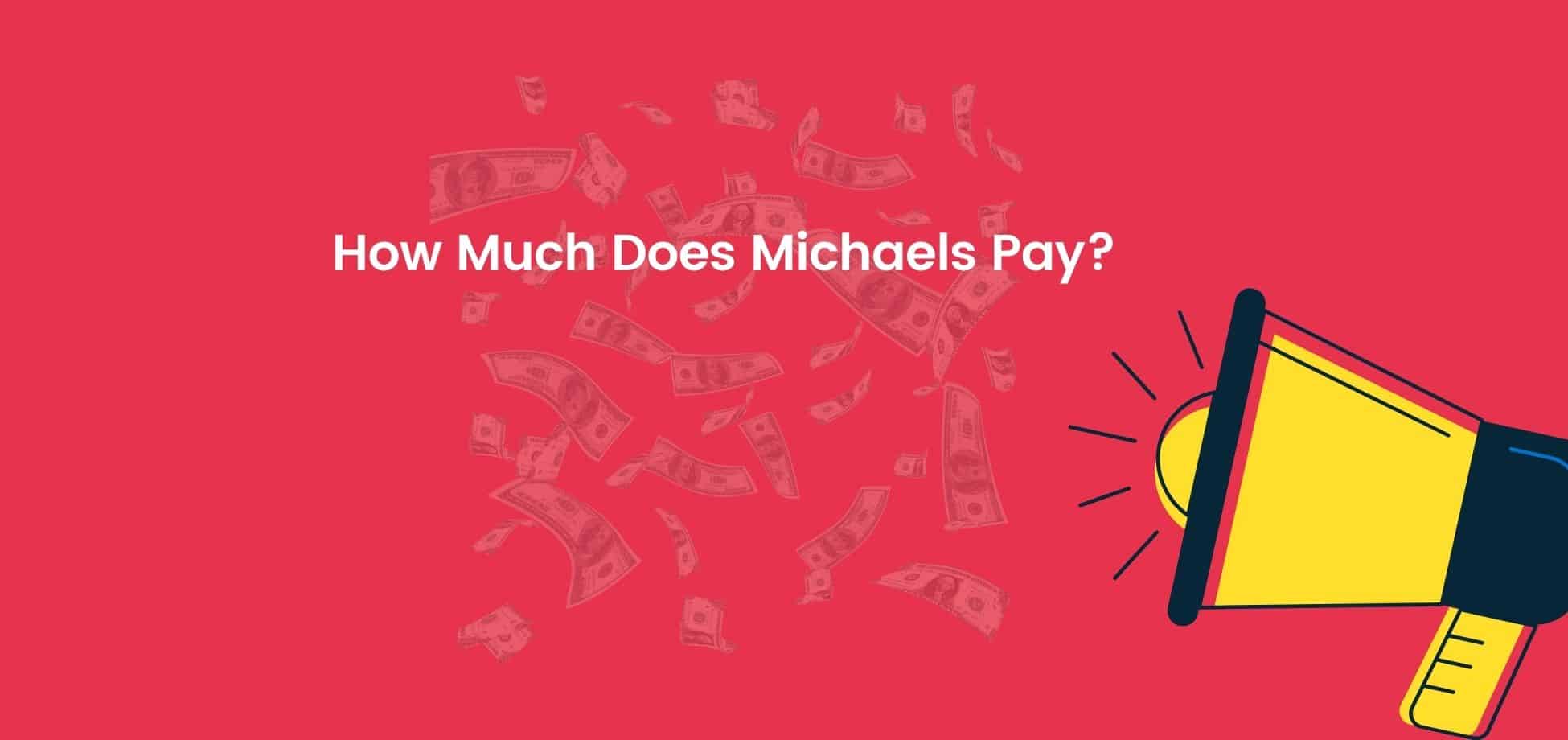 The starting pay at Michaels stores is a little below average. Generally, you can expect to make from $.25 to approximately $1.50 higher than the minimum wage in your state. 
As an example, an entry-level worker in North Carolina can expect to make approximately $8.25 an hour to start because the minimum wage in that state is $7.25 an hour. Some stores may even give you a lower starting salary but more than likely, it would be at least $8.00 an hour.
Michaels Full-Time Hours
Full-time employees get to work anywhere between 32 to 40 hours a week. Sometimes, a full-time employee can earn a few overtime hours due to people calling out sick.
Some employees complain about this retail chain not hiring enough full-time workers. They go on to say that it's very difficult to get hired full-time.
Michaels Part-Time Hours
If you're working on a part-time basis at Michaels, you can expect to get assigned between 19 to 30 hours a week. Your management team will schedule you for 4 to 6-hour shifts throughout the week.
If you are very picky about your days available, you may be overlooked for many opportunities to add more hours. 
Shift Hours
Shift assigned can vary from store to store, but these are the common ones:
5 AM to 10:30 AM
6 AM to 11 AM
7 AM to 1 PM
7 AM to 3 PM
11 AM to 5 PM
2 PM to 7:30 PM
3 PM to 11 PM
5 PM to 10:30 PM
Your management will schedule you to benefit the needs of your store's workload.
Michaels Pay
Michaels pays its hourly workers fairly average wages compared to other retail stores. The following will give you an idea of the jobs available and what the average pay is for these positions.
Michaels Sales Associate Pay
A Sales associate at this retail chain makes approximately $12.25 an hour. This amounts to $490 a week and a yearly salary of $25,480.
Employees who have worked at this retail store chain say it's really difficult to get overtime hours approved but not impossible. If you figure you're going to work a few overtime hours here and there, you can probably make somewhere around $26,000-$27,000 a year in this position.
If you are interested in earning a higher starting wage, consider filling out a Hobby Lobby job application. Although it's hard to get hired full-time right away with this store, the starting pay for full-time employees is $17 an hour.
Michaels Cashier Pay
A cashier at Michaels makes about $11.30 an hour. That's about average pay for a cashier position and it means you'll earn approximately $452 a week and $23,504 a year if you work full-time.
This job is very stressful and at times difficult, and this job causes employees to call out sick more often than just about any other job at Michaels. This opens up the door for an opportunity to make more money by working overtime hours for people who call out sick.
Michaels Stocker Pay
A stocking associate at Michaels makes approximately $11.35 an hour. This would give you $454 a week and approximately $23,608 a year.
There are a lot of part-time jobs available for this position where you only work approximately 20 to 25 hours a week. Based on that workload, you can make approximately $15,500 a year working part-time.
Michaels Framer Pay
As a framer, you can expect to make approximately $11.85 an hour. For this type of work, you will probably feel a little underpaid and overworked because the hourly pay is well below-average for this type of work.
However, when it comes to big retail companies, this is what you would expect. If this is your expertise, you may want to consider working at a small, family-owned framing business.
With $11.85 hourly, you can expect to make about $474 a week and a yearly salary of $24,648.
Michaels Framing Manager Pay
The framing manager makes approximately $14.90 an hour, on average. This amounts to $596 a week and $30,992 a year.
You can expect to work some overtime hours every month because of the high responsibility associated with this position. Therefore, you can expect to possibly make about $33,500 a year on average.
Michaels Support Specialist Pay
A support specialist at this retail chain can make approximately $18.80 an hour. This would give you $752 a week and $39,120 a year in salary.
For this type of position, the salary is well below the national average and working for a privately owned company may be a better choice.
Michaels Customer Experience Manager Pay
The customer service manager at Michaels earns approximately $12.30 an hour. This comes out to about $492 a year and a salary of $25,600.
Michaels Assistant Store Manager Salary
Assistant store managers at this retail chain typically make approximately $22.55 an hour. This equals $902 a week and a yearly salary of $46,904. 
A promotion to a store manager can boost an assistant manager's income substantially, so many of these employees set this achievable goal and eventually get promoted in a reasonable amount of time.
Michaels Store Manager Salary
The store manager at Michaels earns on average, approximately $77,350 a year. This figure does not include an average annual bonus of $5,000-$7,000 a year.
The salaries for this position can range from $57,500-$92,360 a year. You find out more information and see all the jobs available at Michaels in your area here.
Does Michaels pay weekly?
The Michaels pay period usually begins on a Sunday and ends on the 2nd Saturday after that. Then, you get paid on the following Thursday for the two weeks of work during that pay period.
How do you get paid?
At Michaels, you could elect to receive your compensation through a direct deposit, a paper check, or a payment card.
When do you get a raise at Michaels?
Every year in June, based on your performance review, you will receive a raise with a maximum amount of a 3% increase in pay. 
So, for example, if you are making $10 an hour and you receive a good performance review, you may get a 3% bump in pay. This would make your hourly wage $10.30 an hour.
Break Policy
Michaels gives its workers two paid 15-minute breaks when they work a shift of 8 hours or more. This also comes with an unpaid meal break lasting 30 to 45 minutes when you work at least 6 hours during your shift.
What is Michaels dress code?
The dress code will vary between locations but you can bet you will be dressing in casual wear. Starting from top to bottom, you will wear either a company-issued polo shirt or any other type of shirt or blouse without any lettering or words on it.
The bottoms allowed are jeans, khaki, or other solid-colored pants. You will wear your Michaels vest over your shirt and you'll be expected to wear comfortable shoes such as sneakers.
Other things worth mentioning are that you can wear tattoos, colored hair, and body piercings as long as they are not over the top and offensive.
Featured image courtesy of Mike Mozart from Funny YouTube, USA, CC BY 2.0, via Wikimedia Commons.