To answer the question "how much does Checkers pay?", the following information will provide you with current hourly wages and salaries.
Please keep in mind that in the southeastern part of the U.S., the company operates as Checkers and in the Midwest, it is named Rally's. This means, without a doubt, some folks will type the keyword "how much does Rally's pay?" into the search engine box.
Checkers Starting Pay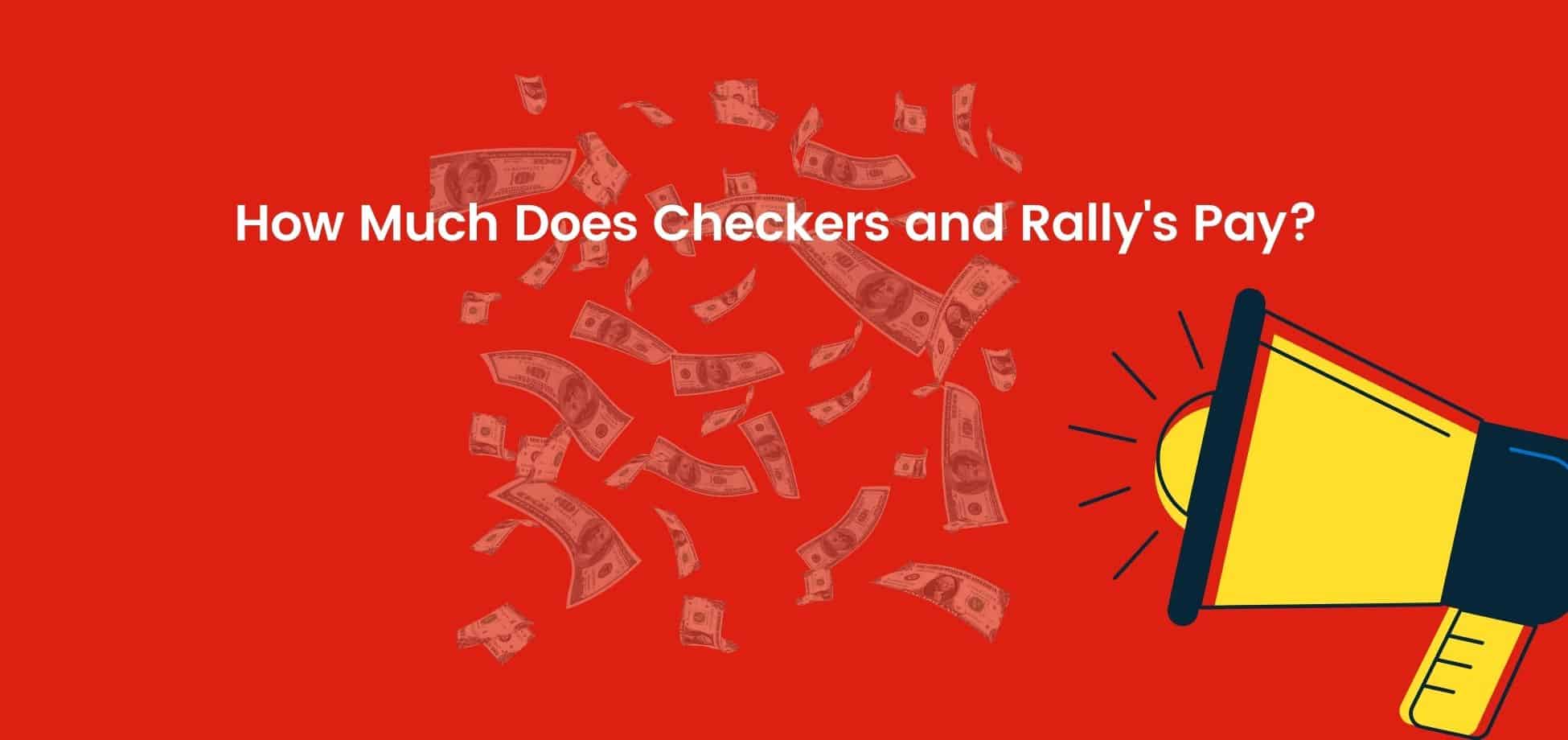 The Checkers base pay (Rally's included) for entry-level hourly workers is between $9 and $10 an hour unless you live in an area with a higher minimum wage.
This is very low and as a result, some employees are very dissatisfied with the starting wages offered at this company. Still, it's possible that you can get a decent starting hourly pay rate, depending on the location you choose.
Checkers Crew Member Pay
The average Checkers hourly pay for crew members is around $11.28 an hour. This amounts to $451 a week and a yearly potential salary of $23,462.
The crew member is responsible for providing excellent customer service and greeting customers, taking orders, operating the cash register, stocking shelves, and cleaning the store. This position is all about being available to help the store run smoothly in any way you can and to comply with your management's assignments.
Checkers Cashier Pay
The Checkers pay per hour for cashiers is roughly $12.23 an hour, and this equals $489 a week and $25,438 yearly.
The cashier at Checkers is responsible for providing fast and friendly service to customers. This includes taking orders, processing payments, and providing change. He or she also provides exceptional customer service by being knowledgeable about the menu and products, as well as store policies and procedures.
Checkers Cook Pay
Checkers hourly pay for cooks, on average, is $9.57 an hour. This is very low for the type of work you will likely be performing. It amounts to $382 a week and a yearly salary of $19,905.
The cook is responsible for preparing and cooking food items according to Checkers' recipes and specifications. This includes preparing and cooking all items on the menu, as well as other items as needed.
Checkers Shift Manager Pay
The Checkers pay rate for shift managers is approximately $11.98 an hour, which translates into $479 a week and $24,918 yearly.
The shift manager at Checkers is responsible for overseeing the operation of the store during their shift. This includes ensuring that all team members are working to their fullest potential, ensuring that all customers are served in a timely and friendly manner, and ensuring that all company policies are followed.
Checkers Assistant Manager Salary
The pay at Checkers for an assistant manager is about $12.83 an hour, on average. This would amount to $513 a week and a yearly salary of $26,686. There is also a chance to earn up to $2,000 a year in cash bonuses,
This is a very responsible position, and the pay is well below average for this type of job. The responsibilities include hiring, training, and supervising employees. Additionally, an assistant manager ensures that all company policies are followed and maintains inventory levels.
Checkers Manager Salary
A Checkers manager earns approximately $49,367 a year. This is close to the average amount for this type of fast-food restaurant position.
The manager is responsible for overseeing the daily operations of the store. This includes managing the team, ensuring that all products are stocked, and overseeing customer service.
Additionally, you can expect plenty of fast-paced activity with this job as everyone looks to you for guidance and support, and to resolve any customer issues.
Does Checkers Pay Weekly?
Checkers typically pays its employees every two weeks. Some employees say they prefer this method because if they were paid every week, the paycheck would be extremely low and disappointing!
Checkers Raises
If you are working in corporate-owned Checkers or Rally's locations, you can expect a bump in pay every year from 1% to 3%, based on your job performance. However, if you are employed at a franchisee location, the pay raises are inconsistent, depending on your restaurant owner.
Checkers Working Hours
Most locations offer their workers ample hours to be able to hit the 40-hour-a-week mark for full-time employees. Some franchisee-owned locations cut back on employee hours, in order to prevent them from gaining full-time status and/or to prevent having to pay overtime wages.
Full-Time Hours
Full-time workers are assigned an average of 30 and 40 hours a week. Some locations ask their workers to fill in for other employees when they call out on personal leave, and this can add plenty of overtime work hours and improve a worker's salary throughout the year.
Part-time Hours
Part-time workers generally report that Checkers and Rally's oftentimes offers a higher than usual amount of hours, between 15 and 35 hours a week.
Of course, if you make it known you are willing to work for people who call out sick, you may be able to squeeze even a few more hours here and there in order to increase your paycheck.
Checkers Shifts
Here are some examples of the shift times you may be assigned at checkers or Rally's:
8:30 AM to 6:30 PM
9:00 AM to 2:00 PM
12:00 PM to 8:00 PM
2:30 PM to 7:30 PM
5:00 PM to 12 Midnight
6:30 PM till 4:00 AM
9:00 PM to 5:00 AM
9:00 PM to 2:00 AM
Sick Leave
Corporate-owned and some franchisees offer their hourly full-time employees 5 to 6 sick days every year. Many franchisee-owned locations are extremely strict with their hourly employees and make them bring a doctor's note even if they miss one day of work due to illness.
Break Policy
Breaks are hit or miss with this company, depending on which location you are employed with, so it's important to:
Communicate with your management team
Be a dependable worker and show up on time to work every day
Ask for a break in accordance with your store's policy
Before you are hired, it's a good idea for you to ask about your location's policy on taking breaks. Be aware there are different laws in every state, and it's possible you can get a mandatory meal break, regular 10 to 15-minute breaks, or both.
Featured image courtesy of Michael Rivera, CC BY-SA 4.0, via Wikimedia Commons.