All Dairy Queens are franchise-owned and as mentioned before throughout the DailyWorkhorse.com site, this has its distinct advantages and disadvantages.
Working at a corporate-owned store has advantages, such as generally higher starting pay and better working conditions. If you work for a franchise-owned business, the starting pay and working conditions are hit or miss because franchise owners run their stores differently, even though they adhere to company policies.
Additionally, franchised-owned stores are notorious for not offering their hard-working employees a chance at participating in a health benefits program.
Still, even though Dairy Queen hourly workers generally don't have a chance to get health benefits, there are other perks along the way and many positive things to consider.
Working at Dairy Queen Employee Reviews
If you research the reviews given by employees at Dairy Queen on websites such as Indeed.com and Glassdoor.com, you will see the following pros and cons of working there:
Pros
It's a great job for high school and college students who want to earn extra money and learn great customer service
Working there makes you feel like you are part of a team and family
Most stores give great discounts for employees on food 
If you work hard, you can get steady raises
Management treats you very well
They offer flexible scheduling, especially if you are a high school or college student
The workplace is fun and enjoyable
Cons
No chance to get benefits for hourly workers
The company has a difficult time finding good managers
Your shift hours are sometimes very long because you end up covering for someone else
The pay is too low
Taking an occasional break is very hard to come by
There is not much room to advance within the company
Dairy Queen generally received slightly above-average ratings from its employees and a few important points stood out. Many said that management treated them very well and they were offered a chance to advance within the company.
Another important positive aspect was that the atmosphere was generally a lot of fun and coworkers were team-oriented people who made each other feel like part of a family.
History
Sherb Noble and J. F. McCullough founded Dairy Queen and opened up their doors for business on June 22, 1940, in Joliet, Illinois. 
This came after McCullough and his son convinced Noble to start using their soft serve ice cream product in Noble's ice cream store located in Kankakee, Illinois. The soft-serve formula was an instant success, and the rest is history.
DQ eventually expanded using its franchise system to currently having over 4,455 locations in the United States and over 6,800 worldwide.
Dairy Queen doesn't disclose how many actual employees they have across the United States at the actual stores. However, based on a conservative estimate of 10 employees per store, there are well over 45,000 employees working hourly jobs or management positions in the US.
Jobs at Dairy Queen
Job titles at different Dairy Queens vary due to the stores being franchise-owned. The basic crew member position consists of a variety of jobs and each position is determined by the franchise owners.
Here's list of the most common positions you will find at each store:
Cashier
Grill Cook
Cake decorator
Shift leader
Assistant manager
General manager
Dairy Queen Crew Member
As an entry-level crew member at Dairy Queen, your management staff will teach you how to work the cashier end how to provide excellence in customer service. You'll also be expected to learn how to make a perfect cone curl on the soft-serve ice cream machine.
In this job, you will also be expected to take orders at the drive-through window, maintain the cleanliness of your store, and perform a variety of functions as directed by your management staff.
A crew member is the default entry-level position at DQ. Once you are hired for this position, you may be trained to be a cook, a cake decorator, or a cashier and you'll have a chance to advance to shift leader or assistant manager if you work hard and set your sights on that position.
Dairy Queen Cashier
Depending on how your management likes to run its store, you may end up being the cashier at the front end, taking orders, fulfilling them, and becoming an expert at serving ice cream from the machines.
During down times, you will be expected to sweep and clean the floors, as well as the bathrooms.
You'll also have to be flexible at this position because you may be asked to help out with cooking in the grill area at times. This is the type of position at DQ where you will learn the whole business inside and out if you apply yourself.
This will work in your favor someday if you have dreams of opening up your own Dairy Queen franchise.
Dairy Queen Cook
Also known as the kitchen crew member position, this job is all about quickly preparing foods for customers following the DQ guidelines. You'll learn how to operate the cooking grill, fryer, and you learn how to access and store items in the freezer.
This is a very important position that every Dairy Queen managers and franchise owners are always on the constant lookout for; they always need someone who is talented and/or qualified for this position.
Dairy Queen Cake Decorator
This is a specialty position involving decorating cakes with the DQ decorating kits, gel, icing, and other ingredients.
The land this job, you need some experience in cake decorating and usually, Dairy Queen prefers applicants who have a cake decorator's certification. Of course, this is part of being regarded as one of the crew members, so your duties will also include all the general duties that any other crew member would perform.
Dairy Queen Shift Leader
Some Dairy Queens have such a high volume of customers, that they prefer to have a shift leader running the operation under the guidance of the assistant manager and manager. 
In this job, you will be expected to perform all the daily functions of all of your crew members. That means you'll prepare foods, work the cashier, and clean. This is the perfect job for somebody who has much crew member experience at Dairy Queen.
At the same time, you will be expected to perform the functions of an assistant manager by supervising, motivating, and guiding all your employees to success. You'll also be handling customer complaints and resolving any issues that may arise.
DQ prefers workers who have at least three or more months of restaurant experience to fill this position.
Dairy Queen Assistant Manager
As an assistant manager, you will assist your general manager with the hiring process for new employees. you'll be in charge of managing inventory and making sure the right number of products are stocked on a continual basis to be able to run the store efficiently.
You will also assist a general manager in making out the employee scheduling. Although your all-around general duties will be less than that of a shift leader, you will occasionally have to throw yourself into the mix and assist with food preparation and cashiering.
Usually, franchisees expect the minimum qualifications to apply for this position to include some previous supervisory experience. Many crew members have worked their way up to an assistant manager position after gaining at least one year of experience at DQ.
Dairy Queen Manager
Also referred to as the general manager, you will be working under the guidance of your store owner/franchisee. You're expected to manage every area of your store and make important decisions for the benefit of your store.
DQ managers are also expected to promote their stores in order to increase sales. Other duties include making sure the store is properly staffed at all times, managing inventory, hiring and firing personnel, and maximizing sales.
The requirements for this position vary from store to store but usually, you need to have a minimum of 1 to 3 years of restaurant experience as a manager.
How to Apply at Dairy Queen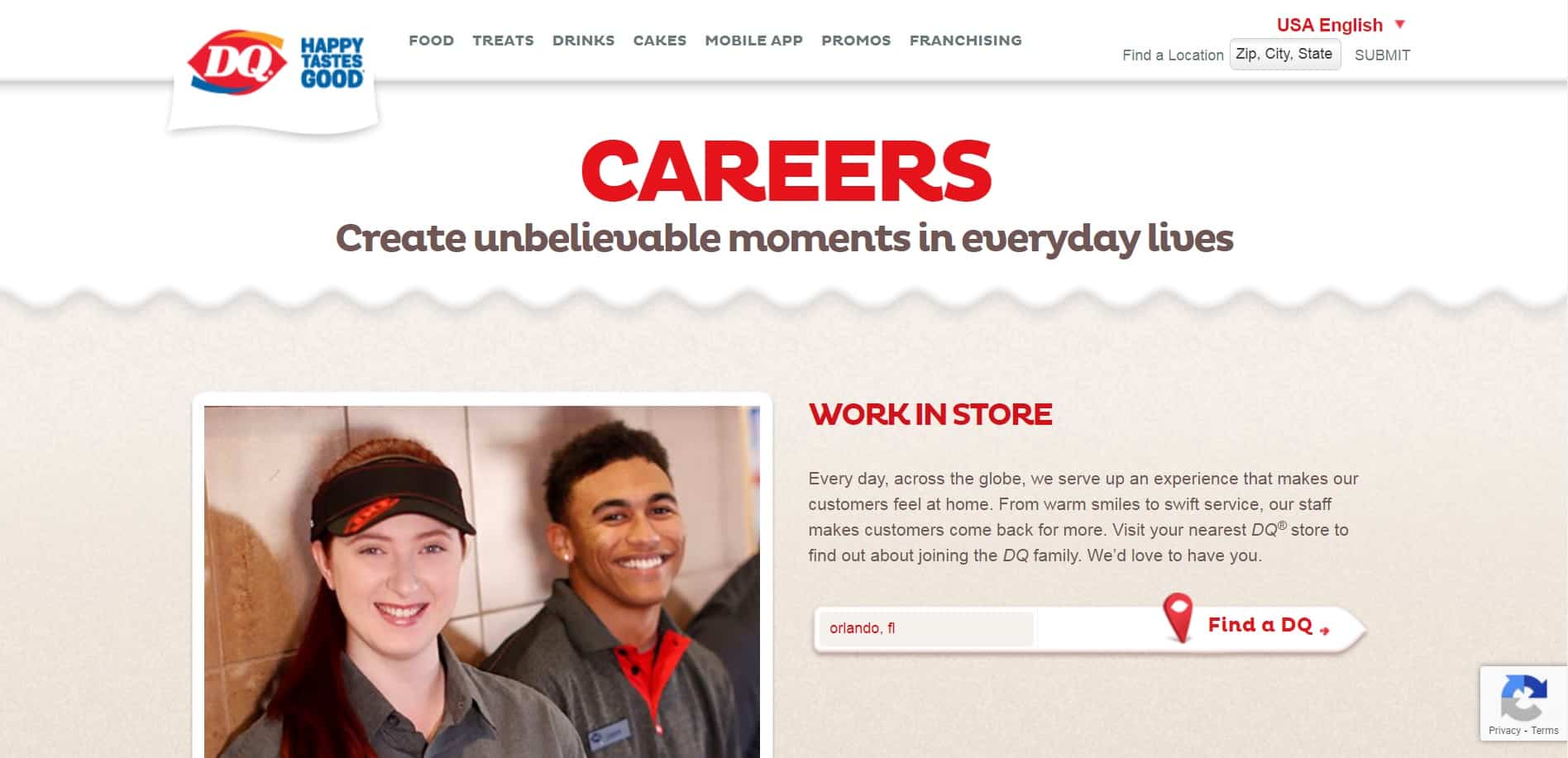 In order to apply for an hourly position at Dairy Queen, you must do so in person. DQ does not allow online applications.  
This is surprising but it's actually an advantage for you. It gives you the chance to meet the general manager of the store or possibly even the owner before you apply.
Here are the two methods I recommend in order to apply:
I. Apply in person. This is a great method for finding hourly positions other than the assistant manager or manager.
Visit the Dairy Queen careers website, enter your city/state or ZIP Code, and click "Find a DQ."
On the redirected page, you will be taken to your local area, and the different Dairy Queens will be listed on a map.
Click on the stores closest to you, write down the phone numbers, and begin calling those phone numbers to see if there are any open positions.
Try your best to find at least two or three stores nearest you that have open positions for the positions you are applying for.
Dress in neat clothing, and visit those stores with available openings during nonpeak hours.
Introduce yourself to someone at the front register, and ask to speak with the manager.
Fill out your application and leave your contact information with the manager.
II. Use Indeed.com or other job search engines. This is the preferred method to find an assistant manager or manager position.
Visit the Dairy Queen page at Indeed.com (no affiliation)
Place your desired position in the "why" search box, and place your city, state, or ZIP Code in the "where" box.
Look at the listings, click on your desired position, and read the job description.
Once you have found the position you want to apply for, click on the "apply" button.
Now, you can begin the application process. Simply follow the instructions.
Dairy Queen Application Process
From the moment you turn in your application at the actual store, you may be hired on the spot! Many employees report they were hired between one day to two weeks, maximum.
The usual process consists of an initial interview by the manager, then possibly another interview by another person in management or the owner.
You are informed of your hiring either on the phone or in person.
For hourly workers, there usually isn't a background check involved other than calling your references and former employers. However, this is different from store to store because each one is franchise-owned.
Minimum Age to Work at Dairy Queen
Although the minimum age to work at Dairy Queen is 14, this will vary in the United States. Therefore, it's important to check with your state laws.
Many states don't allow you to work in a fast food restaurant setting until you are at least 16 years of age.
Does Dairy Queen Drug Test?
Dairy Queen generally does not drug test its hourly applicants. The costs involved for individual franchise owners are way too expensive, considering the high turnover rate of workers.
However, general managers are sometimes drug tested during the orientation process. 
Benefits
Very few franchise owners offer any of their hourly employees health benefits. In some instances, assistant managers or general managers will be able to partake in a health benefit program.
For those who are eligible for benefits, health, dental, and vision care are offered as well as employee discounts and paid time off.
If you are someone who has to support their family and find work that offers health benefits, this is not the company for you, unless you land a job as a general manager in a DQ location that offers health benefits.
Final Thoughts
Due to the low starting pay that's typically associated with this type of fast food establishment, teenagers looking for their first job will fit very well in this company.
There really are no opportunities to acquire health benefits if you are an hourly worker at DQ. In very rare instances, exceptional and loyal workers are rewarded by franchisees with a chance to participate in a health benefits program.
This means for workers with families, it's wise to conduct research on your own if you are going after one of the hourly positions at your local Dairy Queen. The last thing you want to do is go all in, become an exceptional employee, and later find out that you have no opportunity for health benefits at all.
Featured image courtesy of An Errant Knight, CC BY-SA 4.0, via Wikimedia Commons.