Since the vast majority of Domino's pizza stores are franchise-owned, the owners usually get to make the decisions on starting pay and when and if to give raises to their employees.
Even though these owners follow certain guidelines set forth by Domino's, they have a lot of freedom to compensate their employees as they please as long as it fits federal and state guidelines in order to run their store as efficiently as possible.
Below, you'll see:
The starting pay at Domino's
Domino's full-time and part-time hours as well as the part-time pay
The average pay for the different store jobs
If Domino's pays weekly or biweekly
Whether they give raises to employees, and if so, when and how much
Employee break policy
Dress code
Domino's Starting Pay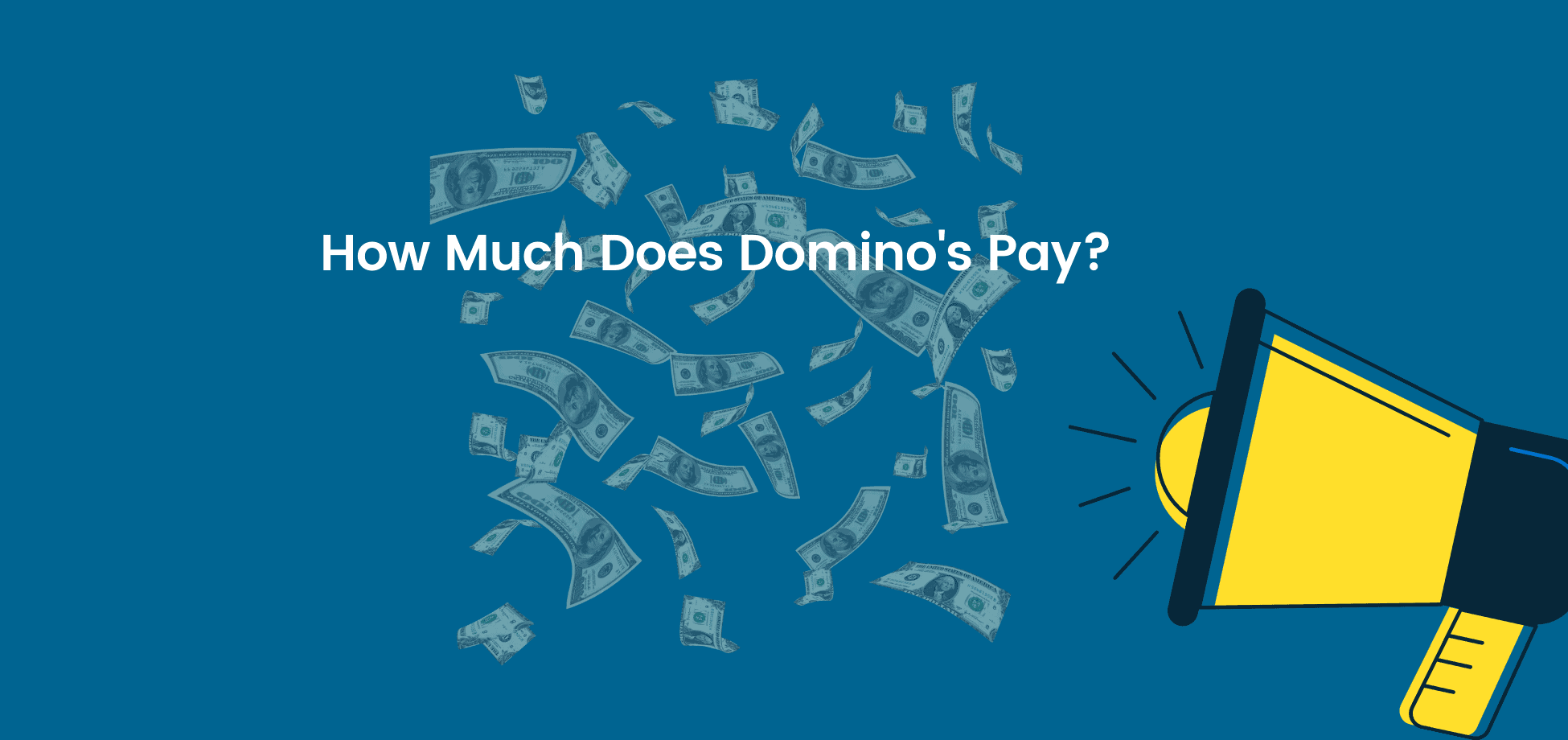 The entry-level pay for someone starting out at Domino's is usually somewhere around at least $.50 above the federal or state minimum wage. You can easily find out what your state's minimum wage is by conducting a Google search.
The average starting pay at Domino's is approximately $8.50 an hour. This number can vary between all the states in the United States.
For example, in New York, an entry-level worker at this pizza chain will make the minimum wage of $14.50 an hour by December 1, 2020. By contrast, someone who takes a job in Arkansas would make $10 an hour by January 1, 2020.
Domino's Full-time Hours
To be considered a full-time worker at Domino's, you must work at least 30 hours per week. There are many workers who are in a position where they need to fill in shifts for people who call out sick and this leads to an abundance of overtime hours available.
Also, sometimes a franchise owner notices one particular worker who is very dependable and that worker will oftentimes get to work a few overtime hours every week to compensate for the lack of additional employees. It actually saves the owner money if he or she does not hire an additional employee and instead, offers a particular worker a few overtime hours every day.
As a result, some workers say that even though they are full-time, they put in 50 to 55 hours a week. Assistant managers and store managers lead the pack because they need to work many extra hours in order to get the job done.
Examples of full-time shift hours are:
10 AM to 4 PM
11 AM to 9 PM
4 PM to 12 PM
5 PM to 1 AM
Part-time Pay at Domino's
Part-time pay at Domino's involves entry-level customer service reps and delivery drivers. You can expect to make the same starting wage as a full-time worker but you will receive an average of 15 to 30 hours of work every week.
As a part-time worker at this pizza chain, you can place yourself in a good position to work many more hours every week if you prove to management that you are a dependable worker. There are many part-time workers who regularly work over 40 hours every week for an extended period of time.
Domino's Part-time Hours
The part-time hours for Domino's workers are roughly 4 to 7 hours of work, five days a week. Examples of the shifts you may work are as follows:
11 AM to 3 PM
12 PM to 5 PM
1 PM to 8 PM
4 PM to 9 PM
5 PM to 11 PM
6 PM to 1 AM
Remember, if your goal is to become a full-time worker at some point, it's important to be ready to fill in for another worker on a consistent basis. This is an easy way to impress your management staff as someone they can count on to help the store be successful.
Domino's Delivery Driver Pay
Delivery drivers usually make an average of $.50 cents over the state's minimum wage. However, they make money on tips during every shift and in most stores, they are able to take that money home every day.
Additionally, delivery drivers are reimbursed for every mile driven and this helps offset the cost of gasoline and wear and tear of your vehicle.
Therefore, taking all the money received into account, it is reported that the average Domino's delivery driver makes approximately $14.50 an hour.
There have been several lawsuits brought forth over the years by delivery drivers over Domino's not properly compensating them for mileage reimbursement. The IRS reimbursement guideline for people who use their vehicle while working is $.58 cents per mile. Many franchise owners pay much less than that and this causes issues! 
The best thing to do is to speak with other drivers who work at the store of your choice before you apply there. That way, you can compare different stores in your area and choose the one that will reimburse you fairly.
Domino's Customer Service Rep Pay
The average pay for a customer rep is $9.10 an hour. This gives you a part-time weekly salary of approximately $273.00 before taxes and a yearly salary of about $14,196.
This is an interesting job because there are certain franchise owners who will pay you an extra $.25 or so as an incentive if you can make pizza or perform other important duties at your store.
This position is perfect for a younger worker or retired senior citizen. You are usually offered a part-time job to start at this position until you prove that you are a dependable employee.
Domino's Assistant Manager Salary
An Assistant Manager at Domino's makes approximately $15.50 an hour. This equals approximately $620 a week, and a yearly salary of $32,240.
However, you can expect to work many more hours of overtime at this position and as a result,  it's very common for an assistant manager to make a little over $40,000 a year.
Domino's Manager Salary
The Domino's general manager for a franchise-owned store is actually in a great position to make a lot of money working overtime hours. Usually, the position of a general manager requires a company to offer compensation in a yearly salary.
However, at Domino's, many franchise owners simply pay their general managers by the hour.
The average hourly rate for this position is approximately $17.50 an hour. This would ordinarily give you about $700 a week and a yearly salary of 36,400.
This is not usually the case, however. General managers at Domino's are said to work at least 50 hours a week, and usually 50 to 70 hours per week.
Using 60 hours a week as a reference point, the average manager would make approximately $1,225 a week and a yearly salary of approximately $63,700.
Does Domino's Pay Weekly?
Employees at Domino's get paid on a biweekly basis, either every other Thursday or Friday. The pay periods vary with the most common one starting on a Saturday and ending on the second Sunday after that.
So, for example, if you are hired and you begin working on the second week of the pay period on a Saturday, you will usually get paid for that last week of the pay period two Fridays after that.
How Often Does Domino's Give Raises?
Raises vary greatly due to most of Domino's stores being franchise-owned. Typically, an employee will usually receive a yearly raise in the form of 2% to 3%.
It's important to be open and to communicate with your management staff once you have proved yourself to be a dependable and talented employee. There are plenty of horror stories about people who have worked at Domino's for many years and have barely gotten any raises at all.
Usually, this is due to miscommunication and not pressing management to give you a raise even though you are an exceptional worker. The bottom line is, if you don't say anything, you may never have a chance to get a raise or the raises will come once every few years.
Break Policy
Just about every Domino's store has a different break policy, so it's important to consult with your management staff about this. Typically, workers take occasional breaks whenever they can during times when the store is not so busy.
When it comes to delivery drivers, they are out and about on the street anyway, so it's easy for them to stop anywhere during off-peak hours to take a break.
Many states have break laws where usually a worker has to be granted a 30 minute unpaid meal break after every six hours of work. Additionally, some states grant workers a 15 to 20 minute paid break after every four hours of work.
Dress Code
Domino's takes its dress code very seriously. Employees wear the following:
Nonslip black shoes
A store issued hat or visor
Black pants
Black shorts
A Dominos polo shirt with the company logo
Some stores allow black jeans
On cold days, most stores require you to wear the company jacket which you can purchase for approximately $40-$45.
While some managers allow their employees to wear earrings and tattoos, others don't. For most store owners, it's important for their employees to dress neat and clean in order to give customers the impression that the store takes its cleanliness seriously.