Imagine becoming a pretty well-paid delivery driver or courier after a simple signup process that takes just minutes! That's what you may be able to get with DoorDash if you set your sights on becoming one of their "dashers."
Working at Doordash
Doordash connects merchants with their customers by recruiting delivery drivers to fulfill orders. This makes it easy for restaurants to increase their sales by a small percentage and gain new customers.
The company relies on independent contractors known as "Dashers"  to pick up food orders from customers and deliver them to their customers as quickly and as efficiently as possible.
If you have the desire to drive your vehicle or use other means of transportation to be able to fulfill orders and make a decent living, this job is worth your consideration. 
Below are some of the pros and cons of working as a dasher for Doordash:
Pros
You can set your own hours of work
On some days, you can make a lot of money in just 4 to 5 hours of work
You can have a family member ride along with you doing deliveries, since you are an independent contractor
You can take days off whenever you want
It's a great part-time job for some extra cash on a daily basis
You can use your own means of transportation such as a car, bicycle, motorcycle, or scooter.
You can get hired without having to attend an interview
Cons
You have to spend your own money for gas
The job puts a lot of wear and tear on your vehicle
Up to 70% of customers don't give an extra tip when you make their delivery
Some customers choose the wrong location for the restaurant and this makes your travel distance a lot farther than it should have been
The company does not offer any health benefits
At times, the days are so slow that you can't make much money
History of DoorDash
In 2012, four Stanford University students opened up their own food delivery service in Palo Alto, California, and they named it Palo Alto Delivery. 
The students put forth a lot of effort in delivering food orders from restaurants to customers every day near their college campus and soon realized the excellent potential to expand their company.
In June 2013, they changed the name to Doordash and since then, their company has expanded to include over 4,000 cities in the United States, Australia, and Canada. 
How Does DoorDash Make Money?
Doordash works independent deals with different stores, and they usually charge approximately a 20% fee of the purchases for delivering their goods to the customers. This fee covers a variety of associated expenses with the delivery process, including the driver delivery fee.
Doordash Dasher
Delivery drivers/dashers for Doordash give this company mixed reviews although many do say they are able to make quite a bit of money on the side if they put in the right amount of work.
This is one of those jobs where you can virtually submit your information and begin working within 5 days to 2 weeks after a background check and approval. There are no interviews to attend.
If you drive a vehicle to make deliveries, as long as you have the proper insurance coverage, Doordash actually provides insurance coverage up to $1 million in property damage and/or bodily injury to third parties as a result of having an accident while making a delivery.
How Does DoorDash Work for Dashers?
Here is how a typical food delivery works:
You have to log into your Dasher app so you can see the delivery opportunities in your area.
When you see an opportunity to make a delivery, you can either accept or reject it.
Once you accept it, proceed to the restaurant.
Read the pickup instructions for your particular restaurant.
Either go inside or go through the drive-through to pick up the order and you'll either pay with your Doordash issued red card, or you'll just simply pick up the prepaid order.
Once you arrive at your destination and before you deliver the order to your customer, you will be prompted to indicate that you arrived on your phone app.
After you deliver the food, confirm that the delivery was completed using the Doordash app.
Does DoorDash Pay Daily?
As a dasher, you're going to get paid every week for the hours worked from Monday through Sunday of the previous week. You'll have to set up a direct deposit for this payment, and the payment usually takes about 2 to 3 days to post in your account. Most dashers receive their paycheck by Wednesday night.
Additionally, you have a chance to receive cash on a daily basis through customer tips. When a customer gives you an extra tip in cash, you can pocket that money.
Doordash also has a "fast pay" system that gives drivers a chance to cash out their money every single day for a daily fee of $1.99. This is a great opportunity for people who are strapped for cash and need immediate payment.
How to Apply to Doordash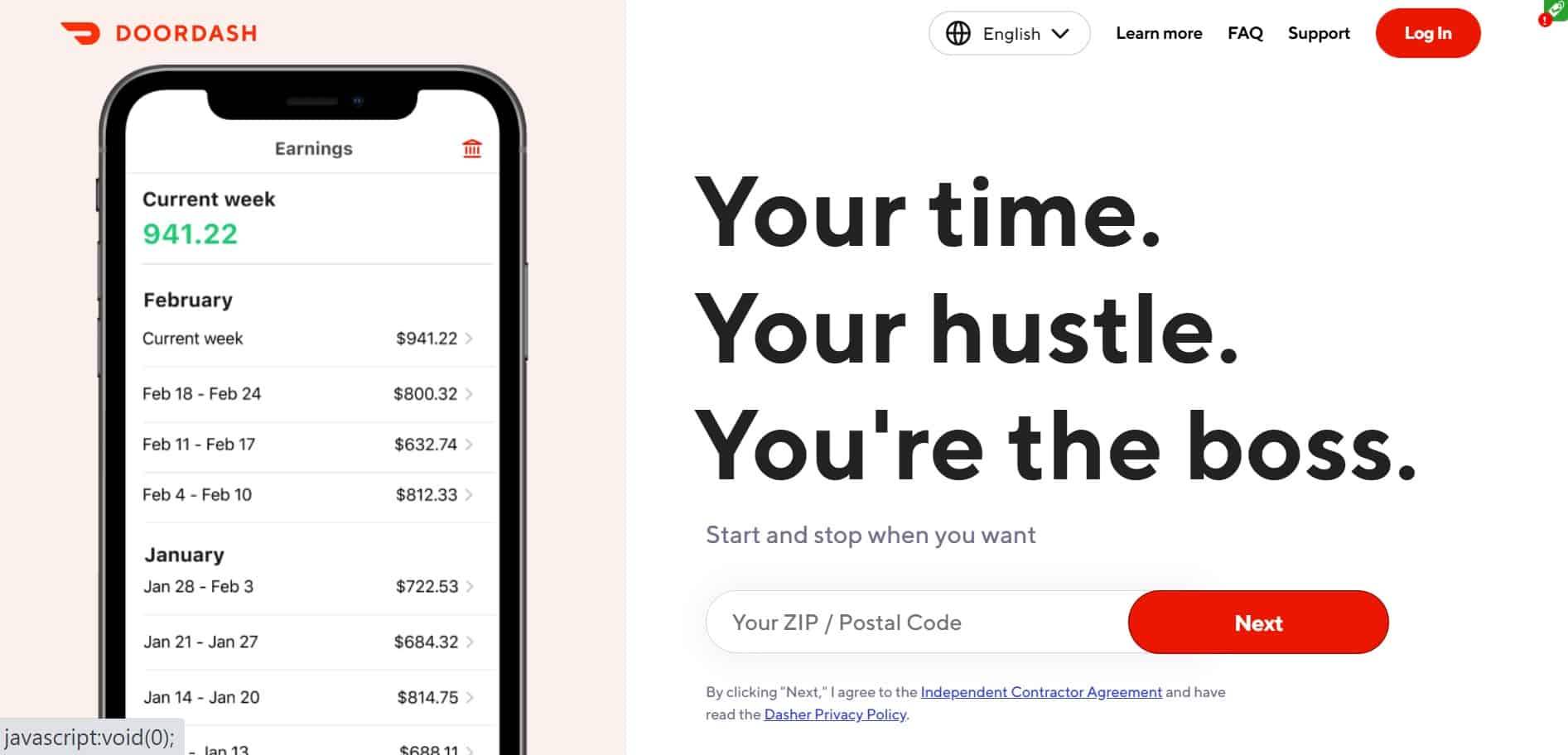 Applying to become a Doordash driver is a very straightforward and simple process. Simply visit the sign-up page and follow the steps:
Enter your email, phone number, and your ZIP Code before clicking on the signup button.
You will agree to an independent contractor agreement and all you have to do is follow the simple instructions sent to your email.
To get activated, you have to meet these minimum requirements:
You have to be at least 18 years of age
You have to have a good driving record without any major violations during the past seven years.
No more than 3 moving violations for the previous three years.
Doordash Application Process
Once you pass those minimum qualifications, Doordash will conduct a background check and an individual assessment.
Approximately five days after approval, you will receive your starter kit which comes with the Red Card" and a delivery bag. 
Does Doordash Drug Test?
For the position of the dasher, Doordash does not require any drug test before hiring. You are considered an independent contractor and therefore, you are totally responsible for your behavior and actions.
Benefits
Doordash does not offer its drivers/dashers any benefits package at all. So, if you are looking for a job that can offer you and your family medical benefits, you would have to look elsewhere.
Final Thoughts
The job of a "dasher" at this popular food delivery company is actually a very good opportunity for people who have reliable and economic transportation. This job is mainly for people who need a part-time job or a side hustle.
As an example, the four founders of this company began by attending college and making deliveries at night. If you are a college student, this would be the ideal choice to make extra money.
If you are someone who already has a full-time job and would like to make a few extra bucks here and there, you can work any night you want to. A job like this can add an extra $200-$400 a week for someone who really wants to go out there and bust your tail.
People working as a dasher full-time in large metropolitan areas say they are making approximately $20 an hour before gas expenses. In some cases, drivers say they are able to make anywhere between $500-$1000 a week, depending on how much time they put into their business.