It's no secret that a job at Waffle House as a server is probably not the first choice for many people looking to get hired in this field. However, if you look a little closer, you may find you may have gotten the wrong impression and it's possible that it's exactly the type of position you're looking for, depending on several factors.
One of the most important things you should be considering if you are trying to get hired as a server at Waffle House is the location of the restaurant. If you're lucky enough to pick a restaurant that gets a lot of business and has a lot of customers, you may be fortunate enough to make a living wage or even higher than average money while being a server at this restaurant chain.
However, if you take a job in a WH that has very low customer traffic, you might find it hard to make a living. 
Below, you're going to see what types of jobs are available at Waffle House, what the starting pay is for entry-level workers and the average pay for each position.
Waffle House Starting Pay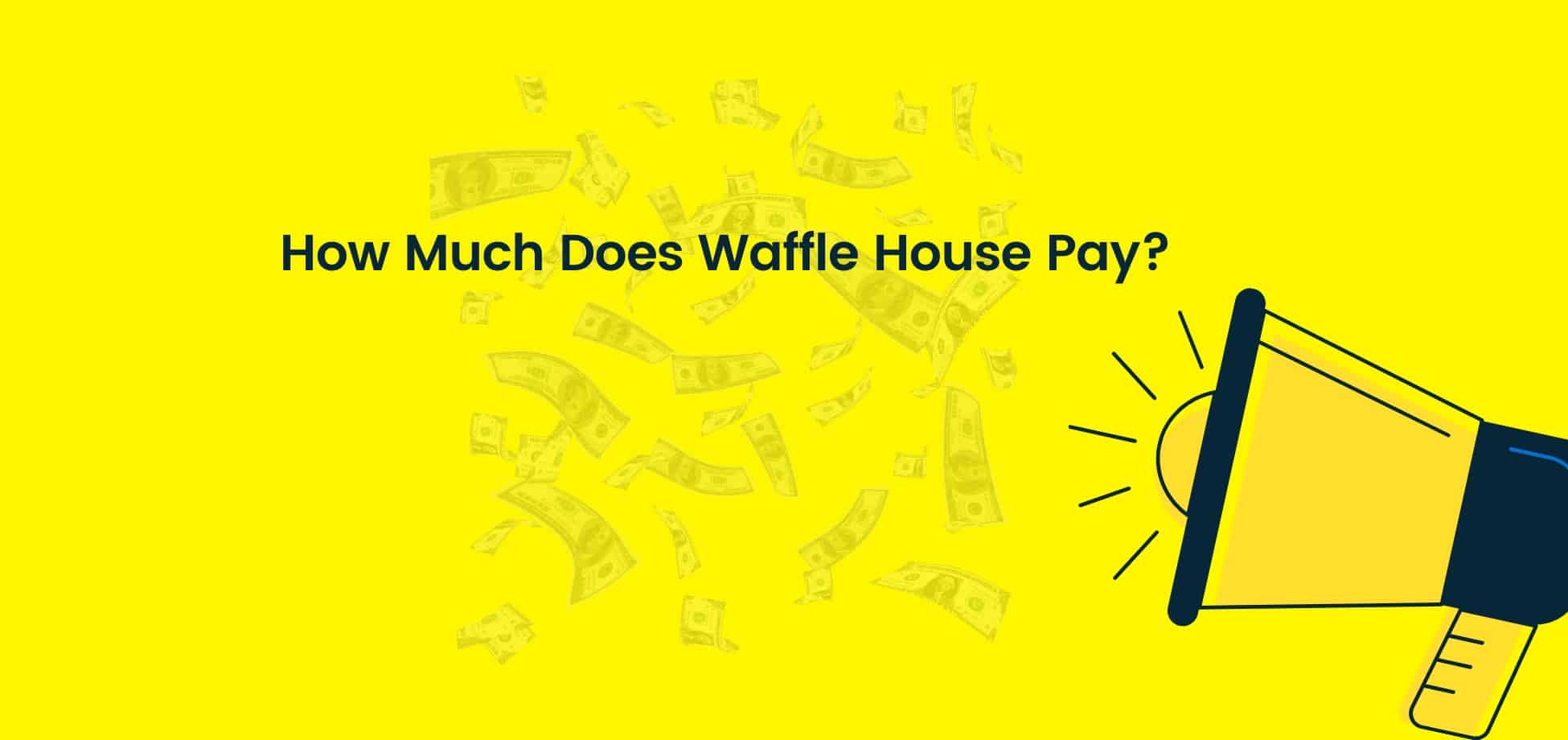 The starting pay for servers is usually at your state's minimum wage for tipped employee jobs, or slightly higher. For example, in Texas, South Carolina, and Virginia, the minimum wage for an employee who receives tips is $2.13 an hour, as opposed to Florida which is currently $5.54 an hour. 
Taking all Waffle House restaurants into account, the average starting pay for a server is approximately $3.05 an hour plus tips, which comes out to an average of $10.90 an hour. Please remember, this will vary with each restaurant.
The average starting pay for a cook is $10.75 an hour. The starting pay, on average for a door corp employee, is approximately $10.25 an hour. 
Waffle House Full-time Hours 
Full-time employees at Waffle House are scheduled at least 40 hours a week, on average. Usually, there is plenty of opportunity to work overtime shifts, especially for cooks and servers. 
Every Waffle House has three separate shifts. They are named 1st shift, 2nd shift, and 3rd Shift. They are as follows:
first shift (7 a.m. to 2 p.m.)
second shift (2 p.m. to 9 p.m.)
third shift (9 p.m. to 7 a.m.) 
Waffle House Salary for Each Position
The salaries for each job at Waffle House are a little below average. Regardless, some servers say they can make more money working at Waffle House than any other restaurant due to several factors which include:
a higher volume of customers than other restaurants
some Waffle House restaurants have better tippers than others
they perform their jobs very well and earn higher tips
Cooks and hosts can expect to make below-average pay at this restaurant chain but at least there is plenty of room to advance within the company. Additionally, unlike many other restaurants, you are eligible as a full-time worker to enroll in their health benefits plan.
Waffle House Server Pay
The average pay for a Waffle House Server, including tips, is $12.15 an hour. This comes out to approximately $486 a week and a yearly salary of $25,272. Your salary can be much higher if you are talented as a server due to the fact that you'll make higher-than-average tips. 
Be aware that it's not uncommon for a server to pull a double shift and make anywhere between $250 to $300 for that day. 
Additionally, if your tips aren't enough to cover the federal minimum wage of $7.25 an hour every day, Waffle House has to adjust your pay for each of those shifts to meet that standard.
Waffle House Door Corp Pay
The average hourly pay for a door corp worker is approximately $10.60 an hour. This amounts to $424 a week and approximately $22,048 a year in salary.
In some WF restaurants, door corp workers are assigned less hours due to operational necessity as determined by management staff.
Waffle House Cook Pay
Also known as a grill operator, a Waffle House cook makes approximately $11.25 an hour on average. This equals approximately $450 a week and about $23,400 a year in salary.
Great cooks at Waffle House can pretty much write their own ticket to success. As you would imagine, it's not easy to find someone with talent, motivation, and the desire to be an excellent grill operator in a stressful environment.
Cooks at this restaurant are oftentimes expected to pull double shifts in order to cover for another employee. They are also the lifeblood of the business because, without good food, there can be no Waffle House!
Waffle House Manager Trainee Salary
A manager trainee at Waffle House earns an annual salary of $38,200 approximately 9 to 25 weeks before he or she is promoted to unit manager, and this amounts to $734 a week.
This position carries a high level of responsibility, including supervising the grill operators, making sure customers are satisfied, helping unload the delivery trucks at the back end of the restaurant, and much more.
This job will prepare you to become a unit manager within 9 to 12 weeks but sometimes you'll have to wait a few more weeks after that time period to be promoted and run your own store.
Waffle House Manager Salary
The average salary for a unit manager at Waffle House is approximately $49,300 a year. Your gross weekly check will be approximately $943. The salaries for this position can range anywhere between $41,000 to $59,000 a year.
You can also expect to work many hours a day at this position, depending on the location of your restaurant. some unit managers have complained that the amount of hours you have to work at certain locations doesn't justify the amount of pay they are receiving.
For example, if you are making a salary of $55,000 a year instead of an hourly wage and you end up working 65 hours a week, you are only making $16.27 an hour. That's hardly the type of pay you would expect for a store manager in any organization!
Does Waffle House Pay Weekly?
Depending on where you work, you may either get paid weekly or bi-weekly. The majority of workers say they get paid on a weekly basis on either a Thursday or a Friday. 
Waffle House pays you using three forms of payments, and they are:
Pay card
Cash
Direct Deposit 
How often does Waffle House give raises?
For hard-working employees that prove themselves to be very dependable, Waffle House offers raises every six months to a year. These raises are usually anywhere between 2% to 3%, and sometimes more for exceptional workers.
So, as an example, if you are a cook earning $11.25 an hour, your 3% raise in pay would be bumped up to $.33 an hour, totaling $11.58 an hour.
This would also amount to a $27 increase bi-weekly and approximately $54 a month extra.
Break Policy
The Waffle House break policy is very straightforward. If you are working 6 hours or more, you will get an unpaid meal break of 30 minutes but it usually comes before or after your shift. You'll have to communicate with your manager in order to take your break at a specific time.
If there is any type of unusual circumstance and you are asked by the manager to come back early from your break, you will be treated fairly and given the unused portion of your break at a later time.
Additionally, minors have to take their break within the first 4 1/2 hours of their shift, as long as it's after the first hour of work.
Waffle House Dress Code
The dress code consists of a company-issued shirt, apron, name tag, and a hat or visor. You'll have to go out and purchase the required black slacks. No jeans are allowed. 
Some WH restaurants also issue a thin black tie to go along with your uniform. You also have to wear black non-skid shoes as well as black socks.
As far as grooming goes, you are not allowed to wear any excessive jewelry, especially the dangling kind because it becomes a distraction for customers.
Men are expected to be clean-shaven, or if they have a beard, it needs to be neat and trimmed. All employees who access the kitchen and food areas are required to wear hair nets while on duty.