Grubhub encourages people to apply to become delivery drivers in areas close to where they live so they can make a full-time or part-time income. Although it's hard to make a living wage as a courier, it is possible if you are a motivated person who can treat the position of a delivery driver as you would with any other regular job.
This means you would have to establish a consistent work schedule so you can meet or come close to working a 40-hour week.
Working for Grubhub
Working as a driver for Grubhub takes plenty of patience at the very beginning and a desire to succeed, no matter how many times you stumble during the learning process.
Many drivers say it takes approximately 1 to 2 months to figure out the system so you can navigate through it successfully. After a certain amount of time and experience, you'll be able to figure out where the hotspots are located so you can maximize your earning potential.
Here are pros and cons of working at Grubhub as a delivery driver:
Pros
You have the freedom of being an independent contractor so you can take a break whenever you need it
There is a chance to make as much money as you want, depending on how hard you want to work
Drivers are able to set their own working hours
No experience is required to begin making daily pay
The job can be very profitable if you work busy areas
Working environment is very good because you're in your own vehicle listening to your favorite music
The actual job is easy because you simply pick up the food and deliver it
You can choose to get paid on a daily basis through direct deposit
Cons
At the end of the year, you have to pay the IRS taxes on income earned
You have to work your way up before you get the best shifts available
Sometimes you have slow days and barely make any money at all
Drivers have to pay for their own fuel
It's a job where there is no room for growth
There are no employee health benefits offered
Some restaurants make you wait too long for the order and this causes an issue with the customer
The company does not offer very good driver support with its "Driver Care Team"
History of Grubhub
In 2004, Matt Malone, Roman Gaskill, and Mike Evans wanted to create a better way for diners to order their food and have it delivered to their homes. They wanted the old method of looking through a paper menu and calling a phone number to become obsolete.
By 2012, this company already had the technology in place to make it easy for customers to go on the Internet, order their food, and have it delivered right to their doorstep.
The company continues to grow and currently has well over 65,000 drivers delivering food around towns and cities in the United States.
How does Grubhub make money?
Grubhub connects customers with restaurants, and this makes the whole process very profitable on both sides of the coin. Restaurants gain more customers and generate more profit, while Grubhub makes 10% off the top of every order plus processing fees.
Grubhub Driver – Job Description
A driver working for Grubhub makes 100% of the tips earned on every delivery. For this position, you'll have to be a dependable person with good customer service skills.
You'll also have to pay attention to detail to make sure your orders are correct when you pick them up from the restaurants.
The requirements are very simple, and they are:
A vehicle, motorcycle, scooter, or a bike in some areas
Valid DL for motor-propelled drivers and auto insurance coverage
For people who choose to ride a bike, you must have a valid DL or a state ID
A smartphone to access the Grubhub driver app
How does Grubhub work for drivers?
Using the Grubhub for Drivers App on your smartphone, you can login whenever you choose and you can schedule your own delivery blocks in order to start receiving delivery offers.
In some areas, you can receive a guaranteed amount of hourly pay by meeting certain requirements. These requirements may include working a specific number of scheduled blocks and accepting a specific percentage of the orders that come in through the system.
When you're ready to start taking orders on your scheduled block, you can go to the "status" page of your app, and click on "taking offers." This will activate your ability to take offers.
Once you are done with your shift or if you need to take a break, you can switch the app to "unavailable."
There are three program levels based on your experience as a Grubhub driver. Here they are from low to high:
The whole idea is to accept as many offers as possible and deliver a good customer experience with your deliveries in the beginning so you can go from Partner to Pro, then to Premiere status. As you continue to advance through the levels, you will receive more work and make more money.
How does Grubhub Instant Cash Out work?
You can set up a direct deposit and use the instant cash-out feature in the Grubhub for drivers app so you can get your earnings deposited into your account immediately after your shift. The fee for making one transaction a day is $0.50 cents.
While you are setting this up, you will have to go through a verification process and you will not be able to instantly cash out for approximately 3 to 4 days.
How to Apply for Grubhub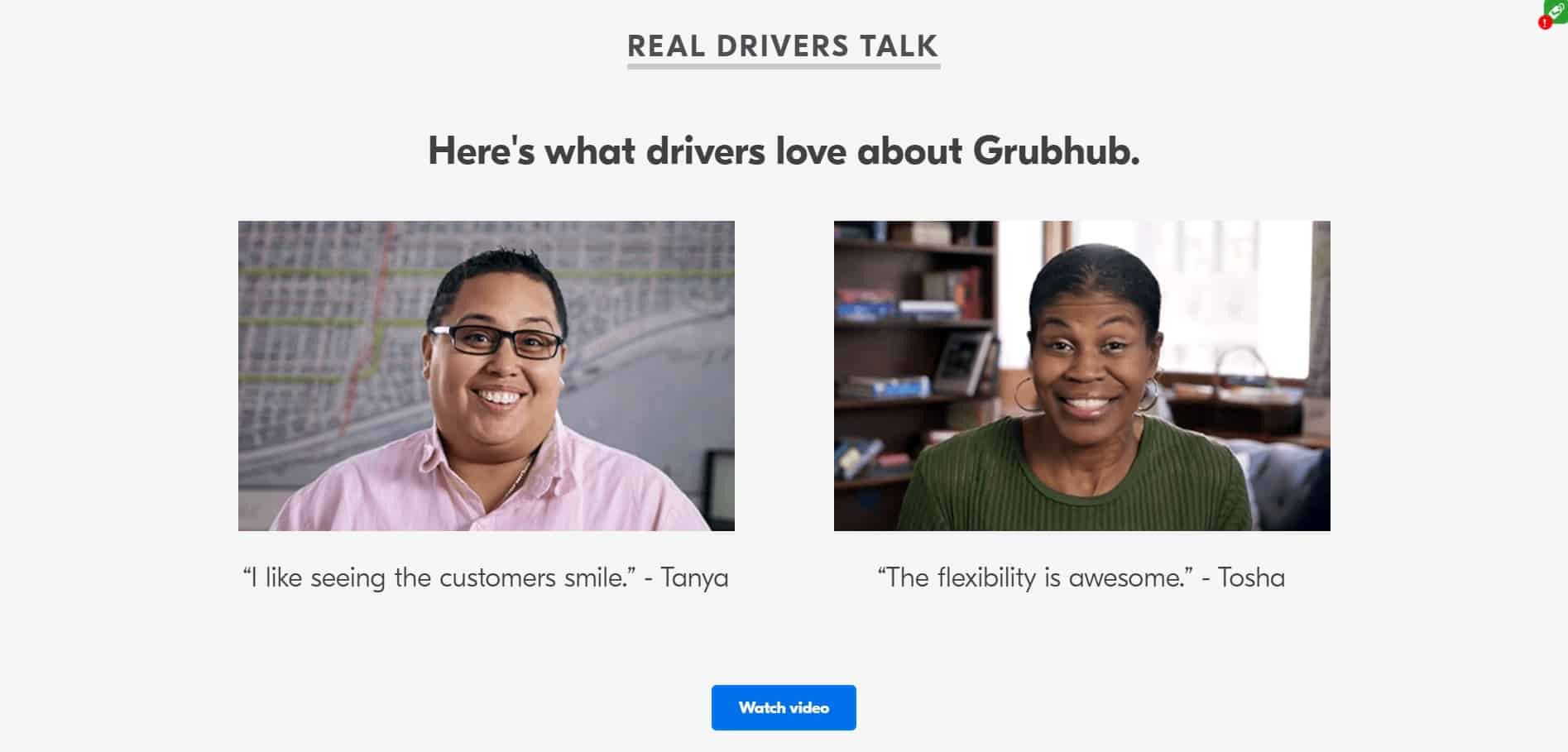 On the official Grubhub driver application page, you can begin the process by following the simple instructions and entering information.
First, you will enter your first name, last name, your email, and phone number before clicking "next."
When the second box opens up, you'll enter your state and choose your city, and you'll click a box acknowledging that you have read and agree with the Grubhub privacy policy.
On the following page, you can begin the application process by answering 4 questions, then:
setting up your profile
entering information for your background check
paperwork for new drivers
driver onboarding
setting up your direct deposit
Grubhub Application Process
Once you apply, you can go to your applicant portal and check the status of your application. To do this, all you have to do is access the unique link that was sent to you in your Grubhub welcome email. Additionally, you should get an instant message on your phone with the same link after applying so you can check on your application.
Usually, you will be approved in three days after you apply if all requirements have been met.
At this point, you're ready to access the optional onboarding information which will give you all the tips you need for using the GrubHub drivers app, how to schedule your workdays, how to pick up the orders and deliver them, and much more.
You will also have a chance to purchase additional gear such as warming bags and car decals from their website.
Grubhub Age Requirement
To become a Grubhub driver, you must be at least 19 years of age with the exception of Chicago and Las Vegas, where you have to be at least 21.
Does Grubhub drug test its drivers?
Grubhub does not drug test its drivers. However, all drivers are subjected to a background check that can reveal criminal convictions and bad driving records.
Benefits
Grubhub currently does not offer any type of health benefits package for its drivers. Since this is an independent contractor position, it is highly unlikely they ever will offer any health benefits in the future, either.
Final Thoughts
Even though someone can make a decent yearly salary as a Grubhub driver, this all depends on how busy their areas are. For a job like this, it's usually hit or miss.
The only way to become a super-achiever at this job and make a good living is to work as hard as possible and be the most dependable driver making deliveries in your area. Otherwise, it will be difficult to compete with others.
This position is well-suited for people looking for a solid side hustle. Seniors can also work a limited number of hours and add to their retirement income. 
College students can easily make quite a bit of money to supplement their college expense needs on a daily basis by driving for Grubhub. However, a full-time student would find this job very difficult, unless he or she takes their study material along with them on the ride so they can study in a safe place while waiting for the next delivery offer.
Finally, if you are looking to support your family while working as a full-time driver at Grubhub, it is not your best option for several reasons. These include the typically low pay compared with other retail positions that offer a guaranteed starting pay of $15 an hour as well as the lack of health benefits offered to its employees.