A delivery driver for Grubhub can set his or her own work hours and work just a few hours every day in order to make either a full-time or part-time salary. It doesn't take long to apply, learn the system, and be on your way.
Below, you'll find:
How much Grubhub pays its drivers
The driver job description
How much money you can really make
If there is a bonus for signing up to drive
Whether Grubhub pays for mileage and gas
What instant pay is
When and how Grubhub pays
The dress code
Grubhub Pay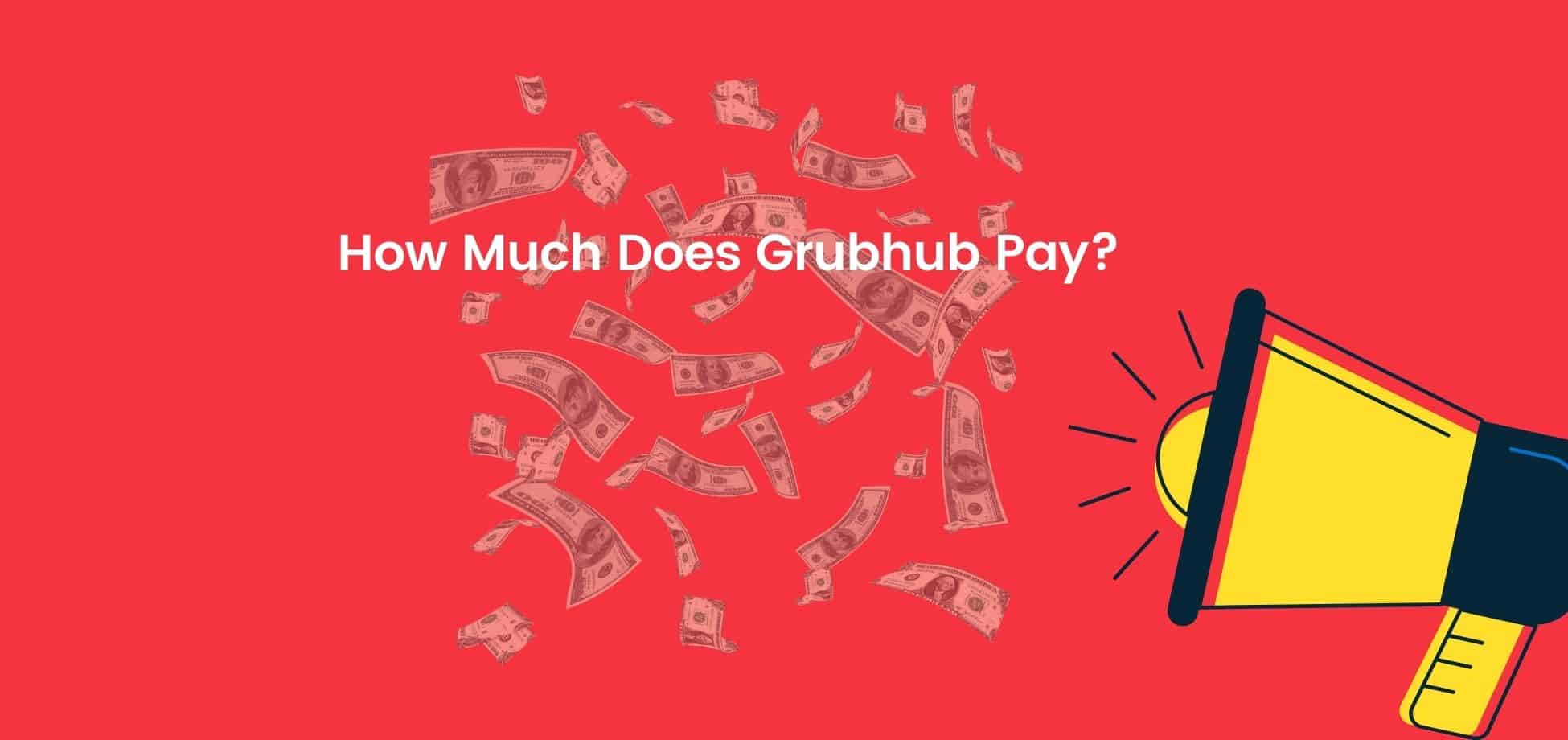 Obviously, one of the first things you are probably thinking about is whether you can make a living as a delivery person for this company. You wouldn't sign up to start making deliveries if you weren't going to make some decent money, right?
There are some important details to pay attention to if you are hoping to make a full-time living as a driver. It can be done but it takes dedication and a certain mindset.
You need to treat working at Grubhub as an important job. Whatever you do, don't treat it as just a side job that you really don't need!
So, to make the most pay, you have to put forth the most effort in your specific area. Don't just show up for your work block and begin ignoring offers showing up on your Grubhub app screen.
Start jumping on the best offers and occasionally take one that doesn't pay as much so you can prove to the company that you are valuable. Be the best driver in your area and you will make a lot of money.
How much do Grubhub drivers make?
Typically, drivers make approximately $12.45 an hour. That's not to say some drivers don't make well over that amount!
If you work 7 hours a day, 5 days a week, that would amount to about $435.75 a week and a yearly salary of $21,787. 
There are some high-performing drivers who make over $30,000 a year doing this but most of those are delivering in well-populated areas and they work more than just 5 days a week.
Grubhub Driver – Job description
This job is simple in terms of what you will actually do. You are expected to use your Grubhub app and set it from "Unavailable" to "Taking Orders" during your scheduled delivery block.
This company allows you to bid on these blocks beforehand so that there aren't far too many drivers competing for delivery offers at the same time.
When Grubhub sees that you are ready to take offers, you will hear a cowbell on your mobile device. This will give you 90 seconds to respond before the delivery is offered to other drivers.
During that short period of time, you will see where the pickup and dropoff points are as well as how much the delivery will pay you.
Once you get to the restaurant, you will click "Arrived" and after you deliver the order to your customer, you'll be able to click on "Delivered" so you can get ready to take another delivery offer.
What do drivers make on each delivery?
There's a formula for how much Grubhub drivers make on each delivery. Here it is:
You get paid $.50 cents a mile from the food pickup point to the customer, plus
The "per order rate" (this varies by location), plus
100% of  tips you receive from your customers
Also, depending on your market, you can accumulate earning other ways, such as; $.22 cents for every mile you drive, including when you accept your offer and drive to the restaurant for pickup, and approximately $.13 cents for every minute you spend waiting for the restaurant to fill your order.
On average, this all amounts to about $5.00 to $8.00 for every delivery plus whatever tips you make. 
To ensure that you maximize the potential for getting tips from your customers, make sure you:
Pick up the order and deliver as quickly and as safely as possible
Wear your clothes in a professional manner and give the customer a great first impression
Deliver the order with a friendly, sincere, and happy smile
Many drivers say that 50% to 65% of their income comes from customer tips!
Grubhub Driver Sign Up Bonus
In some areas, Grubhub will typically offer a $250 bonus when you start as a driver. You have to make a set amount of deliveries to receive these bonuses. For example, recently in Philadelphia, PA, new drivers were offered the $250 bonus after completing their first 25 deliveries.
Depending on your area, you may qualify for temporary bonuses at any time such as; a $4 extra per delivery on the weekend during peak times, or a $35 daily bonus if you complete 10 deliveries in a day on certain weekends.
Does Grubhub pay for gas?
Grubhub does not pay your fuel costs. It does pay you $.50 cents a mile from the pickup point to the delivery to your customer. Many drivers say in some areas, Grubhub is not accurate in determining the mileage between points. This means sometimes they may undercut you.
So, for example, if you actually drive 15 miles on a certain delivery and only get credited for 10, it's because the company's tracking system is flawed. It will sometimes measure the distance through a straight line instead of the actual routes you have to take.
When does Grubhub pay?
Grubhub usually pays on a weekly basis, but in some areas, on a biweekly schedule. The pay date is on a Thursday and the pay period starts on a Monday and ends on the previous Sunday.
The company only pays through direct deposit so you have to provide them your routing number and bank account information.
Aside from your weekly earnings, remember that you always have a chance to make a lot of money in tips. 
Give it all you got and see what works in order to get tips. Then, make adjustments in your approach to customers while delivering their orders so you can maximize your earnings.
What is Grubhub instant pay?
The "instant cash-out" feature on the driver's app for Grubhub gives you an opportunity to cash out your earnings on a daily basis.
This method will cost you only a $.50 fee for every transaction. However, if you have a Chase Bank checking account, the fee is waived.
If you ever change bank accounts, make sure you update the information on the Grubhub app. This will ensure you will avoid running into issues in receiving your pay.
GrubHub Dress Code
There is no strict dress code to be able to become a delivery driver for Grubhub. However, you are expected to look neat and clean, so you can be a positive reflection on the company.
Additionally, it's important to wear clothing that will distinguish you as a delivery driver for this company. For example, if you wear a nice shirt and collar with jeans and sneakers, it's important to wear the actual Grubhub delivery hat. 
That way, when you walk into a restaurant, you will be immediately recognized. This can help you in many ways, one of which is the fact that they will know they need to get the delivery out to you as fast as possible.
The best policy is to wear the Grubhub shirt and hat so there will be no doubt about who you are once you enter the pickup establishment. Then, you will look as professional as possible while you're making the delivery to the customer.
Wearing the right clothing can definitely help you increase your earnings through tip money.