Have you ever wondered how cool it would be to work at a video game store for a living? People of all ages do exactly that and it doesn't matter if you are 18 or 65 years old!
If you are young at heart and are into video games or at the very least, helping customers navigate their way through choosing video games and assorted pop-culture items, you may want to take a look at a career in GameStop.
Working at GameStop 
For video game fans, one of the benefits of working at GameStop is the employee discount.  The discount is one of those perks that should be expected when you take into account that this company barely pays its entry-level workers above the state's minimum wage.
Still, the reviews on indeed.com and glassdoor.com talk about plenty of positive aspects as well as the negative ones which can use some improvement.
Here are the pros and cons of working at GameStop:
Pros
If you like playing video games, it's a fun and enjoyable job
The entry-level job of a sales associate at GameStop is very easy to learn
Coworkers are generally very friendly and it feels like a family atmosphere
You get many opportunities to help customers who need assistance in shopping for themselves or their loved ones
Work schedules are very flexible according to your personal needs
It's a great first job for teenagers
Cons
Not enough work hours offered every week
Management places a lot of pressure on sales associates to sign up new customers for membership rewards cards
Very limited advancement opportunities within the company
Stores are constantly understaffed and this causes you to work much harder
The hourly pay is below average
It's hard to make a living at this job due to the low wages and inconsistent hours
History of GameStop
With approximately 5,600 stores that span 14 countries worldwide, GameStop is known as the largest retailer of video games. 
This company started in 1984 in Dallas, Texas. At that time, it was a small retail business named Babbage's,  focusing on educational software.
In 1999, Barnes and Noble bought the company and eventually merged with Funco, Inc.
In 2000, Funco Became GameStop and revolutionized the gaming industry by offering a platform where you could buy, sell, and trade video games.
GameStop employs approximately 14,000 full-time and about 24,000 part-time employees. Additionally, this company selects another 20,000 employees for seasonal work during the holidays.
Jobs at GameStop 
There are many jobs available at GameStop stores and some positions have different names. For example, an assistant store leader will also be referred to as an assistant manager.
Here are the different types of jobs available:
Sales Associate (entry-level)
Shift Lead (senior guest advisor)
Seasonal Sales Associate 
Assistant Store Leader (assistant manager)
Store Leader (store manager)
District Manager
GameStop Sales Associate 
As a sales associate, you are expected to become a guest advisor who delivers great customer service. Aside from that, you will explain the buying, selling, and trading process of games in the store.
Your objective will be to increase sales and encourage customers to participate in the rewards program. 
This is not a job where you can sit back behind the cash register and simply ring up products. You are expected to identify the needs of your customers. This will help you make suggestions, answer any and all questions they have, and ask for the sale.
Once you are very knowledgeable of all the inventory in your store, your management team will rely on you to be a game advisor.
For this position it is preferable to have a high school diploma or at least a GED. Other minimum qualifications include the ability to lift up to 50 pounds and possess basic math and alphabetizing skills.
GameStop Shift Lead 
As the senior guest advisor, you will be expected to take the lead when it comes to giving customers the best experience possible at the store. 
You will report directly to your assistant manager or store manager. You'll share all your expertise with coworkers and customers to enhance the value of your store.
There are many other responsibilities associated with this position such as helping out with counting inventory, stocking and restocking merchandise, helping your management meet sales goals, and much more.
This is a position where you will have to possess a minimum of one year of experience in some type of retail sales or management experience. In other words, you can work as a sales associate for at least a year and be promoted to this position.
This is also a position that can help you become assistant manager and in rare instances, even a store manager.
GameStop Seasonal Sales Associate 
During the holidays, GameStop hires thousands of seasonal sales associates to help their stores maximize profits and meet their goals. 
This is the same as being a sales associate, except you are hired seasonally. You'll need to prove yourself to be a worthy employee before they consider hiring you either part-time or full-time on a permanent basis.
In this position, you're going to have to stand out from all other applicants by showing your hiring manager that you have great people skills. This is a job where you can easily be trained but if you don't possess the ability to interact with customers, this is probably not the job for you.
Minimum qualifications for this position are the same as that of a sales associate.
GameStop Assistant Manager 
Also known as the assistant store leader, the assistant manager helps the store leader in every aspect of the store's operations. With this position, you'll directly supervise your shift leader and help sales associates meet customers' expectations.
You will constantly be on the floor, making sure that every customer is satisfied, and helping out whenever and wherever you can.
This job will require you to work many hours at times to be able to fulfill the company's goals.
The minimum qualifications are a high school diploma or a GED, but an associate or bachelor's degree is preferred in fields of business, merchandising, or marketing.
GameStop Manager 
Also known as the store leader, in this position, you will be working actively in your store and interacting with customers and your employees.
You will exercise your discretion in day-to-day operations in order to ensure that the profits for the store are maximized.
You'll also be in charge of scheduling employees, marketing, hiring and firing, and bringing forth sales initiatives as directed by upper management.
This position will require you to have at least three years in the retail sales, service, or management field. Additionally, you need to have an associate or bachelor's degree with the same emphasis on fields of study as the assistant manager.
GameStop District Manager
Also known as the district leader, this role is similar to being a business owner because you guide all store managers in your district to maximizing sales and increasing profitability. You will oversee all store managers in your district as they recruit the most talented people available for their stores.
You'll also be directly responsible for the success and failures of stores within your district.
It's important to have a bachelor's degree in business administration or a related field to be able to get hired as a district manager. You also have to have at least three years of a business-type management job and you're expected to prove that you were successful while in that position.
How to Apply at GameStop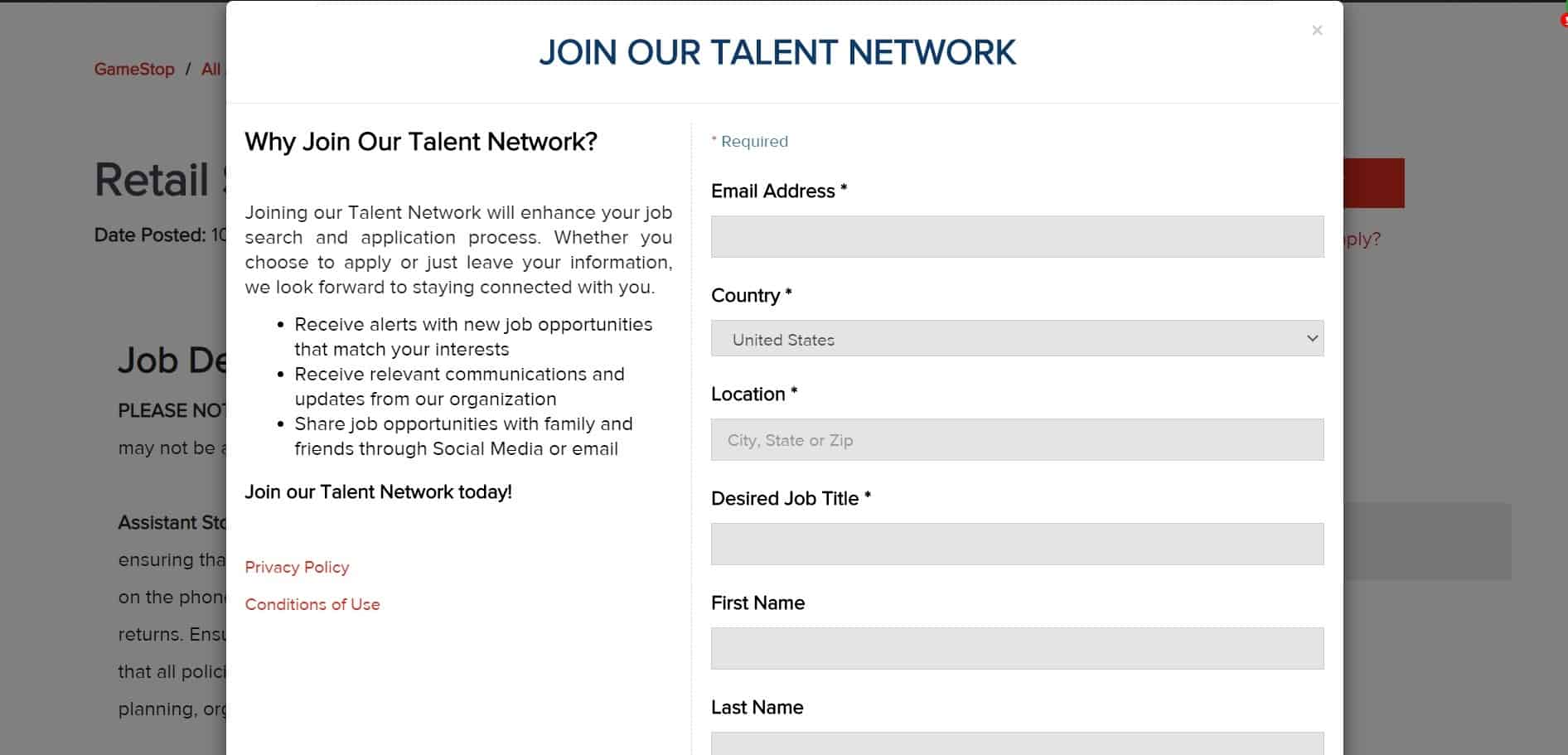 The GameStop application is very simple. All you have to do is visit the careers website online, and begin the process below:
On the "search careers" page, enter your city or ZIP Code in the location box, and press "search."
On the next page, click the job title that interests you. Many entries say "retail staff" and you can look for the location to see if it is closest to your residence, and click on the "retail staff" entry.
You will be redirected to a page that offers you job descriptions. Click the "apply now" button to begin the process.
You will be redirected to a page to ask you to fill in your information starting with your email address and ending with your opportunity to upload a résumé.
GameStop Hiring Process
Once you apply online, it's going to take anywhere between two days to a week to get hired.
It is advisable to call the store once you apply online. This will give management a "heads up" that you are very interested in the job. Once you get a call back for an interview, you will meet with the hiring manager at the store and they will ask you a series of very simple and common interview questions.
Make sure you bring your state ID and your Social Security card so they can process your application and hire you. Additionally, bring your banking information with your routing number and account number so they can set you up for direct deposit.
If everything checks out OK, you will be hired and you will be issued onboard training and you will be given an employee handbook.
GameStop Hiring Age 
The minimum age to work at GameStop is 18 years old. The reason 15, 16, or 17-year-olds can't work here is because some of the games are rated "mature." 
This is not to say that in some states, in rare instances, exceptions are made and 16 and 17-year-olds are allowed to work. Consult your local store for the answer.
Does GameStop Drug Test? 
Some past and present employees say that in certain areas, even entry-level workers will be subjected to a drug test before hiring. Others say you will not be drug tested. There appears to be a level of inconsistency between stores and areas when it comes to drug testing.
When it comes to management positions, you can fully expect to be drug tested before being hired.
Benefits 
Many employees report that GameStop offers excellent health, dental, and vision benefits to full-time workers. A certain percentage of earnings hovering around 11% is taken out of your paycheck to cover the group insurance plan, if you choose it.
As far as the employee discounts, you get 50% off all products and a 25% discount on apparel. Additionally, a 401(k) plan is offered and GameStop matches you dollar for dollar for your first 3% of contributions, then half of your contributions for the next 2%.
GameStop also offers paid holidays such as the Fourth of July, New Year's Day, Easter, and Christmas. The company also offers 6 sick days every year, maternity and paternity leave, tuition assistance, and a chance at professional development through free seminars and conferences.
Final Thoughts
At first glance, you would think that filling out a GameStop application for an entry-level job would be ideal for only younger workers. However, once you look inside the company, you'll see that the typically low starting pay is somewhat offset by a comprehensive benefits plan for full-time workers.
This is very important because it means someone looking for a career to support themselves or their family, may have a chance to do it exceptionally well at a company like GameStop. 
To make a living wage, however, it appears you would have to make it to the assistant store manager level and beyond.
By all accounts, the working conditions at GameStop are very pleasant and friendly. Employees who have worked there say it's easy to learn on the job. At the same time, you get to help many people find the products they are looking for and this gives great satisfaction.