How much does Meijer pay its employees to start, and on average once they gain work experience? The following information will provide you with accurate information on how much money you can expect to make while working at Meijer.
You'll see:
Meijer Starting Pay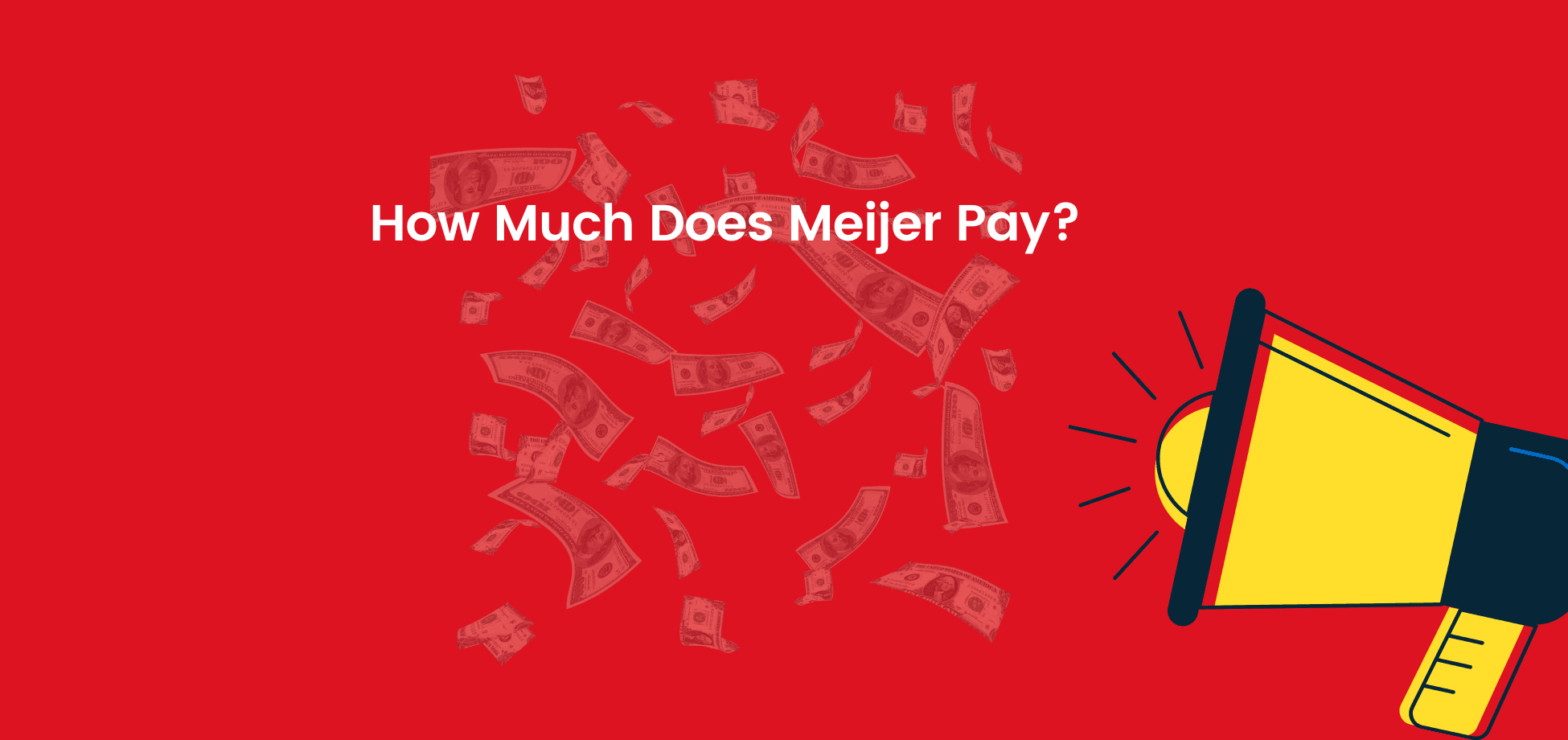 The Meijer pay rate for entry-level employees is between $10 and $11 an hour, depending on the location. In some areas, the minimum wage is higher, so you can expect your starting hourly wage to be in keeping with your local laws.
Meijer Sales Associate Pay
The Meijer sales associate is responsible for helping customers at the store find products and answer their questions. In addition to these duties, they are also expected to help with inventory and cashier duties.
The average pay for this position is $12.57 an hour. This amounts to $502 a week and a yearly salary of $26,145 for full-time staff members.
Meijer Cashier Pay
If your skillset includes cashiering, then this might be the best route for you to take as a sales associate. Management at Meijer stores is always on the lookout for the most talented cashiers, and they will mainly assign you to cashier duties during your shifts.
Cashiers at Meijer typically make about $12.38 an hour, and this equals $495 weekly and approximately $25,750 in yearly salary.
Meijer Stocker Pay
A Meijer replenishment associate makes roughly $14.17 an hour. This amount equals $566 a week and $29,473 a year.
The stocker is responsible for operating and maintaining the store's inventory. They also work in the backroom keeping merchandise clean and organized. The role of this employee is an important one because they are responsible for inventory management and keeping the shelves organized.
Some of the other responsibilities that come with this job include:
Making sure all items on floor are neat, in good condition and properly tagged
Checking prices on products to make sure that there are no mistakes or discrepancies
Keeping orderliness in stockroom
Meijer Asset Protection Pay
The role of a Meijer asset protection associate is to protect the assets from theft or physical loss. This includes anything from inventory to cash registers and money. They must be aware of how to use whatever asset protection devices are available, as well as maintain security procedures for their assigned area.
This job pays an above-average hourly wage of $17.05 an hour, which translates into $682 a week and a yearly salary of $35,464.
Meijer Pharmacy Tech Pay
The average pharmacy tech at Meijer makes about $13.98 an hour. This means you can make roughly $559 a week at this position and make $29,078 a year.
Meijer pharmacy tech jobs are often entry-level positions with a focus on customer service. Job responsibilities include answering customers' questions and concerns, processing prescriptions, and assisting customers with refilling prescriptions.
Meijer Pharmacist Pay
For this very prestigious position, you can earn an average of $163,965 a year at Meijer.
The Meijer Pharmacist is responsible for the inventory and quality of all prescription and over-the-counter drugs in their store. They are also responsible for handling the day-to-day operations of the pharmacy, such as stocking shelves, checking invoices, balancing cash registers, and making sure all prescriptions are filled accurately.
Other responsibilities include:
Helping customers find the right medication for their needs
Training and educating customers on medications
Working with physicians to help them prescribe medications
Researching new drugs, medical treatments, and therapies
Participating in medical research studies
Monitoring patients' progress during treatment
Meijer Department Manager Salary
A department manager at Meijer makes on average, $47,780 a year.
Job responsibilities of department managers at their respective departments include daily displays, merchandising, and inventory management.
Meijer department managers must also work closely with other departments to identify opportunities for increased sales and efficiencies. They are often responsible for developing new products and marketing strategies for their own store, as well as for other stores in the chain.
Meijer Assistant Store Manager Salary
Also known as the assistant store director position, this job commands a yearly average salary of $68,359. The job comes with a possible yearly cash bonus of up to $5,800.
The job of assistant store director at Meijer is a challenging one. This employee needs to be able to motivate and inspire, with the ability to work well with all the team members, lead by example, and create a culture that is fun and engaging.
Other duties include:
Assisting with training for new employees
Constantly engaging with and helping customers to ensure a smooth shopping experience
Making certain that the store is in good shape and running smoothly
Ordering supplies based on inventory levels for each product category
Performing daily financial analysis reports
Meijer Store Director Salary
This is the general store manager position, and it pays a handsome yearly average salary of $111,650 a year, plus a chance to earn up to $30,000 a year in bonuses.
The position of store director is considered one of the hardest jobs in Meijer. This job has a lot of responsibilities that vary from planning, organizing, and managing staff to working with suppliers, merchandisers, and shoppers.
Store directors must be able to work closely with the marketing team to create advertising strategies, plans, and budgets. They are also responsible for creating a merchandising plan that will focus on maximizing sales.
You can search for Meijer jobs here on the careers page.
Does Meijer pay weekly or biweekly?
Meijer pays on Friday every week for the work that was performed during the week before. This means that employees get paid on a Friday and then have to wait until the following weekend to get paid again for hours worked during the previous pay period.
Pay Raises
Many employees say there are periodic raises after you get hired and if you are performing well. The Meijer pay raise schedule rewards exceptional employees.
You may be able to expect a raise:
After your first 90 days
Upon completion of 6 months of work
Your one-year anniversary
The raises are usually between one and three percent, so this amounts to between .10 and .40 cents for entry-level workers.
Meijer Full-time Hours Assigned
Meijer typically assigns 40 hours to all full-time employees. It is not uncommon for someone to be scheduled for 40 hours of work every week and then have an extra 5 to 10 hours of work on top of that as overtime during weeknights or weekends.
It all depends on the necessity of your location, so there is overtime available in some areas.
Part-time Hours
Part-time employees frequently get anywhere between 15 and 29 hours scheduled every week.
When someone is sick and needs to stay home, it's also a good opportunity for people who want more work hours to request them from management. But you might be hesitant to ask your management for more hours because you're worried about getting turned down and feeling like you're not good enough.
The best way to approach this is to occasionally tell your immediate supervisor in a polite manner, to keep you in mind when someone calls out sick.
Meijer Shift Hours
Meijer has 1st, 2nd, and 3rd shifts to identify the different shifts throughout the day. Here are some examples of shifts you may be assigned:
9 AM to 6 PM
9 AM to 2 PM
1 PM to 9 PM
3 PM to 9 PM
3 PM to 11:30 PM
4 PM to 10:30 PM
4 PM to 12 Midnight
10 PM to 6:30 AM
11 PM to 7 AM
Call Out Sick Policy
Meijer offers its employees an opportunity to earn paid time off and this is directly proportionate to their work attendance.
When you are going to call out sick, make sure you give your manager a heads-up with plenty of time to find a replacement for you. Meijer will subject some individuals to progressive discipline if they abuse their time off, so be aware of this.
Breaks
At Meijer, you can take two paid 10-minute breaks and a meal break (unpaid) during a 6 ½ + hours shift. Keep in mind, different locations run their breaks differently, but they always have to be in accordance with state laws.
Therefore, consult with your state laws if you are unsure, or if you believe your rights are being violated, whether intentionally or not.