If you are searching for the answer to "how much does Zaxby's pay its employees?", this guide will provide all the information you need to make an informed decision. Before you apply for a job with this fast-food casual restaurant chain, check out the information below.
The following information will provide:
Zaxby's Starting Pay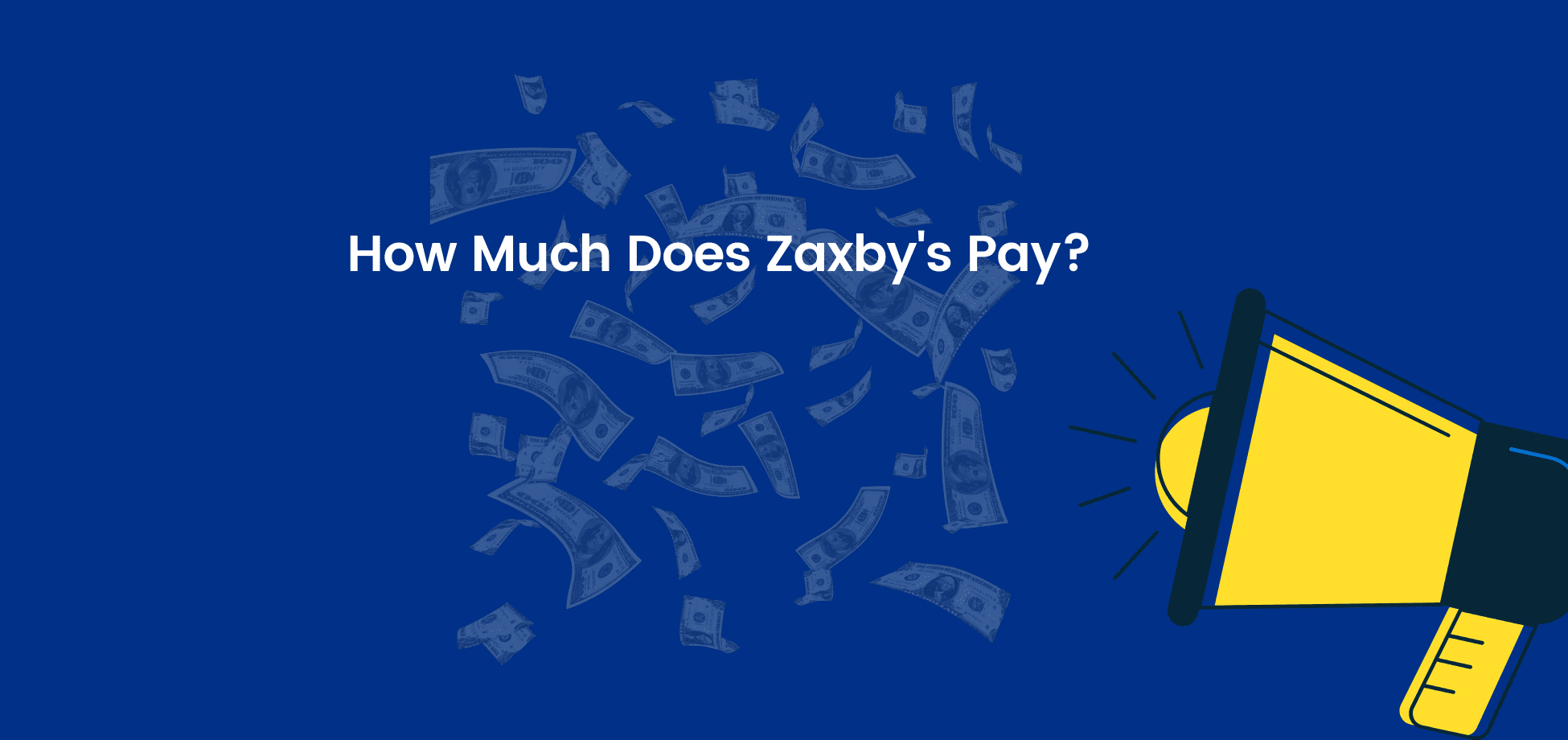 Just over 100 of the approximately 600 Zaxby's locations are corporate-owned stores, so you can expect a 1 in 5 chance of becoming employed at a franchisee location. Franchisees typically hire part-time workers in hopes of developing some of those employees into full-time and promoting them eventually to a management position.
Therefore, the starting pay is very low until you have proven yourself to the ownership or management at your location. You can expect to start out at the minimum wage in your state or area, and this is typically about $9 an hour.
Now, keep in mind some states have a much higher minimum pay, so in those states, your starting pay would be the minimum wage.
Zaxby's Team Member Pay (Front or Back of House)
An experienced team member will typically earn about $11.12 an hour at Zaxby's. This amounts to about $444 a week and $23,129 in salary if you happen to work full-time throughout the year.
As a front or back of the house team member, your responsibilities include:
Performing quality control on food products
Making sure that all food is made to order
Ensuring that all customer's needs are met
Maintaining a clean and sanitary work area
Applying cashiering skills to meet the customer's expectations
Other duties as assigned by your manager or my supervisor
Zaxby's Cashier Pay
As a cashier, the Zaxby's pay rate is an average of $10.28 an hour. This would be about $411 weekly and $21,382 yearly.
Zaxby's cashier role is to be able to meet the needs of customers by providing an experience that meets their expectations. This is achieved through effective customer service, which includes:
Greeting customers with a smile
Taking orders accurately
Preparing food for them as quickly as possible
Ringing up their purchases with efficiency
Making sure they are fully satisfied with their visit
Zaxby's Cook Pay
A cook at this fast-food chain will earn, on average, $10.36 an hour. That would be $414 a week and a yearly salary of $21,548.
A Zaxby's Cook has three main responsibilities: to prepare food, to cook the food according to the following guidelines, and to maintain cleanliness and order in the kitchen. They are also required to adhere to health regulations, such as wearing hair nets when cooking and handling raw ingredients.
Zaxby's Assistant Manager Pay
The assistant manager at Zaxby's makes around $14.45 an hour, which equates to a weekly salary of $578 and $30,056 yearly.
Assistant managers are responsible for managing the day-to-day operations of the restaurant and ensuring that it is profitable. They oversee employee training, maintain food quality, and make sure all aspects of the business run smoothly.
Zaxby's General Manager Salary
A general manager at Zaxby's will typically earn $64,960 a year. Cash bonuses and profit-sharing can oftentimes drive up that salary by another $7,000 a year.
General managers are responsible for the overall success of the company. They are also responsible for raising revenue and managing product development, marketing, operations, and finance.
These GMs will also be in charge of hiring employees, budgeting for their store, and controlling inventory and assets to ensure they have enough food supplies on hand.
Zaxby's District Manager Salary
The district manager salary averages a fairly low $71,952 a year for this type of position. They are also able to potentially earn close to another $10,000 a year in bonuses.
The responsibilities of a district manager at Zaxby's are varied and extend far beyond the restaurant. While the primary role is to maintain and expand the business, they are also in charge of hiring, training staff, keeping the company up to date on regulations, attending meetings with franchisees, and looking for new opportunities for expansion.
District Managers must be proactive in their approach to work. They must stay on top of trends and always be looking for ways to grow their business. They will also have close relationships with franchisees since it is their job to ensure that everything runs smoothly at the restaurant level.
You can check out the many job openings in your area by visiting Zaxby's careers page.
Does Zaxby's pay weekly or biweekly?
You get paid biweekly, and Zaxby's pay period starts on a Monday and ends on the second Sunday. After that, you get paid the following Tuesday or Friday, depending on the way your location handles it.
Zaxby's Pay Raises
Zaxby's pay raises can be inconsistent in many locations, so you have to ask for them.
Pay raises have always been an incentive to stay with a company, and it shows how much companies care about their employees. However, since most locations are franchisee-owned, the raises are almost never talked about.
It is your responsibility to perform your job well for a few months and then approach your management about earning a possible raise in the near future.
If you are a good employee, they will no doubt give it serious consideration because, in the fast-food industry, it's hard to find loyal and dependable workers due to the low pay.
Zaxby's Full-time Hours Assigned
Full-time employees usually get at least 40 hours of work assigned weekly. Some employees swear they get scheduled at least 50 hours a week during some periods due to a lack of personnel.
Part-time hours
Zaxby's is one of those companies that will not hesitate to call upon part-time workers to fill in empty full-time slots due to manpower shortage. Therefore, don't be surprised if you get hired part-time and are soon working up to 50 hours during certain weeks.
Shifts Available
Zaxby's has different shifts to choose from. Work with your supervisors to see if you can get a schedule that helps make your life easier.
Here are some example shifts:
8:30 AM to 5 PM
9 AM to 2 PM
10 AM to 3 PM
11 AM to 5 PM
1 PM to 6 PM
2 PM to 10:30 PM
5:00 PM to 12:00 Midnight
Zaxby's Call Out Sick Policy
Employees who have worked at Zaxby's say hourly workers do not qualify for any sick time at all. Additionally, it's important to call your manager well ahead of time to have someone cover your shift when you call out sick, or you can be terminated for abusing their sick policy.
Breaks
Zaxby's is inconsistent in this area and receives a lot of complaints from employees as a result. Certain states in the US have mandatory paid breaks, so consult with your local laws.
Otherwise, make sure you stay in communication with your managers when you want to take a break. A bathroom break is not what we are talking about here!
I'm referring to a scheduled paid 10 or 15-minute break and a 30-minute meal break during an 8-hour shift. If you don't speak up, you run the risk of being overlooked by the manager, and they will have you on the front lines while you're hungry or need a short break!
Featured image courtesy of Michael Rivera, CC BY-SA 4.0, via Wikimedia Commons.