Hooters hires people from all walks of life and offers them a variety of opportunities in which to learn new skills and work with others. In exchange for their work, employees get flexible scheduling that allows them to balance their professional life with family time and personal interests.
So, how much does Hooters pay its employees? To answer this, I'll give you the latest information on:
Hooters Starting Pay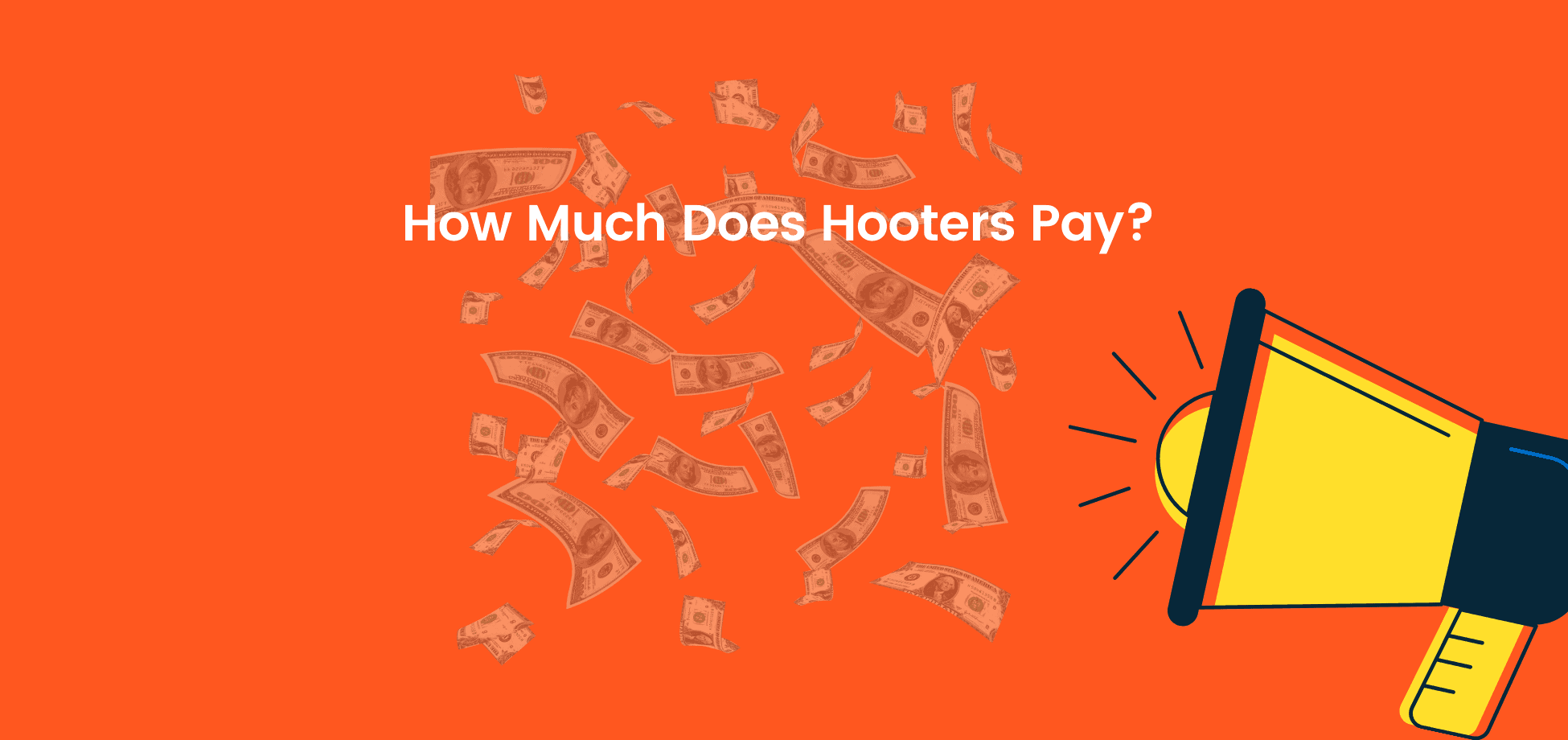 Hooters minimum wage offered to its employees varies with different positions. For example, as a Hooter Girl/Server, you can expect to make minimum or barely above minimum "tipped wage" in your state in the US. Here's a chart to help you out with this.
For other entry-level positions, such as hostess or kitchen staff, etc., you can expect approximately $10.00 an hour to start, unless the minimum wage in your area is higher.
Hooters Host/Hostess Pay
The average host or hostess at Hooters makes around $10.66 an hour. This amounts to $426 a week and a yearly salary totaling $22,172. Those working part-time at this position can expect to earn approximately $13,588 a year, based on a 25-hour workweek.
A Hooters host job is not as simple as it looks. In this position, you have to do a lot more than just coordinate and find tables for your guests. You must also be a people person, be enthusiastic, and have the ability to stand for long periods of time.
Hooters Waitress Salary (Server)
A server at Hooters, also known as a "Hooters Girl", makes about minimum tipped wage but earns tips on a daily basis. According to Indeed.com, the average server makes about $29,325 a year and this includes salary and tips.
Some servers say they are able to earn twice that amount and even more, by busting their tails and working hard for tips.
Hooters servers are responsible for taking the orders, delivering drinks and food to the tables, and making sure the customers are happy by providing great service. These employees have to be on their feet all day which leads to a lot of physical and mental stress.
Hooters Cook Pay
The average cook at Hooters makes about $13.07 an hour. The weekly pay averages around $522 and yields a $27,185 yearly salary.
The responsibilities of a Hooters cook can be diverse and can vary from shift to shift. They are responsible for cooking the food, maintaining a clean and consistent environment, taking orders, following recipes, managing the kitchen, and ensuring food quality.
It is a job where you can expect a very high-stress environment during peak times, so your skills have to be spot on!
Hooters Bartender Pay
The typical bartender salary at Hooters is between $28,450 and $39,560 a year, and sometimes more. The salary is based on a tipped minimum wage and tips earned during the shift.
Hooters bartenders are responsible for ensuring that their guests have a good time at their establishment. They provide food and drinks, and they ensure that everyone is having an enjoyable time.
These bartenders are usually in charge of bar management, alcohol service, handling unruly customers, preparing food, taking care of guests' needs, promoting the Hooters brand, and dealing with any emergencies that may arise.
Hooters Kitchen Staff Pay
Kitchen staff members at Hooters make about $13.43 an hour. This means they can potentially make $537 a week and $27,934 a year.
Some of the duties that the staff members perform include: cooking food items such as hamburgers, chicken wings, and fries; preparing salads; handling customer needs with hospitality; maintaining the cleanliness of facilities; coordinating with general managers to ensure smooth operation of workstation operations; cleaning workstations after each shift.
Hooters Cleaner Pay
The average cleaner/sanitation/custodial worker at Hooters makes around $10.97 an hour. Weekly, you can expect to earn about $438 at this rate and a yearly salary of $22,817.
The Hooters cleaner job responsibilities vary, but they typically include cleaning tables, the restrooms, and making sure that the customers are happy. These workers also need to provide a helpful attitude to customers who come into the restaurant all day long with different needs.
Hooters Assistant Manager Salary
An assistant manager at Hooters can make approximately $47,865 a year, plus up to $1,800 in yearly bonuses.
The job of an assistant manager is to oversee and manage the Hooters restaurant, while the manager is out of the store and assist the manager when he or she is present. Responsibilities include staffing, ordering supplies, training staff, and supervising bartenders.
Specific responsibilities include:
Managing every non-managerial staff member in the restaurant
Supervising bartenders
Directing and training staff to be effective
Ordering supplies
Monitoring inventory levels
Maintaining safe food handling procedures
Hooters Manager Salary
This position is the most sought-after job at Hooters, and it will pay you an average of $57,542 yearly plus up to $3,000 a year in bonuses.
Hooters managers are responsible for overseeing all aspects of their restaurant's operations. This includes managing staff members, making sure that food and drinks are made to order, along with the general cleanliness and appearance of the restaurant.
A manager at this company must have a great personality in order to take on this role. They also have to be able to handle a lot of responsibility, as they oversee their personnel and create the west working atmosphere possible in order to maintain a positive working atmosphere.
Hooters Regional Manager Salary
The regional manager typically earns about $99,623 yearly plus a chance to earn up to $17,000 in bonuses every year.
The regional manager is in charge of establishing marketing strategies and hiring managers and employees. They also manage staff by training, scheduling, and firing based on performance reviews.
Does Hooters pay weekly or biweekly?
Tipped employees are paid in tips on a daily basis and receive their hourly paycheck biweekly on a Friday.
Therefore, as a tipped employee, you have to stay on top of your finances because it will be tempting to spend the bulk of your actual salary daily (tips received), instead of saving it.
How often does Hooters give pay raises?
Hooters gives yearly performance reviews to employees and typically offers them a 1 to 3% raise based on their performance. Therefore, if you start out at the entry-level in the kitchen making $11 an hour, you can expect up to a .33 raise (3%) after your first full year of service.
What are full-time hours at Hooters?
If you work at least 32 hours a week, you are considered a full-time worker at Hooters. This company is very flexible with its scheduling, and many servers end up working 8-hour shifts, 4 days out of the week for a total of 32 hours.
Others, find the time to work over 40 hours a week with management's approval, and this can drive up their yearly salary substantially.
Part-Time Hours
Part-time hours are usually around 20-25 hours a week, so this offers plenty of flexibility for college students and others looking for a side gig.
Additionally, you can easily have a day job and come in for the evening shift beginning at 5:30 PM and ending at 10:30 PM. This gives you a great chance to earn extra money on the side.
Hooters Shift Hours
Shifts vary between stores, but here are some example shifts you can consider while working at Hooters:
9 AM to 4 PM
10:30 AM to 5 PM
12 PM to 4 PM
12 PM to 6 PM
4:00 PM to 11:00 PM
4:30 PM to 12:00 Midnight
Hooters Employee Call Out Sick Policy
Hooters has a strict policy of calling out sick if you are going to be out. The policy was implemented to ensure that the business is not taken advantage of by employees who aren't really sick.
With such a policy, it is important that you call your supervisor ahead of time before leaving or being absent. This way, the company can find a replacement for your shift.
Hooters Break Policy
It's difficult for servers to get breaks at Hooters unless it is to use the restroom. Other workers, such as kitchen staff, may have an easier time asking management for an occasional break.
The bottom line is; you have to communicate with your management staff and request breaks when you need them. If you are a top performer, you should have no problem getting occasional paid breaks.
Featured image courtesy of Ildar Sagdejev, CC BY-SA 4.0, via Wikimedia Commons.