There are many benefits of working at Wingstop and many employees like the pay. A lot of people also appreciate how easy it is to get hired at this restaurant. This company hires a lot of people from college campuses and other places where they see potential employees for their company.
The company culture encourages its employees to grow within their roles, and this brings a higher level of professionalism and work ethic to the table.
How much does Wingstop pay its employees to start, and how much do experienced employees make?
Below, we'll take a look at:
Wingstop Starting Pay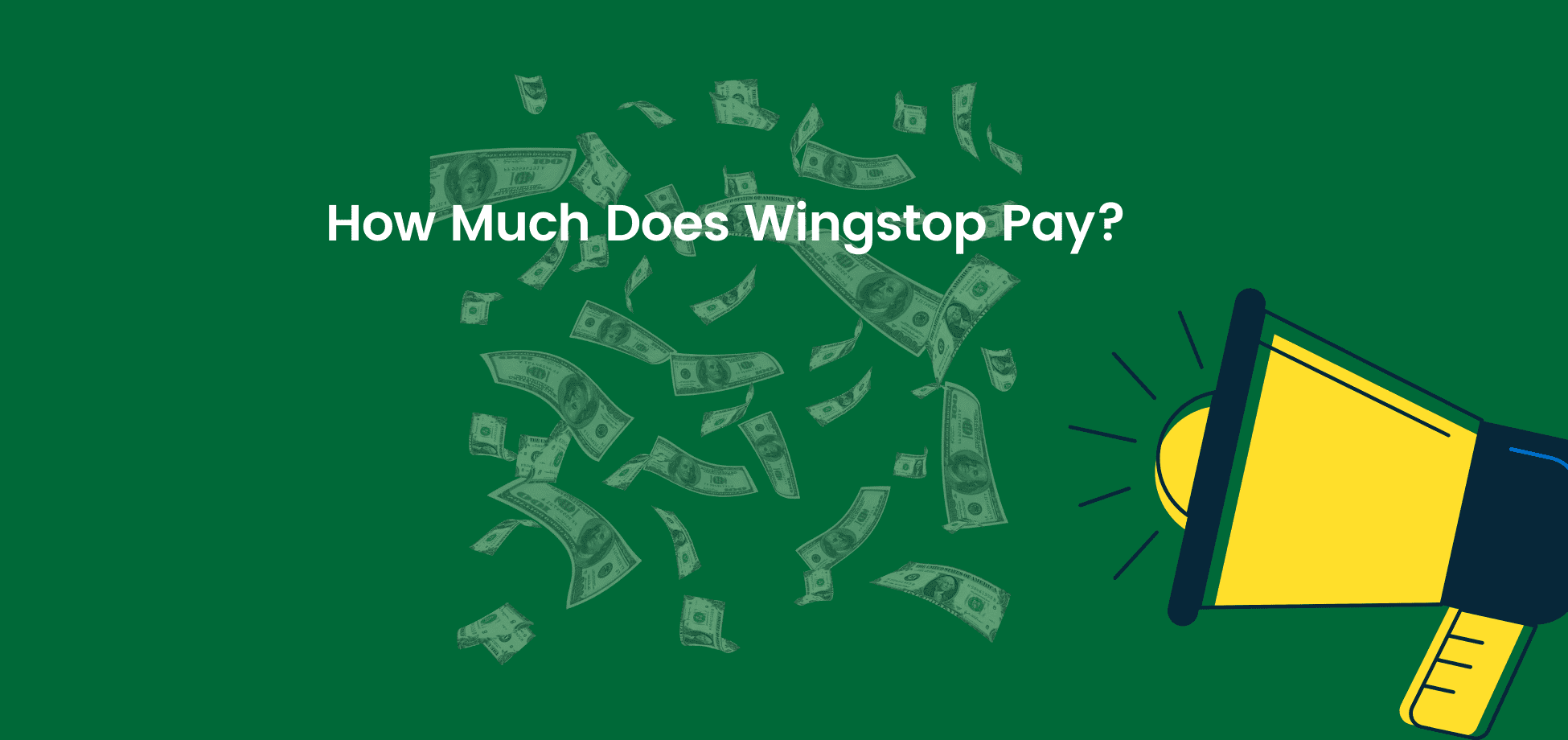 Almost every Wingstop location is franchisee-owned, and every owner is entrusted with the task of establishing a fair market value starting wage. The typical starting pay for Wingstop entry-level workers is $11 an hour unless you are in a state or city with a higher minimum wage.
Wingstop Team Member Pay
Also sometimes referred to as crew members, the average Wingstop hourly pay rate for this position is $11.17 an hour. This means you'll make an average of $446 a week and a yearly salary of $23,233.
The Wingstop team member's job responsibilities are to maintain and clean the restaurant, take orders, and prepare food. They are also expected to engage with customers to answer any questions they may have.
Wingstop Shift Leader Pay
A shift leader makes an average of $13.35 an hour. This equals approximately $534 a week and a chance to earn a yearly salary of $27,768 or more.
A Wingstop shift leader is responsible for the daily operation of the store and will work a set shift every day. The primary responsibility is for front-line service, which includes greeting customers, taking orders, cooking food, preparing and serving beverages.
An employee in this role must be reliable and ready to work at all hours of the day. This job requires someone with good communication skills as they are interacting with customers.
Wingstop Cook Pay
A cook at this fast-casual restaurant will earn an average of $11.78 an hour. This gives these workers a chance to earn about $471 a week and $24,502 yearly.
As a Wingstop cook, you are expected to be able to work in a fast-paced environment. You must be able to multitask and think on your feet.
Your responsibilities in this position will also include preparing the food, maintaining the cleanliness of the restaurant, and completing quick prep tasks for orders.
Wingstop Assistant Manager Salary
The average assistant manager at Wingstop makes about $14.65 an hour. So, you would be able to make approximately $586 a week and $30,472 a year.
This position will have you taking care of the overall management of the restaurant. You'll help in various tasks such as customer service, taking care of and mentoring employees, overseeing operations of your location.
Wingstop Manager Salary
The Wingstop Manager has many tasks, such as keeping up with the company's sales, marketing, and advertising.
Other responsibilities include:
Opening and closing hours
Menu development
Employee engagement
Sales and marketing activities
Advertising and promotional activities
Does Wingstop pay weekly?
Wingstop pays biweekly at most locations, but also pays weekly at a few others. It has been reported that a few locations pay twice a month, such as on the 5th and 20th days. Therefore, consult with your hiring manager, so you know what to expect after you get hired.
The pay period will usually begin on a Sunday and end on the second Saturday after that for those who get paid biweekly. Then, you get paid for the days worked during that previous pay period on the following Friday after the pay period ends.
Wingstop Pay Raises
While some employees have said they got a raise after working 6 months, others say they haven't gotten any raise at all, even after working there for two years.
Most of these restaurants are franchisee-owned, and these owners typically are very stingy with raises because they are trying to create as much profit for their company as possible.
Be aware that this forces you into a position where you will need to ask for a raise periodically, so you can stay on your management's radar. Otherwise, they will probably forget about you and not offer you a raise.
Wingstop Full-Time Hours
Full-time employees should receive between 32 and 40 hours of work every week. Sometimes, management will ask you to hold over and work a few more hours on certain days.
If you are hoping to maximize your work hours, There are some tips you can follow and these include:
Always being nice and polite to customers, team members, and management
Demonstrating that you are willing to work hard during your shifts
Asking for a shift later in the day if someone else calls out sick
Occasionally reminding your management, they can always count on you to replace a team member when they call out
Wingstop Part-Time Hours
Usually, you will work 20 to 31 hours a week if you are a part-time employee. However, don't be surprised if, during some weeks, you end up working over 40 hours covering shifts for other workers.
Wingstop Shift Hours
Here are some examples of shifts that entry-level workers may have to work once they are hired:
10 AM to 3 PM
10 AM to 6 PM
11 AM to 5 PM
11 AM to 7 PM
2 PM to 10 PM
4 PM to 10 PM
4 PM to 12 Midnight
Wingstop Call Out Sick Policy
Many past and present team members say they were not allowed any paid sick days during the year, while some said they could accumulate up to 6 days a year.
Regardless, it's important that you call your manager well ahead of time if you are going to be calling out sick, so they can find a replacement. Employees who have abused leave time have typically received disciplinary action before they have been terminated.
Wingstop Break Policy
You're supposed to get two paid 10-minute breaks and an unpaid meal break lasting 30 minutes during an 8-hour shift.
However, most locations don't always adhere to this policy and people end up not getting their breaks on any specific day.
The good news is that many locations offer you free lunch when you take your unpaid meal break!
Featured image courtesy of Leahdi, CC BY-SA 3.0, via Wikimedia Commons.