Not too long ago, Jack in the Box employees were asked to give their thoughts on their salaries and hourly pay. Some found it fair and some found it discouraging.
When asked about other variables, such as how many hours they work per week, employees had mixed reactions, but overall felt that their company offered good benefits and work-life balance.
So, how much does jack in the Box pay its employees when they start, and how much do they make on average after gaining a few years of experience?
The information below will provide you with:
Jack in the Box Starting Pay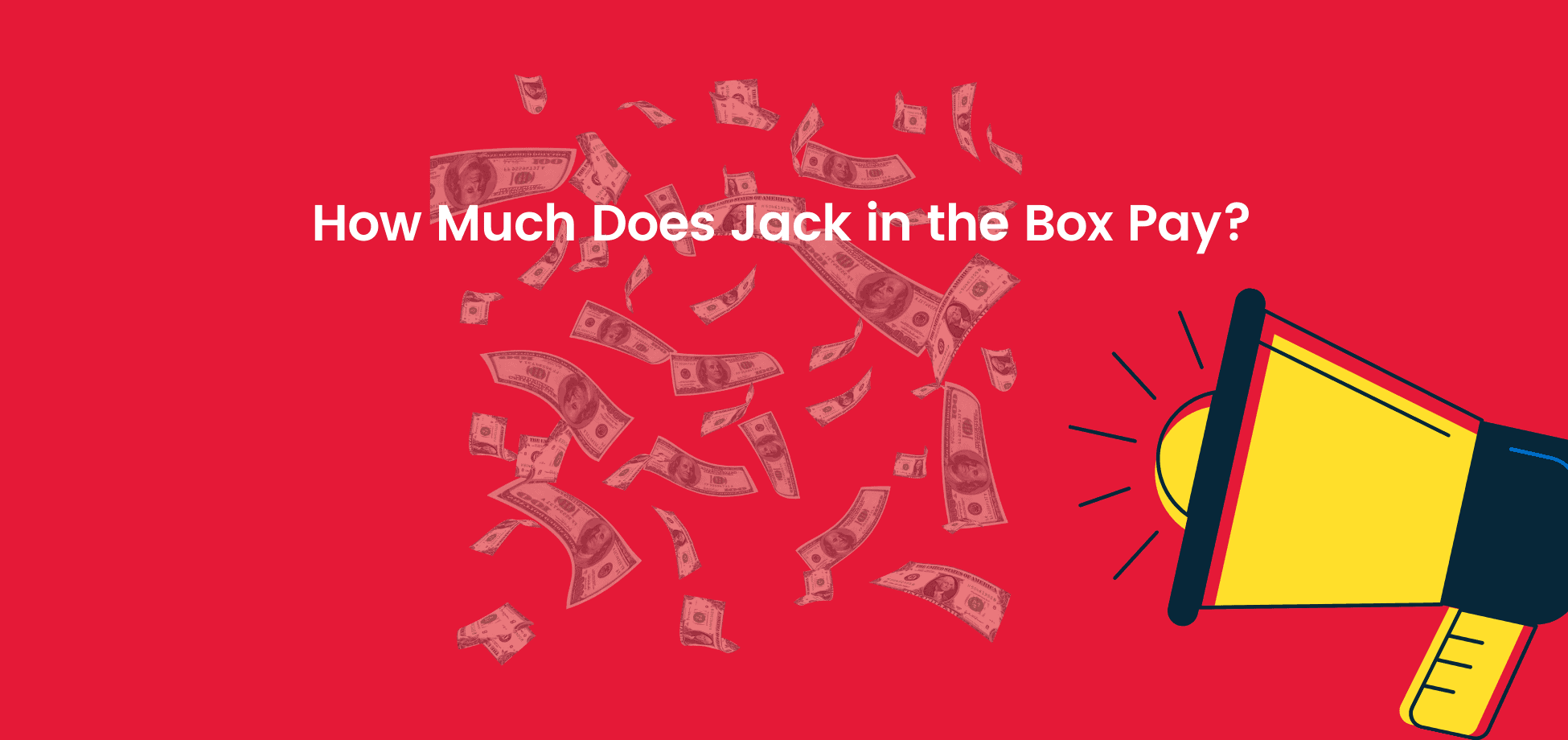 The starting pay at Jack in the Box is usually the minimum wage in your state or slightly higher. This averages about $10 an hour, when you take all the states that have a Jack in the Box.
The pay is low because almost all locations are franchisee-owned, and many of these owners typically want to rake in as much profit as possible while paying low wages to employees until they prove themselves worthy.
On a positive note, the low pay serves as motivation for employees to advance up to a management position or to become a great employee for the company and earn full-time status or a good pay raise.
Jack in the Box Team Member Pay
The average team member working at Jack in the Box earns about $10.65 an hour. This means you would make approximately $426 a week and $22,152 yearly.
A team member works at the front of the restaurant, greets customers, and helps to maintain cleanliness and prepare food for customers.
Jack in the Box Cashier Pay
The average hourly *Jack in the Box pay rate for cashiers is very low, at $9.85 an hour. This would only give you about $394 a week and a yearly salary of $20,488.
The job responsibilities of a cashier at this company vary depending on the location. For example, some might have to handle walk-in customers, while others will focus on collecting orders and serving customers at a drive-thru window.
Jack in the Box Team Leader Pay
The average team leader hourly pay comes in at a surprisingly low $10.95 an hour. This indicates many team members, who make just .30 an hour less, would rather not assume the responsibilities of a team leader because the pay is not worth it!
The leader will be responsible for hiring and motivating their team, providing training and support, organizing meetings, making sure that team members' performance is evaluated, evaluating their own performance as well as understanding how they can improve it.
Jack in the Box Cook Pay
On average, a cook at Jack in the Box makes about $10.45 an hour. At this hourly rate, you would earn about $418 every week and a yearly salary of $21,736.
The responsibilities of this job include cooking and preparing food, maintaining sanitation in the kitchen, maintaining the cleanliness of food prep areas, managing inventory and cooking equipment, making sure that company policies are followed by employees.
Jack in the Box Assistant Manager Salary
An assistant manager at Jack in the Box makes an average of $32,985 a year. This is below average for this type of fast-food position.
The Jack in the Box Assistant Manager is responsible for ensuring that all areas of their store are functioning properly and meeting guest expectations. They must also manage multiple tasks, such as taking guest orders and preparing food, while closely monitoring cash register usage.
Jack in the Box Manager Salary
A restaurant manager at Jack in the Box typically makes $47,350 a year.
The Jack in the Box Manager is responsible for overseeing the day-to-day operations of a
These managers are required to maintain an efficient operation, achieve profitability, and increase customer satisfaction. They are also responsible for hiring and training staff as well as maintaining product inventories throughout their stores.
Other responsibilities include planning and managing staffing needs, managing projects, and planning marketing strategies.
Jack in the Box District Manager Salary
The average district manager for this company earns approximately $87,493 a year.
The district manager is responsible for making sure that managers and their team members are meeting or exceeding their sales goals.
The responsibilities of a Jack in the Box district manager include, but aren't limited to:
Developing and managing territory strategy
Ensuring compliance with all relevant state laws, federal laws, and company policies
Managing speed of operations, including scheduling and customer service for on-premise locations
Managing relationships with key stakeholders such as franchisers
Managing customer complaints
Does Jack in the Box pay weekly or biweekly?
Jack in the Box typically pays its employees either biweekly or twice a month. This all depends on how a franchisee chooses to pay its employees.
For example, if you are paid twice a month, the pay periods are from the 1st to the 15th and 16th to 28/29 (February) or 30/31 of every month.
Then, you would get paid on the 6th (for 1-15) and 21st (for 16-30/31) of every month, or on the 7th and 23rd of every month.
Pay Increases (Raises)
Jack in the Box's pay raises are reportedly inconsistent, which is the usual process due to most locations being franchisee-owned.
Many employees report on Indeed.com that they never get a raise unless they ask for it and if they are dependable, hard-working employees.
You should know that getting a raise at a fast-food franchisee-owned restaurant is somewhat difficult. Employees can be fired for not meeting the minimum requirements of the restaurant in terms of following policies.
The best way to get your pay increased is:
By meeting and exceeding the owner's expectations, so they see you as an asset in their business
Through communication with your management; if you don't speak up about it, you will usually be ignored when it comes to a raise
Jack in the Box Full-Time Hours
Employees who receive from 33 to 40 hours a week are considered to be working full-time. On average, full-time employees at this company work about 34 to 36 hours a week.
Be aware if you are someone who needs maximum work hours in order to increase your pay, you can communicate with your management team about it.
By being available to fill in for other employees who call out sick, you can increase your yearly salary by a few thousand dollars a year.
Part-Time Hours
Employees who work anywhere between 16 and 32 hours a week are considered part-time employees. That's not to say these employees don't occasionally work way over 32 hours a week. It happens frequently in some locations, due to other employees calling out sick and having part-timers fill in for their absences.
Jack in the Box Shift Hours
Each franchisee-owned location reserves the right to schedule their employees however they see fit, according to their store's needs. With that said, here are some example shifts you may be scheduled to work:
5 AM to 2 PM
6:30 AM to 2:30 PM
2:30 PM to 10:30 PM
3 PM to 10 PM
8 PM to 3 AM
9 PM to 7 AM (night shift)
10 PM to 6 AM (night shift)
Call Out Sick Policy
Even though each location differs when it comes to call-out sick policies, here's a guide that can help you understand how this company generally handles this subject.
Jack in the Box has a strict policy for employees who call out sick.
Their belief is that they can't have people coming to work when they are not feeling well. They need to make sure that the restaurant is staffed and running smoothly, but if an employee cannot work due to illness, they will find someone else to cover their shift.
Play it Safe and Inform Your Manager Ahead of Time
However, it's important to let management know well ahead of time, if possible.
If an employee appears to abuse the sick leave policy at his or her location, there will usually be progressive discipline that can lead to the firing of the individual.
Jack in the Box Break Policy
Company policy states if you work a full 8-hour shift, you'll get two paid 10-minute breaks and a 30-minute meal break which is unpaid. 
However, employees say some managers are inconsistent with this policy, due to several factors, including the fact that oftentimes they are shorthanded. 
As a consequence, some employees report:
Some days you get breaks, and some days you don't
They only get a 30-minute break if it is not too busy
You can only get your 30-minute break during off-peak hours
Featured image courtesy of Coolcaesar at en.wikipedia, CC BY-SA 3.0, via Wikimedia Commons.