Macy's is a successful department store that sells a variety of clothing, shoes, accessories, jewelry, furniture, and housewares. But how much does Macy's pay its employees? Are present employees happy with what they are earning?
Below, we'll take a look at:
Macy's Starting Pay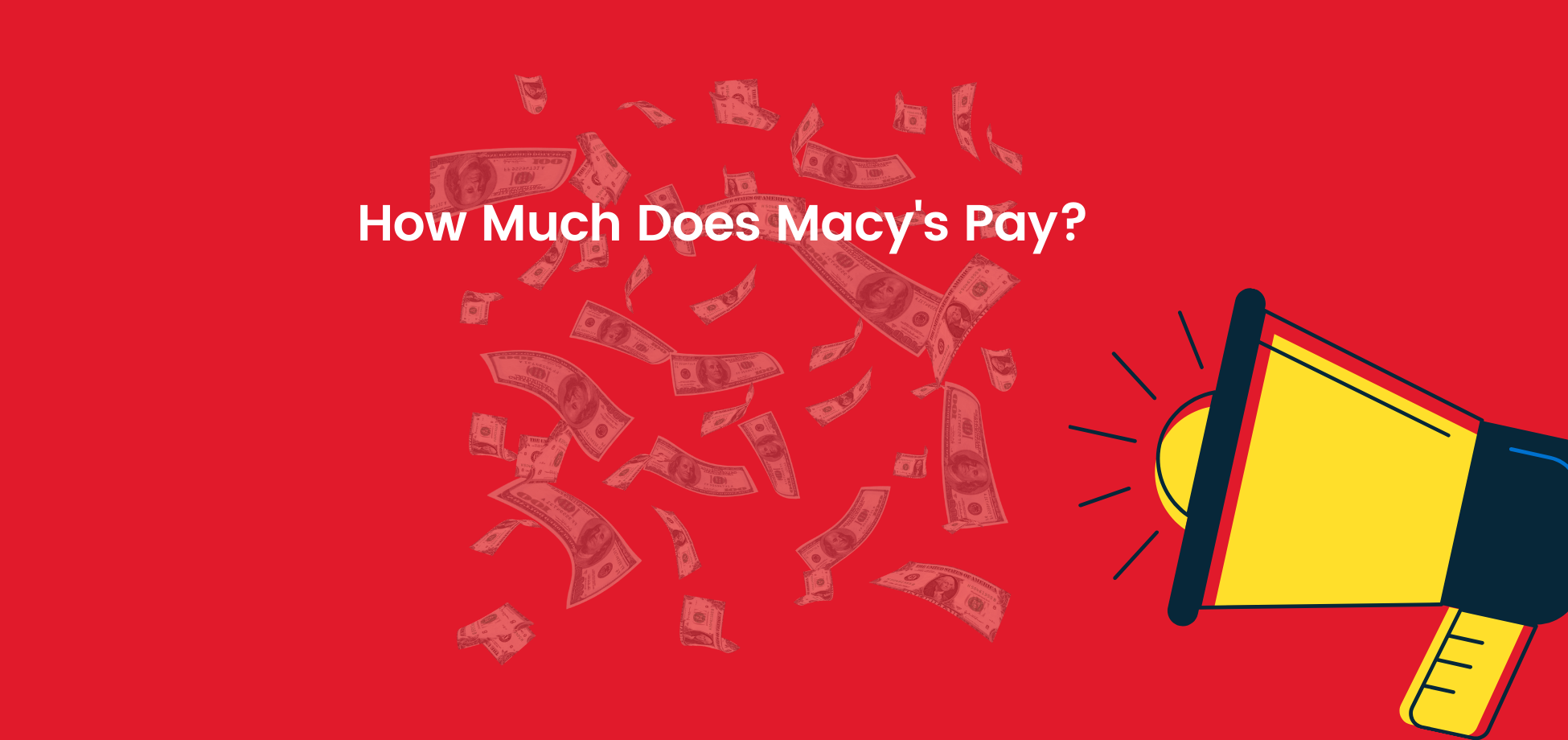 Macy's recently announced it would raise the minimum hourly wage to $15 an hour beginning in May 2022.
Macy's said the move was in response to a tight labor market and to keep and attract talent.
The company's new minimum wage for entry-level employees will be more than twice the federal minimum wage of $7.25 an hour.
The following hourly wages are accurate but keep in mind in some states, the minimum wage will raise the average pay above that minimum wage.
Macy's Sales Associate Pay
The average hourly wages for a sales associate are $11.12 an hour. This would amount to a weekly paycheck totaling at least $444 and a yearly salary of $23,129. Most associates find the hourly pay highly inadequate.
Macy's sales associates are the first point of contact for customers, which means they must be knowledgeable about Macy's merchandise and promotional events.
They also collect payments, provide change, conduct price checks on items for customer satisfaction, and maintain an accurate record of inventory.
Besides this, they answer questions about the store's policies like returns or exchanges.
Macy's Retail Fulfillment Associate Pay
On average, a retail fulfillment associate at Macy's makes $14.15 per hour. This equals $556 a week and a yearly salary of $29,432.
A retail fulfillment associate contributes to the efficiency and effectiveness of store operations by performing tasks such as taking inventory counts, pulling merchandise from storage areas to be sold on the floor or put on display in windows or racks.
Macy's Cashier Pay
The cashier pay at Macy's has typically been very low, coming in at $10.45 an hour. This is only an average of $418 a week and $21,736 in yearly pay.
Macy's Receiving Associate Pay
The hourly pay for a receiving associate with this company is approximately $13.95 an hour, which equates to $558 a week and a salary approaching $29,016 a year.
In this position, you will also be responsible for maintaining the store's inventory by logging and receiving deliveries, as well as assisting with the processing of returns and exchanges.
Other common jobs available and their average hourly pay are:
Administrative Support Team Associate, $16.10/hr.
Selling and Support Captain, $16.34/hr.
Asset Protection Security Guard, $14.85/hr.
Retail Merchandising Support Associate, $13.85/hr.
Macy's Assistant Manager Salary
An assistant manager at Macy's earns an average of $80,345 a year, not including up to an extra $9,000 in bonuses and commission sharing.
Macy's assistant managers are responsible for store operations, merchandising, visual merchandising, customer service, and stockroom standards. These managers are usually promoted from within the store after they have gained adequate experience and seniority.
Macy's Manager Salary
A general manager at Macy's earns $101,238 a year, on average. In addition, they are eligible to receive up to $21,000 a year in commission sharing and bonuses.
The role of a general manager in Macy's is to oversee the store, making sure that it operates efficiently. The position is responsible for everything from advertising and marketing, to store layouts and personnel management.
Macy's District Manager Salary
Macy's district managers can expect to earn an average of $123,670 a year and this does not include bonuses that can total between $10,000 to $20,000 a year.
Macy's district manager responsibilities include managing store operations, sales goals, customer service, safety, and being a brand ambassador.
A district manager is the highest-ranking store associate in a given area. They are responsible for overseeing all aspects of Macy's stores in their assigned region.
Does Macy's pay weekly or biweekly?
Macy's pays its employees in one of three ways, depending on your location:
Once a week, every Friday
Biweekly on the second Friday
Twice a month
For those who get paid once a week or biweekly, the pay period begins on a Sunday and ends on the following or second Saturday, then you get paid for hours worked during that time period on the following Friday.
Does Macy's hold your first paycheck?
One of the most common misconceptions is that Macy's automatically withholds your first paycheck. That's not true! There are only a few reasons why an employer would withhold your first paycheck, and none of them apply to Macy's.
The confusion stems from not knowing when the pay period starts and ends. For example, let's say your store pays biweekly, and you started working on a Monday and work 5 days in a row through Friday, and the pay period ends on the following day (Saturday).
You would get paid for only those hours worked from that Monday through Friday on the following Friday.
How often does Macy's give raises?
Macy's employees are eligible for raises every 6 months to a year, depending on your store.
The company has a yearly evaluation process that will determine how much of a raise employees can get, and it's based on their performance and other variables.
While some employees have said the raises are very low, between 2 to 3%, others say they received substantial raises for good performance.
It always helps to speak with your manager about a raise, based on your belief that you've exceeded expectations as an employee. When you present your case, emphasize your achievements and mention them in detail.
What are considered full-time hours at Macy's?
When it comes to defining full-time work hours, Macy's provides the following information:
Hours per week—40 or more
Days per week—5 or more
Hours per day—8 or more
So, full-time work hours at Macy's are considered as 40 hours per week or more.
A lot of people are still working 50 to 60 hours a week. This is because their managers and supervisors are demanding them to work more than they were originally scheduled.
While the company mandates that there must be at least one day off per seven-day period, many employees feel like it's not enough time for them to take care of themselves and their families in addition to working in the store.
Part-time Hours
Macy's part-time hours for employees are typically 20 to 29 hours a week. Part-time workers say they can work 12-30 hours one week and have to work up to 40 hours the next week due to a staff shortage.
If you're interested in a part-time job, Macy's will usually be flexible with your work hours and you can just about count on getting 5 hours of assigned work every day.
Macy's Shift Hours
As a part of Macy's ongoing strategy to remain competitive, they offer employees multiple options for shift hours. This is done as a way to provide opportunities for flexible work schedules and balance time with their family and other interests.
Examples of shifts you may work are:
6 AM to 10 AM
6 AM to 12 PM
6 AM to 2 PM
7 AM to 12 PM
7 AM to 3 PM
12 PM to 5 PM
12 PM to 9 PM
3 PM to 8 PM
3 PM to 11 PM
Employee Call Out Sick Policy
Macy's Employee Call Out Sick Policy defines the following guidelines:
Any employee who is ill and cannot come to work should phone their supervisor before 8:00 am the day before their scheduled shift, unless it is an emergency (in which case they should phone as soon as possible).
If the employee cannot reach their supervisor, they should call the company's 24 hr. sick line.
Employees must provide notice of any absence by either phoning or emailing in advance if possible.
The goal of the policy is to eliminate fraudulent use of sick leave and unnecessary absences. Macy's defines abuse of sick leave as "employees who call in sick and then return to work the same day, or employees who call in and do not come to work for a substantial period of time after calling out."
The company has established a policy that if an employee has three consecutive instances of abuse, they may be terminated. The company might take into consideration "extenuating circumstances" when determining whether an instance constitutes abuse under this policy.
Macy's Break Policy
Macy's employee meal break and break policy is set to help employees with their daily tasks. It helps them stay focused, energetic, and productive.
The policy states that Macy's employees will receive a 30-minute lunch break for every 5 hours an individual works. They can also take a 15-minute break for every 4 hours they work if they so choose.
Featured image courtesy of Michael Rivera, CC BY-SA 4.0, via Wikimedia Commons.