Working in an electronics retail store environment is pleasant for most people due to the open-air atmosphere and the generally friendly customers constantly looking for assistance with products.
A Little History of Best Buy
Best buy is one of the biggest electronics retailers with its headquarters located in Richfield, Minnesota. It was founded by James Wheeler and Richard M. Schulze back in 1966 and the original idea was a specialty store known as Sound of Music. Fast forward to 1983, and it was then rebranded to the current name Best Buy with a focus on consumer electronics.
Aside from the over 970 stores in the United States, Best Buy has locations in Canada and Mexico. This electronics retail chain also has many sales stores and outlet stores in operation, which brings the total to over 1,000 stores in the U.S. as of 2020.
What is it Like to Be Working at Best Buy?
Best Buy operates a very happy and positive work environment and they achieve this by building strong beneficial connections with a primary focus on building solutions. Their retail teams work directly with customers and they aim to enrich their lives through technology.
They are highly motivated to offer top-notch experiences that bring joy and excitement to the faces of their customers. All of this begins with excellent training programs that continue while each employee progresses through the experience they gain at the stores.
The leaders of the organization are focused on the continual development of their employees. This creates and maintains a culture of learning and growth to offer the best customer service possible. Working at Best buy allows you to improve your skills and grow in confidence.
Related Posts
Are There Any Best Buy Jobs Near Me?
Now that you've read the article thus far, this is probably a question you are currently asking yourself. And of course, there would be no way for me to answer that question accurately because it depends on where you live and whether there is a store location near you.
However, chances are there are many positions available in your area. To find out, visit the official careers site and begin your search before you submit your Best Buy application online.
Simply click the "Search Openings" link and you'll be redirected to another page where you will be able to enter a location nearest to you, then click "search" at the bottom. There's no need to enter anything else in any other box for now. Once you enter the city and click the search button, the results will come back with many job openings.
Here are some of the positions you will see:
Best Buy Customer Service Specialist
This position requires someone who will talk to customers and offer them solutions to their needs. You'll be in a position where customers can easily find you so you can offer quick, friendly, and efficient support.
This means you'll be at the checkout counter, pick-up areas, and within the store aisles. Also, you'll make use of all sales tools to boost profitable growth to meet the goals of the department you are assigned to.
In order to excel here, you must be able to quickly answer customer questions and resolve issues in an efficient manner. Don't worry too much if you are an entry-level worker. You'll gain plenty of experience quickly while on the job.
Best Buy Asset Protection Associate
Employees in this position will be in charge of all security processes at the security desk and security yard gatehouse. This associate will be in charge of access to the premises and truck yards for all parties (staff, visitors, and contractors). They operate the CCTV surveillance of the building and surrounding areas. They are also on standby for quick responses to incidents and liaising with law enforcement.
Other duties will include:
Carrying out inspections of employees, visitors, and contractor luggage, carry-ons, and self
Inspection of all outgoing trailer shipments
Responding to all incoming phone calls
Operating CCTVs, physical inspections, and audits
Updating shift reports, incident reports, and inbound/outbound call logs.
Front End Supervisor
The front-end supervisor is responsible for delivering services in a personal manner to customers to make sure every individual and specific needs of any customer are met adequately. You'll be an important pillar in conducting the effective store process flow.
It includes handling pick-up, checkout, customer service, asset protection, and in-store phone service. This role also comes with the added responsibilities of hiring, expense and budget control, and infrastructure maintenance.
Other duties include:
Fostering a positive customer experience by forming relationships and helping them get their needs
Maintaining standard operating procedures for all day-to-day activities in the store and this includes cash management, payroll processing, and expense tracking
Training, coaching, and mentoring of employees
Conducting meetings and other special meetups to communicate the departmental goals clearly
Staying in contact with upper brass on employee performance and development needs
Best Buy Assistant Store Manager
For this role, you will be required to play a huge part in the sales strategies and business goals. You will be involved in all aspects of sales both within and outside the store.
These managers are an integral part of the management family and they have complete store responsibility. You will be required to lead the store in training and build effective store culture that can drive positive outcomes for the company.
Other roles you are in charge of:
Building sales solutions that meet the needs of the customer and drive company growth
Directing and supervision of all employees working under you
Highlighting successes and achievements of the company
Encouraging constructive rivalry and competition among staff
Implementing effective sales strategies that will boost sales and company growth
Building a diverse stream of talent that will create future opportunities
Best Buy General Manager
As a general manager, you are like the conductor of an opera and you are accountable for everything that goes on within the four walls of the store. This includes revenues, profits, and finances.
As a general manager, it is your job to set the pace and tone of the store in its drive toward success.
Here, you will have a say in every aspect of the business and work with vendors, contractors, staff, and customers. You will become a member of the Best Buy family and be highly involved in the coaching mentoring and growth of employees and the company itself. 
Other duties include:
Boosting productivity and profitability across all channels of the sales trend
Operating the brand with a standard that aligns with company objectives
Motivating and encouraging team members to sell, grow and offer excellent customer support
Talent acquisition and recruitment
Be in charge of meetings, skill acquisitions, and special initiatives and drives to grow the company
Best Buy Distribution Center Jobs
There are many different types of jobs and careers available in the 23 Best Buy distribution centers. You may want to see if there is a location near you before you submit your Best Buy application online. The following are two of the most common jobs:
Best Buy Distribution Center Merchandise Processor
For this role, you will be in charge of moving products across the distribution center by working areas such as eCommerce, repackaging, returns, and bundles. Your duties will encompass ensuring Best Buy assets are in top condition to sell to customers in a safe and clean environment.
The duties listed below cover those of a merchandise processor but may vary based on departmental assignments:
Deliver merchandise from their respective areas to fulfill orders
Operate a scanner to read bar codes and process the merchandise by transferring it to the appropriate areas
E-commerce – fulfilling customer orders by packaging and shipping to customers
Crafting product bundles by organizing single products into large packages
Maintaining a clean work environment by getting rid of empty pallets, sweeping and cleaning up boxes and other debris
Best Buy General Warehouse Worker
This person is in charge of moving merchandise from one designated area to the other with safety guidelines in place. They handle all the paperwork and they maintain clean and safe areas where employees work.
This worker handles all merchandise from trucks at the dock stations and stocks them at specifically designated destinations.
Other duties will include:
Handling the orders by sourcing products and moving them into a loading truck
Placing smaller products into larger containers for shipment to select stores
Loading the merchandise onto the trucks for shipping purposes
Making sure working areas are clean and getting rid of empty pallets, sweeping and cleaning up boxes and other debris
What is the Minimum Hiring Age at Best Buy?
Although the minimum age to get hired here is 16, this does not apply to every store. You'll have to check with your local stores before moving forward with the application process so you don't get disappointed.
Some stores have a policy of not hiring anyone unless they are an adult (18+).
How to Apply to Best Buy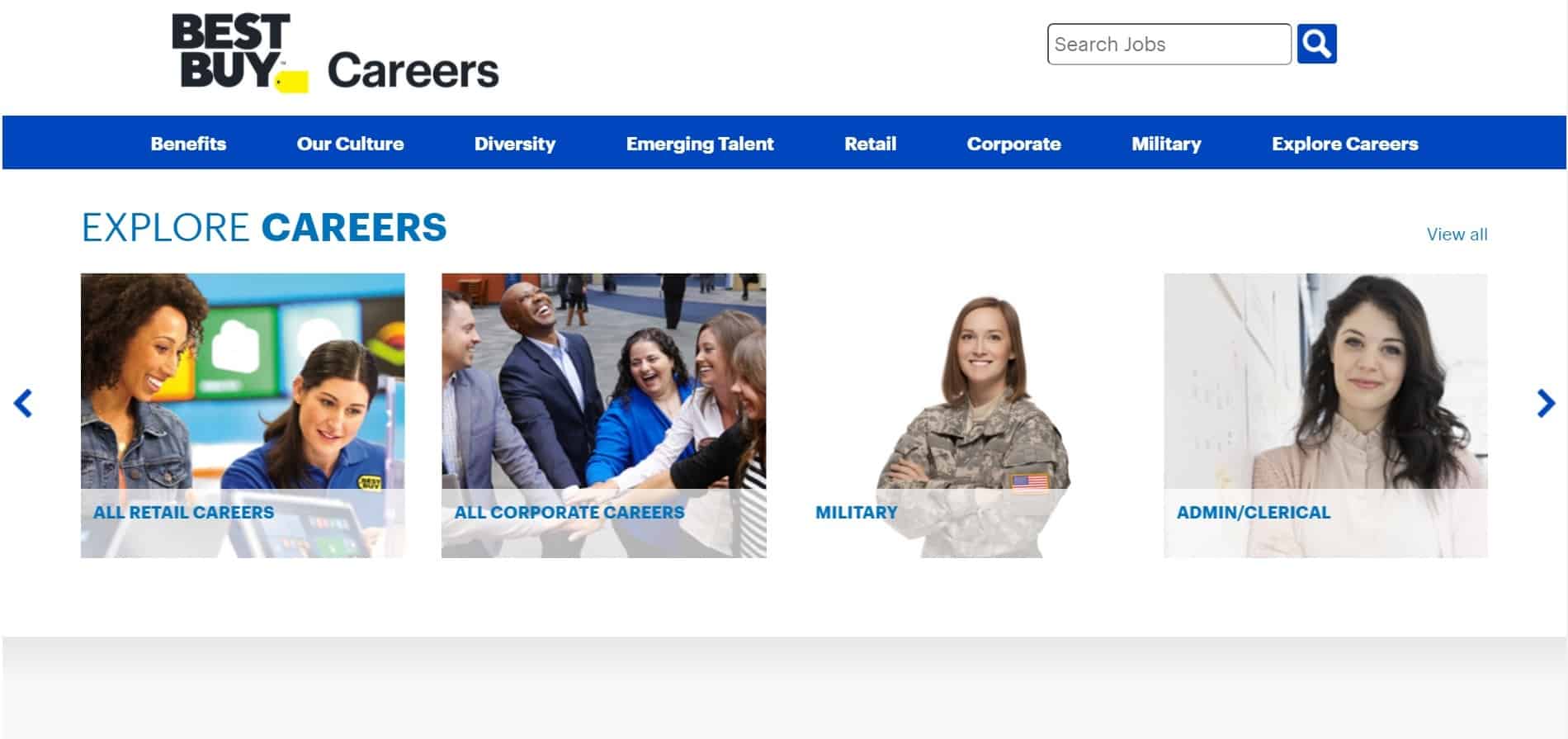 There are many career fields to choose from and here's the best thing you can do to begin searching for a job:
Visit the career search page.
Explore the many different categories of jobs which include all retail careers, corporate careers, military, admin/clerical, asset protection, business, communications/public affairs/community relations, and much more.
Select one of the categories and on the redirected page, you will already see a list of jobs available.
To narrow down your search, try entering the city you live in or the one nearest you.
Click on the job heading that interests you, then read the job description and click the "Apply to job" link at the bottom of the page.
On the following page, click the "Apply to job" link again.
You will be redirected to a sign-in page where you can create an account and begin the actual application process.
Best Buy Hiring Process
After you submit your Best Buy application online, you will:
Receive a callback within 3 days to a month, with the average being 1 to 2 weeks
Attend the first interview and you'll be asked common questions such as, "Why do you want to work at Best Buy," and "Where do you see yourself in this company after the next 5 years?"
Submit your background check, which includes a criminal history check is processed, and if you pass and they are interested,
Be offered a position on the condition that you submit to a drug test
Take the drug test and if you pass,
Be advised you are hired and immediately scheduled for orientation
The above process can take from two weeks to two months. It all depends on the hiring goals of your particular store.
When to Follow Up On Your Application
Sometimes, you don't receive a callback due to something unforeseen such as the possibility your application was overlooked or the company is taking too long to process the application. If you are not happy with the timetable of being informed of the next steps in your application process, here's how to follow up.
Keep in mind the average applicant receives a callback within the first two weeks. If you have not yet received a callback within that period of time:
visit the store you applied to and ask to speak with the general or assistant manager
introduce yourself in a polite manner
let the manager know you applied and you are still waiting to hear back, and you want to make sure your application is still being considered
ask the manager if he or she can check on the status of your application
the manager will usually follow through and come back and give you an answer
either way, thank the manager for their time and leave your contact information with that person so you can be reached
Does Best Buy Drug Test?
They sure do! When Best Buy gives you the offer to be employed, you have to submit to a drug test before you are finally hired. Here is a PDF explaining the whole process.
There aren't any exceptions. If you refuse to take the required drug test, you will not be hired. The test is given in a controlled and secure environment and tests for multiple illicit drugs, such as marijuana, amphetamines, opiates, PCP, and others.
Best Buy Job Benefits
This company heavily leans towards making sure its employees are in good physical and mental health. A happy employee for them is one who will perform up to their capabilities and be a strong link in a chain of employees.
The comprehensive benefits plan they offer is very impressive. Here's a partial list of benefits:
Medical
Prescription Medicine Coverage
Dental
Vision
Critical Illness
Behavioral Health Benefits
Accident Coverage
Wellness Programs
Maternity Leave and Support
Employee Counseling and Assistance Program
Incentive Pay
Discounts for Employees
401k (after 1 year of employment, they match 100% of the first 3% of eligible pay, then 50% of the next 2%)
Employee Stock Plan
Flexible Spending Accounts
Health and Dependent Care
Life Insurance and Accidental Death/Dismemberment Insurance
Short-term and Long-term Disability