Best Buy is one of those select few companies that has jumped on the bandwagon to take care of its workers when it comes to starting pay.
The following will give you the information you need to round out your knowledge about this company as you submit your application.
Here's what I'll cover:
Best Buy Pay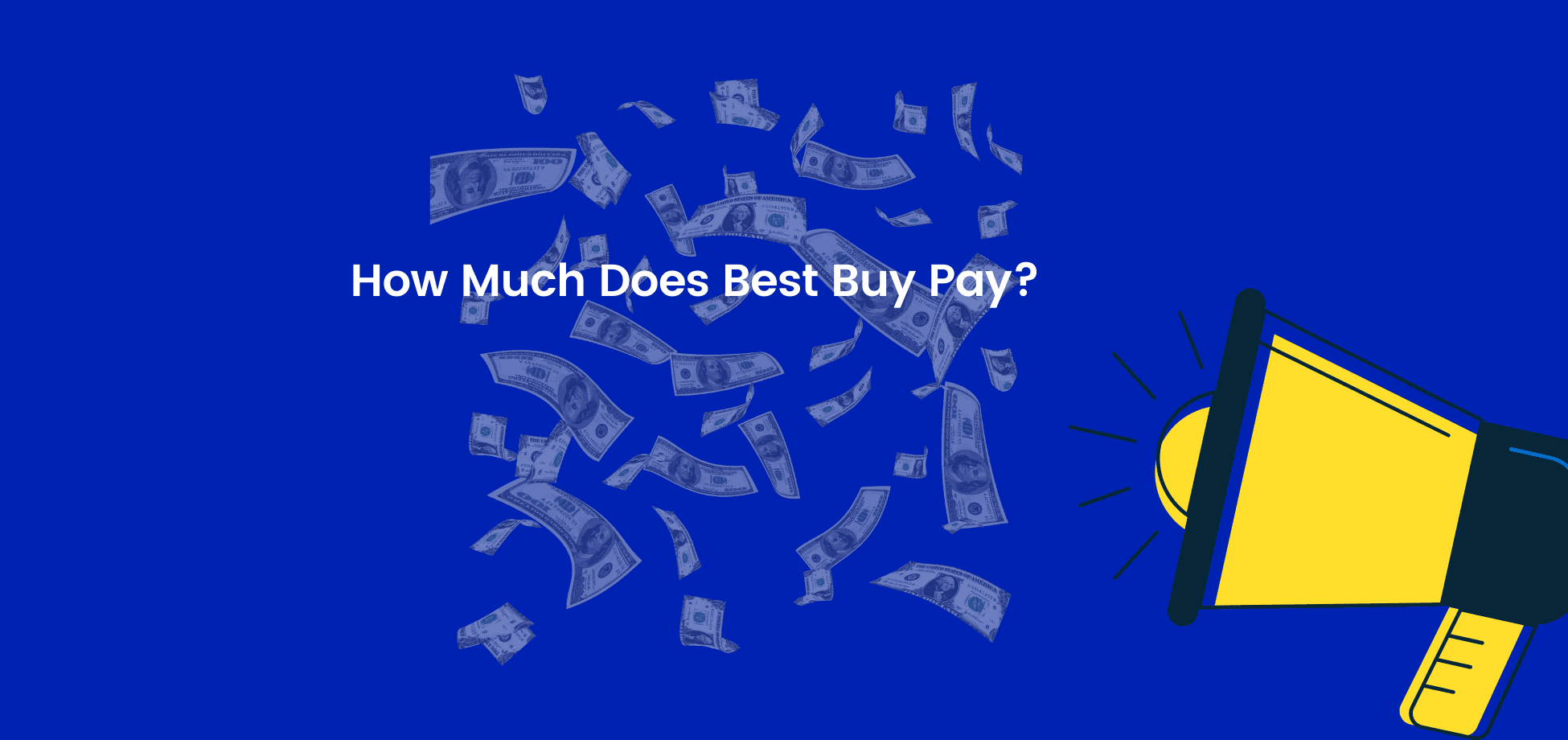 The starting pay for Best Buy employees just got bumped up on August 22, 2020, to $15 an hour. This is great news for many workers as those who were making less than the new minimum wage will now have their pay bumped up to the new minimum.
If you are an entry-level worker, you'll be pleased to know that $15 an hour is currently considered a living wage in the United States. 
Related Posts
How many hours is full-time at Best Buy?
You'll have to work at least 32 hours every week to be considered a full-time employee. If you are hired as a part-time worker, you will qualify as a full-time employee when you work more than 60 days continuously, at 32 hours a week or more.
Best Buy part-time pay
The minimum pay for part-time workers is the same as that for full-time. The biggest difference between part-time and full-time workers is that as a part-time worker at Best Buy, your benefits are very limited.
What are considered Best Buy part-time hours?
If you work 31 hours or less every week, you will be considered a part-time worker. Workers in this retail chain report they get an average of 20 to 25 hours a week working part-time.
If you are hoping to become a full-time worker, it's in your best interest to try to be a dependable employee. This means you should be ready and available every time someone calls in sick so you can replace them. 
It's also about showing up to work on time and never missing any days unless it's a real emergency. The whole idea is to give your management staff the impression that you are the one employee in the store that they can always count on.
Salaries at Best Buy
Best Buy salaries for employees have gone up across the board with the recent $15 an hour minimum pay raise.
The recent pay increase has leveled the playing field somewhat for most of its hourly workers in stores. Many employees who were making less than $12 an hour are now earning a much closer figure to workers with a few years of experience who were making $16.00 per hour!
How much does Best buy pay cashiers?
Cashiers now earn an average of around $16.10 an hour. This gives the cashier an average salary of approximately $33,488 to $36,500 per year.
This is a far above-average salary for this position and a few reasons are due to the responsibility of workers in a high-stress environment and because of the success of Best Buy stores. 
Best Buy customer service specialist salary
Customer service specialists at Best Buy can earn on average, somewhere around $15.90 per hour. This amounts to approximately $33,072 a year. 
If you work some overtime during the course of a year, you have the potential to make close to $38,000 a year.
Best Buy asset protection associate salary
A job in this security position will give you $15.50 an hour on average, or approximately $32,240 a year.
As an asset protection associate, you will be very busy throughout each workday. You will be standing for hours on end, so you have to be in fairly good physical shape to work this job.
This is one of the highest-paying security jobs in the retail industry.
Best Buy Break Policy
After every four hours of work, you get one paid 15-minute break. Aside from that, you get a 30-minute unpaid meal break if you are scheduled to work at least 7 hours on your shift.
Make sure you are in constant contact with your management staff before you take a break. Some employees have reported that the store gets so busy, that it becomes virtually impossible sometimes to even catch a 15-minute break per policy.
Best Buy assistant store manager salary
An assistant manager at Best Buy can make anywhere between $59,000 to $98,000 per year in salary. On average, an employee in this position makes approximately $66,500 a year.
This is a highly responsible position and you will be in complete control of the store at times. If you are going after a general manager position, you may want to establish a good working relationship with your store manager.
Assistant managers can place themselves on a fast track to success by assuming as many roles and responsibilities as possible under the direct supervision of a general manager.
Best Buy general manager salary
This is a highly sought-after position in this company. The salaries range from $79,000 to $116,000 a year. The average salary for a general manager at Best Buy is approximately $96,500 a year.
With this job, you will be constantly moving around the store and becoming involved in the work performance of your employees. You'll have to have a positive demeanor so that you can motivate your employees to make the store a success.
Best Buy district manager salary
The average district manager at Best Buy earns approximately $119,000 a year. In this position, the salary is virtually limitless because of the awesome responsibility of having to oversee the many stores in your district.
Best Buy warehouse worker pay
The average warehouse worker at Best Buy earns approximately $17.40 an hour. This is a fast-paced working environment and the yearly salary reflects the reward for having to work so hard to help push products out of the distribution centers.
The yearly salary for this position is approximately $35,568 and by working enough overtime hours, you can make approximately $41,000 a year.
Best Buy merchandising specialist pay
The merchandising specialist can make approximately $15.75 an hour. This ends up being approximately $32,760 a year and up to about $37,500 with overtime thrown into the mix!
For this job, it's important to be very organized because the job itself is very stressful. You have to keep track of virtually all the merchandise within the warehouse.
Best Buy shift hours
Different stores will have varying shifts as determined by the management staff, but here are some typical work shifts at Best Buy stores:
8:00 AM – 5:00 PM
10:00 AM to 6:30 PM
3:00 PM to 11:00 PM
For the warehouse, here are some example shift hours:
5:00 AM – 9:00 AM
7:00 AM – 11:00 AM
7:30 AM – 12:00 PM
8:00 AM – 2:00 PM
8:30 AM – 3:30 PM
3:00 PM – 11:30 PM
4:00 PM – 12:30 PM
6:00 PM – 3:30 AM.
9:00 PM – 6:30 AM
Does Best Buy pay weekly?
Best Buy gives you a biweekly paycheck and the pay period starts on a Sunday. Two weeks after that, with the pay period ending on a Saturday, you will then get paid on the following Friday.
You'll get paid by either direct deposit or an actual check, depending on your preference.
Calling out sick policy
Calling out sick is taken very seriously at Best Buy. This retail chain is very big on having its employees show up for their scheduled shifts.
Therefore, according to workers who have already experienced the inner workings of the company policy, if you call in sick more than four times during a 12-month period, you will risk being terminated.
However, this all depends on the type of worker you are. If your management staff considers you a top performer, they may show more discretion.
How often does Best Buy give raises?
Raises are given once every year and you can bump up your pay up to approximately 7% if you perform exceptionally.
Best Buy is big on doing everything possible to retain its workers, so it rewards employees for excellence in job performance. Therefore, the average raise is approximately 2% to 3% every year.
Featured image courtesy of Wikipedia.org.