If you've considered submitting a Dick's Sporting Goods application online, the following information will guide you. Keep in mind, like any other company, this retail chain has its good and bad, as reported by employees who have worked there.
As the king of all retail sporting goods companies in the US, Dick's Sporting goods appears to be a great opportunity for somebody who loves sports and wants to get into the retail business. 
Working at Dick's Sporting Goods 
Here then, are the pros and cons of working at Dick's:
Pros
Friendly coworkers
There's a 25% off discount on store merchandise
Great benefits for full-time employees and management
Good starting pay
The working atmosphere is very pleasant
There is room for growth within this company
It's easy to get hired
Some managers are very good and fair
Cons
Many employees claim managers play favoritism with employees
The breaks are very short
Management lacks communication with his employees
You are on your feet all day throughout the shift
Management is not flexible with people attending school when making employee work schedules
Getting people to sign up for the Scorecard rewards program and credit cards was very difficult and stressful
The pay was too low
Some workers say the stores are understaffed
Lack of proper training for sales associates
History of Dick's Sporting Goods
Richard "Dick" Stack established this company in 1948 when he opened up a bait and tackle store after his grandmother loaned him $300, in Binghamton, New York. 
As the years went by, Stack's children bought the retail chain from their father and turned it into the successful company it is today. The company now has its headquarters in Coraopolis, Pennsylvania. It currently has over 850 locations, more than 30,000 employees, and houses 5 distribution centers.
Jobs at Dick's Sporting Goods
There are five main positions that drive the success of every Dick's store. They are:
Cashier
Retail sales associate
Retail sales leader
Assistant manager
Store manager
If you look at the careers website, you'll see many jobs posted that have one or more variations of the cashier, sales associate, and leader position. For example, you may see a job posting for a retail sales leader at the front end of the store or in the apparel department.
Dick's Sporting Goods Cashier
Dick's prides itself on creating a customer experience that is nothing less than world-class for all of its employees, and this starts with the cashier. Customers will come to you at the checkout counter and expect quick and accurate transactions.
You will be expected to promote warranties on products and the store's loyalty program called the "Scorecard." Additionally, you will be expected to push the customer towards acquiring the store's credit card.
As a cashier, you should have a general working knowledge of most of the products in the store. Management should be able to provide you with a list of new products as they arrive at the stores. 
You can also get much of this information by networking with your coworkers.
The preferred minimum qualifications are that you have 1 to 2 years as a cashier in the retail business.
Dick's Sporting Goods Sales Associate
There are many part-time, temporary, and full-time positions available for sales associates. You'll be working in the following departments of the store:
Lodge
Golf
Footwear
Bikes and exercise
Apparel
Team sports
In this job, you're expected to make the merchandise look great and to show passion for the products in the stores. You will be working the sales floor and operating the cash register one day, and the next day you may possibly be cleaning the restrooms and offices as well as the store itself.
Depending on how your managers assign their employees, you may also be unloading products from the trucks in the receiving areas, and you'll be expected to lift boxes that weigh up to 50 pounds.
Dick's Sales Leader
This position is an hourly job but it helps you get your feet wet in the store management aspect of the store. You will be supervising your assigned department's employees under the guidance of your assistant manager.
It's important to be someone who can clearly communicate the store's objectives to your employees and you will be providing training to all of your new associates.
To become a sales leader, you are required to have one to three years of experience in the retail business. 
Dick's Assistant Store Manager
A big part of this job is having the ability to help develop talent among your associates. This is a management job where you will be entrusted to perform all the daily functions many actual store managers from other retail companies would perform.
For example, you'll be in charge of:
Managing all operational functions in the store
Making the store as profitable as possible
Being the head coach in training your associates
Managing employee evaluations and promotions, as well as discipline
Hiring new associates
For this position, you'll have to have at least 1 to 3 years of management experience and have strong analytical and problem-solving skills.
For this position, you receive bonuses on a quarterly basis as well as at the end of the year.
Dicks Sporting Goods Store Manager
The store manager at Dick's has the ultimate responsibility for the success of his or her store. In this position, you will probably be performing much of the work that an assistant manager would complete under your guidance as well as the following:
You analyze customer satisfaction and formulate plans on driving more sales and profits
Oversee all operations of the store to make sure each department is running efficiently
Consistently evaluate your store's employees and make recommendations to improve their talent and performance
Counsel and discipline your employees
Hire and fire employees
Make out the weekly work schedules
The minimum requirements for this position are three years of experience as a retail store manager. Alternately, if you have at least five years in any type of management experience, you may be able to qualify for this position as well.
While this position also offers quarterly and annual bonuses, you also are eligible for the possibility of acquiring company stocks on an annual basis.
Dick's Distribution Center Jobs
The most common job at Dick's distribution centers is the "distribution center processing associate." This is a position that requires you to process all the merchandise in the warehouses.
You'll be stacking boxes, opening them, verifying the quantities of products you place in storage, making sure the right hangers are used for each different type of garment based on store standards, and much more.
This job offers a very good starting hourly rate of approximately $14 to $14.50 an hour.
Other examples of distribution center positions are:
Material handler
Vendor relations supervisor
Specialized equipment operator
Quality control associate
Processing associate
Support technician
Supervisor of distribution
These jobs are available at one of the five different distribution centers located in:
Conklin, New York
East Point, Georgia
Smithton, Pennsylvania
Goodyear, Arizona
Plainfield, Indiana
Dicks Sporting Goods Internships
Dick's offers a summer internship for 11 weeks, every year. College students get an opportunity to gain some work experience in their related fields of study.
If you choose this internship program, you'll be working 40 hours a week from Monday through Friday. You will also have an opportunity to attend workshops provided by the company to learn more about the retail industry and expand your knowledge of Dick's Sporting Goods.
If you are selected as an intern for one of the many openings, and you live outside of Metro Pittsburgh, you are given fully furnished summer housing! If you live in that area, you won't be given housing but you will receive a monthly stipend.
How to Apply at Dick's Sporting Goods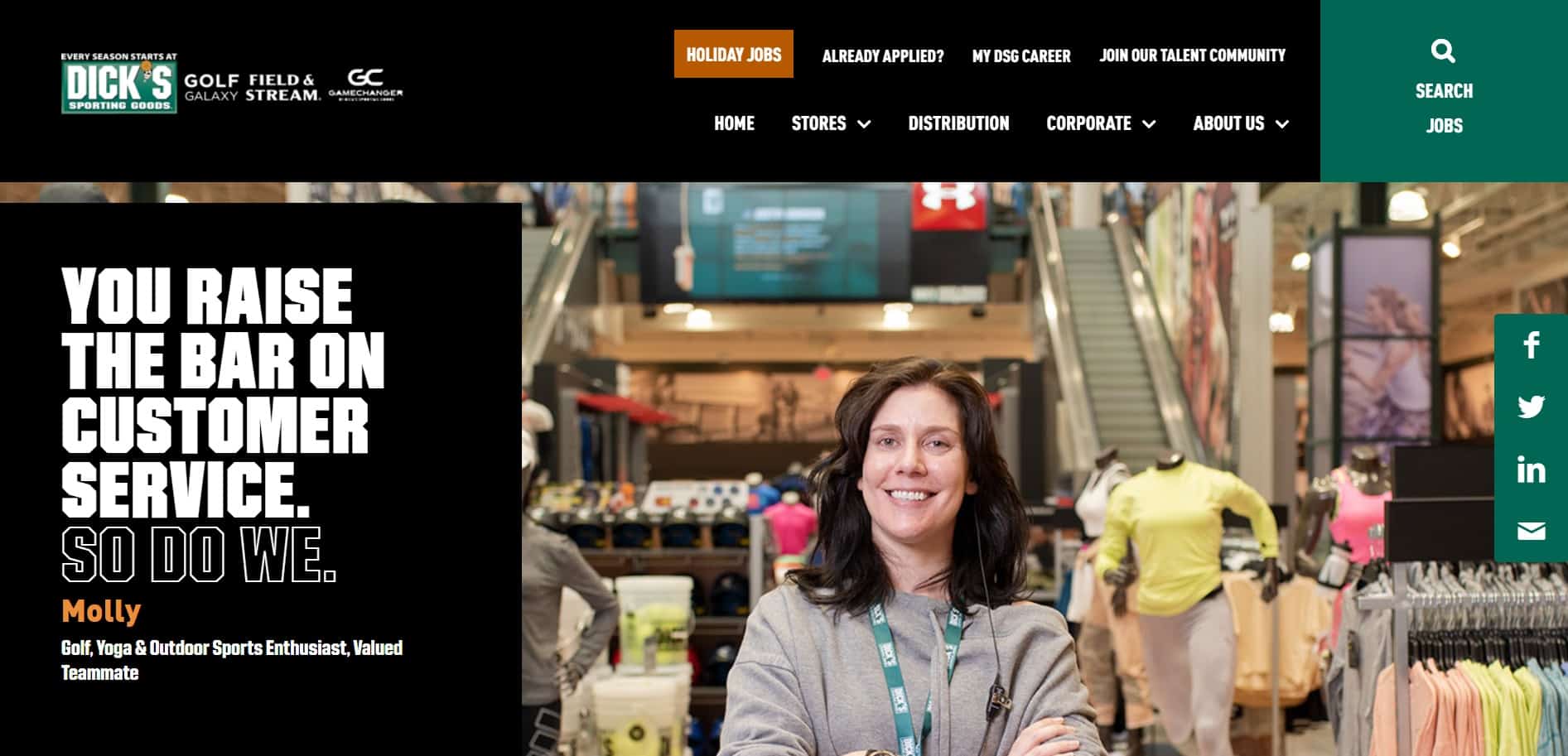 If you want to apply using the Dick's Sporting Goods application online, you must first visit their careers website and research the company for possible job openings and the many different types of job opportunities available.
If you are going to be applying for a store, distribution center, or corporate position, you can search for the job openings and begin the application process after you register.
The careers website is very easy to follow and once you find your category of jobs to apply to, you can begin the process by following the links.
After you land on a specific job opening, there will be a button on the lower left that reads "Apply Now." Once you click on this button, you will be redirected to a page where you can register as a new user. Alternately, you can access the Dick's Sporting Goods application with a LinkedIn social media account. 
Dick's Application Process
The application process for this retail chain is pretty straightforward. Once you apply online, you will probably get a call back within 1 to 2 weeks.
You'll be scheduled for an interview and if you pass that one, you may have a second interview with a different person or you may be hired. For hourly workers, there is usually no background check but don't be surprised if you get one.
For salaried workers, you can expect to have a complete background check as well as to take a drug test.
Workers who have gone through the application process report that on average, it took 1 to 3 weeks to get hired from the moment they applied online.
Once you are hired, you begin your orientation and subsequent training.
What is the minimum age to work at Dick's Sporting Goods?
The minimum age to work at Dick's is 16 years old. Please consult your specific state because you may need to get a work permit if you are under 18.
A 16-year-old minor hired here will get a few hours a week so that it does not interrupt their schoolwork. 
There are a few employees who started out at this retail chain while they were still attending high school and have gone on to great management positions within the company.
Does Dick's Sporting Goods drug test you before they hire you?
While some hourly employees report they did not have to submit to a drug test, others say they certainly did. Therefore, it all depends on management at your store and possibly the availability of testing at that particular time.
If you are going after a salaried position, you can count on having to take a drug test. 
Final Thoughts
All in all, working at Dick's Sporting Goods seems like the logical choice for a young adult who wants a retail job and likes sports. Past and present workers talk quite a bit about how the environment is a very young one, full of motivation and enthusiasm. 
However, there are plenty of seniors and thirty-somethings to middle-aged workers who have worked a full or part-time job at this company. Any of the store jobs require being on your feet constantly without taking many breaks.
Therefore, if you are somebody who is energetic, motivated, and wants to remain in good shape, this may be the perfect retail job for you. The pay isn't all that bad, the coworkers are very pleasant, you get to help out many families with their sports purchases, and there is room for advancement within the company.
The only negative thing to talk about that may have an impact on your employment at this company is the number of employee complaints of some stores having a lack of leadership. This indicates that the corporate level may need to listen to its lower-level employees and investigate to see if there is room for improvement.
The truth is, many retail employees complain about their management, and many brag about how great their managers are! Usually, the way you can get in the good graces of your managers is to be dependable, work hard, and improve at your position on a daily basis. 
Featured image courtesy of Mike Mozart from Funny YouTube, USA – Dick's Sporting Goods.