The biggest takeaways while looking at reviews by present and former employees who have filled out an Aldi job application and have worked there are:
The pay is very good but you have to really work hard for it
It's the perfect job for motivated people who want awesome retail pay
Working at Aldi
As an example, a few people mentioned how as a store associate, you are basically performing the work that two or three people would be performing in another store. In other words, they believe Aldi cuts corners in hiring an adequate number of staff members and this puts the responsibility on the backs of some of its workers.
Regardless, many employees who have worked there say that if you like to work hard, Aldie pays really well and there is much room for quick advancement into management.
Take a look at the pros and cons:
Pros
Aldi pays its employees very well
For full-time employees, the benefits are great
The work is fast-paced and your days go by quickly
Work schedules are very flexible if you communicate well with management and this gives you a good work-life balance 
There are annual raises
Your performance is reviewed by management regularly
You can usually expect to work many hours to fatten your paycheck 
Great teamwork amongst coworkers
Cons
The pay is very good, but you just have to work way too hard for it
Some workers who put forth a lot of effort feel underappreciated by management 
Some customers can be very difficult
You have to constantly lift heavy boxes weighing up to 45 pounds
The stores are consistently understaffed and this causes other workers to work way too hard
You are on your feet all day, the work is physically exhausting, and you come home feeling very tired
Related Posts
History of Aldi
Aldi was started in Germany in 1961 by the Albrecht family. It began its international expansion in 1967 by opening up a store in Austria, then the Netherlands in 1973.
Soon after, it began opening its doors in many other countries around the world, and in 1976, it opened up its first store in the United States in Iowa City, Iowa.
The headquarters are now located in Batavia, Illinois, and Aldi has over 2,000 stores across the United States and over 25,000 employees helping this company grow rapidly.
As an employee, you'll quickly find out that Aldi carries 90% of its own products under its exclusive brands. This means anyone shopping there for the first time will not find many products that look like what a regular American supermarket would carry.
Aldi assures they carry quality products and as a matter of fact, they involve local farmers as a means of offering fresh fruits and vegetables. Many products they carry are organic, and they are committed to offering the lowest price possible for people's grocery needs.
Jobs at Aldi
If you look at the careers website, you'll find there are jobs and careers available in six different areas. They are:
Store management and staff
Warehouse and distribution
District managers
Office
Information technology
Internships
As you already know, Aldi store associates are expected to work very hard and at times, many long hours. This puts a lot of stress on workers but if you are somebody who is motivated and energetic, you may find that the competitive pay this company offers is well worth it.
With that said, take a look at the following jobs available at the store level and keep in mind that you will be expected to work hard while providing exceptional customer service with a smile, no matter how stressful or tired you are during your shift.
Aldi Stocker
As a stocker, you will be hired on a part-time basis and if you perform well, you can move up within the company to a full-time position. The starting wage is pretty darn good at over $13 an hour in most cities.
Your responsibilities will include the following:
Unloading trucks in the receiving area and unpacking the items
Stocking the shelves with inventory and making sure the presentation is according to store standards
Breaking down and discarding empty boxes
Operating machinery in the receiving area and other areas of the store
Cleaning restrooms
During the interview process, you'll have to give the interviewer the impression that you have the ability to pay attention to detail. You'll have to make them feel that you can manage your time effectively and be productive while being able to solve any type of problem that should arise.
As a part-time worker, you will be entitled to the 401(k) plan with a matching contribution, the employee assistance program, and employee discounts.
Aldi Cashier
The Aldi cashier position will be offered to you part-time until you prove yourself to be an exceptional worker in this position.
This job requires you to be very good at scanning products, and you will be expected to work up to a speed at which you will scan at least 1,000 products every hour. The good news is that most of the products have multiple barcodes, so this makes it much easier to scan products as a cashier working at this store.
You'll be expected to have good communication skills and pay attention to detail, and you will need to become familiar with all the products on the shelves and throughout the store.
As a part-time employee, you will be entitled to all the benefits listed above for the part-time stocker position. A high school diploma or a GED is preferred for this position, as well as prior cashier experience.
Aldi Store Associate
As a store associate at Aldi, you will be expected to be a jack of all trades when it comes to the presentation of products and taking care of your store. You will generally be expected to take over cashier duties if needed and assist all customers with their problems and concerns.
You'll also be stocking shelves, taking inventory of products, and collaborating with your team members to provide the best customer experience possible.
As a store associate, you are also in charge of store and bathroom cleaning duties. You have to be able to pick up and place product boxes weighing up to 45 pounds on shelves and you'll be very active and on your feet throughout the work shift.
Like the cashier position, the company prefers that you have at least a high school diploma or a GED and some retail work experience.
Aldi Shift Manager
The shift manager at Aldi has a very responsible position because you are virtually in charge of the whole operation of the store. This is the perfect job for somebody who has proven themselves to be a very worthy employee in the store associate position.
The pay is very good and some employees say they make roughly $16-$18 an hour. However, it is a very physically demanding job.
You will be at the front end of the store assisting your cashiers and customers one minute, and the next you'll be shuttling back to the receiving area to help unload trucks. 
There are numerous daily tasks to complete throughout your shift and they all have to do with ensuring that the store operates smoothly.
This job requires the same minimum qualifications as associates and cashiers and one interesting thing stands out regarding pay; you will be hired at $13.50 to $14 an hour and 3 to 4 dollars will be added for every hour that you work in a management capacity, which is quite often!
Aldi Assistant Store Manager
An assistant store manager position at Aldi is an hourly position instead of a salaried position like most other retail chains. Still, the pay is competitive and places you in a position where you can someday become a store manager.
In this job, you will be in charge of helping your store manager put forth action plans to improve the efficiency of operations and profitability of the store. You will be directly in charge of supervising your staff members and ensuring all customers' needs are appropriately resolved.
You'll be expected to be a leader in your store and when the store manager is not present, you will be left in charge. This is also a job where you'll be wearing many hats and performing the duties of other store employees whenever necessary.
According to people who have worked in this position, you will usually get quite a few overtime hours during every pay period and this will help increase the amount of money on your paycheck on a fairly consistent basis.
Aldi Store Manager Trainee
As a manager trainee, you will be next in line to becoming a store manager and receive training from that supervisor while on the job.
This is a position that pays very well at a starting hourly pay of up to $24 an hour. 
While you are receiving your training, you will be expected to:
Assist your store manager with the development and implementation of action plans to improve operations
Help train and motivate employees
Be familiar with your products and make recommendations regarding items the store should carry and the ones they need to discontinue
Ensure that the merchandising displays, as well as the products, are displayed properly throughout the store
… and many other responsibilities
You will basically be acting as the store manager under the guidance of your supervisor, so you can get a taste of what being a store manager is like.
Aldi Store Manager
As a store manager, you are responsible for the smooth operation and profitability of your store. You will answer to the district manager, who will offer you guidance and give you direction with company initiatives.
This is a challenging position because you will lead a team of approximately 8 to 10 employees at your store to make it a success.
An Aldi store manager has many responsibilities behind the scenes, including overseeing payroll and profitability. On the sales floor, a manager has to lead by example and motivate and mentor his or her employees, and guide them on the principles upon which Aldi is built upon.
Aldi Distribution Center Jobs
Aldi has over 30 distribution centers across the United States. There are five main jobs referred to as warehouse roles within this company, and they are:
Warehouse associate 
Warehouse mechanic 
Shift supervisor
Team leader 
Warehouse supervisor
Aldi Warehouse Associate
This is an entry-level physical job in a very fast-paced environment where are you will receive and prepare the delivery of products. In this position, it's important to be a strong team player with a positive attitude.
You should be able to pay particular attention to detail and practice all safety procedures set forth by the company. You're also going to receive approximately four months of steady training for this position. 
In return, you will earn a very good hourly salary in the range of about $16 an hour to start with a chance of advancing to another position from within.
You can visit the careers website to find more information on the variety of jobs available in the distribution centers.
Aldi Internship
Aldi offers excellent internship programs for college students who have a minimum grade point average of 3.0, where they can earn a hefty salary while advancing their career goals.
In the IT internship program, you'll work alongside professionals in information technology for 12 weeks and you will be able to work on actual projects that impact the company nationwide. You get a chance to show everyone what you're made of by taking initiative and making company decisions under the tutelage of established professionals.
The district manager internship program is 10 weeks worth of working under the guidance of an actual district manager. You'll be exposed to the dynamics of the fast-paced work environment at Aldi, and you'll get a chance to see exactly how the stores operate.
During the last week, you will be expected to present a project assigned to you. This will be your chance to stand before the directors and the vice president and make a favorable impression.
How to Apply at Aldi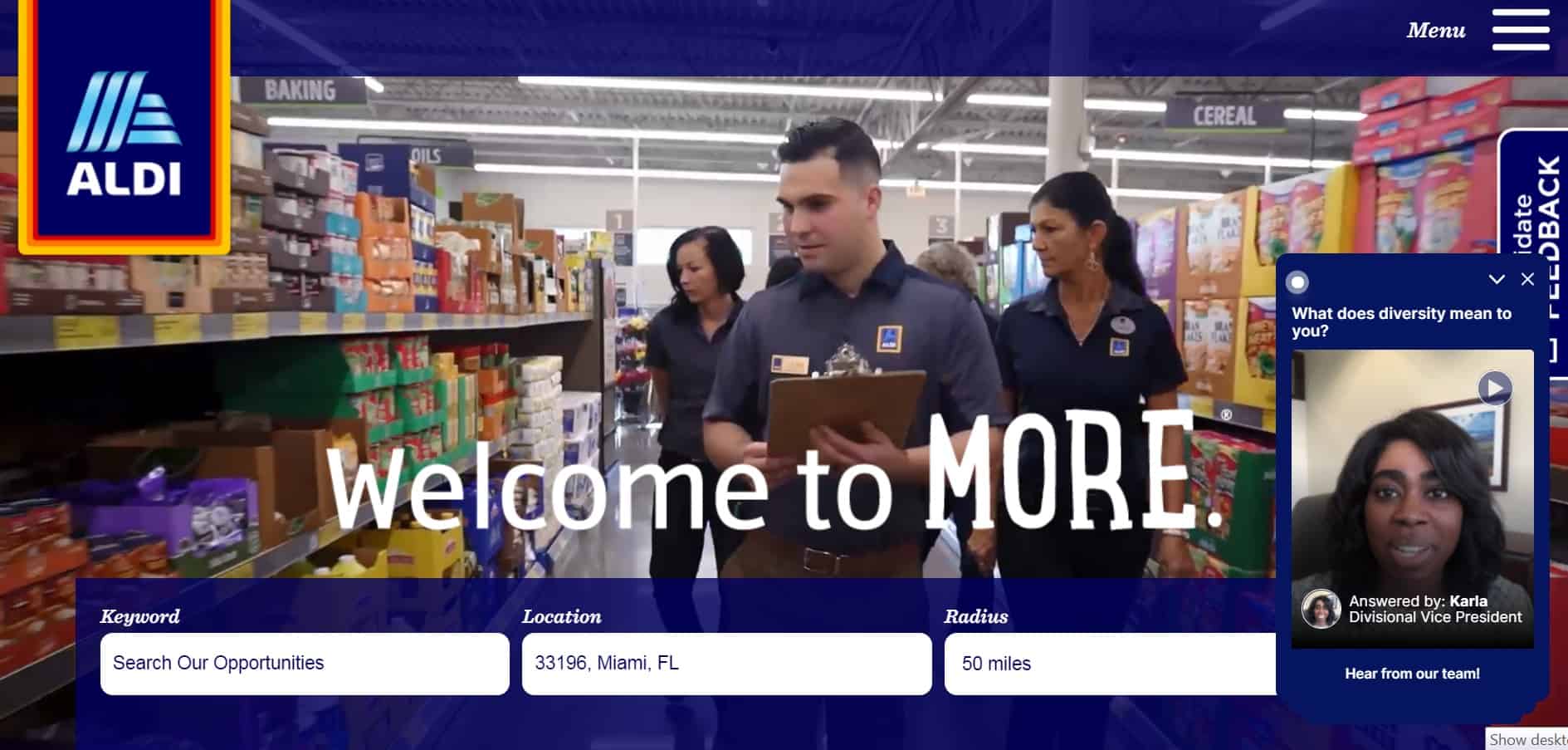 To apply at Aldi, visit their careers website with this link, and register for an account. 
Find the keyword, location, and radius menu at the top of the page. Enter the keyword of the position you would like to search for, enter your ZIP Code, and enter the radius of miles you would consider applying for a job at Aldi.
When you are redirected, scroll down the page and you will see all the job listings in your area.
Simply click on one of those, scroll down where you can see the job description as well as the pay and how many hours are available for you to work, then click the "Apply Now" button on the bottom.
On the next page, you are redirected to, you can click the "Apply Now"  button once again and begin your Aldi job application process.
Aldi Application Process
After you've applied online, you can look for email updates in your inbox to find out about the status of your application. Usually, you will receive an email within 1 to 2 weeks.
If you are selected to go to the next step, the hiring manager is going to give you a call to come in for an interview or he or she may interview you over the phone.
Once you pass that phase of the process, you'll have a chance to interview in person with the store manager or the district manager, or both at the same time.
If you are selected for a position, you will be notified either over the phone or via email if they cannot reach you by phone. Once you are offered the position, you have to pass pre-employment screening, and you need to fill out paperwork to pick out the date you will start working.
The pre-employment screening will consist of a background check of police records and a drug test.
Minimum Age to Work at Aldi
Due to the physical nature of a job at Aldi, you have to be at least 18 years of age to work there. A person under 18 years of age would probably have difficulty keeping up with the pace and physical requirements of a job at this retail grocery store. 
Does Aldi Drug Test?
Yes. Aldi drug test you after you have passed the second interview. It's part of the pre-employment screening and onboarding program in the company. Past and present employees say applicants will be taking a urinalysis screening at Quest Diagnostics or a similar company for your drug test.
Aldi Benefits
For full-time hourly workers and salaried employees, Aldi offers a comprehensive benefits plan which includes group health coverage, a retirement savings plan, and paid holidays.
Aldi states their employees pay almost half of what other employees who work at other companies pay for their insurance coverage. 
Additionally, Aldi has a 401(k) program where they match you dollar for dollar as much as up to 5% of your contributions.
There are seven paid holidays during the year and it's interesting to note that the stores are closed at night and during most holidays. 
In addition, full-time salaried workers start off with one week of vacation and a chance to earn up to two weeks of vacation by the second year. Management staff also has an opportunity to earn yearly bonuses.
Final Thoughts
Aldi store hourly jobs are definitely for people who have plenty of energy and physical strength to be able to stand on their feet all day and continue to stay motivated. It's a chance for someone to earn a hefty paycheck by retail standards while putting their best foot forward and taking care of business.
This job is not for someone who is lazy or is looking for a job with minimal responsibility. It's a job that requires high performance at all times. The reward of the high hourly pay is well worth it, especially for younger workers.
Whether you are young or old or male or female, if you have the physical capacity to be able to endure plenty of stress and hard work, this job is going to be a perfect fit for you.