Publix is a very attractive supermarket retail chain for workers looking to join a company with a future. But how does the pay compare to other supermarket chains, and is there an opportunity to get periodic pay raises?
Publix Starting Pay
The minimum pay for Publix entry-level workers varies between $10 to $12 an hour, depending on the position and/or location. 
For example, if you are applying for a cashier position and have absolutely no experience, you can probably count on earning no more than $10 an hour to start. However, if you come in with two or three years of retail cashier experience, you will probably be offered a higher starting wage, such as $11 or $12 an hour.
If you do have previous experience, make sure you mention it again to the interviewer, even though you indicated it on the application. This is important because you can easily get lost in the shuffle and they will assume you don't know anything about the starting pay and how it works.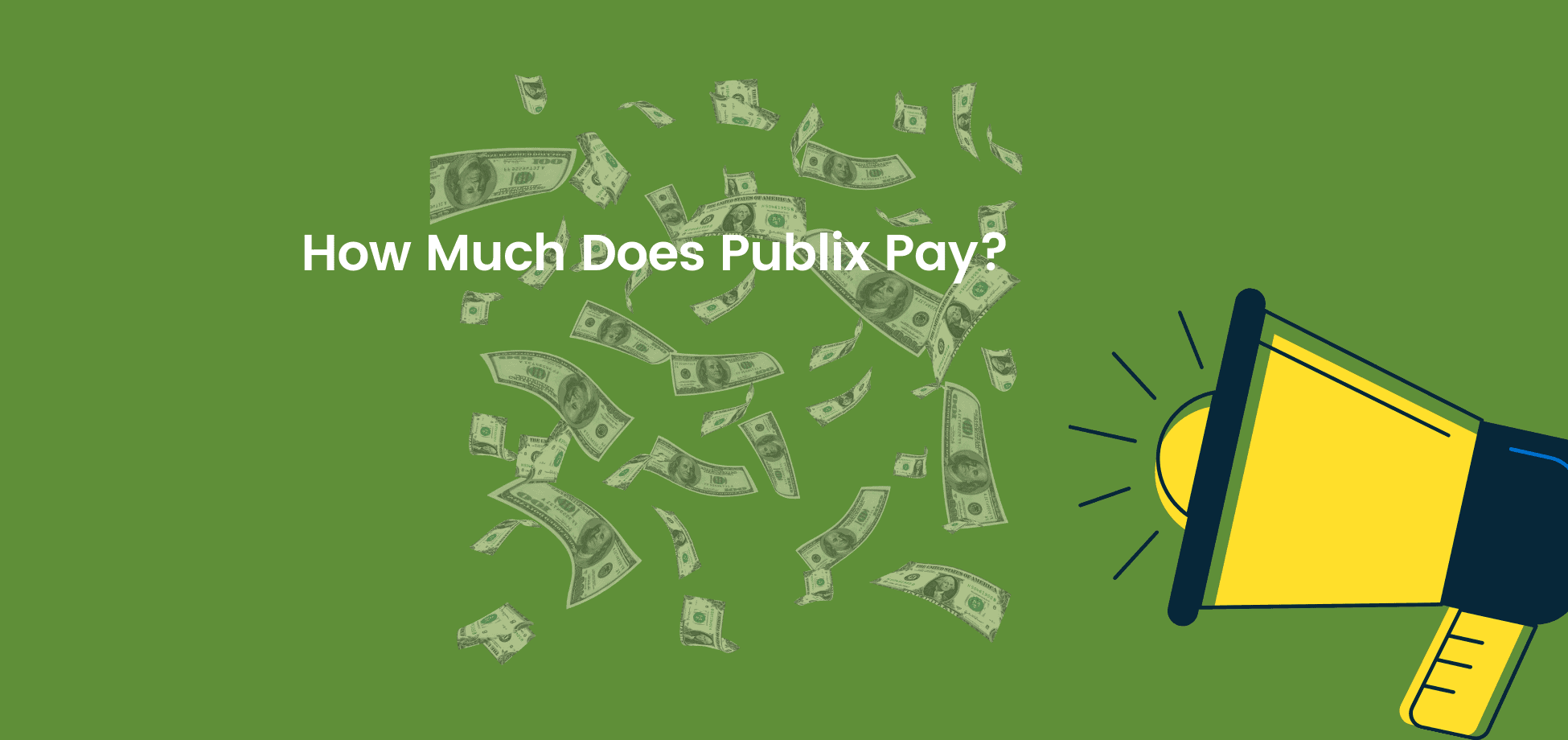 What are the Publix full-time hours?
Full-time workers at Publix work at least 32 hours per week. This all depends on how management schedules their employees to work as well as whether other employees call out sick and you fill in for them.
Remember, management likes to put their best employees on the sales floor in order to accomplish the store's goals. Think of it this way. If you were the manager of a sports team, wouldn't you love to have the best athletes on the field as long as possible?
If you work hard and prove yourself to management, you will most likely get at least 40 hours of work every week.
Related Posts
How much does a part-time job at Publix pay?
Part-time workers will also start out at approximately $10 an hour, on average. The biggest difference is you will usually not get nearly as many hours to work as a full-time employee. 
However, you shouldn't be surprised if you find yourself in part-time status and working at least 40 hours a week for an extended period of time. It all depends on how badly your management staff needs for you to work and fill in for other employees.
So, if you are 14 years old and want to become a bagger, you will make $10 an hour and work approximately 10 to 20 hours a week. If you work 20 hours a week as a 14-year-old, you can count on making approximately $200 a week, minus taxes.
Publix Part-time Hours
Publix part-time hours are considered anything between approximately 10 to 31 hours of work a week. Don't be surprised, however, if you end up working quite a few 40 hour weeks.
Publix is one of those stores that will not hesitate to ask you to work as many hours as possible to meet their goals. There are plenty of part-time workers who regularly go over the hourly limit on a weekly basis.
How do you get promoted from part-time to full-time?
At Publix, the store manager and district manager are directly involved in promoting their workers to full-time status. If your store manager has a good working relationship with the district manager, then the store manager may have the say-so in promoting you to full-time without having to confirm first with the district manager, as long as he or she runs it by the district manager later on!
However, the usual process is that the store manager and the district manager make the decision together.
What does this mean for you? First, you would have to prove yourself to be an exceptional and reliable worker to get noticed. 
Once management notices the exceptional job you do, it makes it much easier for you to request full-time status. Additionally, if you're looking to become a full-time employee from part-time, do not hesitate to network with your management staff to let them know you want it.
Too often, people stay quiet and never get promoted to full-time status. How is management going to know what your goals are if you don't tell them?
How much do Publix cashiers make?
The current Publix cashier pay is approximately $11.20 an hour. That's about $23,296 a year in salary. 
Of course, you can also figure in a few extra hours of overtime here and there, and the salary jumps to approximately $25,500 a year.
For those of you who already have cashier experience when you are hired, you can expect to be making an average of at least $12.50 an hour by your third year of employment.
How much do Publix baggers make?
The average hourly wage for a Publix bagger is approximately $10.25. This would place the yearly salary at a little over $21,320. 
It's more common to work part-time for this position due to many teenagers under the age of 18 working in this position, and seniors looking to supplement their retirement income. 
Therefore, a part-time bagger can probably expect to earn somewhere around $7,000 to $11,000 a year. 
Publix Bakery Clerk Pay
A bakery clerk earns on average, $11.30 per hour. This would amount to approximately $23,504 a year. 
Remember, you can get hired for this position at the entry level. One of the great things about this job is that you are going to be exposed to how bakers use their talent to create baked goods.
You will be in the ideal position to become a baker apprentice and move on to being a full-fledged baker someday if that's what you would like to do. A baker's hourly pay is much higher than a clerk's pay (see below, Baker's pay).
Publix Floral Clerk Pay
A floral clerk at Publix earns on average, $10.35 an hour. That's approximately $20,700 a year in salary.
Aside from grading and filling plants and flowers on a daily basis, you are going to be helping management out wherever they need you. If you are talented at this position, your efforts can greatly increase sales in the floral department. 
If you walk into a Publix, you will notice the flower and balloon display which is located usually somewhere near the front of the store. A floral clerk will be the one in charge of creating that visual display.
Publix Deli Clerk Pay
The average deli clerk at Publix makes approximately $11.70 an hour. The yearly salary for this position is approximately $24,336.
This is a job where you need to have much patience with customers as well as coworkers. It is a very high-stress environment where you will be having to slice meats, cheeses, and other products as quickly as possible for your customers.
Publix Produce Clerk Pay
The Publix produce clerk makes an average of about $11.60 an hour. The average salary is a little over $24,000 a year.
This is a job where you will be constantly interacting with customers to be able to answer their questions and guide them to the products they need.
Some employees say this is the easiest job to work at Publix. However, it can be quite challenging because you need to have great customer service skills and understand that sometimes not all customers are going to be satisfied. 
As an example, part of your job is letting customers know that the vegetables they are looking for are out of stock and will be replenished on a certain day.
Publix Cake Decorator Pay
The average hourly pay for a Publix cake decorator is approximately $14.75 an hour. This amounts to $30,680 a year.
Employees who work in this position say that oftentimes you will assume baker duties as well as being in charge of icing and decorating the baked goods.
Either way, you will be working in conjunction with the baker to provide the best and most appealing baked goods possible for the customers.
Publix Meat Cutter Pay
A meat cutter at Publix earns on average, $17.25 an hour. The hourly pay can range anywhere between $13.50 to $21 an hour. The average yearly salary for a Publix meat cutter is $35,880.
If you don't have any experience in this department, the best way to become a meat cutter is to start out as an apprentice. All it takes is a little work experience at Publix in any department to be able to put your name in the hat to become the next meat cutter apprentice.
Publix Pharmacy Technician Salary
The average hourly wage for a Publix pharmacy technician is approximately $14.70 an hour. This means a pharmacy tech can earn about $30,576 a year working at this retail supermarket chain.
There is also something to look forward to when you become employed in this position. Publix offers a pharmacy tech program and if you complete it, you can become registered in this position. This enables you to command a higher salary.
Publix Pharmacist Salary
The average pharmacist at Publix makes approximately $102,300 a year. The salaries can range anywhere between $83,500 to $129,900 a year.
You can also become a floater pharmacist where you will be filling in for open slots at different Publix stores around a general area. This would be a part-time job where you would be offered approximately 25 to 35 hours a week. 
Floater pharmacists at Publix make approximately $60,000-$65,000 a year.
Management Positions
The following are Publix management positions and their average salaries:
Assistant department manager – $50,000-$55,000 a year
Department manager – $70,000-$75,000 a year
Assistant store manager- $87,000-$92,000 a year
Store Manager- $124,000-$129,000 a year
Publix Break Policy
Publix appears to have a great policy for breaks, as written in the employee handbook. You are supposed to get an unpaid 30-minute break for every four hours of work. 
Additionally, you are to receive a paid break for 10 minutes every four hours.
The problem is, not all Publix managers are on the same page with the official break policy, according to past and present employees.
This appears to be a weakness at Publix stores and probably should be corrected.
Some employees report they don't get any breaks at all until near the end of their shift. This does not include an occasional bathroom break out of necessity. You are allowed to do that.
Therefore, it's important to find out this information once you get hired, so you can adhere to your store's policy.
Does Publix Pay Weekly?
The Publix pay period starts on a Saturday and ends every Friday. Then you are paid for that week's work on the following Thursday, via direct deposit. 
If you join the Publix employees Federal Credit Union, your check gets deposited every Wednesday into your bank.
Publix Raises
Publix now uses a "pay for performance" strategy when giving out raises. They started this system in 2019 and it has been a great success in motivating workers to increase their efficiency and performance.
An exceptional employee can make up to a $1 per hour raise after their periodic evaluations every year. By the same token, if you don't perform well as a Publix employee, you can actually suffer a pay cut in the form of a 1% to 4% decrease in hourly wages.