Even though an entry-level job at Dick's Sporting Goods is geared mostly towards younger workers, this doesn't mean a senior or middle-aged person can't make this sports superstore their home away from home. There are plenty of full and part-time jobs available for motivated individuals interested in selling sports-related products.
The following information will reveal much about working at Dick's, and you will learn:
The minimum pay for entry-level workers
How many hours full-time and part-time workers get every week
Examples of typical shifts for part-time and full-time workers
The average pay for each store position as well as entry-level warehouse and distribution jobs
How and when Dick's Sporting Goods pays employees
If and when Dick's gives pay raises
Break policy at the stores
The dress code
Dick's Sporting Goods Starting Pay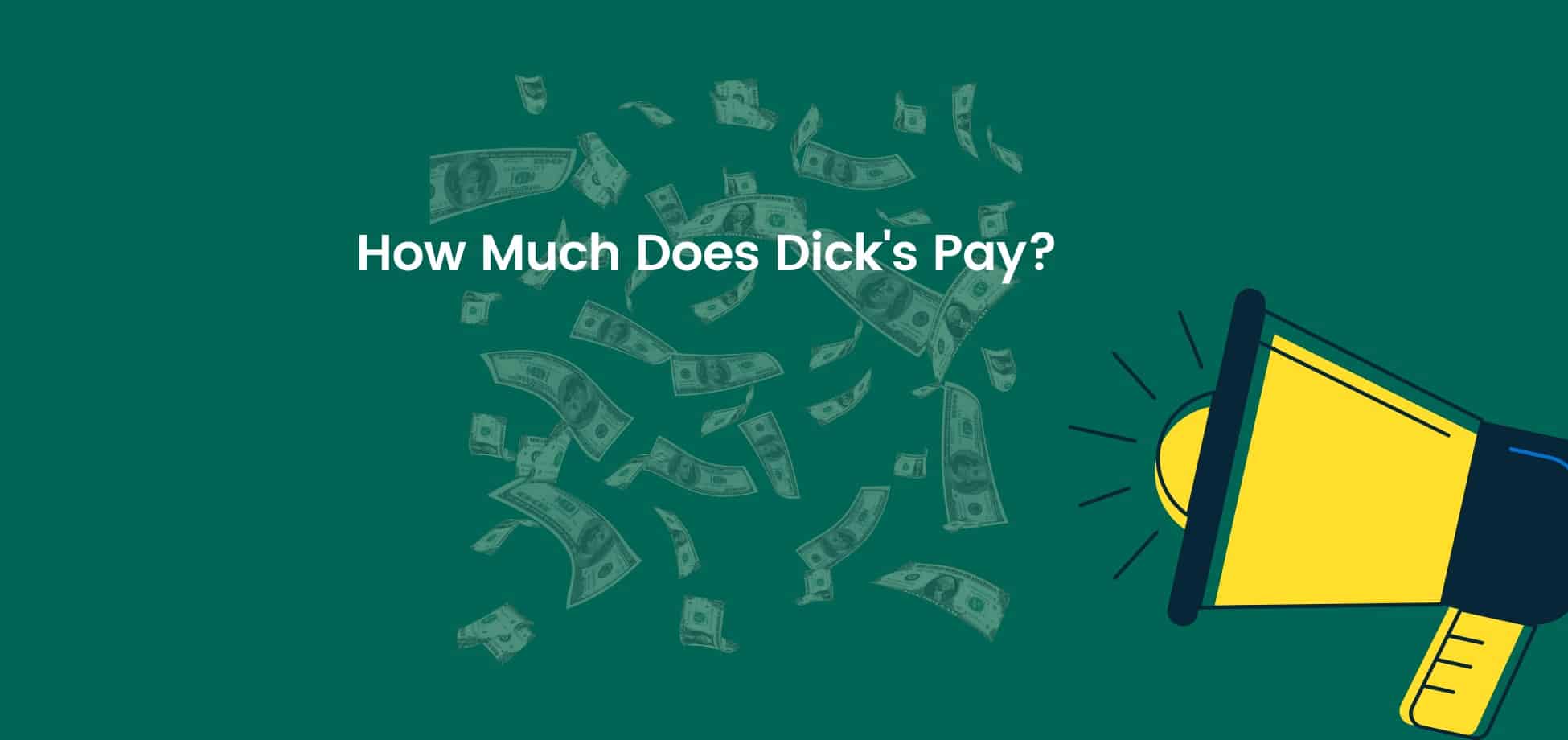 The average starting pay for entry-level workers at Dick's is $9 an hour. This is a little below average for the retail industry.
The yearly salary at this rate, assuming you would work 40 hours a week, would be $18,720. It's likely that you will be offered some overtime hours during the work year, so in your first year, you would probably earn a little over $20,000.
It's nowhere near a living wage, which is why it indicates an entry-level job at this sports superstore is best for young workers who don't need to support anyone but themselves until they move up the ladder within the company.
Dick's Full-time Hours
As a full-time worker, you'll usually receive at least 32 hours of work every week. The average employee is assigned between 35 to 40  hours of work every week. 
Additionally, employees scheduled for the later shifts oftentimes end up working a few more hours over their scheduled 40 hours in order to properly close the store for the night.
Here are some examples of full-time shifts at Dick's:
4 AM to 12 PM
6 AM to 2 PM
7 AM to 3 PM
8 AM to 4 PM
2:30 PM to 10:30 PM
Dick's Sporting Goods Part-time Pay
The part-time pay for entry-level workers is $9 per hour. If you have hopes of becoming a full-time worker, there are a few things to keep in mind.
First, you have to realize management is looking for people who are dependable and can work their rear ends off in a big way in order to help the company be successful. 
Therefore, if you show up on time and are ready to work every single day, and you are able to consistently fill in for other employees who call out sick, you will place yourself in the best possible position to be promoted to full-time.
Dick's Part-time Hours
Dick's is very generous with its part-time hours for workers who prove they can perform their job exceptionally well. The average amount of hours assigned to part-time employees is between 20 to 31 hours a week.
There will be times that you will work over 40 hours a week if you are filling in for people who don't show up to work. If that's the case, sometimes management will schedule you for fewer hours during the following week. 
However, sometimes they will just leave it as it is and schedule you to work your normal amount of hours as a means of rewarding you. This, of course, depends on your manager's preferences and it will possibly give you a chance to earn some overtime hours during the pay period.
An example of part-time shifts at Dick's are:
8 AM to 12 PM
9 PM to 1 PM
10 PM to 3 PM
2 PM to 7 PM
3 PM to 8 PM
5 PM to 10 PM
6:30 PM to 10:30 PM
Dick's Sporting Goods Salaries
The following information will reveal the average pay for each of the common store positions at Dick's. Judging from the hourly wages and salaries, this big sporting goods retail chain could use a little improvement in the amount of monetary compensation it offers its employees.
However, pay is not the only thing to take into consideration. They offer a very good comprehensive benefits package to full-time hourly and salaried workers, and this may make it worth your while.
Dick's Sporting Goods Cashier
A cashier at this company makes an average of approximately $11.10 an hour. This means you'll be making an average of approximately $444 a week and a yearly salary of $23,088.
Experienced cashiers usually start out anywhere between $10-$11.50 an hour. The average hourly rate of $11.10 an hour indicates there are many cashiers who started out at the entry-level and have been working there for approximately three to six years and have gotten a possible $.30 raise every year.
Dick's Sporting Goods Retail Sales Associate
The average pay for a retail associate at Dick's Sporting Goods is approximately $12.35 an hour. Assuming you will work a 40-hour-a-week schedule, you would make $484 a week and approximately $25,688 in yearly salary.
Bear in mind that as a retail sales associate, you will be assigned a specific department or you may juggle a couple of departments at a time. It's important to know your products and network with your coworkers to stay informed on the latest trends for your department as well as others.
If you perform well as a sales associate, you can get promoted to a sales leader within a reasonable amount of time.
Dick's Sporting Goods Retail Sales Leader
A sales leader at Dick's makes an average of about $12.85 an hour. A consistent 40-hour workweek would put you at approximately $514 a week and a yearly salary of $26,728.
With this job, you will more than likely have a chance to work plenty of overtime hours to meet the needs of your store. Based on the hourly wage, this could quite possibly push your salary up to over $30,000 a year.
Dick's Sporting Goods Assistant Manager
The average salary for assistant managers is approximately $71,250 a year. This is a salaried position, and you can expect to work anywhere between 40 to 60 hours a week to accomplish the goals set forth by the store manager.
Even though your personal life may suffer a little bit from the long hours, most people who have had this position say the overall general impression of working in this position is excellent. Many see the working atmosphere as very pleasant and say the employees are very talented and work as a team.
This is important for someone in management because it makes your job much easier, rather than having to babysit employees who are constantly complaining and not performing up to standards. This also indicates that Dick's Sporting Goods does very well in picking quality personnel to join their company.
Dick's Sporting Goods Store Manager
The store manager at Dick's makes an average of approximately $97,500 a year. This figure includes bonuses and commission sharing.
The salaries for this position can range anywhere between 61,000 and $126,000 a year. 
Many employees who have worked in this position talk about how, although it's very stressful at times at this position, the work is very fast-paced and fun because of the sports atmosphere.
Dick's Distribution Center Processing Associate Pay
The average salary for this position is approximately $15 an hour. This will amount to approximately $600 a week and $30,000 a year.
There are many other positions in the distribution centers, so consult with the careers website for open positions near you. Some of the jobs offered will be entry-level and many will require experience.
Does Dick's Sporting Goods Pay Weekly?
The pay period starts on a Sunday and ends on two Saturdays after that, and on the following Friday, you will get paid. If you have a direct deposit, the funds will go in just after midnight on that Friday.
Therefore, if your first day of work is on the second Sunday of the pay period, you will only get paid for those days of work from that Sunday through the following Saturday, and you will get paid on the Friday after that.
For a new employee, this may be a little confusing but if it helps, you may want to ask your human resources department to provide a pay period schedule for you. This chart will show you the exact beginning and ending dates for each pay period and this should be able to clarify any questions you may have. 
How often does Dick's Sporting Goods give raises?
Employees who have worked at Dick's Sporting Goods say it's very difficult to get good pay increases for hourly workers. The average raise is about $.30 an hour every year after you have been evaluated on your performance.
Some employees say it's a good idea to stay in contact with management to let them know that you are interested in getting a pay raise. In other words, if you remain quiet, people who have worked there say you are at a disadvantage and you possibly may be overlooked for a pay raise.
Break Policy
The break policy at Dick's Sporting Goods is very straightforward. You get two paid 15-minute breaks and an unpaid 30-minute meal if you are scheduled for at least a 7-hour shift on any specific day.
It's really important to be able to communicate with your management staff to let them know when you are taking your breaks as well as when you are going on your meal break. Sometimes, especially during the holidays, the store gets so busy that it makes it nearly impossible to coordinate every employee taking their scheduled breaks.
Dress Code
The dress code can vary between stores, depending on how managers prefer it. Regardless, it is very casual and as an example, cashiers need to wear their own black pants in some stores along with a sporty top, preferably displaying a brand that is sold at the store.
Close-toed shoes must be worn at all times, and Dick's allows tattoos and earrings as long as they are not offensive to the customers.
In some stores, sales associates are allowed to wear golf shorts with athletic shirts. The whole idea is to look as sporty as possible in order to make a favorable impression on the customers. 
Once you are hired, consult with your management team to make sure you are able to properly adhere to the dress code.
Featured image courtesy of Michael Rivera, CC BY-SA 4.0, via Wikimedia Commons.