As you consider a Dunkin' Donuts application, here's something to consider. Since 2017, all Dunkin' Donuts stores have been independently owned by franchisees.
This can sometimes pose a problem for workers when it comes to working conditions and benefits because instead of all stores being consistent, one owner or a group of owners determines how the store will be run.
On the other hand, it can be a major plus if you can hook up with a good owner!
Working at Dunkin' Donuts
There are plenty of positive aspects to working at this famous donut shop. However, there are also many negative reviews due to the fact that there is no uniformity across the board when it comes to the management of these stores.
The following are some of the pros and cons discussed by people who have worked at Dunkin' Donuts and people who are still employed there:
Pros
Nice and friendly customers who usually tip well
The shifts are very flexible
In some stores, you get free coffee and donuts and in others, 50% off
You learn quickly how to work in a very fast-paced environment
All employees are treated equally fair
Co-workers are fun and you get the feeling of being in a family atmosphere
Cons
The pay was low for the number of responsibilities
You hardly ever get a chance to take a break
Lack of communication by upper management with employees
Lack of healthcare and other benefits for hourly workers
Some managers would leave workers alone during the shift, even at closing time
Very high employee turnover rates
History
William Rosenberg founded Dunkin' Donuts in 1950, in Quincy Massachusetts. Through the years, this company opened many franchises, and eventually, in 1990, the company was bought by Baskin Robbins. 
This company currently has over 12,000 locations worldwide. Currently, there are many Dunkin' Donuts paired with Baskin-Robbins ice cream parlors in the same store. 
Every Dunkin' Donuts restaurant is franchise-owned. This means ownership is responsible for the policies and the daily operations of their own businesses. They alone can choose which employees to hire and fire, and they set their own hourly wages and salaries, as well as benefits offered to their employees.
Jobs at Dunkin' Donuts
The jobs offered at Dunkin' Donuts could be categorized into four different positions. 
They are:
Crewmember
Baker
Shift leader
General manager
If you've ever taken a trip to one of these donut shops and ordered any items, you can usually see how all the workers are performing in sync with each other.
It's not easy to have a worker at the drive-through window taking orders while someone else is inside taking orders at the counter. If you couple that with the amount of work that goes into fulfilling each and every order as quickly as possible, you'll get to see how fast-paced and hectic this job can be.
Regardless, Dunkin' Donuts workers are expected to greet customers with a smile and continue smiling as they exit, even if they are not completely satisfied.
Dunkin' Donuts Crew Member Job Description
In this job, you are the first person every customer sees after they enter the store or go through the drive-through window. 
Your job is not only to provide great customer service, it's to give the customer the impression that you will always fulfill their order accurately and quickly so they can go their own way without having to wait too long.
These entry-level positions don't require a high school diploma or any type of degree. The company is simply looking for somebody who:
can speak and read English
is capable of handling money and giving change to customers
has no problem operating machinery to fulfill the orders
can comply with all the policies and procedures the owner has established
Training is provided for you on the job, so this makes the job of a crew member very attractive to people looking for their first job.
Baker Job Description
"Baker" is the term used at Dunkin' Donuts for the person who prepares all the food for its customers. Your job is to maintain a clean working area and process all the food orders for the customers and occasionally work the cash register, as well.
This can also be an entry-level position where you will be trained on the job. You'll have to learn how to use the equipment at Dunkin' Donuts and you'll have to be able to focus and have the motivation to prepare the foods according to standards.
Dunkin' Donuts Shift Leader
As a shift leader, you'll be assisting and guiding other crewmembers while they work throughout their shifts. You're also going to be in charge of assigning your crew members to different stations, motivating them, and providing feedback in order to improve their performance.
In this position, you'll also be in charge of catching errors and quickly correcting them.  You will also be responsible for the costs involved with acquiring food and monitoring the cash flow move throughout your shift.
The general manager will provide direction in many aspects of your daily duties. It's important to establish a good rapport with your supervisor so you can accomplish the main objectives and mission of your store.
Dunkin' Donuts Assistant Manager
Your job is to support all the directions given to you by your general manager in an effort to make sure your crew members are dedicated to providing the best customer service.
A big part of your job is helping your shift leaders train other crew members and be accountable for their performance.
Assistant managers are always very busy at Dunkin' Donuts. You will see them shuttling back and forth, taking over the cash register at times, fulfilling orders at the drive-through window, and performing all the variety of functions other workers perform.
Dunkin' Donuts General Manager Job Description
In this responsible position, you will be in charge of recruiting and developing your employees. You will be taking direction from your store owner to make sure you set goals and accomplish them. 
In this job, you have to be able to handle the pressure of managing a diverse group of employees who can at times be at odds with each other. You will also be in charge of creating shift schedules for all of your employees.
To become a general manager, you have to have some experience in the foodservice industry. For your talent, you'll earn a competitive salary and the possibility of earning a 10% monthly bonus. You will also be entitled to medical and dental insurance, as well as short-term disability accident and life insurance.
How to Apply at Dunkin' Donuts
While it is very convenient to register and fill out a Dunkin' Donuts application online, it's better to visit the store of your choice in person to see if you can fill out a paper application "on the spot."
This is because you may be able to meet the owner or manager in person and you will be able to make a great and lasting first impression!
If you're going to apply in person, make sure you have all the details of your previous work history, education, Social Security number, and other personal information that you normally use to apply anywhere else.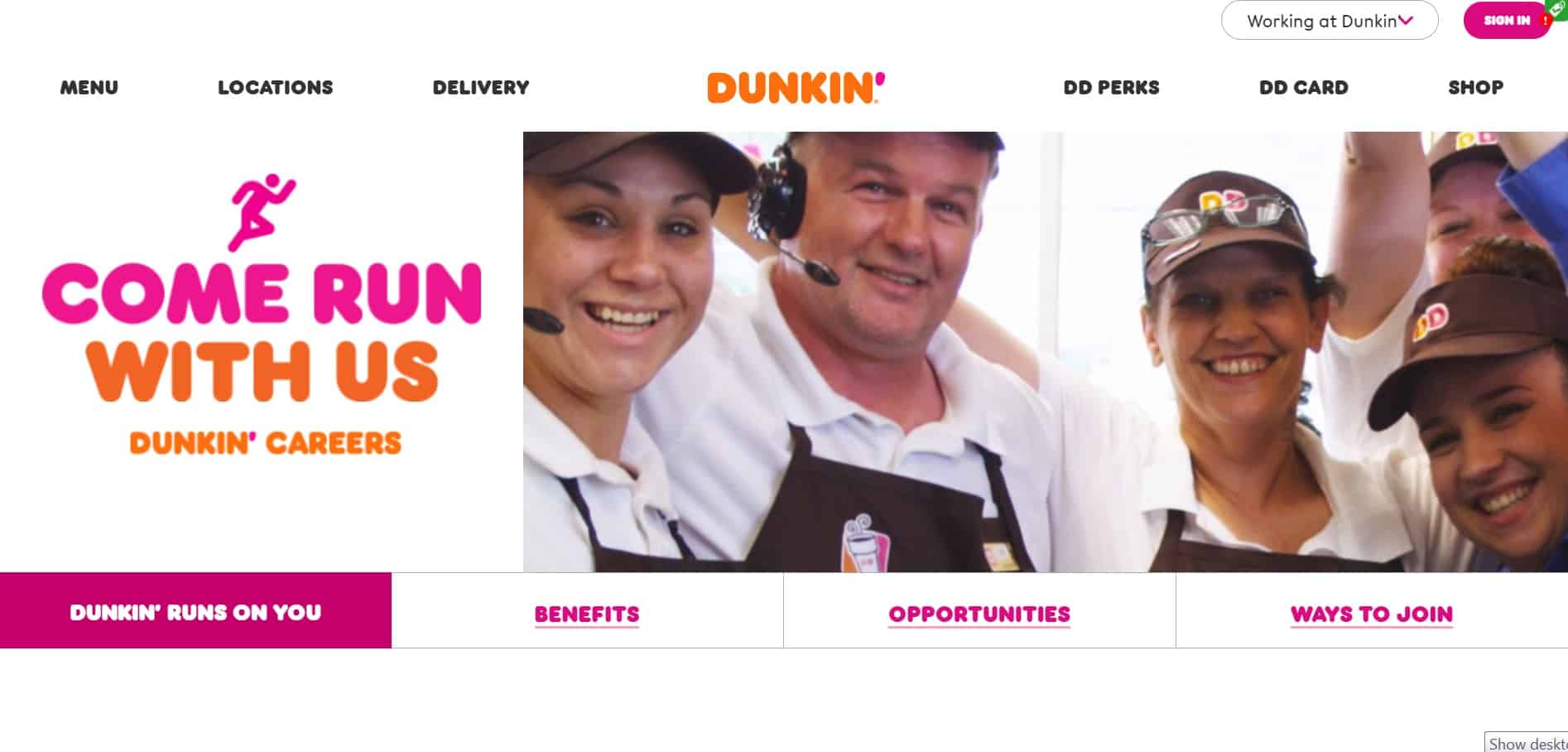 For those who want to apply online, here are the steps you can take:
Visit the Dunkin' Donuts career page.
Click on the "opportunities" link.
Scroll down a little further and click the "apply now" button.
Enter your ZIP Code on the following page and click "search."
On the left-hand side of the page, pick out a store, and click the "apply now" button.
You will be redirected to a pop-up that prompts you to accept or cancel a page redirect. Click "accept."
On the following page scroll down to the career search area and begin looking at the job titles. Once you have found something you are interested in, click the "apply" button.
You will be redirected to the job description of the position you chose. Once you read it and are interested, click the "apply" button.
You will arrive at step one. Begin filling out your application and follow all the directions.
Dunkin' Donuts Application Process
Usually, you will receive a callback to come to the store and interview within the first week. If the hiring manager or other personnel has not called you within this timeframe, dress up in nice clothing and visit the store in person.
Once you are there, politely introduce yourself and let someone know you are there to apply for a position and that you applied online, approximately one week ago.
Make sure you come prepared to possibly interview on the spot. It's not uncommon to visit a Dunkin' Donuts, fill out an application in person, get interviewed, and be hired right there on the spot. It doesn't happen all the time, but there is a possibility!
If you don't get hired immediately, once you interview, you will receive a callback from the staff at the store you applied to, within 1 to 2 weeks. Once again, if you have not heard anything back from them, visit the store again and repeat the process.
It's important to have perseverance while you're trying to get a job at Dunkin' Donuts because they are individually owned, and the owner generally wants to see someone who is really interested in applying for a job at their store. 
So, if you can show a lot of motivation and enthusiasm, you will have a distinct advantage of getting hired over someone else.
Minimum Age to Work at Dunkin' Donuts
You have to be at least 16 years of age to be able to work at Dunkin' Donuts. Please keep in mind that state laws vary and you may have to get a work permit.
The only other thing to worry about is how having a stressful job such as a crew member position at Dunkin' Donuts can interfere with your education.
Many teenagers take on a crew member entry-level position to make extra money on a part-time basis while attending high school or college. Some can handle the pressure and it does not affect their grades, but for others, it can be quite a challenge.
Does Dunkin' Donuts Drug Test?
Dunkin' Donuts generally does not drug test entry-level hourly workers trying to get hired. There is too much of a cost involved to be able to drug test everyone who comes along and fills out an application.
Sometimes, people seeking managerial positions will have to submit to a drug test during a thorough background check.
Benefits
Unfortunately, since all Dunkin' Donuts are franchise-owned, the job benefits offered to its workers are highly inconsistent. This is the major drawback of working for a restaurant chain that consists only of franchisees.
It's not impossible to be an entry-level worker on a full-time basis collecting health and dental benefits. However, it is very rare. Your best bet is to ask before you get hired so you know what to expect.
General managers are generally offered a good benefits package as previously described above in the job description.
Final Thoughts
Working at Dunkin' Donuts, which is definitely America's favorite coffee and donut shop, can be quite a challenge. It is not the ideal job for an adult who has to support his or her family.
This is because the benefits are rare and when you have a family, the lack of health and dental benefits becomes a huge issue.
On the flip side, this is the perfect job for a teenager trying to get his or her feet wet in the retail or fast food business. You will learn all about how to provide customer service while collecting a steady paycheck if you play your cards right.
Seniors can also benefit from working at Dunkin' Donuts on a part-time basis, as long as they are covered by Medicare. Homemakers trying to get back into the workforce may want to consider a job at this donut shop, as well.
Featured image courtesy of Anthony92931, CC BY-SA 3.0, via Wikimedia Commons.