The fact that all Subway restaurants are franchise-owned poses a great challenge to anybody looking for a job there. Different owners have different sets of rules, and it affects all the workers either positively or negatively, depending on how they treat their employees.
In this article I'll show you:
The minimum hourly wage at Subway
Full-time hours and part-time hours you'll work
Jobs you can consider applying for
What each job pays in hourly wages and yearly salary
How old you have to be to work at Subway
Whether Subway gives you a drug test before hiring you
Dress code
Whether Subway hires felons
When you get paid
Policy on giving raises
Starting Pay at Subway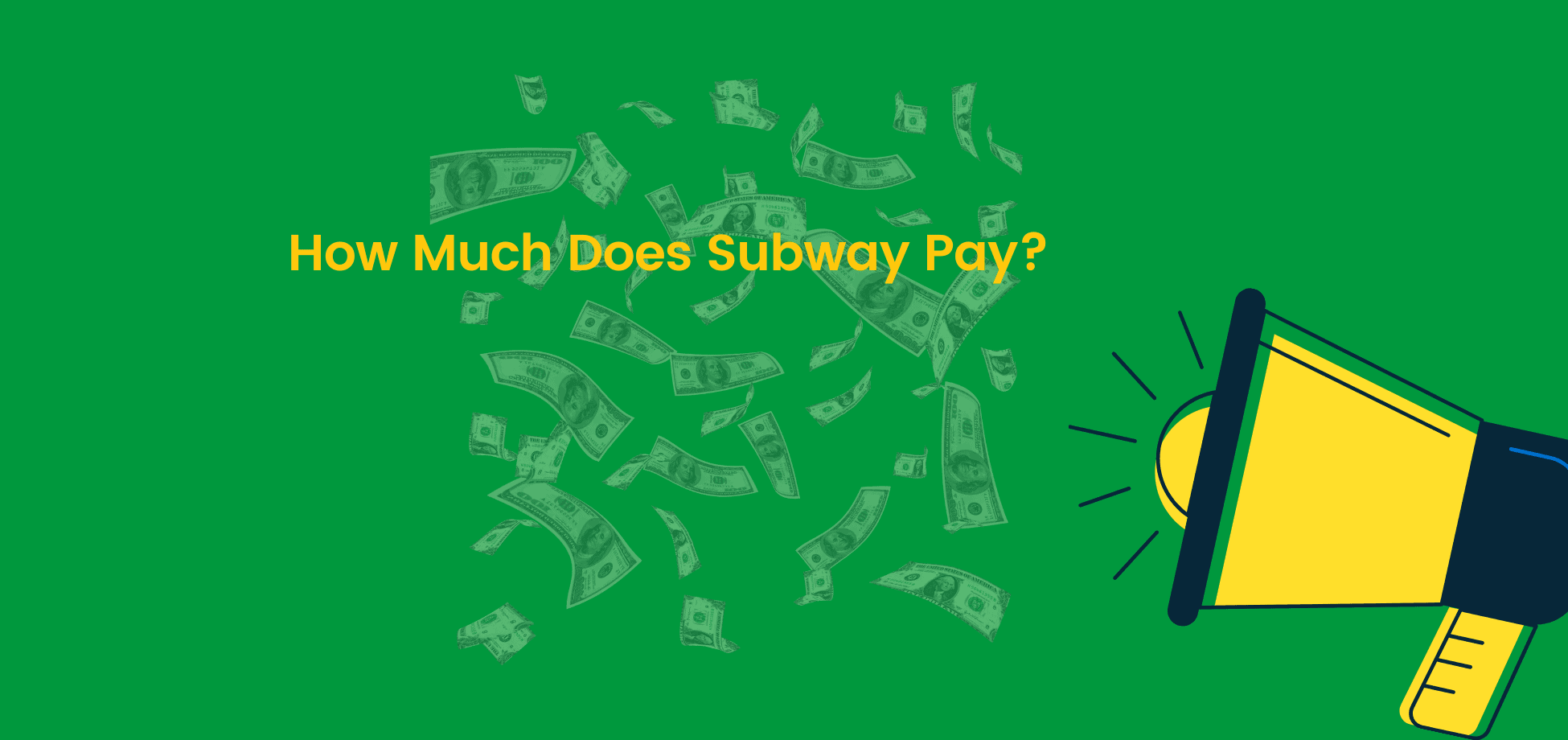 The starting pay for an entry-level worker at Subway varies considerably because each store is franchise-owned, and they set their own pay scales. 
While some workers start out at approximately $8.50 an hour, others start out at $9.50 to $10 per hour. In cities such as New York and San Francisco, you can expect to make somewhere around $12 to $15 an hour to start.
The starting wage generally depends on the market value and is set in place by ownership, so they can try to retain their workers and avoid turnover.
Related Posts
Full-time Hours at Subway
A full-time worker at Subway usually gets an opportunity to put in 35 to 40 hours a week. This will vary from store to store due to all of the Subways being franchise-owned.
General Managers offering reviews on Indeed.com and Glassdoor.com have remarked how important it is to be a dependable employee so you can earn your way to more work hours.
So, if you get hired full-time, don't think you automatically are entitled to 40 hours every week. Try your best to make an impression on management so they can consider you as one of their dependable employees.
As an example, full-time shifts are as follows:
7 AM to 3 PM
8 AM to 3 PM
8 AM to 4 PM
9 AM to 5 PM
3 PM to 11 PM
4 PM to 12 Midnight
6 PM to 2 AM
Part-time Pay at Subway
The part-time pay for an entry-level worker at Subway is about the same amount a full-time employee would receive.
On average, it will be between $8.50 an hour to $10 an hour. You'll have the same responsibilities as a full-time worker and you'll have to be more flexible when it comes to shift scheduling.
Part-time Hours at Subway
An employee who works an average of fewer than 40 hours a week will be considered a part-time worker.
The hours for part-time employees usually have the same or general starting times as a full-time worker, but last only 5 to 6 hours a day. 
Additionally, a part-time worker may only be scheduled for work on Saturdays and Sundays, depending on the operational necessity of management and ownership. You will also have to be ready to fill in for other full-time employees if they call out sick or miss work for any other reason.
Jobs at Subway
Subway restaurants have 4 basic positions. You can apply for a sandwich artist position which consists of more than just preparing a sandwich. You'll also ring up the purchases and keep the store well-maintained and clean.
You'll also have the opportunity to advance to a shift leader job. In this position, you will oversee other employees as they provide excellent customer service and perform their job in accordance with the store's procedures. 
Subways also need assistant managers and general managers to round out their roster of employees in order to make operations run smoothly. Sometimes the general manager will be the owner, or one of the owners who are part of the franchise.
Subway Sandwich Artist Pay
Sandwich artist at Subway makes an average of $9.90 an hour. If you work full-time at this position using that figure, you can make approximately $20,592 per year.
On the high end, people with many years of experience can make as much as approximately $15.50 an hour, or $32,240 a year in salary. 
However, that is very rare and the only ones making this type of money for this position are the ones who have consistently proven themselves for many years and are an integral part of that particular Subway store. 
In other words, if you are a Subway franchise owner and your best employee has been working for you for more than 13 to 15 years and you have given him or her a $.35 raise every year, it would amount to approximately $15.50 an hour.
Subway Shift Leader Salary
A shift leader makes a little more than a sandwich maker. This position gives you a chance to earn approximately $10.75 per hour during your first year.
In this position, management will count on you to perform all the daily activities an assistant manager or general manager would do. Therefore, this position comes with many responsibilities and is a major stepping stone to a management position at Subway.
If you're making $10.75 an hour, that equals $22,360 a year in salary. Although that may not sound like much, you will probably be working more overtime hours than you could imagine. This will place your yearly salary at a much higher level.
Subway Assistant Manager Salary
The average assistant manager hourly rate at Subway is approximately $12.60 an hour. This brings you a yearly salary of $26,208. 
In this job, you'll be performing many general manager duties at any given time. 
Subway Manager Salary
This is usually the only exempt position at Subway, where an employee can get a benefits package and get paid a salary instead of an hourly wage.
The average general manager at Subway makes approximately $38,500 a year. This is about 30% below the average salary for this type of position in the United States.
For many Subway franchisees, the general manager position is taken by the actual owner. That way, the person or persons owning the franchise don't have to pay anyone a yearly salary and can pocket the money to help make their store a success.
This means there are many Subways that have an owner who doubles as the general manager!
Minimum Age to Work at Subway
You must be at least 16 years of age to be able to work at Subway. Even so, keep in mind that it may interfere with your schoolwork. This is because many of these stores prefer to employ their part-time workers well into the late hours and on weekends.
Child labor laws are all different from state to state, so you need to check with yours. As an example, a Subway may employ a 16-year-old to work weekdays until 11 PM. The teenager may then have to wake up at 5:45 AM to prepare to go to school. Ouch!
Does Subway Drug Test?
The vast majority of stores do not have their prospective employees submit to a drug test before they get hired. This is due to the high costs involved in having all applicants submit to a drug test.
Even if you're going after a managerial position, sometimes you will be drug tested before you get hired. However, most Subway owners put their general managers through a drug test before they hire them.
Subway Dress Code
Most Subway stores provide parts of your uniform for you in the form of a shirt, an apron, and a hat. You are usually expected to get your own khaki pants or black jeans or pants.
You also cannot wear open-toed shoes and you must have slip-resistant shoes to wear during your shift.
Every franchisee determines other particulars of their dress code such as; the type of earrings you can wear, how long your hair can be before it's pulled up under your hat, and the color of your hair, for example.
Does Subway Hire Felons?
Subway does not discriminate against anyone applying with a felony record. Of course, this all depends on the owner and the type of felony a person has been convicted of in the past.
Many workers who have posted reviews on Indeed.com and Glassdoor.com state that Subway is not too picky when they choose their employees and they realize people deserve a second chance.
So, overall, you may have a great chance to get hired even with a felony past. It's important to be upfront and honest during the application process.
Does Subway Pay Weekly?
Every Subway differs in how they pay their employees. While some workers report they get their checks on a weekly basis, others say they are paid biweekly. 
You'll have to consult with your hiring manager at the Subway you would like to work at in order to find out either after you are hired or before you consider working for them.
Does Subway Give Raises?
Some people say they get raises once a year, and it's very minimal. Others say they become eligible for a raise two times a year, and it is based on their performance.
It's safe to say that because all Subways are franchise-owned, you'll need to impress management staff as well as ownership to be able to put yourself in a position to get a raise.
Aside from that, if you want a raise as quickly as possible, you may want to set your sights on getting promoted from a sandwich maker to a shift leader and/or to an assistant manager. 
Featured image courtesy of High Contrast, CC BY 3.0 DE, via Wikimedia Commons.