Working at Dunkin' Donuts would seem like an ideal job for someone who likes breakfast and coffee, or one who likes working extra early in the morning so they can be home before 3 PM.
Both of those are valid reasons, but let's take a look at a few things to help you decide whether a job at this famous coffee and donut shop is for you. In this article, I'll show and explain to you:
What the starting pay is
The full and part-time hours available
Part-time hourly wages
The different jobs available and what the average wages are
Dress code for employees
Whether Dunkin' Donuts hires felons
If they pay weekly or biweekly
Important information on Dunkin' Donuts pay raises
Starting Pay at Dunkin' Donuts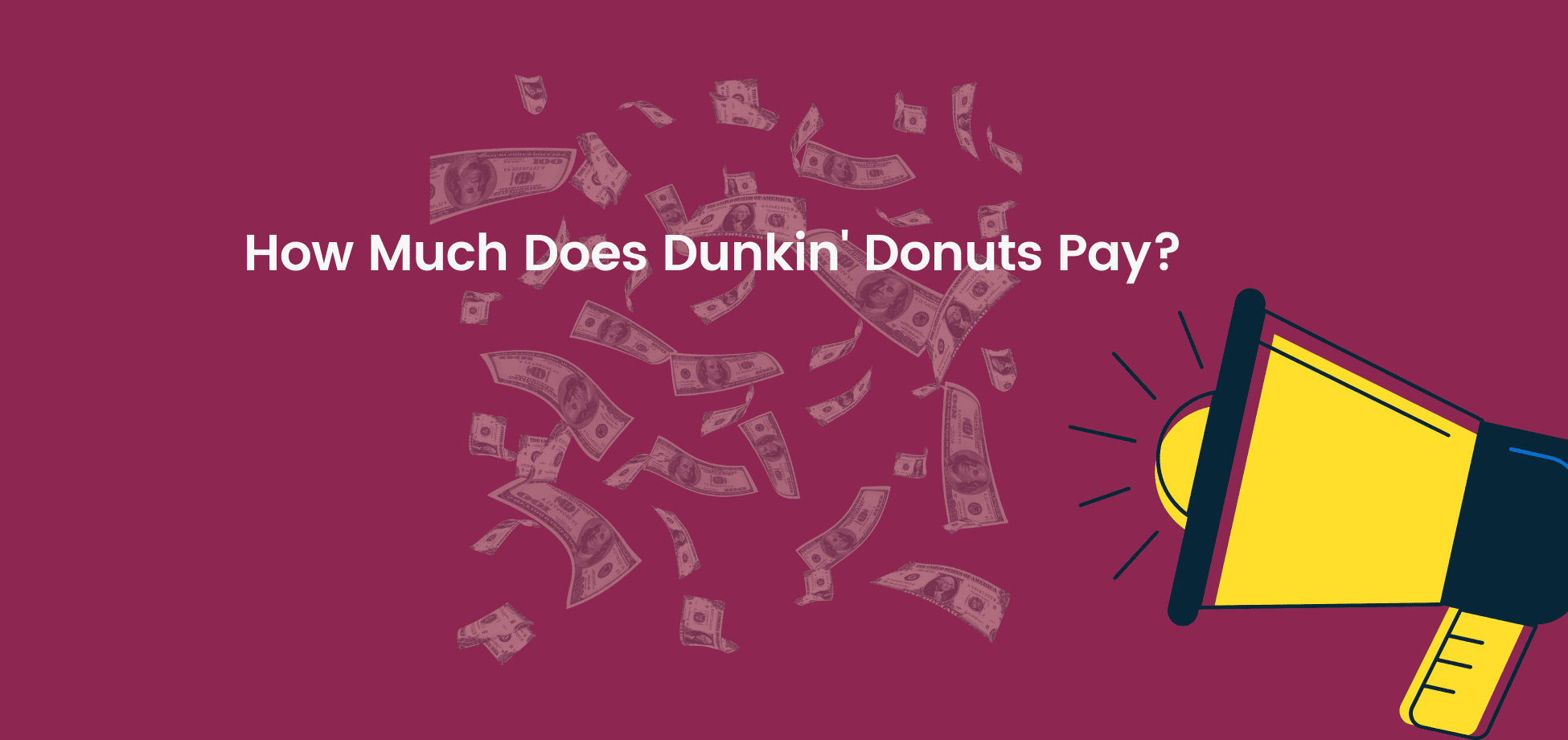 Depending on the location and due to all Dunkin' Donuts being franchise owned, the starting pay varies somewhere between $9 to $10.50 an hour, on average.
The exceptions are where some states have a higher minimum wage, such as the $13 per hour minimum wage in California and $13.50 in Washington. 
The minimum hourly wage at this coffee & donuts chain is usually consistent with market value, so it's important to do your homework and see if this company pays enough for you to consider a future with them. Take a look at other restaurant or food service jobs in your area, and compare the starting wages as well as the opportunities for work benefits.
Full-time Hours at Dunkin' Donuts
When you work at least 40 hours a week, you will be considered a full-time employee at Dunkin' Donuts. 
The working hours can vary greatly from store to store, so it's important to ask during the hiring process while letting them know that you are very flexible and motivated to fill any shifts possible.
Generally, once you prove that you are up to the task and able to cover any shift, management will take notice. You may then be in a position where you can ask for more stable hours so it can align with your personal life.
Here are some examples of shifts for full-time workers:
5 AM to 2 PM
6 AM to 3 PM
2 PM to 11 PM
3 PM to 12 PM
11 PM to 8 AM
12 midnight to 9 AM
If you're working full-time at a 24-hour Dunkin' Donuts, keep in mind you'll have some busy times between 11 PM and 3 AM. After that, it usually slows down considerably and you can get necessary work done such as cleaning the store, etc. 
You will also have a period between 3 AM to 5 AM where you can relax quite a bit and serve only an occasional customer.
Part-time Pay
The part-time pay is the same as the full-time pay at Dunkin' Donuts. The only difference is you're not going to get as many hours of work unless you prove you are an exceptional employee to your management staff.
If you have been working part-time for say, three months, and have done everything that has been asked of you and you have proven worthy, you may be able to land a full-time position, if that's what you want.
Always use caution when asking management for better hours. Try to get a feel for the person you would like to approach as it relates to improving your working conditions before you attempt to say anything. You don't want to irritate or pester someone in a supervisory position until you have established at least some type of working relationship.
Part-time Hours at Dunkin' Donuts
As a part-time worker, you'll be working a minimum of 10 to 20 hours a week, depending on your store.
If you always make yourself available to management to be able to fill in for any employee who calls out, you will without a doubt get noticed by your management.
Dunkin' Donuts have a fairly high turnover rate, so when they find somebody who's dependable, they tend to latch onto that person in hopes that the employee will stay loyal and be able to help the company profit.
These are some example part-time shifts at Dunkin' Donuts:
5 AM to 9 AM
6 AM to 10 AM
7 AM to 11 AM
11 AM to 3 PM
2 PM to 6 PM
Remember, the trick to getting as many hours every week as a part-time worker is to prove that you are dependable and trustworthy. Be mindful that this takes a little time but with consistent effort, anyone can make a great impression on their management staff and ownership if they really try.
Jobs at Dunkin' Donuts
There are five general positions at any Dunkin' Donuts and two of them are entry-level; crew member and baker.
The other three positions are supervisory jobs and they are; shift leader, assistant manager, and general manager.
For the entry-level jobs, there are really no requirements such as having a high school diploma or a GED. You simply have to have motivation and enthusiasm to work a sometimes fast-paced job and be able to offer great customer service, no matter how customers behave.
For the crew member and baker positions, you will be trained on the job. If you are able to follow simple instructions, these jobs should be very easy for you. You will learn the position and adapt in a very short time.
Dunkin' Donuts Crew Member Pay
The average crew member at Dunkin' Donuts earns around $11.10 per hour. This would be approximately $23,088 a year in salary. 
Keep in mind this figure is based on a 40-hour workweek. In reality, many full-time workers work a few overtime hours now and then, so the yearly salary would be more in the neighborhood of $25,500 per year.
Also, remember this position requires plenty of motivation and a lot of patience to deal with sometimes angry or rude customers. In this job, you are basically the face of Dunkin' Donuts because you are the one who will be dealing with customers on the front lines.
Baker Pay
A baker makes approximately $10.95 an hour, on average. This amounts to $22,776 a year, based on a 40 hour work week. 
This is a position where Dunkin' Donuts pays extra attention to its workers because the quickness in which you are able to prepare foods directly affects the profitability of every store.
Therefore, if you can prove yourself to be a quick and efficient worker, you will be worth gold to the company. Your owner will love you and your management staff will do everything in their power to retain you.
However, don't let this get to your head! You still have to prove that you are a dependable employee by hardly ever missing work and getting there on time.
Dunkin' Donuts Shift Leader Pay
The average shift leader at Dunkin' Donuts makes approximately $11.50 per hour. This equals $23,920 a year in salary.
A shift leader is oftentimes almost forced to work overtime out of operational necessity when someone calls out sick.
This would work to your advantage because it would help you make more money with the overtime hours. It's also a very responsible position and you will end up doing much of the work that an assistant manager or general manager would do, so prepare yourself for this challenge.
Dunkin' Donuts Assistant Manager Pay
The average salary for an assistant manager at this donut chain is approximately $13.25 per hour or $27,560 per year. 
This is still an hourly position, so you will end up working quite a few overtime hours here and there.
It's the perfect job to learn as much as you can from the general manager so that you may one day climb into that next step and take over the management of a Dunkin' Donuts store. 
If you do have your sights set on a general manager position in the future, you need to continually look at the job openings for a general manager in your area. You can do this by visiting the Dunkin' Donuts careers site and following the links and instructions.
Dunkin' Donuts General Manager Pay
The average general manager at Dunkin' Donuts makes approximately $43,900 per year. The salaries can range anywhere between $27,000-$65,000 per year.
It's interesting to note that some Dunkin' Donuts don't have general managers because the owner is the person assuming this position. It's much more cost-effective for some owners to simply work almost every day as the actual manager than to pay someone a general manager's salary.
Therefore, always remember that when you apply to any Dunkin' Donuts and meet the general manager, you may be speaking with the owner!
Dress Code
The dress for employees at Dunkin' Donuts is very casual. It consists of:
White polo shirts for his crewmembers and blue polo shirts for the shift leaders
Jeans or khaki pants
Dunkin' Donuts visors
Brown apron
Black slip resistant shoes
Some Dunkin' Donuts stores provide different parts of the uniform such as the apron, visor, and polo shirt.
Additionally, you'll have to pay attention to your hair, nails, earrings, and jewelry. Some owners strictly forbid unnaturally colored hair, nose rings or excessive earrings on the lobes, and excessive jewelry,
Does Dunkin' Donuts Hire Felons?
Yes! Dunkin' Donuts does hire felons. However, this all depends on the ownership, their past experience with other workers who have had a felony past, and the type of felony you were convicted of.
It's important to be honest and upfront with ownership and management from the beginning while you apply. There have been cases in every type of restaurant or retail store chain where the employee was not honest from the beginning, and even though that employee ended up being a great worker, he or she was fired after they found out they lied on the application.
Does Dunkin' Donuts Pay Weekly or Biweekly?
Some Dunkin' Donuts pay on a weekly basis while others pay biweekly. This all depends on your store owners and how they have their payroll set up. When you apply, this is one of the most important questions to ask.
Some store owners pay you through direct deposit and some give you a paper check if you so desire.
The pay periods vary greatly. However, the most common pay period for biweekly checks is the pay period begins on a Saturday and ends on the second Sunday, and you get paid the following Friday.
For weekly checks, a pay period can start on a Tuesday and end on a Monday, and you can get paid the following Friday.
Pay Raises
Many workers, past and present, have remarked on how poor the pay raises are at Dunkin' Donuts. Some have stated they have not received a raise in five years. Others say you don't get a raise until you get promoted.
This is all certainly due to every Dunkin' Donut store being a franchise owned business. This gives owners the freedom to freely promote and hire and fire who they want, as well as choosing which employees to either give a raise or not.
This puts workers in a very difficult position as it relates to pay. My advice is to establish yourself as a solid worker, make sure you stand out completely as the most exceptional worker at your store, then approach management to find out if there are periodic raises.
If you tell a hiring manager or owner you would like to know if there are raises during the hiring process, there's a good chance an owner who doesn't give raises will disqualify you immediately.
Featured image courtesy of Michael Rivera, CC BY-SA 4.0, via Wikimedia Commons.