Convenience stores typically pay a low starting hourly rate. So, how much does Casey's pay its workers to start, and what are the average wages for someone who's worked at this retail chain for a few years?
Below, you'll see:
The starting pay you can expect
What each job pays on average, including the salaries for management positions
If Casey's pays weekly or biweekly
The truth about Casey's possibly holding your first paycheck
The pay raise policy
What's considered full-time, part-time, and what are the shift hours?
The call-out sick policy
If Casey's gives paid breaks or not
The dress code
Casey's Starting Pay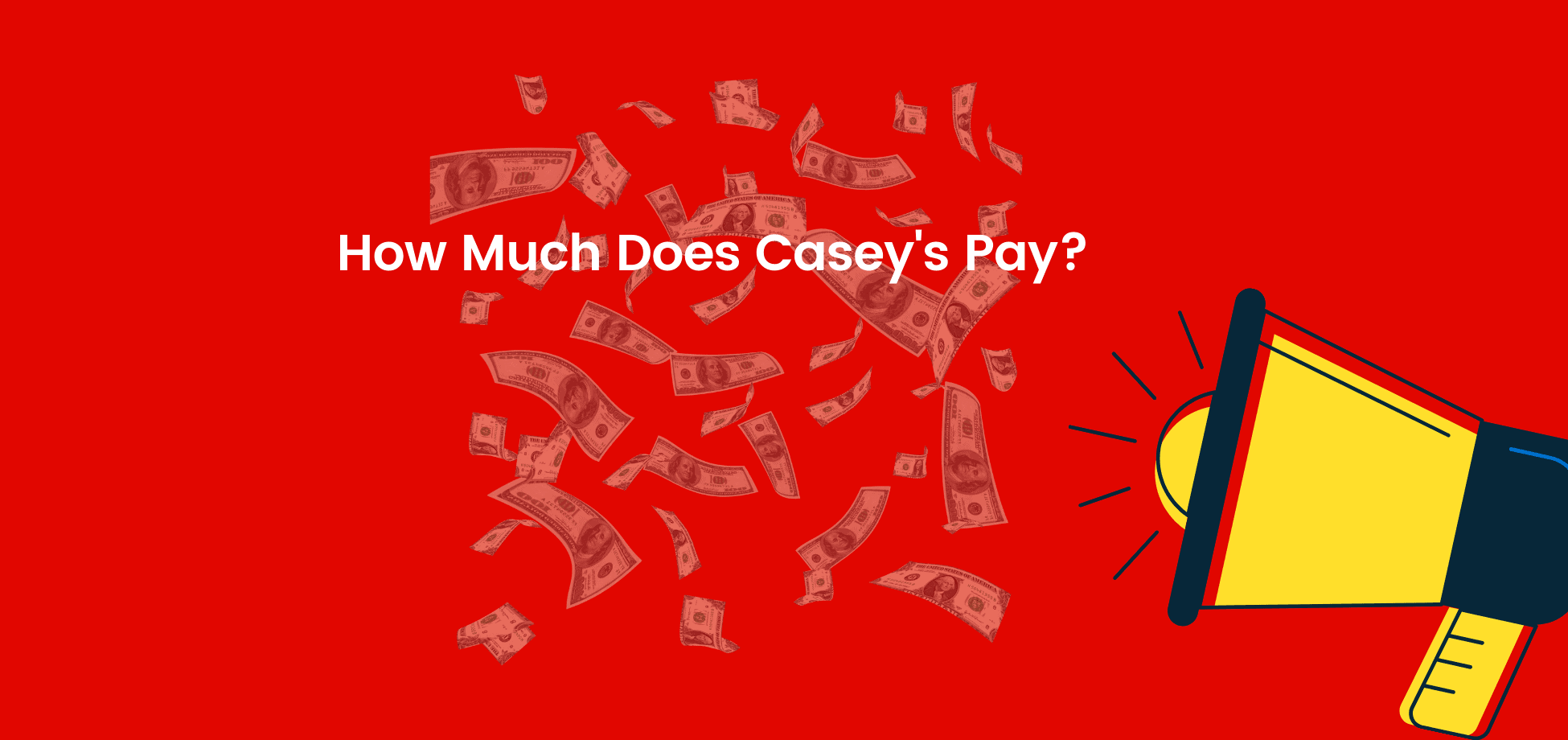 Casey's starting pay averages around $9.50 an hour. This is only because some states have a minimum state hourly wage of $7.25 an hour and some have $10 or more.
It's safe to say that this convenience store chain will pay you approximately $9 to $10 an hour, depending on where you reside. As an example, your starting pay in Kentucky would be approximately $9.00 an hour because the minimum state hourly wage is only $7.25.
At the same time, someone starting out at a Casey's in Illinois would be making about $11.25 an hour because Illinois has a minimum wage of $11.00 an hour!
If you're looking for an entry-level position, don't let the low pay discourage you. The whole idea behind getting a job at a convenience store is to find steady work and earn pay raises, or to progress up the ladder to a management position paying a much higher salary in the future.
Casey's Team Member Pay
The average Casey's team member makes around $10.65 an hour. This is after about 2 to 3 years of experience. 
It also amounts to approximately $426 a week and a yearly salary of $22,152. Remember, the best team members who put forth great effort are usually recognized by management, and these workers can get promoted very quickly.
Casey's Pizza Delivery Driver Pay
This position, also known as the pizza delivery team member, pays approximately $12.10 an hour, on average. However, many employees complain that they are not given enough hours of work for this particular position.
Therefore, unless you are able to communicate well with your management staff and hopefully get consistent hours during every pay period, you will not be able to count on having a steady paycheck.
For those who are lucky enough to get this job and get consistent hours, you're looking at approximately $423 a week plus tips. The tips should average out to anywhere between $30-$100 a week. 
Assuming you're making approximately $460 a week, you can make about $23,920 a year.
Casey's Shift Leader Pay
The average shift leader at Casey's makes approximately $11.25 an hour. One thing to note about this position is that you can expect to work double shifts on many occasions in some stores.
So, you can expect to make about $450 a week or approximately $23,400 a year. If you work a few double shifts here and there, or if you work overtime hours regularly, you'll probably make somewhere around $26,000-$27,000 a year with this position.
Casey's Food Service Leader Pay
The food service leader at Casey's makes approximately $12.35 an hour. This amounts to $484 a week and a yearly salary of $25,688.
This is a position that can quickly prime you for an assistant manager position in the future. Therefore, if you pay attention to detail, and you're able to motivate your team members to serve great food and be highly efficient, you have a chance to move up quickly.
Casey's Assistant Manager Salary
The average assistant manager at Casey's makes about $14.35 an hour. This equals $574 a week.
However, Casey's assistant managers are oftentimes forced to work a double shift out of necessity. Therefore, even if you're set to make approximately $29,848 a year, you can probably add another $5,000 to that figure, making it approximately $34,000 a year.
Casey's Store Manager Salary
Casey's store managers make, on average, approximately $46,925 a year in base salary. You can add to this a cash bonus worth approximately $11,600 a year.
So, the store manager at this convenient store chain makes about $58,000 a year.
Casey's District Supervisor Salary
District supervisors at Casey's make approximately $83,590 a year. This includes cash bonuses, stock bonuses, and commission sharing.
The salaries for this position can range up to $160,000 a year.
Casey's Region Director Salary
Region directors for this company have an average base salary of approximately $357,000 a year. Keep in mind this is a very responsible position that requires exceptional education, certifications, and many years of experience.
The base salary does not include bonuses and annual incentives that can easily bump the salary up another $100,000 to $200,000  a year.
Does Casey's pay weekly?
At Casey's, you're going to get paid biweekly. Also, the pay period starts on a Sunday and ends on the second Saturday after that and you get paid on the following Friday after the last Saturday of the pay period.
Does Casey's hold your first paycheck?
Casey's does not hold your first paycheck. If your first day of work is at the start of the new two-week pay period, you have to realize you will not get paid until the Friday after that two-week pay period ends. This is almost a full three weeks and makes it appear like they are holding your first paycheck.
New employees get confused because they sometimes don't realize you only get paid for the hours you worked during the previous pay period. 
How often does Casey's give pay raises?
The general guideline Casey's uses to give pay raises is employees will receive a pay raise after completing every year of service. However, some management teams have been known to give pay raises to dedicated employees after just 90 days of work.
Typically, you can expect a 2% to 3% raise. So, if you are making $10 an hour and get a 3% raise, you can expect an extra $.30 an hour. Some people have reported they only got a $.15 raise every year.
It's easy to conclude that those workers who work very hard and are dedicated have a better chance of getting a higher raise every year. They also have a much better chance of getting promoted quickly.
Casey's Full-time Hours
Full-time workers are supposed to get 35 hours or more every week. If you are classified as full-time and you are not getting this many hours, speak with your manager. Let him or her know about your concern.
Usually, full-time workers who prove themselves to be good workers are able to sometimes work double shifts as well as many overtime hours throughout the course of the year.
Part-time Hours
A worker is classified as a part-time employee if he or she is working under 35 hours every week. Usually, part-timers receive anywhere between 20 to 30 hours of work during each week.
If you're happy with those hours, then so be it. But if you're someone looking to be promoted to full-time, make sure you are on time every day and ready to work. Also, pay extra special attention to the quality of your work and try your best to get along with other employees.
And finally, don't be afraid to network with your management team and let them know about your dreams and goals. How are they going to know you want to get promoted to full-time if you don't tell them?
Shift Hours
A good example of the types of shifts you are going to work at Casey's as a team member are as follows:
6 AM to 2 PM
10 PM to 6 PM
2 PM to 10 PM
3 PM to 9 PM
5 PM to 10 PM
11 PM to 7 AM
Casey's Employee Call Out Policy
Generally, you need to call your manager at least four hours before your scheduled shift and advise him or her that you are not coming in to work due to illness.
If you can find someone to replace you, it will be appreciated by your management. However, this is not required as long as you give them ample notice that you are not coming to work.
Keep in mind sick days are earned throughout the course of a year and may be carried over. However, if you abuse your sick time, it may be grounds for dismissal.
Casey's Break Policy
It's hit or miss when it comes to getting meal breaks at Casey's. While some managers allow you to take an unpaid meal break, others do not and instead, expect you to eat while on duty.
Only Illinois, Kentucky, Nebraska, North Dakota, and Minnesota locations are required by law to give you an unpaid meal break during your shift if you work a certain number of minimum hours.
When it comes to paid breaks, only Minnesota and Kentucky locations are currently required to give you at least a 10-minute break for every four hours that you work. 
Therefore, it's important to communicate with your management staff and work something out. If you're someone who needs to go to the restroom every 2 to 3 hours or so, that's probably not going to be a problem as long as you communicate well with your managers.
See more important company information by visiting the official Casey's career website.
Casey's Dress Code
Casey's team members wear black, red, or white shirts. You can wear a smock or apron over the shirt.
The pants can be jeans, khakis, or black pants. Some employees simply wear their own tan-colored dress pants.
If you're working in the kitchen you must wear hairnets or hats. Additionally, you can wear any type of shoes as long as they are closed-toed. 
When it comes to tattoos and piercings, as long as they are not offensive, management will usually be OK with it. You shouldn't wear any facial piercings because they can dislodge and get into the customers' foods.
Men can wear beards as long as they are neat and clean. Unnaturally colored hair is also allowed in most locations.
Featured image courtesy of Corey Coyle, CC BY 3.0, via Wikimedia Commons.