The most common question you may ask before you apply for a job is, "How much does Walmart pay either hourly or yearly?" Be aware that although it's important to know this information, you don't want the interviewer to think you want the job just so you can collect a fat paycheck.
In other words, give Walmart the feeling that you want to join their team of employees to be productive. Don't make them feel you are getting a job just so you can have a job. Nobody will be excited about hiring you!
Below, you'll see: 
What is Walmart Starting Pay?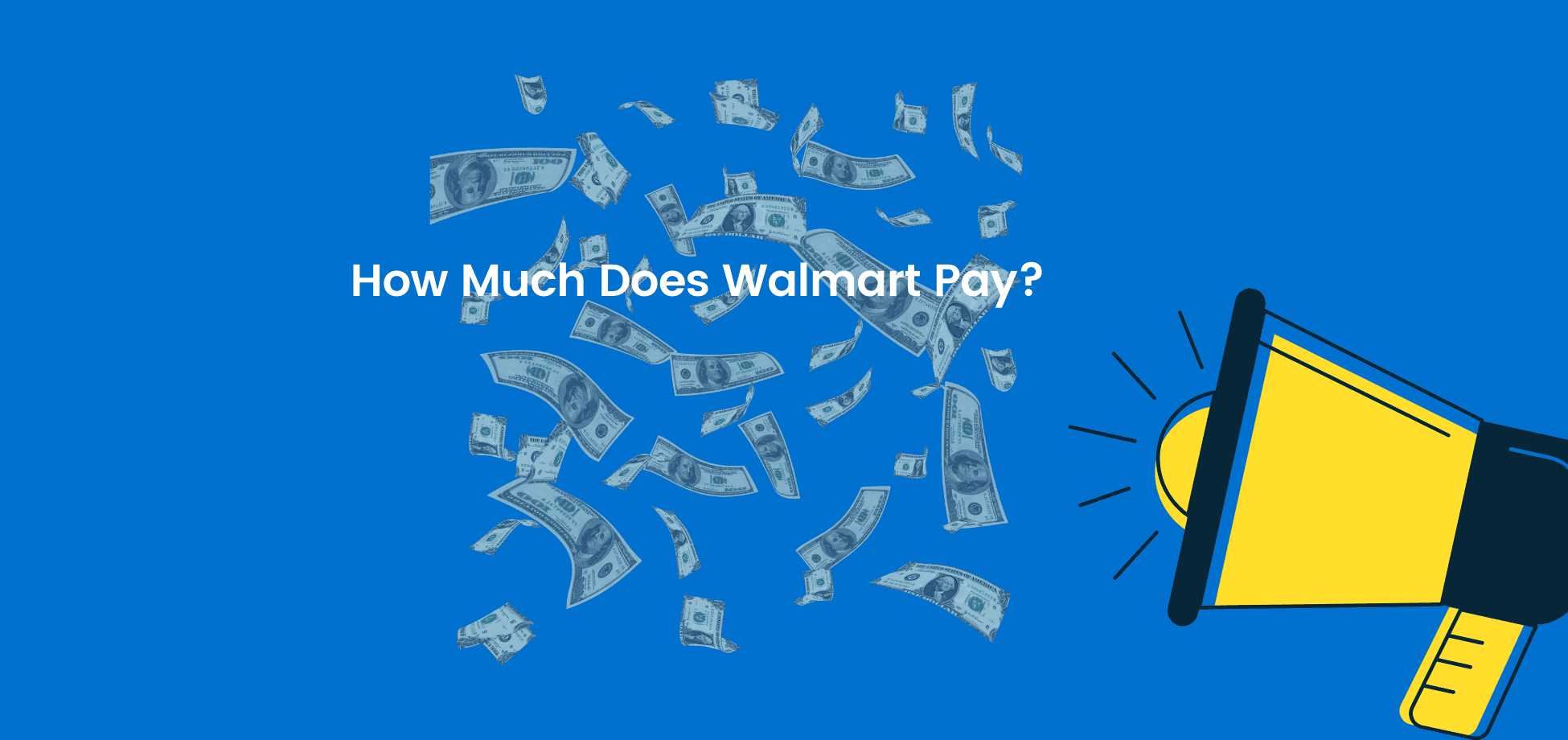 Before you apply, know that the minimum hourly wage at Walmart is currently $12.00 an hour in approximately 500 stores in the U.S., while all other stores are still paying $11.00 an hour.
The company raised its minimum pay in January 2020 for a portion of its stores across the country. This was due to the pressure of keeping up with giant retailers such as Amazon and Target. Both of those companies offer their employees a starting pay of $15.00 an hour.
If you work an average of 35 hours a week at the starting minimum pay of $11.00 or $12.00 an hour, you'll make a yearly salary of $20,020/yr. (for $11/hr.) or $21,840/yr. (for $12/hr.).
Related Posts
What is the Walmart Average Wage?
Recently, Walmart raised the pay of half its workforce to maintain its competitiveness with other big-box retail stores. The average Walmart worker with a few years of experience now earns an average of $15.25 an hour. It is likely that the minimum pay for workers in this company will continue to rise in the near future, pushing the average wages up even further.
How many hours does Walmart give full-time workers?
As a full-timer, you typically get 32 to 40 hours a week, or 64 to 80 hours per pay period. Occasionally, you may get a few more, and of course, they will be counted as time and a half for any hours worked over 40 per week.
The only exception is when you are an exempt employee, such as someone in a management capacity. In those cases, you do not receive overtime pay because you are a certain salaried employee.
How Much Does Walmart Pay Part-Time?
Part-time workers earn $11.00 to $12.00 per hour to start, the same minimum pay as full-time workers. However, they are not eligible for the same benefits as full-time workers.
To have eligibility for benefits, it all depends on the date you were hired, the position you hold, and how many hours you work a week, on average. Additionally, you must work at least 30 hours to be eligible for Walmart benefits.
In 2019, Walmart announced it promoted over 175,000 part-time employees to full-time positions.
How many hours does Walmart give part-time?
This varies by store location, based on management's necessity to require your services. However, management staff members are aware of the importance of offering enough part-time hours to make the job worthwhile.
Part-time employees work an average of 20 to 22 hours a week. With that said, some employees report they are only given 10-15 hours a week while some say they've been given up to 66 hours in a two-week pay period, or 33 per week.
For important information regarding things such as how long the application process takes, whether Walmart hires people with a felony record, and filling out a paper application, click here.
How Much Does Walmart Pay Cashiers?
Aside from the starting pay of $11.00 to $12.00 an hour, depending on the location of the store, cashiers earn an average of $11.55 an hour. The recent raise in the minimum starting pay was able to drive up the average pay by about $1.00 an hour.
The maximum you can expect for a Walmart cashier's pay is approximately $17 to $18 an hour, but that would take approximately 10-12 years of experience and yearly raises.
Walmart Cashier Hours
You can expect to work different overlapping shifts as a Walmart cashier, as well as other hourly positions. Here are some examples of shift hours:
7 a.m. to 3:30 or 4:00 p.m.
8 a.m. to 4:30 or 5:00 p.m.
9:00 a.m. to 6:00 p.m.
11:00 a.m. to 8:00 p.m.
5:30 p.m. to 11:30 p.m.
6:00 p.m. to 11:00 p.m. (part-time)
For senior workers, a part-time cashier job is a great choice.
How Much Does Walmart Pay Stockers?
The starting hourly pay is $11 an hour, with some stores offering $12.00 per hour. The average pay for a stocker is currently $11.40/hr. The maximum you can expect to earn here is approx. $21.00 an hour after many years of employment.
Walmart Stocker Hours
The following were the typical hours reported by Walmart employees on Indeed.com for a stocker position:
4:00 a.m. to 1:00 p.m.
2:00 p.m. to 11:00 p.m.
10:00 p.m. to 7:00 a.m.
Break Policy for Walmart Employees
For a 6-hour work shift, you will receive one 15-minute break and one unpaid 30-minute lunch. If you work a 9-hour full-time shift in a day, you will receive two 15-minute breaks. One break has to be taken in the first 4 hours and the other in the following 4 hours of your shift.
You must clock in and out when you take your lunch break.
Walmart Assistant Manager Salary
The starting pay for an assistant manager position is approx. $43,500 a year and maxes out near $85,000 per year. The average pay is approximately $52,500 a year.
On average, with hard work and determination, it takes about 3-5 years to make it to assistant manager. Many employees report they had to "put their time in" and prove they could perform the job before they were considered for the position.
How Much Do Walmart Store Managers Make?
This is the ultimate career in the actual store. It comes with a hefty salary, too. Fairly recently, there were a couple of articles on the Internet boasting about store managers earning an average salary of $175,000 a year!
However, salaries reported on websites Indeed.com and Glassdoor.com were much more modest, coming in at an average of approximately $110,000 to $135,000 a year.
The requirements for this position are said to be years of experience in a supervisory capacity. Also, depending on the store's location, you are required to either have a bachelor's degree and at least 2 years of experience as a general manager. Alternatively, if you don't have a bachelor's, you need 4 years of general management experience.
Do you get a raise after 90 days at Walmart?
After your 90-day probation period and 6 months after that, you will be eligible for a pay raise. Employees who have worked at Walmart in the past and present offer different views on pay raises. Some say they received an average of approximately .25 to .40 cents every year. Others said they didn't receive a pay raise after working for a full year.
Keep in mind the Walmart pay raise policy uses a point system as a means of trying to improve worker attendance on weekends and holidays, so it's important to review your employee handbook once you get hired.