The easiest way to get excited about getting hired at a retail company is to find out how much the company pays its employees. Typically, retail stores have had a negative reputation when it comes to providing a living wage for workers.
With Costco, I believe you will find it is different than most other retail companies. In this article, I am going to discuss many interesting points about how a job at Costco can benefit you in regards to salaries and other important aspects of the job.
You'll see:
Costco Starting Pay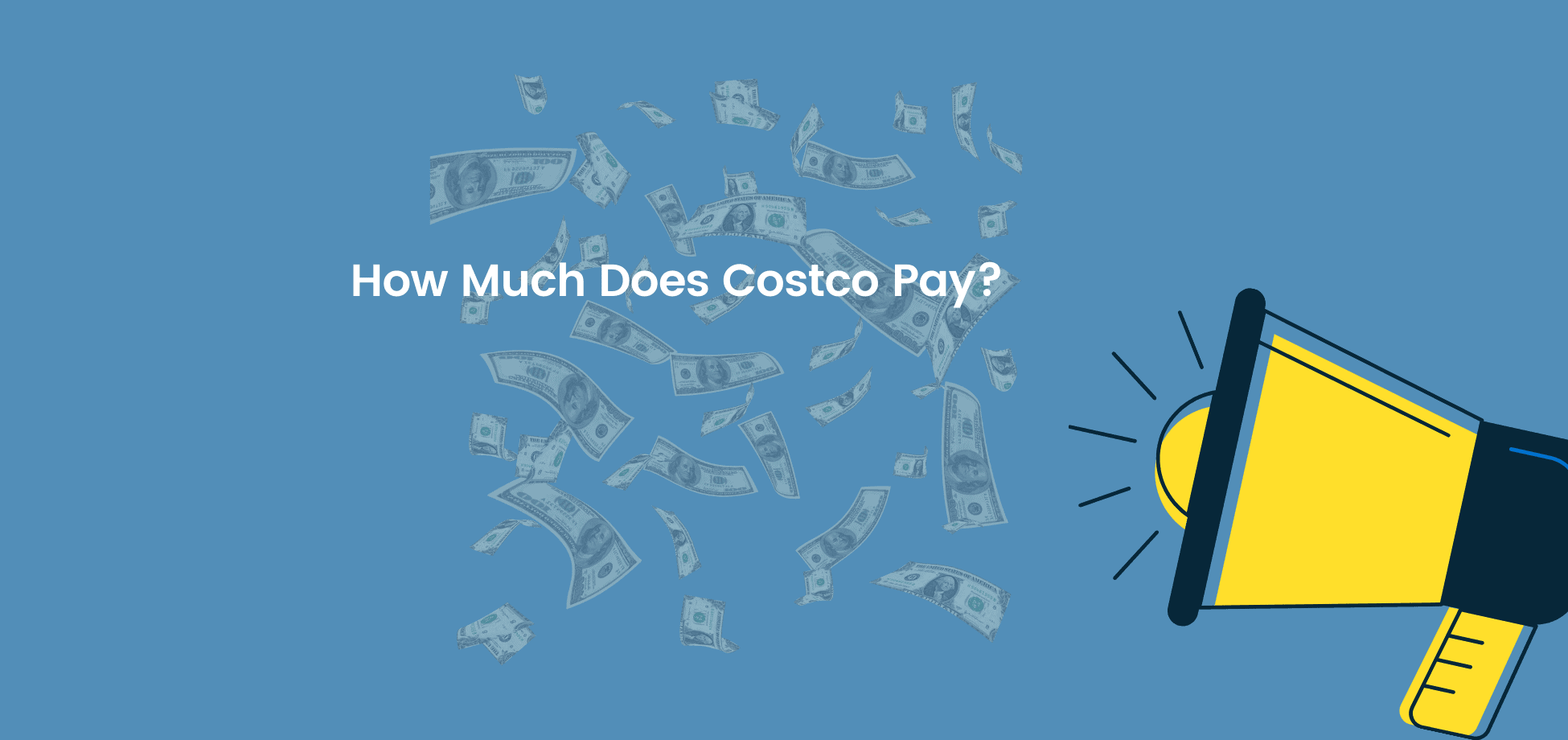 On October 25, 2021, Costco raised its minimum pay to $17 an hour. This makes this retail chain one of the very few retail stores that actually pays its entry-level workers a living wage.
The term living wage actually means you make enough money to be able to provide all the basic necessities.
So, if you are single and making $17 an hour, you can probably get by just fine by renting an apartment, having food to eat, and having enough money for transportation. You'll also be able to manage to pay your bills without having to worry about living paycheck to paycheck.
If you have four members in your family, this would be much more difficult. However, imagine you and your partner both working at Costco at $17 an hour. You would be making roughly $70,000 a year before taxes when you combine both salaries.
This would mean you would be earning a little bit higher than the average household income in the United States.
Related Posts
How much does Costco pay part-time?
Costco pays the same starting pay for its part-time workers. You will be making $17 an hour. However, unless you work at least 24 hours a week for a continuous time period of 180 days, you wouldn't be eligible for health benefits.
If you work part-time at Costco and meet the requirements mentioned above, you can have access to the 401(k) and the company will match 50% up to $500 every year.
You will also have access to a stock purchase plan, life insurance, disability, and insurance for long-term care.
So, the whole idea is to be able to work as much as you can to reach that minimum of 24 hours per week for an extended period of time.
You can accomplish this by being ready to fill in for someone who calls in sick or any other reason where management would want you to work extra hours.
What is Costco limited part-time?
Working limited time at Costco means you are not yet considered a part-time worker with benefits. This is because you are limited to working a minimum of 10 hrs. and less than 24 hrs. maximum.
Also, be aware that you cannot receive any benefits if you work a part-time job at Costco.
These jobs are perfect for students who would rather not overburden themselves so they can concentrate on their studies. Also, some seniors prefer to work a part-time job at Costco for a limited amount of hours.
What Are the Costco Part-Time Hours?
As a part-time worker, you can expect to work 20 to 24 hours a week. You won't be like a part-time employee who works a minimum of 10 to 24 hours a week. This will be different because you will consistently get your 24 hours almost guaranteed every week.
Additionally, you will also be eligible for certain employee benefits that part-time employees are not eligible for.
Costco full-time hours
Costco is one of the few retail stores that actually gives its employees a full 40-hour workweek.
This is one of the most important and attractive aspects of this job. When you combine a $15 minimum hourly wage with the ability to work a minimum of 40 hours a week, you can actually make a living wage.
Costco call in sick policy
As a Costco employee, you will accumulate one hour of paid sick time for every 28 hours you work. This means that as a part-time employee who works 24 hours a week on average, you will accumulate half a day each month.
A full-timer would accrue approximately one day of paid sick leave every month.
If you're going to call out due to illness or any other reason, make sure you give your supervisor a call well in advance. This will keep you out of immediate trouble with your employer.
Obviously, you're not going to always be able to call 24 hours ahead of time. However, make every effort to do so.
Something unique to Costco is that they offer employees time and a half pay when they work on Sundays. Additionally, full-time and part-time workers get eight paid holidays every year.
Costco Salaries in Retail Stores
The $17 an hour minimum wage hike that Costco put into effect in 2021 made a huge difference in the quality of life for many of its employees. Imagine getting a four-dollar an hour raise overnight in 2019, then another minimum pay bump to $17 in 2021!
That's what happened to thousands of employees.
Due to this raise, something interesting to note is that you're going to see a lot of positions that start out at entry-level average remain somewhere between $17-$18 an hour after a worker has been at that position for 2 to 3 years.
In a few years, when these workers gain more yearly raises, the average salaries for these positions will be much higher. 
The following is a list of some of the most common jobs and what they pay hourly and yearly:
Costco cashier salary
Working as a cashier at Costco gives you a chance to make an average hourly wage of $17.55 per hour. Of course, an entry-level cashier is going to make a minimum of $17 an hour.
The average yearly salary for this position is a very impressive $36,504. This type of salary is almost unheard of in the retail industry!
The two things that make this job worthwhile are the minimum pay as well as the guaranteed 40 hours of work you will be given.
Costco cashier assistant salary
A cashier assistant is a right-hand man or woman to the actual cashier. You're going to be attending to any customer who needs help with any issue. In this position, you'll start out at the entry level of $17 per hour.
The average wage is approximately $17.25 an hour and this equals approximately $35,880 a year. Once again, you'll have a difficult time finding any type of job as an assistant in a retail store at such a high salary.
Stocker pay
When you see a company paying a stocker an average pay of approximately $17.45 an hour, you know you're talking about a good company!
The yearly salary comes in at a whopping $36,296 for this position, which usually comes in a much lower salary in other retail stores.
Be aware you are expected to do some moderate to heavy lifting. Some employees say they are expected to lift up to 50 lbs.
Looks like it's time to go to the gym and start lifting weights to get a job as a Costco stocker!
Costco food service assistant pay
The salaries for this position as well as the Costco bakery wrapper pay average somewhere between $17.50 to $18.50 an hour. 
Employees who work as a Costco membership assistant also earn the minimum entry-level wage, and after a few years average just about the same as cashiers and food service employees.
Costco assistant manager salary
An assistant manager can command a respectable salary of $75,000 a year, on average. The starting salary for this position during your first couple of years is somewhere around $50,000 to $55,000 a year. 
However, with excellent performance, the salary goes up very quickly. Most employees who wrote a review on Indeed.com talked about how if they worked hard and were very determined, they were rewarded by Costco management.
Costco store manager salary
There are different types of departmental management positions throughout Costco's company. The store manager position happens to be one of the highest-paying managerial jobs in the world.
In this position, you can expect to make an average of approximately $138,000 a year. There are some managers with plenty of seniority who are topping the $180,000 a year mark.
Once you get hired for this position, you can expect to work very long hours and endure plenty of stress. However, I think it's worth it for the salary, don't you?
Costco Distribution Center Pay
The average pay for workers in the distribution centers is slightly higher than those working in the store. This is due to several factors, including the fact that many warehouse workers have more longevity than store employees.
The average salary as an hourly worker in the warehouse is approximately $17-$26 an hour.
As an example, while a warehouse worker can make an average of $17.75 an hour, a forklift operator can be making $21 an hour, on average.
Costco shift hours
The most common shifts an employee will work at Costco are as follows for full-time workers:
9 AM to 5 PM
5 PM to 1 PM
12 midnight to 8 AM
Managers will stagger some employees' shifts in between those hours just to effectively cover all shift changes.
Costco Employee Dress Code
The dress code for employees at Costco is very casual.
For men, you can wear jeans or pants and a collared shirt. For women, wearing pants, jeans, and a blouse will do the trick. You can also wear a skirt over the knees.
Costco recommends wearing nonslip shoes, as well. Things you shouldn't wear include open-toed shoes or pants with holes in them.
If you work in the food department, the rules are a little stricter. For example, they don't want women to wear any jewelry or nail polish. Additionally, they require women to wear their hair up, and in some areas, such as the deli, the hair has to be held in a net.
Does Costco pay weekly or biweekly?
Costco gives you a biweekly check or direct deposit. The pay period begins on a Monday and ends on a Sunday. Please be aware that if you start working on the second Monday of the pay period, you would only get paid for working for that seven-day period (from Monday through Sunday) before the pay period ends. 
Then, you would get paid however many hours you worked from that last Monday through Sunday on your paycheck which will be delivered the following Friday after the pay period ends on a Sunday.
How Often Does Costco Give Raises?
Employees report that Costco gives bigger pay raises than the average retail store. For example, while one employee said they received a one-dollar raise after six months, another said that you don't get your first $.25 cent raise until you work at least 1000 hours.
The employee who said there was a $.25 raise after those 1000 hours of work said he then received a $.50 raise after the next 1000 hours, then a few months later, a $1.00 raise for the same amount of time worked. 
So, on average, Costco gives a raise after every six months of hard work.
How long does it take for Costco to promote you to full-time?
If you were hired as a part-time worker, you can become full-time within the first six months to two years, on average.
What is the break policy? 
During a full-time eight-hour shift, you will receive two 15-minute breaks. These are paid breaks, and you need to take them at specified times during your shift. 
You also receive an unpaid lunch break for 30 minutes after working four hours of your shift.
If you're working part-time, you still get a break for 15 minutes after two hours. You also receive an unpaid lunch break after you work the four hours.