The following is some great information if you're trying to get hired at PetSmart. In this article, I will review plenty of information that can help you with the application process. The goal is to give you the most accurate and important info, so you can see if this job is for you.
The most important question you may be asking yourself right now is, "How much does PetSmart pay?" I will answer this valid question in hopes that you will be able to get a much clearer picture of this company and how it can benefit your needs.
Other information I'll include talks about:
Minimum Pay at PetSmart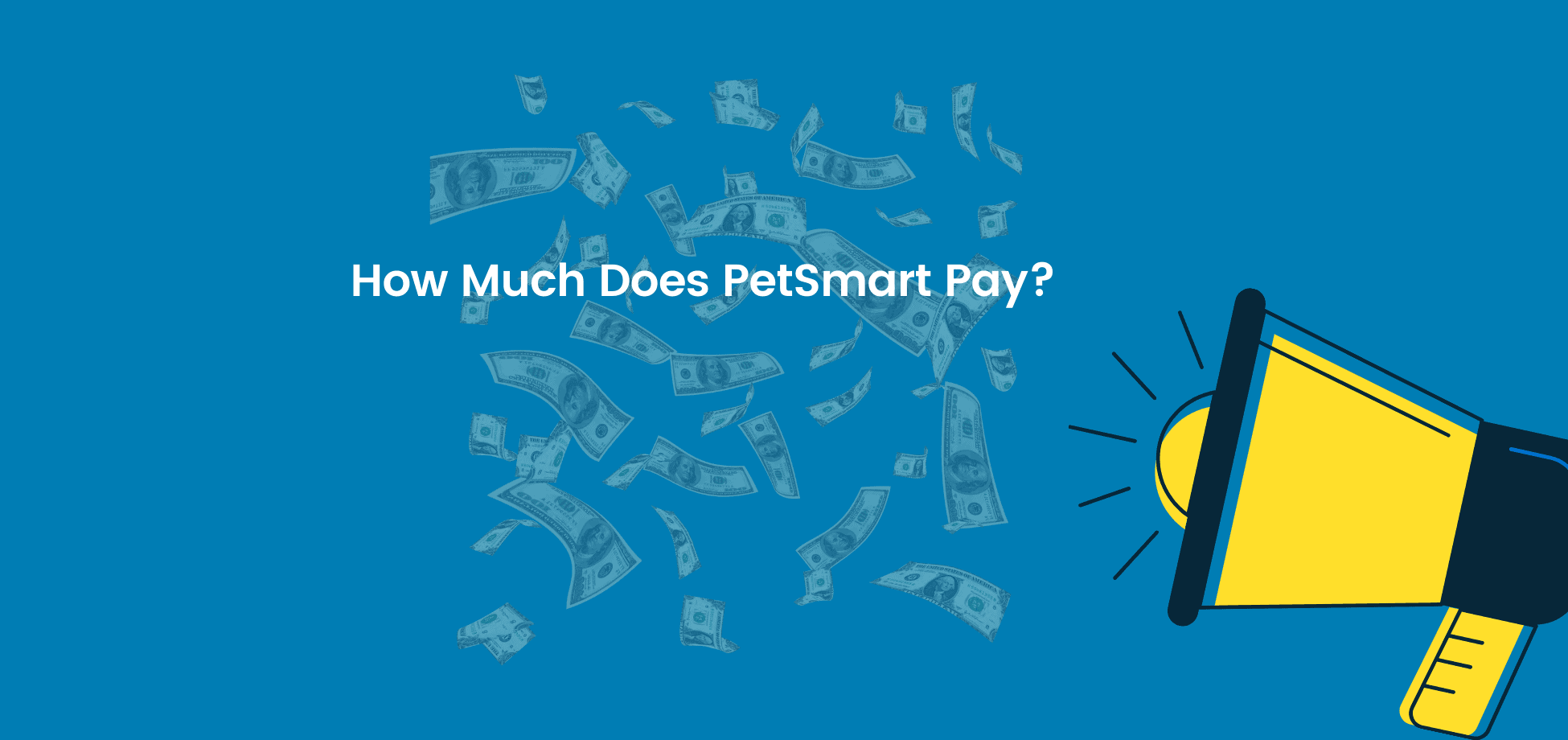 The minimum pay at PetSmart is in the neighborhood of $9 an hour. This might seem a little low if you're only looking at the actual pay. 
However, there are other benefits included that drive up this number a little more when you take the whole employment package into account.
Still, it would be nice to see the starting pay bumped up to at least $10-$11 an hour to be able to retain employees longer. According to many reviews on Indeed.com and Glassdoor.com, the employee turnover rate is fairly high, and this is one of the biggest reasons.
How much does PetSmart pay part-time?
The starting pay is $9/hr and the average part-time salary for associates is somewhere in the $9.00 to $13.50 area. Be aware that a part-time groomer can usually make more money than the average part-time worker.
What Are the PetSmart Part-Time Hours?
As a part-time worker, you'll usually get somewhere between 15 and 25 hours a week. You'll also typically work 3 to 4 days during that week.
Keep in mind that you also need to be ready to fill in for someone who calls in sick. This is your time to shine!
If you are working part-time and are looking to become a full-time worker, the moment somebody calls in sick and the company needs you, you should be ready and willing to fill any slot available.
Typical work hours for a part-time employee in this company would be as follows:
7:00 AM to 2:00 PM
7:00 AM to 4:00 PM
8:00 AM to 1:00 PM
9:00 PM to 2:00 PM
2:00 PM to 8:00 PM
3:00 PM to 9:00 PM
5:00 PM to 10:00 PM
How many hours is full-time at PetSmart?
You'll have to work at least 30 hours a week through a 12-month period to be eligible as a full-time employee.
If you are hired as a full-time employee, you must adhere to this policy and your benefits will begin after a 90-day probation period.
Call Out Sick Policy at PetSmart
At Petsmart, you accrue one day per month when you work at least 115 hours during that month. That's fairly standard. 
For example, if you work an average of 30 hours a week for the 4 weeks of that month, you will easily accrue one sick day.
If you're going to call out sick, make sure you give your manager ample time to be able to fill in your shift. It's understandable that sometimes you will have to give a late notice for being ill. However, do your best to give advance notice. 
Keep in mind that if you do not call a manager and let them know you will not be coming to work for two consecutive days, you will be considered abandoning your employment. You can be fired immediately.
PetSmart Salaries in Retail Stores
There are a variety of positions available in its retail stores. Of course, salaries differ according to their respective positions.
What is Petsmart's minimum wage?
The current minimum pay at PetSmart is $9 an hour. This is considered a fairly low wage to start in today's world.
I'm hopeful the company will revisit this figure in the future to be able to give their employees a more competitive wage. As it turns out, the employee turnover ratio is very high, and the inadequate starting pay is probably the biggest reason, according to people who have worked there.
PetSmart Sales Associate pay
A PetSmart associate in sales earns an average of approximately $11.50 an hour. This Is equal to $23,920 in salary per year.
Some of the best parts about this job as reported by employees are:
You get to help a lot of people with their pets, and they appreciate it
Coworkers are generally fun and pleasant
The atmosphere is very laid-back and quiet
It is generally not as stressful as other retail jobs
Many say it is the perfect job for animal lovers
PetSmart stocker pay
The average pay for this job is approximately $11 an hour. However, to get to this point, you need to work at least a few years before you see this kind of money. This places the yearly salary at $22,880.
Workers in this position generally complain about the low pay. However, they do say there are some positive things that stand out.
Many say that if you come to work on time and do your job, you should have no problem with management. In other words, nobody micromanages you if you do what you're supposed to.
The employees at this position also said they loved the working atmosphere and the friendliness of their coworkers.
PetSmart groomer trainee pay
Although this job typically starts out at the minimum rate of $9 an hour, you should be able to advance much quicker than other retail jobs as far as raises go.
The average salary for this position after a bit of experience acquired is $12 an hour. This equals $24,960 a year and salary.
The one thing most people in this position love about this job is that they received free, paid training to become a pet groomer.
This would make this job the ideal position if you are someone who has dreams of opening up your own pet grooming salon someday!
How Much Does PetSmart Pay Dog Trainers?
This position offers an average salary of $12 per hour. This would roughly make it over $24,000 a year in salary, depending on how many hours you work.
You also receive 20% in commissions from training your customers' pets. This is a nice incentive, but it's also a very stressful position. You are required to virtually conduct your own business and have your own clients. 
Once again, this is the perfect position to learn enough about the business to become your own company specializing in training pets.
PetSmart assistant manager salary
The average salary for an assistant store manager at PetSmart is approximately $46,000 a year. This would roughly amount to $22-$23 an hour. 
Once again, these PetSmart employees talk about how pleasant the atmosphere is at the stores. Some of the cons of working there include improper or inadequate training to become a manager, and a little too much drama as well as stress.
Other past employees mentioned how it was difficult to get a good increase in pay at the beginning but that eventually, the pay increased drastically after a few years.
PetSmart store manager salary
On average, a PetSmart store manager can earn over $71,000 a year. In this position, it's possible to earn a six-figure salary eventually.
Since this is a salaried position, you can expect to work beyond 40 hours every week. In fact, many managers running PetSmart stores talk about how they consistently work over 50 hours per week.
Managers also talk about how difficult it is to deal with the high employee turnover rate. Also, a lot of time is spent counting inventory and this place is a lot of stress on them.
PetSmart distribution center pay
Distribution center associates get paid a little more on average than store associates. For example, even if you start out at nine dollars an hour, you will get a $.25 raise after the first 90 days as well as the next 90 days after that.
You were also given the chance to earn up to $3 an hour more depending on your performance.
The salaried positions are very consistent with what the store employees get paid. 
PetSmart Shift Hours
PetSmart tends to have longer shifts than the average retail store. For example, you can work the following shifts on any given day: 
6:00 AM to 2:00 PM
6:00 AM to 10:30 AM
7:00 AM to 9:00 PM
7:00 AM to 9:30 PM
Be aware that some employees get scheduled five days a week working a six-hour shift each day. 
PetSmart Employee Dress Code
The PetSmart dress code varies from store to store and in different cities. Needless to say, it's very casual.
For example, you can wear jeans and shoes or sneakers along with a store-provided PetSmart polo shirt. Khaki pants or black pants or jeans are also allowed.
They are fairly lenient on tattoos and ear piercings. If you have some type of offensive tattoo, they may ask you to cover it.
If you tend to get cold in the store, you can wear a sweater or a light jacket. 
Another important point for women; you don't have to wear your hair in a ponytail or put it up, you cannot wear leggings, and they do not allow open-toed shoes.
For men and women, they do not allow you to wear hats in the store.
Does PetSmart pay weekly or biweekly?
PetSmart pays on a biweekly basis. The pay period begins on a Monday and ends on a Sunday. After that, you will get paid on the following Friday via direct deposit or a paycheck.
If you start working on the 3rd day of the 14-day pay period, you will get paid on the following Friday after the pay period ends for the hours you worked for that 11-day period. In this example, you would start working on the first Thursday of the pay period.
Does PetSmart Give Raises?
As with many retail stores, you have to prove yourself to management that you are a hard worker and that you are dependable before they even think about giving you a decent raise. With that said, it's not uncommon to get a pay raise either after every six months or every year. This will also depend on your employee evaluation.
It appears you can rest assured that if you work hard and perform your job beyond expectations, you stand a chance of getting good raises periodically. It all starts with filling out the application, and here is some more information to help you decide if you want to join forces with this company.
What is the PetSmart break policy?
For hourly associates, if you work your scheduled shift of at least five consecutive hours, you can take a 60-minute lunch or meal break (unpaid) after you work the first three hours but no later than when your sixth hour of work begins.
On any given day, if you work at least four hours but no more than six, you are entitled to one 15-minute break (paid).
If you're working from 5 to 8 hours on any given day, you are entitled to get two 15-minute breaks.
Please remember to clock in and out when you take your lunch break. If you forget, just politely inform your manager.