Compared to most supermarket chains, H-E-B offers a more competitive wage for almost all positions. As you'll see, the starting pay differs for each position. 
The overall general feeling from workers at this retail chain is very positive when it comes to how well they are paid for their work.
In order for you to have a better idea of whether this job is for you, I'm going to provide:
The starting pay for the various jobs available
How many full-time hours you can work
The part-time pay and how many hours H-E-B generally offers for part-timers
Average starting pay for distribution center positions
Whether H-E-B pays weekly or biweekly
When and how often H-E-B gives raises
The break policy
The dress code
H-E-B Starting Pay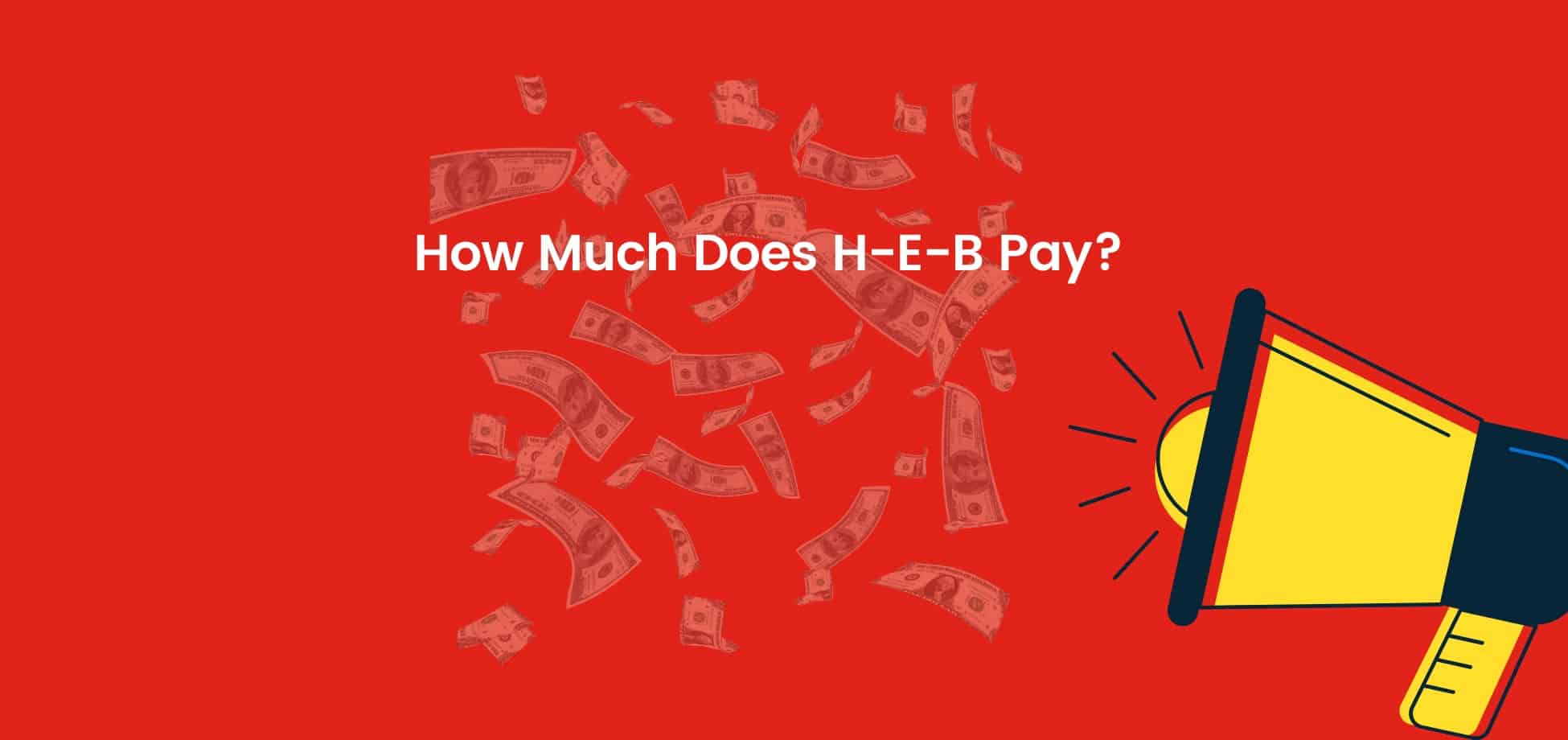 For every entry-level position except bagger, the starting salary will be $14 an hour or above. This is well above average starting pay for any supermarket retail chain.
However, the important thing is whether you will be able to work enough hours in part-time or full-time status for your needs.
H-E-B Full-time Hours
If you're working full-time at H-E-B, you can expect a 40-hour workweek. Employees typically say management is flexible with your schedule.
However, if for example, you are a part-time college student trying to work as many hours as possible on full-time status, some of your hours may be cut to accommodate your schedule.
Part-time Pay
The part-time pay at H-E-B is generally the same as that of a full-time worker. The only difference is you will obviously receive less hours of work on a weekly basis.
If you are hoping to eventually land a full-time position, it's in your best interest to watch out for the common pitfalls of being in a position where you feel you're not getting enough hours.
These pitfalls include:
Complaining to other workers that you need more hours
Not performing to the best of your ability
Letting other workers know you are unhappy
The best way to move forward and have a chance of becoming a full-time worker is to show you are a positive worker. This means you need to get to work on time consistently, and you need to communicate your desire to become full-time to your immediate supervisor.
You can do this by showing him or her that you are willing to work hard and that you are a dependable person. Slowly, you can establish more verbal communication with your supervisor and make it known you are really interested in being part of the team on a full-time basis!
Part-time Hours
In many H-E-B stores, part-time workers end up working between 20 to 30 hours a week. This is above average for any type of retail job while working part-time.
Heb Checker Pay
This is the H-E-B cashier position and you can expect a starting pay of $14 an hour. This will give you a weekly salary of $560, and a yearly salary of $29,120.
Working as a cashier at H-E-B is very fast-paced but at least you are compensated for the type of work you do. Many retail cashier positions start out at approximately $9 to $11 an hour.
Currently, the average pay for a cashier with experience at H-E-B is approximately $14.65 an hour.
H-E-B Bagger Pay
The bagger position is the lowest paying position at H-E-B. This is due to the fact that this position attracts many teenage workers looking for their first job. It also has a high employee turnover rate.
This position, also known as the H-E-B customer service assistant, gives you a starting pay of $10 an hour. Most of these positions are part-time jobs so you can expect to work approximately 20 hours a week.
This will give you a weekly paycheck of $200 before taxes and a yearly salary of $10,400.
If you are that rare worker who works a full-time job as a customer service assistant, you can double that amount to $400 per week, and $20,800 a year.
H-E-B Overnight Stocker Pay
The job of an overnight stocker carries a higher minimum hourly pay due to the hours of work as well as the physical labor involved.
The starting salary for this position is $15 per hour. This equates to a respectable $600 per week and $31,200 a year.
This position offers a living wage where one adult can live off this job and pay for everything from medical expenses to transportation costs with few problems.
Imagine if two workers in a household work this job and make $15 an hour, we're talking about $62,400 a year in total wages. You won't be rich by any means, but you'll be able to survive pretty well.
By the way, the average overnight stocker hourly pay for someone with a little experience is approximately $15.68 an hour.
H-E-B Food Service Rep Pay
As a food service rep, you can expect a minimum pay of $14 per hour.
That's $560 a week and $29,120 a year. These are perfect positions to be able to advance within the system to a department manager.
The average pay for someone working a couple of years at this position is approximately $15.20 an hour.
H-E-B Baker Pay
As an H-E-B baker, keep in mind you're also going to be in charge of frying, as well.
This job requires you to bend at the waist repeatedly throughout your shift, so it requires plenty of physical work. 
The starting salary for this job is $14.50 an hour. That equals $580 a week and $30,160 a year.
The average pay for an experienced worker at this job is approximately $15.45 an hour.
H-E-B Administrative Assistant Pay
The starting pay for an administrative assistant at H-E-B is $14 an hour. It's the same as the salary offered to the foodservice rep.
However, if you have administrative assistant experience going in, make sure you let your interviewer know during the hiring process.
You just may be able to work your way into a slightly higher starting salary.
H-E-B Gas Station Attendant Pay
In this position, you will actually be an H-E-B cross functional rep and you may get chosen to work the gas station.
The work is fairly physical and it comes with a $14 an hour salary to start.
Keep in mind for this position you are expected to lift up to 40 pounds and manage shipments that may be weighing over 40 pounds.
H-E-B Pharmacy Technician Pay
A pharmacy tech at H-E-B makes a starting salary of $17.30 an hour. 
That equals $692 a week and a yearly salary of $35,984.
This is a very responsible position that requires certification for the state of Texas as a pharmacy technician. 
You you will also be required to have 20 hours of continuing training and education on a bi-yearly basis.
H-E-B Pharmacist Salary
The average salary for an H-E-B pharmacist is approximately $133,500 a year. Salaries for this position typically range from $107,500 to $148,000 a year.
This is above-average for this salaried position at any retail store chain.
H-E-B Loss Prevention Pay
The starting pay for this type of security specialist position is $15.70 an hour. This means you can earn $628 a week and $32,656 yearly.
This job revolves around maintaining safety within the store and preventing thefts. It's also preferable to have at least 1 to 2 years of security and investigative experience.
With this job, you can expect to work plenty of overtime hours, as well.
H-E-B Department Manager Salary
HEB department managers work in departments such as:
Floral
Seafood, 
Curbside service
Produce
Bakery
Deli
Meat market
The salaries for this position range anywhere between $34,500-$93,300 a year.
The average salary for this position is $51,250 a year.
Remember, this is a very fast-paced and responsible position because you will be completely in charge of your respective department's performance.
H-E-B Assistant Manager Salary
The salaries for the assistant manager, also known as an assistant store leader at H-E-B, can range from $36,900 to $96,900 per year.
A typical yearly salary for this position is approximately $54,300.
Be aware this position involves performing most of the duties of a store leader, including opening and closing your store.
H-E-B Manager Salary
The average manager, also known as a store leader at H-E-B, makes around $66,800 a year. The salary ranges between $41,000-$77,000 a year.
With this solid pay comes plenty of accountability for the success of your store. A job like this requires someone who can not only manage people well. It needs someone who's a leader and can delegate responsibilities effectively to the supervisors working under his or her leadership.
H-E-B School of Retail Leadership Pay
H-E-B actively recruits people with a master's or a bachelor's degree so they can attend the retail leadership program.
This is an intense hands-on training that gives candidates experience in every department of the stores.
Due to the education necessary to be able to work in this position, H-E-B offers a handsome starting salary of around $53,500 a year. 
This is a sure-fire way to gain the experience necessary to become promoted to a full-time store leader.
H-E-B Distribution Center Jobs
The starting salary for an H-E-B warehouse worker is $15.70 an hour. This equals $628 a week and a yearly salary of $32,656.
Of course, there are many positions in the shipping & receiving, maintenance, and safety departments, among many others.
H-E-B Warehouse Order Selector Pay
The order selector job is one of the most common entry-level positions this company offers.
Now that you know the starting pay, you will probably be pleased to know that the average pay for an experienced worker at this entry-level position is $17.45 per hour.
Does H-E-B pay weekly?
H-E-B is one of the few retail companies that pay their employees on a weekly basis.
Workers report that they receive their weekly paycheck through direct deposit every Thursday at approximately 12 noon.
How often does H-E-B give raises?
H-E-B has an exceptional raise policy for its employees. You receive a performance assessment twice a year and in total, you receive a raise in the amount of 3.5% on a yearly basis. 
Of course, you'll receive that type of pay raise as long as your performance assessment reflects positively.
Some workers have reported they have gotten raises in just two short months after working their tails off!
Break Policy
H-E-B gives its workers one paid 15-minute break for every shift under 6 hours. If you work over 6 hours, you will get 2 paid 15-minute breaks.
For every 8-hour shift, you are allowed to get an unpaid 30-minute lunch.
Please keep in mind that sometimes due to a shortage of workers or during busy times, your supervisor may not be able to grant you the break you are hoping for.
During these times, it's important to keep the lines of communication open with your supervisor. This will help ensure that your supervisor knows you are a team player and you're willing to do whatever it takes to make the store successful.
This will reflect well on you, and it's highly likely your supervisor will give you preference when it comes to breaks.
Dress Code
H-E-B provides black or red-colored workshirts and you are required to purchase your own jeans, tan or black pants, or shorts to wear on the job. 
If you're going to wear any type of sweater, jacket, or a cap, it has to be the H-E-B brand.
You are allowed to wear facial and ear piercings as long as you're not in the food prep area. Some employees even wear tongue piercings as long as it doesn't interfere with their communication skills at work.
If you have naturally colored hair, it all depends on your management team at the store. While some managers are not concerned, others are more strict.