It's always impressive to see how hard employees are working every time you go to a pizza restaurant that features takeout orders. In this article, we're going to explore how much Papa John's pays its employees so you can get a great idea of whether you would consider filling out an application for this company.
Below, you'll find the following important points:
Papa John's Starting Pay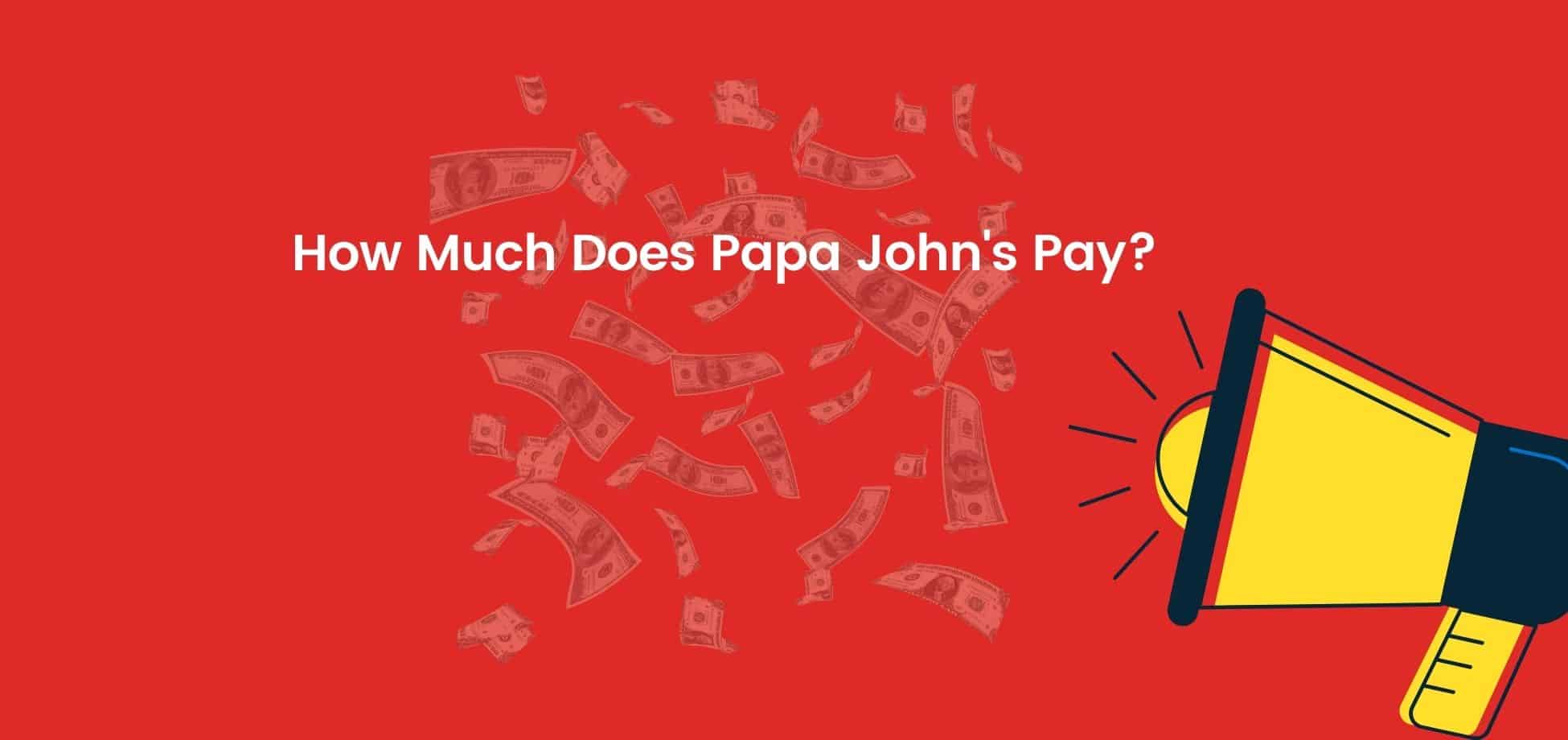 The starting pay at Papa John's varies by location but you can bet it's going to be approximately $.15-$.40 above your state's minimum wage.
Therefore, the average starting hourly rate is about $9.12 an hour. 
Papa John's Team Member Pay
Once you've earned a little bit of experience as a team member, your average pay will be approximately $9.43 an hour.
If it doesn't sound like much, it's because it is very low pay. Team members do all the basic grunt work that gets the job done but unless they are promoted, they get very little in return when it comes to compensation.
With this hourly rate, you can expect approximately $377 a week and a yearly salary of $19,614.
Papa John's Customer Service Rep Pay
A customer service representative has a few more responsibilities at a Papa John's but only makes about $.10-$.15 more on average than a regular team member.
The average salary for a customer rep is $9.55 an hour. This means you'll earn about $382 a week and approximately $19,864 a year.
Papa John's Pizza Cook Pay
The average pizza cook at Papa John's earns approximately $10.13 an hour. This amounts to $405 a week and $21,070 in yearly salary.
As you can see, being assigned a pizza cook is not much of a difference in pay compared to other team members who are performing other duties that don't include cooking.
Papa John's Delivery Driver Pay
As a delivery driver, you're usually going to earn the minimum tipped wage in your state but you're going to add tips and mileage reimbursement.
Taking all of this into account, the average driver makes approximately $12.72 an hour. Based on an average 35 hour work week, you're going to make about $445 a week and a yearly salary of $23,150.
Papa John's Shift Leader Pay
A shift leader at Papa John's makes approximately $11.72 an hour. This equals $468 a week and $24,377 a year.
If you are working as a cook or any other team member, this is the job you should be striving to get promoted to. As you can see, the salary is approximately $5,000 more a year. This is fairly substantial because it means an extra $400 a month after taxes compared to the other team member positions.
Papa John's Assistant Manager Salary
An assistant manager of this company makes approximately $27,290 a year. Some franchise owners give their assistant managers cash bonuses periodically which can bump up their salaries another $1,000 to $2,000.
Papa John's Manager Salary
The average Papa John's manager makes approximately $43,450 a year. Again, some franchise owners provide additional cash bonus payments of $5,000 to $7,000 a year.
Therefore these employees are making anywhere between $48,500-$50,500 a year.
Distribution Center Entry-Level Pay
The starting pay for a distribution team member could be anywhere between $15 to $17 an hour. These are very physical positions where you are going to be loading and unloading products repeatedly as well as staging orders and making sure products are accurately accounted for.
Does Papa John's Pay Weekly?
Papa John's pays both weekly and biweekly, depending on your location. The paydays are usually on Friday during the early morning hours but it is not uncommon for franchise-owned stores to pay weekly on any day of the week. 
Therefore, you'll have to consult with your management team once you get hired.
How often does Papa John's give raises?
Many past and present Papa John's employees say the company does not give raises. This is likely to be partially true because franchise owners regularly neglect evaluating their employees and giving them raises based on their performance and loyalty.
Some employees say they have received raises but they are very hard to get. Others stress the importance of getting promoted to a higher position to get a raise.
My recommendation is this; talk to other team members to get feedback about how your particular store handles pay raises. 
Once you obtain the feedback, make some common-sense decisions as to how you're going to approach management once you prove that you are a very dependable, hard-working, and talented employee.
Papa John's Work Hours
As you would expect, most Papa John's employees work into the late hours of the evening and beyond. Additionally, you can expect to work nights and weekends in this position if you want to be successful and make money.
Full-time Hours
The full-time hours at Papa John's are generally anywhere between 25 to 40 hours a week. In busy locations, you can expect to get assigned at least 40 hours a week and you'll probably have to work some overtime on top of that.
Part-time Hours
Realistically, you can expect to work anywhere between 17 to 25 hours a week if you're working part-time. Be mindful that this company as well as others has employees who regularly call out sick.
This gives you a great opportunity to let management know that you are ready to fill in for someone when they can't come into work. You can easily add anywhere between $3,000 to $5,000 a year in earnings if you use this method.
Papa John's Shift Hours
Here are some examples of possible shifts you may work at the restaurant:
9:15 AM to 4:30 PM
10 AM to 7 PM
11 AM to 3 PM
11 AM to 8 PM
4 PM to 10 PM
4:30 PM to 8:30 PM
5 PM to 1 AM
6 PM to 3 AM
Please remember that different franchise-owned locations will set different hours based on what works best for them.
Papa John's Dress Code
For Papa John's, you'll be issued a shirt and hat. You will be responsible for buying khaki pants and/or shorts, a belt, and comfortable non-skid shoes
This company generally allows colored hair, beards as long as they are neat and trimmed, tattoos as long as they aren't offensive, and body piercings. Be aware that franchise-owned Papa John's locations set their own rules, so consult with your hiring manager so you know what to wear and how to look on your first day.
Employee Call Out Policy
Many employees say Papa John's does not offer any sick leave. Additionally, you need to call your supervisor well ahead of time before your scheduled shift so he or she can find a replacement.
Also, most locations require you to bring a doctor's note when you report excusing your absence for your following shift. The bottom line here is it is of the utmost importance for you to never call out sick unless you are really ill.
Break Policy
The laws regarding breaks vary from state to state. Therefore consult with your state laws before you approach management if there is some type of issue with taking breaks.
Generally, you'll find it very difficult to take a break at Papa John's unless you have to quickly use the restroom. It's in your best interest to establish a relationship with your supervisor so that you can work out a break schedule for yourself. You would be surprised at how many managers will accommodate an employee who works hard for them. 
Featured image courtesy of Ed! at English Wikipedia, CC BY-SA 3.0, via Wikimedia Commons.