Working at Starbucks is an exciting opportunity for anybody wanting to work in a sometimes fast-paced environment and interact with people.
Before you apply at this world-renowned coffee shop chain, I've included some important information for you to consider such as:
Minimum hourly pay
Part-time salaries
The minimum hours you will work every week
How to call in sick
Jobs available including the starting and average pay
Examples of shift hours you would work
How to dress properly for work in accordance with their policies
When and how you receive your paycheck
If Starbucks gives yearly raises and if so, when they give them
Their break policy
How Much Does Starbucks Pay Hourly?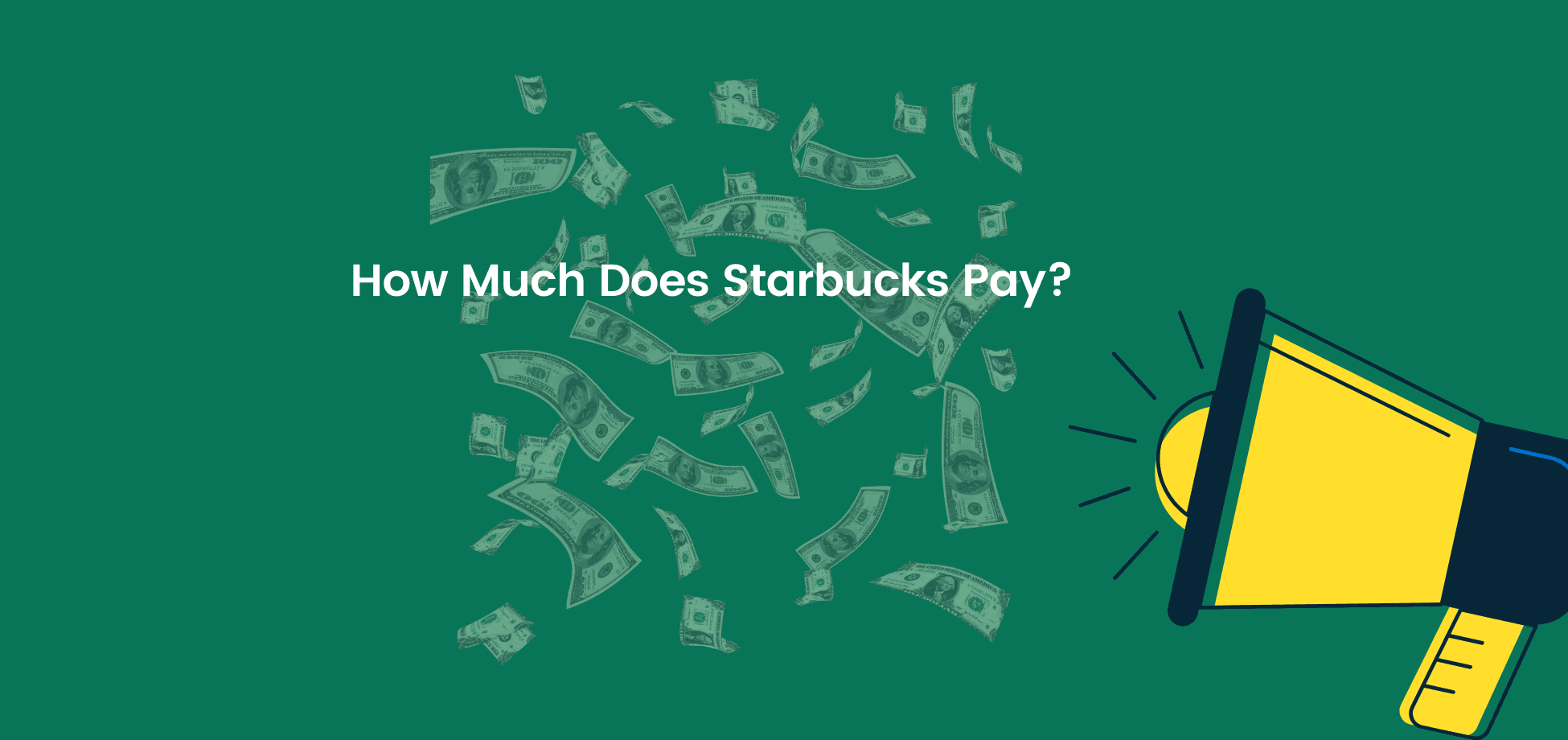 Starbucks does not have a standard minimum wage for its workers. However, you can count on approximately $10 an hour to start when it comes to entry-level jobs. This depends on the location of your store.
If you look at just the hourly rate, you might be a little disappointed. However, Starbucks also offers an excellent benefits package for both full-time and part-time workers. It also fully matches your 401(k) contributions and offers full tuition if you attend the company's online degree program at Arizona State University.
Related Posts
Part-time Starbucks salary
The part-time salary working here is just like having a full-time hourly wage. The only difference is obviously, you are not going to get as many hours to work as a full-time employee. So, for part-time, you can expect to make at least $10 an hour for an entry-level position.
Starbucks minimum hours per week
To be eligible for benefits at Starbucks, a part-time worker must work at least 80 hours a month for 3 months. Of course, that would be 20 hours a week.
This is fairly easy to do as long as you are coming to work when you are scheduled. Part-time workers report they work an average of 20 to 25 hours and sometimes even more in any given week.
Also, for part-time workers, you must work a minimum of at least 12 hours per week to continue to be employed.
After you have completed your 240 hours over the first three months, you become eligible for benefits exactly 2 months after that, beginning on the first day of the second month.
If you're hired full-time, you are eligible for benefits after the first 60 days of work. Full-time workers report that the average is somewhere between 35 to 45 hours of work a week.
Sick time policy
Full-time workers can accrue approximately 10 days of sick time every year. For part-time workers, that figure is approximately 5-6 days a year of sick leave.
If you are going to call out sick, try your very best to inform your management staff with as much advance notice as possible. Keep in mind if you are someone who calls out sick regularly, you may be subjected to discipline and eventually be fired from your job.
Starbucks workers all get paid time and a half for the following 7 holidays:
Martin Luther King Jr. Day
Memorial Day
Independence Day
Labor Day
Thanksgiving Day
Christmas 
New Year's Day
Starting and Average Hourly Pay/Salaries
Starbucks offers different salaries to its workers based on the locations of their stores. This is due to the varying market values in different areas and the level of compensation workers expect to receive.
Regardless, you can usually expect the entry-level salaries to be somewhere at the $10 per hour level.
Here are the store jobs along with the starting and average pay:
Starbucks cashier pay
A cashier at Starbucks earns about $10 as their starting hourly wage and this equals about $20,800 a year for a new employee.   
The average hourly wage for this job is approximately $13.50 an hour. This places it as above average for this position in comparison to other cashier jobs across the United States. 
Without a doubt, as a cashier at Starbucks, you're going to be very busy during the mornings. However, once the early morning rush lets up, the job is moderately busy to laid-back and pleasant.
Barista pay at Starbucks
A Starbucks barista will usually start out somewhere around $10 an hour. That would be a little over $20,000 a year in salary. 
UPDATE: Starbucks will increase the minimum pay for baristas in the US to $12 an hour.
As you gain experience in this job, you will probably average somewhere in the neighborhood of $12.10 an hour after 2 to 3 years. This would place you at about $25,168 a year.
Some of the best comments regarding why baristas like working at Starbucks include:
It's fun to meet new people and create their favorite coffee drinks
It's easy to move up the ladder for workers who are motivated and put forth great effort
It's fast-paced and there is not a dull moment during your shift
Starbucks shift supervisor pay
As a shift supervisor, you can count on starting at approximately $14.30 an hour. That's roughly $29,744 a year.
It's not yet quite a living wage but it's enough to motivate you to try to get to the next step, which is an assistant store manager. You will be in charge of daily operations and you'll oversee every employee's work performance throughout the day.
Assistant store manager Starbucks salary
An assistant store manager earns roughly $48,400 a year. For this position, you'll start out at approximately $36,000 a year and although that does not sound like much for a position with so much responsibility, the benefits make it worthwhile according to employee reviews on Indeed.com.
This is a highly responsible position. You'll be in charge of making your employees work schedules and helping them become better workers through your constant mentoring and support.
Starbucks store manager salary
The salaries for this position range from over $50,700 to $69,400 a year. The job comes with long hours of work and plenty of stress to go along with it and the average yearly salary is 61,200 plus a yearly bonus usually between $8,000 to $10,000.
However, if you're somebody who is organized and knows how to treat your subordinates, this could be a wonderful career for you. It is a known fact that Starbucks loves hiring and promoting its employees from within. This is the perfect steppingstone job for becoming a district manager.
District manager
In this position, you'll have the responsibility of supervising many stores within your district. For this, you will earn approximately $92,000-$130,000 a year.
It takes a lot of drive and motivation to be an effective district manager. You will be working long hours in this position so that you can ensure each store is profitable. 
Regional director
With a salary in the range of $150,000-$197,000 a year, this is an attractive position for someone who meets the qualifications (see here).
Of all the Store positions, this ranks at the very top. You're in charge of the profitability of all the stores within your region, which are usually somewhere between 80 to 100 stores.
You can find information on how to apply at Starbucks, here.
Shift Hours at Starbucks
Here are some typical shift hours you may be scheduled to work:
4 AM to 1 PM
8 AM to 4 PM
3 PM to 8 PM
4 PM to 9 PM
Of course, these shift hours will vary by location. Your management usually makes the schedule for its employees one week ahead of time.
Dress code at Starbucks
Until recently, if you worked as a barista at Starbucks, you had to wear either a white or solid black shirt. Now, you are allowed to wear a variety of different dark colors such as; brown, gray, dark blue, and dark denim. Of course, you're going to add your green apron from Starbucks over that.
Today it's all about being able to express yourself. Starbucks wants to see its workers with more personality and flair.
For females, you could actually wear skirts and dresses along with tights. You can even wear your hair in bright colors.
Starbucks frowns upon wearing tattoos on your neck or your face. But they do allow their employees to expose their tattoos if they are not distasteful or contain any profanity.
Does Starbucks pay weekly?
Starbucks pays you once every two weeks. The biweekly pay comes in the form of either a direct deposit or a paper check.
The pay period begins on a Monday and ends on the second Sunday after that. Then, you get paid for those two weeks of work on the following Friday. This can cause some confusion for new workers who sometimes say they believe this coffee chain places a hold on your first paycheck.
What really happens is that a new employee usually begins working while the pay period has already started. Then, once the pay period ends, the same employee only receives what appears to be an incomplete paycheck a week after that on payday.
In reality, the employee is only given compensation for the days worked during the previous pay period. On the following paycheck, he or she should receive a full paycheck for all hours worked during the second two-week pay period.
Do they give yearly raises?
Starbucks gives their employees a raise every six months to a year for exceptional performance based on their employee evaluations.
Workers report they typically receive a 1 to 3% pay raise every year. So, for someone working at $11 an hour, a 3% pay raise would equal $.33.
Starbucks break policy
For every two hours of work, you will receive one 10-minute break. If you're working at least a 6 ½ hour shift, you will get a 10-minute break during the first four hours, a 30-minute meal break after the first four hours, and another 10 minutes to take a break during the last four hours.