If you've ever visited TJ Maxx, you've probably noticed how hard the employees work at the store.
Whether you're an associate helping out customers at the dressing room or one of many cashiers helping customers check out their purchases, you can plan on being busy!
So the question becomes, "How much does TJ Maxx pay an hour?" and, "Is it enough to pay for the amount of work you do?"
Starting Pay at TJ Maxx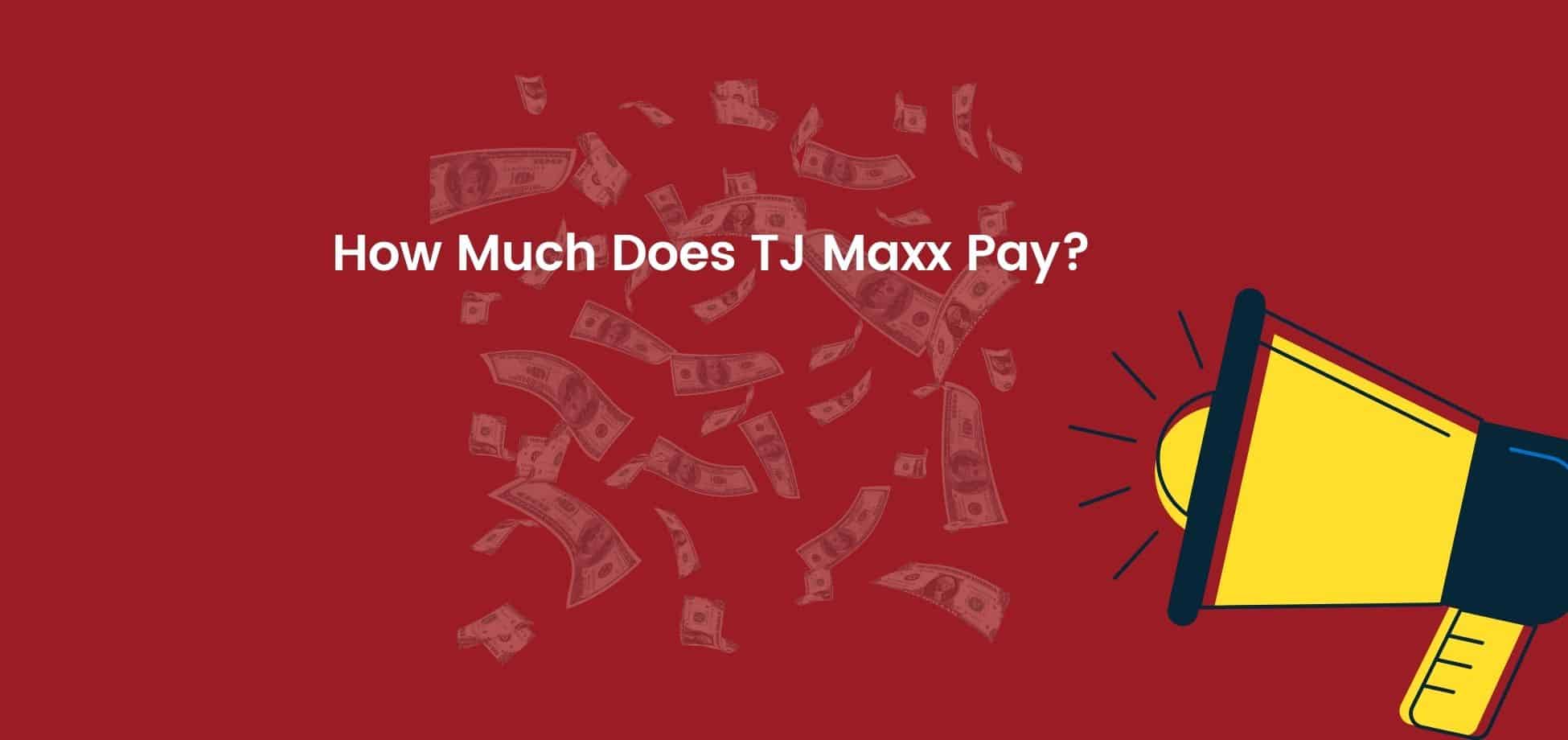 The average starting pay for an entry-level position at TJ Maxx is between $10.15 to $11.25 an hour. The exception here is that loss prevention associates start out at approximately $14 to $14.50 an hour.
This is hardly a living wage but as I mentioned in the other article regarding the TJ Maxx application process, there are other things to consider.
These include excellent benefits after working full-time for a year, and the chance to advance within the company to a management position within 1 to 2 years.
Full-time Hours
Most TJ Maxx stores allow you to work at least 30 hours a week if you are working full-time.
Depending on your store and location, you are considered a full-time employee if you are working anywhere between 30 to 40 hours a week. Whenever there is overtime available, it must be approved by a supervisor.
Some stores allow plenty of overtime while others don't. This all depends on how dependable the employees are as well as other factors, including how well the store is managed.
How much does TJ Maxx pay part-time?
TJ Maxx pays roughly the same starting pay to its employees as they do to full-time workers. The trick to getting hired full-time in the future lies in your performance and reliability.
If you are an employee who occasionally calls out sick or comes into work late on occasion, your future doesn't look too bright as far as getting a full-time job. This company is constantly on the lookout for the best employees who are dependable and reliable.
These are the ones who are promoted to full-time within the shortest period of time.
Part-time Hours
As a part-time employee, you can expect to work up to 29 hours a week. Work hours usually range anywhere between 10 to 25 hours every week.
That's not to say that a part-time employee can't work up to 40 hours on any given week. This all depends on staffing issues at the store.
TJ Maxx Merchandise Associate Pay
The average merchandise associate's hourly pay is $11.25 an hour. This equals a maximum of $450 a week, assuming you are working 40 hours every week.
It also equates to $23,400 a year in salary. 
Keep in mind that for holidays, you will also be paid time and a half. Additionally, you may get some overtime hours here and there, and it will bump up your salary to a potential figure of $25,000 a year.
TJ Maxx Customer Experience Coordinator Pay
This job carries the most stress of any job at TJ Maxx and the average pay comes in at approximately $11.60 per hour. 
This means you can potentially earn $464 a week and a yearly salary of $24,128 before any overtime pay or time and a half pay.
Some employees report that the pay is not enough for what they do. However, other employees report this job is the sure-fire fast track method of getting promoted to assistant manager and beyond!
TJ Maxx Loss Prevention Salary (Associates)
The average pay for a loss prevention associate is $14.70 an hour. This figure is usually after approximately two years of work experience at TJ Maxx.
This equals $588 a week and a yearly salary of $30,576.
TJ Maxx Loss Prevention Supervisor Salary
In this salaried position, you can expect to make approximately $51,400 per year.
This job requires plenty of experience in this field and it's preferable to have a bachelor's degree. Employees who have worked in this position say in some instances, you will be traveling quite frequently between stores.
This will allow you to complete your responsibilities which include interviewing fellow employees, interrogating them in some instances, training employees, and testifying in court cases.
Tj Maxx Assistant Manager Salary
The salary of an assistant manager at TJ Maxx can range anywhere between $49,300 to $77,200 a year.
Typically, an employee in this position earns approximately $55,490 a year.
The pay is above average for the retail industry. Keep in mind that TJ Maxx loves hiring assistant managers from within.
So, if you come in at the entry-level with a good mindset and impress management all the way up through the district, you can find yourself in this position in a fairly short amount of time.
Tj Maxx Store Manager Salary
The average pay for a store manager at TJ Maxx is approximately $76,800 per year. This is above-average pay for a store manager in the retail business.
As you can see, entry-level jobs at TJ Maxx can only give you average pay but if you make it up to management, you can start seeing the rewards in a big way.
There are many store managers who started out at the entry-level and have risen to the rank of store manager within 5 to 7 years. Imagine starting out at $10.50 an hour, and in 5 to 7 short years, almost quadrupling that figure!
It's simply takes dedication and effort.
How much does TJ Maxx warehouse pay its workers?
The average pay for the most common entry-level position of warehouse associate is approximately $13.60 an hour. This is a little below average for this type of work.
However, your performance is evaluated on a constant basis, so you do stand a chance to get regular raises. This is basically the process TJ Maxx uses to weed out employees who don't perform up to standards.
So, if you do become employed in the warehouse at this entry-level position, put your best foot forward and impress them with your work ethic. 
It's the quickest way to get a raise and to be successful with this company.
Does  TJ Maxx pay weekly?
Yes, TJ Maxx pays employees on a weekly basis. This is important when you are earning a fairly low amount of money on your weekly paycheck.
Entry-level workers who are making barely $10 an hour, will find this is a major plus so they can manage their bills much easier.
How often does this company give raises?
TJ Maxx supposedly gives out yearly raises based on your performance. It's not uncommon for a well-performing employee to receive a raise in as little as 6 months.
The raises are usually in the 2-3% range. So, as an example, if a worker earns $10.50 an hour to start, the first 3% raise would be approximately .32 cents, turning that hourly wage into 10.82 an hour.
The most important thing here is to keep open lines of communication with your management staff. You can do this by proving you are an exceptional employee on a daily basis.
If you perform well, management will take notice and I will make it easier for you to communicate effectively with management.
This is important because many employees go for extended periods of time without addressing the issue of a possible raise, and they are overlooked. Don't let this happen to you.
Break Policy
At TJ Maxx, if you work 6 hours you're entitled to two paid 15-minute breaks. You are also entitled to take an unpaid 30 to 45-minute lunch, depending on your store management's preference.
It's important to communicate well with your managers so that you are not overlooked when it comes to breaks. Oftentimes, employees go through a whole shift without taking a break because they are too shy to ask management for a break.
TJ Maxx Dress Code
The only thing you have to remember about the very casual dress code TJ Maxx has is that you can't show up in jeans. Additionally, it's important to not wear anything too revealing.
Of course, this depends on how your management team prefers how their employees dress. Basically, casual wear is fine as long as it does not call attention to yourself.
It is also recommended that you wear comfortable shoes because you will be standing quite a bit throughout your shift. Some managers allow you to wear open-toed shoes as long as they are not flip-flops.
If you are still in doubt, visit your local TJ Maxx and observe how the employees are dressed. That should give you the best idea of all.