An entry-level retail job at Ross is very attractive to applicants because it is generally an easier way to seek employment. Filling out and submitting a Ross job application online can jumpstart your future if you choose to pursue a career in the retail business.
It's also worth considering if you are someone experienced and looking for a professional salaried career.
Ross department stores are headquartered in Dublin, California. Regarded as one of the largest off-price retailers in the US, it has over 1,483 stores in over 37 states in the US, the District of Colombia, and Guam.
Founded in 1950 by Morris "Morrie" Rose, the first-ever Ross store was set up in San Bruno, California. Morris was a hard-working person and he used to work over 80 hours a week keeping a record of the buying and bookkeeping in his department store.
In 1958, Morris decided to sell his store to William Isackson. The idea behind this deal for Morris, was to become a residential and commercial real estate developer.
Isackson took the company from one store in San Bruno to over six stores in different parts of the US such as San Bruno, Pacifica, Novato, Vacaville, Redwood Valley, and Castro Valley.
Since coming under the ownership of William Isackson, there was no looking back for Ross stores. As of 2020, the company employs over 89,000 workers and is a powerful discount retail chain that is the largest off-price retailer in the USA.
Jobs at Ross
The fact that you are reading this article indicates you are interested in either looking for a job at Ross or a retail job or another career, in general.
The company always has openings for new people who would like to enter the retail industry or those with experience in the retail business. There are many entry-level careers as well as professional salaried positions available in most areas at any given time.
Ross Retail Associate Job Description
As an associate in this position, you are there to make sure that the customers are pleased with their experience at the store and they have no complaints regarding anything. You'll be able to accomplish this by first, being courteous, always greeting the customer with a smile, and resolving any issues they need help with.
You will be given different tasks throughout the work day to be able to fulfil the company's mission, such as:
ensuring the best presentation for merchandise
working the cash register
helping customers get access to fitting rooms
working the front end of the store
Ross Early Morning Stocker
The work of an early morning stock associate is to maintain a clean department store and present merchandise as a valuable asset to the customer. You'll accomplish this by helping to unload merchandise from delivery trucks, tagging items, and placing products on their shelves.
In this job, you should also be ready to operate the cash register at a moment's notice. You're also required to assist in various areas of the store such as the cash office, front end, the fitting room, or the jewel room.
Ross Store Protection Specialist
The job of a store protection specialist is to make his presence be felt amongst every person in the store. From the moment a customer enters the store, they should see you as a deterrent to theft and any other crime occurring at the store.
The whole idea is to bring a sense of safety to customers while providing protection from any theft occurring at the store. Apart from that, you'll greet customers with a friendly smile and be of any help they need.
Ross Area Supervisor
An area supervisor is one of the store leaders who need to be the most responsible and trustworthy. They are assigned a particular area in the store, and they are responsible for that part of the store.
This doesn't mean they can't be called upon to fill in for another area supervisor and assume responsibility for two separate areas at any given time. This career also makes you responsible for the opening and closing of the store.
You're also there for safety reasons and to make sure all safety procedures are adhered to. You'll report directly to the assistant store manager and advise of any incident you deem dangerous and harmful to the store or people inside the store.
Other responsibilities include:
training associates on the cash register and front end duties
helping associates resolve customer issues
controlling and monitoring employee breaks and meals
Ross Assistant Store Manager
The store manager will give you certain duties involving the supervision of all areas of the store. You'll gain plenty of experience as you learn all the functions within the store, so you can assist any employee with issues that may arise.
When the store manager is absent, you will have to step up and assume the role, and this will give you the important managerial experience you can use to your advantage in the future.
You'll also:
help monitor the store's budget and finances
assist with scheduling employees' hours
be a role model for your employees by showing how to provide great customer service
help train store loss prevention personnel
have a hand in preparing the yearly inventory process
be in charge of marking down prices during sales
assist your employees when they have issues with unhappy customers
Ross Store Manager
Here, you will be the store's leader in virtually every aspect. You have to make sure all the store's goals are met while adhering to company policies. You'll be the one who hand picks associates and trains and develops them to help the store become more profitable.
Other things you'll do are:
analyze financial reports so you can evaluate expenses and make adjustments when needed
oversee employee scheduling
take on the challenge to complete special assignments given to you by your company leaders
be directly responsible for overseeing everything having to do with payroll
recruit and train assistant managers and other salaried employees
find the best ways to motivate your employees and reduce employee turnover rates
The minimum qualifications for this position include having at least 5 years of retail experience. This is the perfect job for any employee who gains experience and is motivated enough to move up the ladder of success.
There are plenty of success stories involving workers who started out as retail associates and worked their way up to a store management position.
Ross Distribution Center Jobs
Ross has 4 distribution centers in the United States. This part of the organization is known as the supply chain.
Although there aren't as many positions available in this division as in retail stores, if you live in one of the following areas, you may have a great opportunity to submit your Ross job application online and get hired:
Carlisle, PA
Ft. Mill, SC
Moreno Valley, CA
Perris, CA
Positions in the supply chain include:
logistics and transportation jobs
loss prevention associate
maintenance mechanic
area supervisor
operations manager
productivity engineer
senior financial analyst
How to Apply For a Job at Ross
Before you apply, you need to have a general idea of the type of position you will go after. Since you will be completing a Ross job application online in your home, you will have easy access to your important information such as your social security number, personal references, etc.
The easiest way to apply at Ross is to do the following:
Go back and re-read the above-mentioned job descriptions and choose one
Visit this Ross careers link
While on that page, click the "Search By Location" navigation link
On the map of that next page, click your general targeted area highlighted in green
Continue clicking until it gives you results from jobs located in your area
The continual clicking will lead you to a specific store where you can see what's available
You'll see a landmark on the map with the exact store you want to target as well as the number of openings available
Next, click the blue link with the jobs available and you'll be taken to another page that lists all the positions open at that store
Click on the job you are interested in and once you are taken to the redirected page, you can read the job description and click "Apply Now"
You will then be redirected to a "disclosure" page where you will read it and click "Accept"
Next, you'll be taken to a login page, so click "New User" and create your account, and begin the application process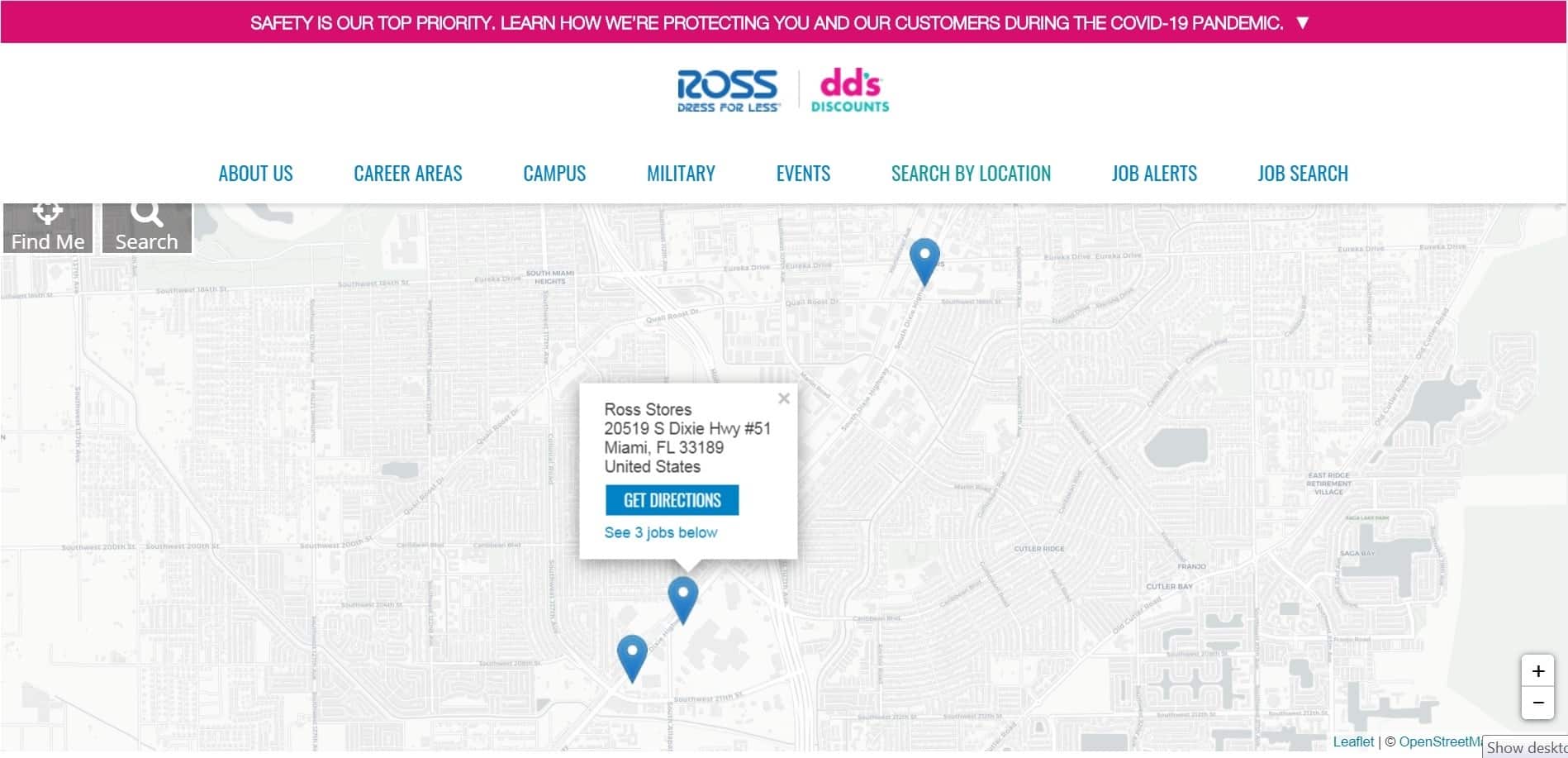 How to Follow Up after Applying Online
If there's one thing we all learn the hard way when it comes to hearing back from an employer about your job application, it's that you don't always receive word that they are not interested in you, at that moment.
In order to avoid staying in the dark and not receiving any word from Ross about your application, here's what I recommend you do:
If you don't receive an email or a phone call within 1 to 2 weeks, it's time to be more aggressive
Visit the store you applied to dressed in nice casual business wear
Ask to speak with a hiring manager or anyone in personnel or human resources
Try to impress them with your great personality
While speaking with a company representative, ask them to check on the status of your application
Don't be pushy and let the person attending to you guide you through what you need to do next
Thank them for their time, and say once again how excited you would be for an opportunity to get hired and join their team
Leave a business card with your name, phone number, and email so they can contact you if needed
If that doesn't work and another two weeks go by, it could be one of two things; they are either backed up on the hiring process or they aren't interested in you at the present time for whatever reason. Either way, if you have had no luck so far, repeat the above process by visiting the store.
If you were disqualified for a certain reason or if you didn't meet the requirements for the position you applied for, kindly ask them to explain the reason so you can benefit from it and make the necessary corrections or improvements on your next application.
Possible Ross Interview Questions
Below are some of the common interview questions that are asked in the interview. Make sure to prepare for them with care.
Be aware that it's highly advisable to research and practice answering common interview questions. You want to tailor the response to what the company is looking for while keeping in mind that the customer always comes first.
Here are example questions:
What would you do if you are on a holiday and the replacement we hired for you, arrives late for their job?
What are the qualities a person should have to work at Ross?
Are you comfortable with flexible shifts and working on weekends?
Where do you picture yourself in 5 years after you begin working at Ross?
How would you handle a rude customer who insults you?
 Minimum Age to Work at Ross 
The minimum age to work at this retail store is generally 18. However, in some states, you can apply to work at Ross if you are at least 16 years of age with a valid work permit.
You'll have to consult with your state laws. Alternatively, if you are under 18 years of age, you can visit the store and ask management if you can apply. It would be a great time to make a great first impression and introduce yourself.
Does Ross Drug Test?
Most applicants who gave reviews on Indeed.com said they did not receive a drug test during the hiring process.
It is reported that if you're looking for a job in management, you do receive drug testing. If you are applying as a cashier, you may also get drug tested with a mouth swab before getting hired.
Additionally, even if you don't get drug tested before they hire you, there's a common way employees are subjected to a test. If you are in a job-related accident that exposes the company to liability, they may order you to get a drug test.
Does Ross Hire Felons?
Ross does hire felons, depending on the type of felony and how much time has passed since a conviction. 
It is of the utmost importance to be truthful on your application because they do conduct background checks.
The hiring manager has the discretion as to whether to hire you. There are certain types of felonies that may disqualify you in the eyes of a hiring manager, such as a felony theft offense.
If you get turned down for a job at Ross due to your previous felony conviction(s), remember that some companies are strict but many companies are more lenient. Don't give up, knowing you have been rehabilitated and deserve another chance. Someone will give it to you!
The Ross Hiring Process
In summary, here's how the hiring process goes:
You will submit your Ross job application online
Wait for 1 to 2 weeks for a callback or email
If they are interested in your services, you will be given an interview appointment
You will be interviewed
For certain positions, you may have a second interview
They will conduct a background check on you
Within 1 to 2 weeks, your background check will be completed
If you had advanced to this stage, for certain hourly or salaried positions, you will be given a drug test
Within another week or so, you will be either hired or informed that you were not hired