Sonic is known as a fast-food drive-in restaurant where customers can park their vehicles, and servers known as carhops attend to their orders. 
Most of these restaurants are franchise-owned and this presents some challenges if you're looking to apply for a job at this restaurant chain.
Working at Sonic
One of the most positive aspects of working at Sonic comes from the feedback given by carhops who work server jobs at minimum wage. These workers generally say this job is much like any other type of server position where you can earn tips and make a good amount of money on any given day. 
Here are some of the reviews given by employees through websites such as indeed.com and glassdoor.com:
Pros
The work environment was a lot of fun
It's a great job for college students because you are allowed to work only nights if you choose
You can get great tips as a carhop if you put your mind to it
The customers are generally very friendly
It's a great job to gain experience in the fast-food industry due to busy times and having to provide great customer service
There is room for growth and advancement within the company
Some employees get free lunches
Cons
The pay needs improvement
Some stores have very difficult managers and some employees actually say many stores have terrible management teams
In some areas, employees complain their coworkers are very lazy and they have to pick up the slack
It's difficult to consistently get adequate breaks
Many employees claim they don't get as many hours as they need working full-time
History of Sonic
The history of Sonic began in 1953, when Troy N. Smith Sr. opened up a root beer stand with the help of a business partner in Seminole, Oklahoma.
Once the establishment became quite successful, Smith became the sole owner of the business after buying out his business partner.  At the time, his business was called "Top Hat." 
Smith's original restaurant featured a large area where people could park their cars in a gravel parking lot and walk up to the window to place their orders. 
Smith came up with the idea that he could increase sales by allowing customers to order from an intercom placed in each parking lot stall.
In 1959, after much success, Top Hat became Sonic. Today, this company has approximately 3,500 locations in the United States and employs almost , 5,000 employees nationwide
Jobs at Sonic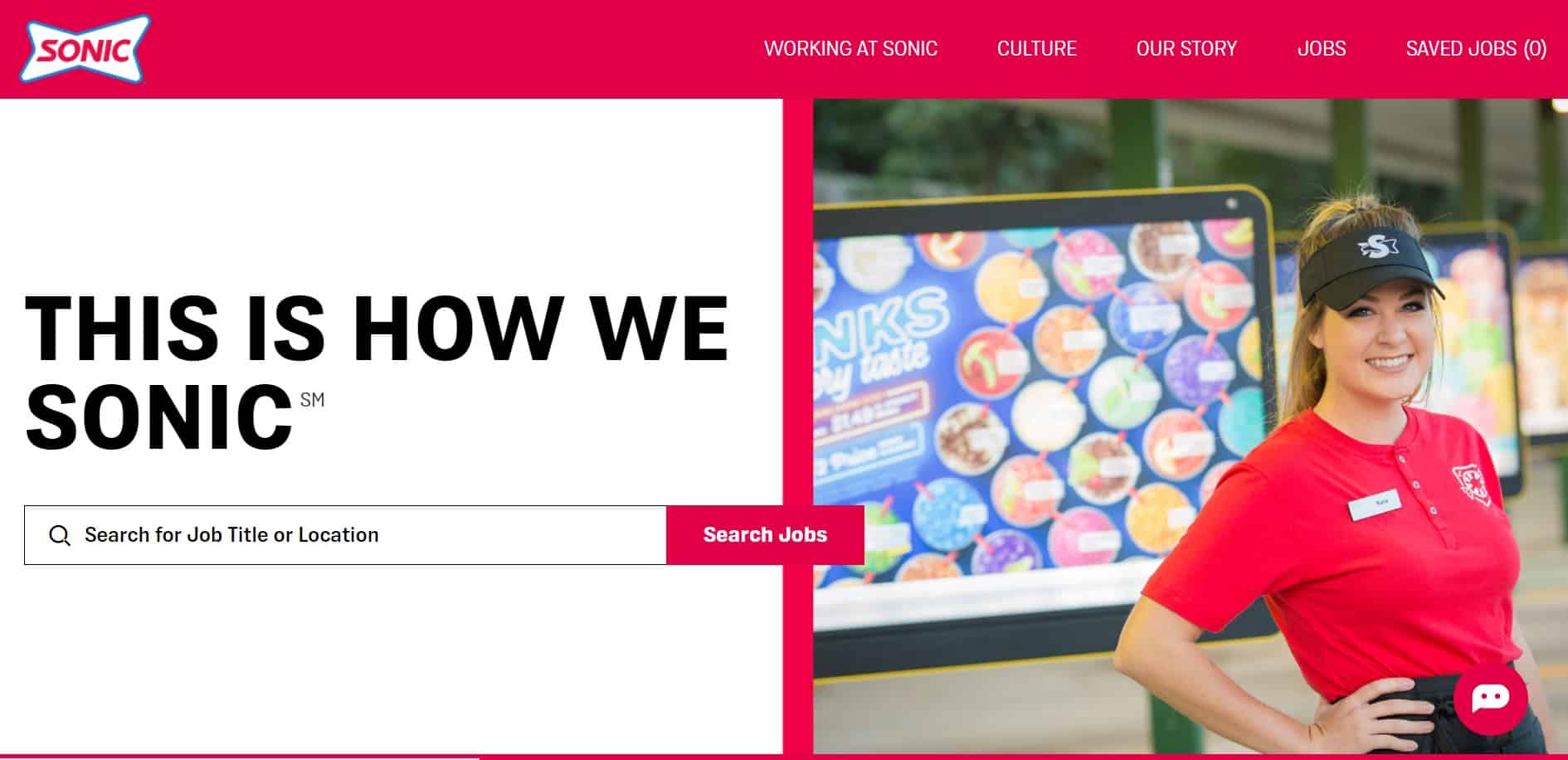 There are quite a few positions that make this company run effectively at each location. They are:
crew member 
crew leader 
carhop 
skating carhop
cook 
assistant manager 
manager 
multi-unit leader 
About 5% of Sonic drive-in restaurants are company-owned while the others are owned by franchisees. 
Sonic Crew Member
In this position, you are placed at the center of the business while assuming a variety of responsibilities that make this fast-food company successful. 
You are expected to learn a variety of duties, such as: 
working the cash register
packaging the orders and checking them for quality
making drinks for the customers
frying or grilling foods
maintaining the cleanliness of the store
The requirements for these positions are that you have to be able to work very flexible hours, including weekends and holidays. 
Additionally, you have to possess good communication and basic math skills. You have to be able to read as well, and it is preferable if you have some type of experience in the fast-food industry.
Crew Leader
As a crew leader, you are expected to use all the skills you gained as a crew member to be able to help train new employees.
If you are hired for this position, you will be thrust into a leadership role where you will take charge of maintaining the cleanliness of the store. 
You'll also be the leader during shift meetings where you will offer any information your employees need to know.
You're also in charge of having to report customer complaints directly to your manager when they occur so they can be promptly resolved.
Sonic Carhop or Skating Carhop
This is a fun job that can help you get plenty of tip money throughout your shifts.
As a carhop, you will be expected to greet your guests in a friendly manner and promptly and accurately take their orders.
You'll have to be able to carry and balance a tray that weighs up to 25 pounds and once customers have finished their meals, you'll need to clear the trays from their vehicle areas.
Some stores hire skating carhops as an added dimension to the restaurants. You'll be able to take and fulfill orders while on rollerskates.
This is an added advantage for a server because of the novelty and if you know how to work your customers, your tips will go through the roof!
The job is also really cool because you'll spend your entire shift getting quite a bit of exercise while putting smiles on your customers' faces.
To qualify for the skating carhop position you'll have to complete a training program provided by the company. Other basic requirements are similar to that of a crew member (see above).
Sonic Cook
As in every Sonic, the job as a cook is arguably the most important one. You'll be working the fryer, grill, and you will be responsible for the restaurant's food production.
Basically, without your talent and effort, there would be no Sonic! You only need basic minimum qualifications to get this job but you also have to be willing to learn all the duties of a crewmember to increase the efficiency of your restaurant.
During downtime, you are expected to keep your kitchen areas clean by mopping and sweeping as well as washing dishes and sanitizing the food areas.
Sonic Assistant Manager
One of the biggest keys to being successful in this role is to have the ability to be able to motivate your team members.
Fast food restaurants typically have high employee turnover rates, so in this position, you are entrusted by the company to help build a positive work environment.
You'll be coaching your crew members and other staff during each shift and you'll open and close your store. 
The general manager is going to count on you to help out with hiring and firing employees as well as controlling your store's inventory.
This is a position that will directly train you to become a Sonic general manager.
Sonic Manager
As a general manager, you will have all the responsibilities of an assistant manager. You'll also have the added responsibility of overseeing the whole operation.
You will be the person who is ultimately responsible for the restaurant's success.
By preparing work schedules for employees and making appropriate adjustments whenever necessary, you will be able to help maintain high employee morale.
It's in your job description to also maintain the accuracy of payroll and prepare operational reports whenever necessary. 
As a manager typically does, you'll also have to come up with a marketing plan for your specific restaurant within your community.
For this position, you need at least a high school diploma or GED. However, it's preferable to have a college degree in a business-related field or restaurant management.
Multi-Unit Leader
As a Sonic multi-unit leader, you will be overseeing all the operations in your assigned area. The general managers will be your primary focus, and responsibilities include helping these managers lead their stores to success.
This is a district manager position where you will be in charge of manager orientation. When it comes to employee policy violations or issues, you will have to resolve them and inform your upper management of those issues.
When it comes to payroll, periodic audits will be your responsibility and you'll work closely with all general managers in your assigned area to ensure the profitability of their respective stores.
Internships
During the summer, college students can choose to participate in the Sonic internship program in Oklahoma City, Oklahoma.
For example, in 2021, a Culinary Innovation internship program will begin during the summer.
The biggest requirement is that you should be enrolled in an accredited institution and have a 3.25 GPA or higher. 
In this program, you'll gain a hands-on approach while helping the innovation department with its research and development. 
You will learn how a new product is developed and how different departments work with each other to make new products successful.
Applicants are encouraged to apply for this internship program as early as possible using the online Sonic application on the careers website.
How to Apply at Sonic
To apply, you can either fill out and submit a Sonic application online or in person. I recommend you go in person because most of these restaurants are franchise owned.
By visiting the store, you will have the chance to make a favorable impression on the management staff when you apply.
In the worst-case scenario, they will tell you to simply go home and fill out the application online.
This is fine too, but if you were able to apply in person you will have a big advantage over other applicants. 
This is due to the fact that management will be able to put your name to a face and they will have already seen who you are as a person.
To apply online at Sonic, follow these steps:
Visit the Sonic careers site. 
Acquaint yourself with the different careers available.
When you have decided on the position you want to apply for, put your mouse cursor in the "search jobs" box.
Five categories will appear. Select one category and you will be immediately redirected to another page with job listings in your area.
Find a position you want and click on it or click the "apply now" button.
Click the "get started" button and begin your application by providing your first and last name, birth date, and a four-digit pin number.
Sonic Hiring Process
If you apply in the store, you may be hired within the first three days. If you apply online, the average time it takes to get hired is between three days to two weeks.
The way it works is you will get called to the store you applied for so you can interview. Usually, the manager will conduct the interview and sometimes, if you make a great impression, you may be hired on the spot.
Some employees report that they had to go through two interviews before they were hired.
Sonic Interview Questions
The interview questions for entry-level jobs at Sonic are relatively easy. For example, you may be asked:
What hours are you available to work?
Tell me why you want to work here.
Would you be willing to work on weekends?
Where do you see yourself in the future working at Sonic?
Do you have reliable transportation?
How old do you have to be to work at Sonic?
To be considered for a position at Sonic, you have to be at least 16 years old. There are many high school students across the United States who enjoy working part-time hours at this restaurant chain.
Some important tips before you apply if you are 16 are:
Dress professionally to the interview
Try your best not to appear immature
If your state requires a work permit, make sure you get one
Does Sonic Drug Test? 
Sonic generally does not drug test its crew members. However, management personnel should expect a possible drug test as a condition of employment, even though this is not always the case.
While some of these restaurants give applicants a background check, others don't. If you're applying for a management position, you will probably be subjected to a background search at the very least. 
Benefits
All full-time employees are given a chance to enroll in the comprehensive benefits program.
Here is a list of some of the benefits you can potentially receive if you are a full-time employee:
Medical, dental, and vision benefits 
401(k), 
Life insurance
Free meals
Employee discounts
Free uniform 
Final Thoughts
A job at Sonic appears to be a great entry-level job for someone who wants to become a server. As a carhop, whether you are on foot or on skates, you have the ability to make quite a bit of money on tips during your shift.
This is rather unique when it comes to fast food. Generally, customers don't expect to have to tip a server in a fast-food establishment.
The starting salaries for entry-level positions are very low. They are usually at minimum wage or slightly above. 
This means you can't expect to earn a living wage at the beginning of your employment at this fast food chain.
A job at Sonic is best for students needing reliable income, seniors who need to augment their retirement or any other person who simply needs the extra income for themselves or their family.