Employees who work at GameStop know all too well the pay can use some improvement. Still, that doesn't prevent people from applying and hoping for an opportunity to join the nation's largest video game retail company.
In this article, you'll be able to get answers to the most common questions and points regarding GameStop retail staff pay as well as other important bits of information. 
You'll see:
The amount of hours you can work during each shift and weekly
How part-time hours are given
Starting hourly pay
The average pay for each GameStop store job
Break policy
When and how you get paid
Whether GameStop gives employees raises
Answers to some common questions
GameStop Hourly Pay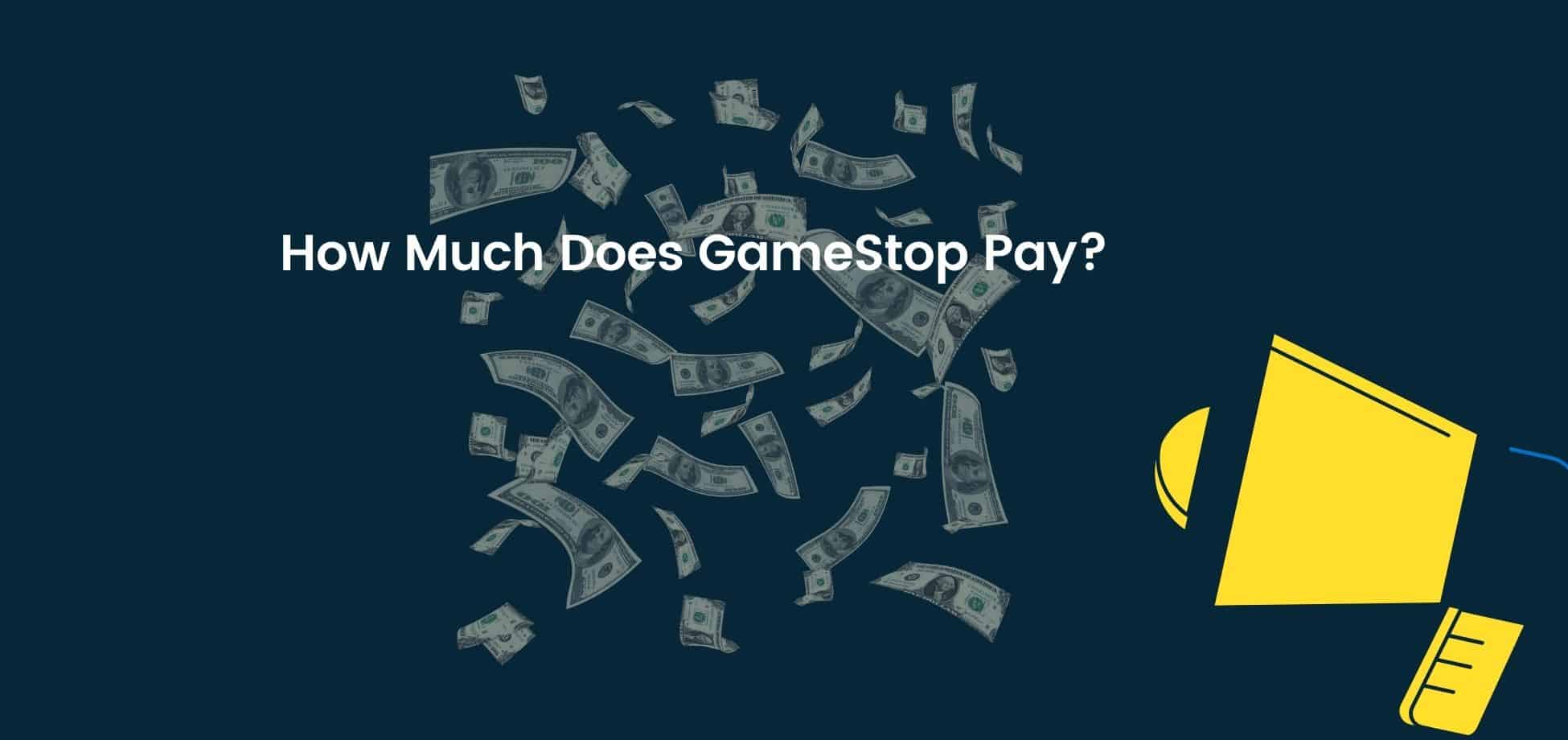 The starting pay at GameStop is below average for any type of retail job because it's usually right at the state's minimum wage or slightly higher. If your state's minimum wage is lower than the $7.25 an hour federal minimum wage, your hourly rate will be $7.25. 
Therefore, if you live in Florida, your starting pay would probably be the state's minimum pay at $8.56 an hour. If you reside in Georgia, your starting pay would be the federal minimum wage because the state's minimum wage is $5.15 an hour.
The pay wouldn't be horrible if it weren't for the little number of hours that are sometimes offered to many of its employees. Using this example, if a full-time worker received only an average of 28 hours a week for 52 weeks of pay, the yearly salary would be approximately $12,463.
As many employees have said in reviews on Indeed.com and Glassdoor.com, getting a job at GameStop should be only a side job for most people. You simply can't live off the wages this company offers by making it your primary job.
GameStop Work Hours for Full-time Employees
Although operational hours can vary, most stores are open from 9 AM to 9 PM from Mondays through Saturdays, and 11 AM to 6 PM on Sundays. As a full-time seasonal or permanent sales associate, you can expect the following shifts:
8 AM to 4 PM
9 AM to 5 PM
11 AM to 6 PM
4 PM to 11 PM
5 PM to 12 PM
Of course, this all depends on your management's discretion based on what the store's needs. Be aware that sometimes, management will cut your hours and possibly even add hours to your schedule. 
The amount of hours you can usually get assigned weekly while working full-time are between 25 to 40 hours. During peak times when the holidays come around, you can expect to work non-stop and even make a little overtime here and there.
During the summer when business is slower, you may see your hours reduced, depending on your store's location.
Part-time Hours at GameStop 
Many part-time workers at GameStop report that they only get anywhere between 4 to 12 hours of work every week. 
A part-time job at this retail store won't usually give you a chance to work many hours at the start but you can change that. If you work hard and show management that you are the type of employee they can depend on, you can set yourself on a path to getting a promotion to full-time.
Here are example shifts:
8 AM to 12 PM
9 AM to 1 PM
11 AM to 3 PM
5 PM to 9 PM
6 PM to 10 PM
Gamestop Salaries
Salaries for entry-level workers are pretty low but this company is geared toward hiring younger, more energetic workers. Therefore, it's fairly easy to find great candidates for these associate positions because many teens and young adults are attracted to jobs like these featuring gaming equipment and accessories.
Below, you'll see the average pay and salaries for all the store positions offered.
GameStop Seasonal Sales Associate Pay 
Every year, GameStop hires seasonal workers to keep up with the higher sales volume. This gives people a chance to get hired full-time if they can prove themselves worthy to their management teams.
The average pay for seasonal workers is approximately $8.50 an hour. The length of your employment is usually 4 months or less, spanning from September to January or February of the following year.
By taking that $8.50 an hour and working an average of 25 hours a week for 12 weeks, you'll make approximately $212.50 a week and $2,250 for that time period.
GameStop Sales Associate Pay 
The typical sales associate hourly wage is around $9.65 an hour. With this hourly rate, you can expect a weekly check totaling about $337 and a yearly salary hovering somewhere near $17,563.
If you're thinking about working at this company long-term, your goal is to work your way up to a shift lead position. This would bump your pay up by close to $3.00 an hour and you'd likely get more work hours.
GameStop Shift Lead Pay 
A shift leader makes an average of $12.85 per hour and this translates into $514 a week. Assuming you work at least 40 hours a week throughout the entire work year, your yearly salary would be approximately $26,728.
In this position, it becomes vitally important to take charge of the store and take the pressure off your management team. You can do this by offering your expertise to customers, closing sales quickly, and guiding sales associates to success during your shifts.
GameStop Assistant Store Manager Salary 
An assistant store leader makes an hourly rate of $13.85. The weekly pay will be about $554 and the yearly salary is approximately $28,808 or much higher, depending on how many overtime hours you work.
Your overtime hours go up considerably during the holidays, so you can plan on making the most money with your paycheck during the months of October through December.
GameStop Store Leader Salary 
Store managers at this retail video game store base their pay on an hourly rate, unlike most other retail stores which offer their management personnel a yearly salary. This actually gives you an advantage if you're interested in a store leader position.
The average hourly rate for this position is approximately $19.95 an hour, or $41,500 in yearly base salary. Generally, you're going to increase this yearly salary by working overtime throughout the work year.
In a fairly busy store with plenty of sales, you can stand to make anywhere between an average of $45,000 to $50,000 a year.
GameStop District Manager Salary 
The average yearly salary for a GameStop district leader is approximately $84,350. The salaries can range from $71,400 to $113,500 per year.
This position puts you in the driver's seat to helping all the stores in your district become successful. You will be very busy keeping up with employee turnover rates but you'll also celebrate the success of watching your employees advance within the company.
Break Policy 
GameStop employees are entitled to take a 30-minute unpaid meal break for every shift lasting at least 5 hours. For 8-hour shifts, you may get one or two 15-minute paid breaks. However, employees report that they don't always get a chance to take their breaks.
State laws vary when it comes to mandatory breaks, so consult with your own state laws. You also may want to ask workers at your desired store about breaks before you apply to that store.
Does GameStop Pay Weekly or Biweekly 
GameStop usually pays biweekly, but this depends on how your particular store conducts payroll. In some stores, you have the option of choosing to get paid weekly or biweekly.
It's important for you to consider getting a bank account if you don't have one, and setting up a direct deposit. You'll get paid either on a Thursday night or Friday morning a few days after your pay period ends.
Pay Raises 
GameStop gives pay raises to its employees once a year on their hire date anniversary. The store manager will give you a performance evaluation and base the raise amount on your accomplishments.
So, if your sales numbers are high, you show a good working attitude, and your membership numbers are at least what is expected of you, you may qualify for a 2 to 3% raise. In some cases, you may get promoted and your raise will be higher!
Is GameStop a good first job? 
GameStop is a great way to get your feet wet in the retail industry if you are young, energetic, and like video games. It's important to come to work and enjoy your work and surroundings because the truth is, an entry-level worker at GameStop is not going to make a living wage.
If you are ready to see more information and possibly apply, use this link.
Does GameStop pay commission? 
This company is not commission-based. You are rewarded in accordance with your performance by way of an annual raise or promotion.
The secret to advancing within the company is to put your best foot forward and help your store increase its profitability. At the same time, try to forge a good working relationship with your management team so they can notice you.
Let them know from time to time that you're interested in moving up within the ranks of the company. With perseverance and a little luck, you may find yourself being promoted quicker than you think.