Dollar stores are usually very packed during peak hours, so if you are able to handle a fairly high amount of stress while working, you may want to look further into getting hired at one of these stores. On the bright side, you can bet your workdays will go by very fast!
History of Dollar General
Dollar General can be described as an American empire of stores with its headquarters in Goodlettsville, Tennessee. As of January 2020, this retail chain had over 16,000 stores in operation in the United States.
The company was founded in 1939 and it started as a family-owned business known as J.L Turner and Son in Scottsville, Kentucky. It was owned by James Luther and Cal Turner.
In 1955, the name was changed to Dollar General Corporation and in 1968, it went public on the stock exchange. Fortune 500 certified this company in 1999 and 2000 as reaching #112 on their list.
Since its humble beginning, it has transformed to become one of the most profitable stores in rural areas of the United States with revenues approaching the $27 billion mark in 2019.
Why Would Anyone Want to be Working for Dollar General
For most people, dollar stores don't exactly have a wonderful reputation as being a career with a future. When you think of these types of stores, you naturally think of cheap products, and that eventually gives off the impression that the store pays its employees in a cheap manner, as well.
The fact is Dollar General usually starts out their entry-level employees slightly above the federal minimum wage. This means the store is not going to attract top-notch experienced employees.
However, that's fine with many people who are looking for an opportunity to start working somewhere. Therefore, in my opinion, a job here is an ideal place to learn about the retail industry and eventually move on to better things once you gain the necessary experience to go anywhere you want.
Jobs at Dollar General
Jobs available at this retail chain can be categorized into the following 4 categories:
Retail
Distribution Center
Fleet
Corporate
The retail jobs consist of the store clerk, sales associate, lead sales associate, assistant manager, and store manager.
Below are the job descriptions for each of these:
Dollar General Store Clerk
As a store clerk, you will be the person customers approach for assistance to help them get their needs sorted out. You will be required to stock store merchandise and perform other important duties that are necessary to greatly increase company profit.
You'll be trying your best to ensure customers are satisfied, and you'll work with your team members while protecting the best interest of the company. You will also be responsible for unloading trucks and ensuring the company workflow is in place for receiving, opening, and unpacking cartons. Additionally, you'll proceed to store merchandise in the stock rooms and move them directly to the sales floor.
As a clerk, you will also:
Be nice and personable with customers and run the cash register and flatbed scanner that itemizes and sums up the customers' purchases.
You will also bag all items purchased
Set up merchandise displays, stock new merchandise, and rotate all merchandise on the shelves to their proper places
Keep the store clean and stay vigilant to avoid allowing the store from becoming disorganized
Dollar General Sales Associate
For this role, you will be required to stock merchandise and your job differs from that of the clerk because you will not necessarily be in charge of unloading delivery trucks. You will most often be serving as the cashier in the front of the store.
Also, you will be required to perform some or all of the below duties to drive company growth:
Merchandise displays
Stacking items
Customer assistance
Trash disposal and cleaning
Operating the cash register
Dollar General Lead Sales Associate
This job entails the roles of a cashier and stocker and you will be required to take charge in the absence of the store manager or assistant store manager. Your duties will be focused on maximizing company profit, customer satisfaction, and teamwork while protecting company assets ad cutting down losses.
You will also be in charge of the following:
Unloading trucks by store processes
Operate cash register
Help in the maintenance and cleaning of the store and facilitate a safe and secure workspace.
Provide excellent customer service and leadership
Open and close the store
Dollar General Assistant Store Manager
The assistant store manager supervises members of staff and their day-to-day activities in terms of merchandise handling, paperwork, and deposit handling. This person is also in charge of stocking and cash functions.
You will be the driver of all things that will maximize profitability and customer satisfaction while protecting company assets and reducing losses.
You'll also be in charge of the following:
Opening and closing the store at last twice per week
Assisting the store manager with some duties such as roster scheduling, training, and safety meetings.
Helping with the maintenance and records of inventory and damage control
Assisting in ensuring the store is keeping strong financial standings via strict cashier accountability and other control mechanisms such as refunds and overrides, and depositing of money in the bank
Involving yourself with overseeing store activities in the absence of the store manager
Dollar General Store Manager
This position puts you in charge of all the management of staff and store processes and this includes aspects such as ordering, receiving, stocking, display, selling, staffing, and training.
Your duties will also include:
Recruitment and training of new staff according to federal and state labor laws
Making staff compensation recommendations and promotions
Relaying the performance, conduct, and safety requirements to all members of staff
Ensuring the store has enough hands on deck for day to day activities
Personally opening the store at least twice per week
Maintaining inventory records and damage control
Ensuring the finances of the store are in order via all of the control mechanisms put in place
Dollar General Distribution Center Jobs
There are 17 distribution centers for this company scattered across the United States. These are the following types of careers available in distribution centers:
General warehouse
Inventory control
Human resources
Maintenance positions
Training jobs
Administrative careers
In the distribution centers, you'll find open positions such as general warehouse, inventory control manager, warehouse supervisor, maintenance supervisor, receiving checker, cycle counter, and many more.
Dollar General Warehouse Worker
A warehouse worker in this position is in charge of sending and receiving all the merchandise in the distribution center. Additionally, this employee is entrusted to perform many duties all around the warehouse to ensure a safe working place that helps the movement of merchandise in and out of the facility.
This is the most common position in the Dollar General warehouses and is worth going after as an entry-level position. You are provided with all the training you need and if you are a self-starter, you will quickly learn the position and excel at your job.
How to Apply for a Job at Dollar General
The best way to apply is using the Dollar General application online process.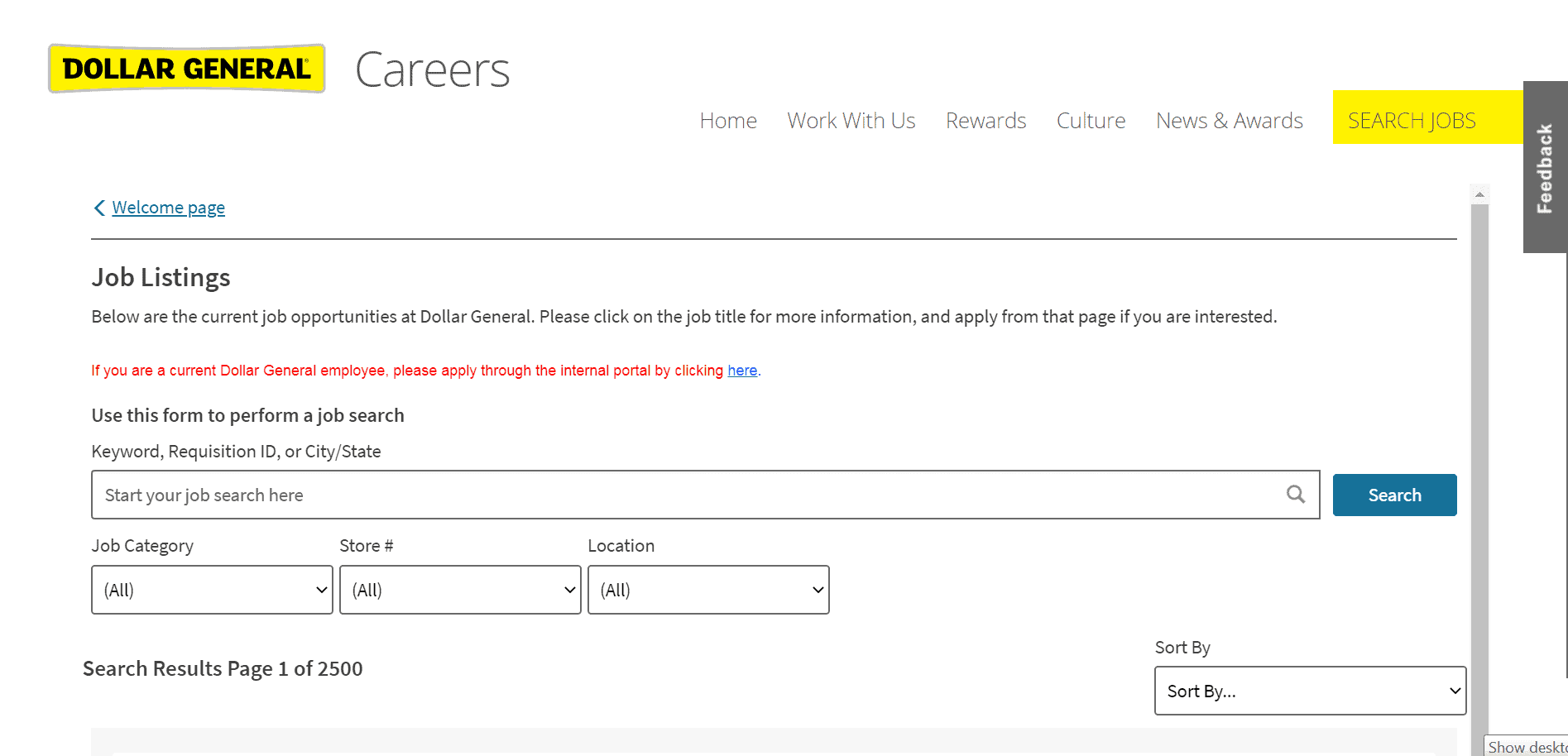 Here are the steps to take:
Visit the careers website.
Click on the "Search Jobs" link.
Once you are on the next page, click on the "location" box and choose "zip code" and enter your zip on the box right next to the location box.
In the "Find jobs within" enter the radius of miles away from your home you would consider for employment.
Click the "Search" button and the results will be displayed.
Choose the position you want and click the link.
On the next page, read the job description and requirements, then click the "Apply" button.
Enter your email on the next page and begin the Dollar General application process.
To make the process easier for you, you can download this "Dollar General Application Instructions Manual."
The application includes assessment tests. These are mostly common sense questions geared toward getting a logical response to the questions asked. See this excellent article on how to prepare for a job assessment test.
Dollar General Hiring Process
Once you submit your application online complete with the assessment tests, the system will automatically send you an email confirming the company has received your application.
Due to the high number of people who apply every day, Dollar General staff simply can't reach out to everyone who applies to let them know they were either picked to advance to the next step in the hiring process.
So, you may submit an application and never get a callback from the company. If this happens, follow up on your application within two weeks by visiting the store you applied to, in person.
Of course, you'll need to look and act your best while trying to speak with a manager at the store so they can check on the status of your application.
If you do receive a callback, you will be given your first interview date and time. For hourly workers, you can expect just one interview with a hiring manager but sometimes they will interview you twice.
If you are going after a warehouse position, a fleet job, or a corporate career, you will be interviewed at least twice before being put through the process of a background check and drug test.
From the date you submit your Dollar General application online, you can expect to get hired within 2 weeks to 2 months, depending on many factors.
How old do you have to be to work at Dollar General?
You'll have to be at least 18 years of age to work at Dollar General. this is due to the fact that you will be selling tobacco products as well as some stores that are still selling alcohol products.
This retail chain encourages young people to apply at the entry level because the job requires some heavy lifting and plenty of physical activity.
Does Dollar General drug test before hiring?
Most present and former employees according to Indeed.com say they don't drug test if you are trying to get an entry-level job. However, this is not a guarantee. Some stores still do but generally, they don't because of the high cost of performing such tests.
If you are applying for a salaried position, you can expect a full and extensive background check and a drug test, as well!
Does Dollar General Hire Felons?
If you have a felony conviction, you may be able to get hired. This all depends on what you were convicted of and how long it's been since your conviction.
The important thing is, to be honest in your application and ready to talk about how your criminal past will not affect your job performance in any way.
The Interview Process
If you're going after an entry-level job, you can dress casual or business casual. 
The interviewer may ask you 1 to approximately 5 questions. Sometimes, the interviewer will not ask questions and simply tell you about the job and try to gauge your personality during the conversation.
If the interviewer does ask you questions, they are usually very simple.
Your interview may ask you:
Why did you apply to Dollar General?
Would you be able to work any shift at any time?
Do you have a car or any other form of transportation to get to work on time?
How would you be a benefit for this company?
Do you feel like you get along well with other people?