In order to determine whether you want to work at Dollar General, it's a good idea to conduct as much research as possible on the company. Here, I'm providing you with essential information to help you make the best decision possible.
In this article, you'll see:
What the starting pay is
How many hours they give you to work full time
Part-time pay and how many hours you work part-time 
Work schedules and examples of shift hours
The many jobs available and what the salaries and hourly wages are
Employee break policy
Dress code
How employees are paid
Dollar General Starting Pay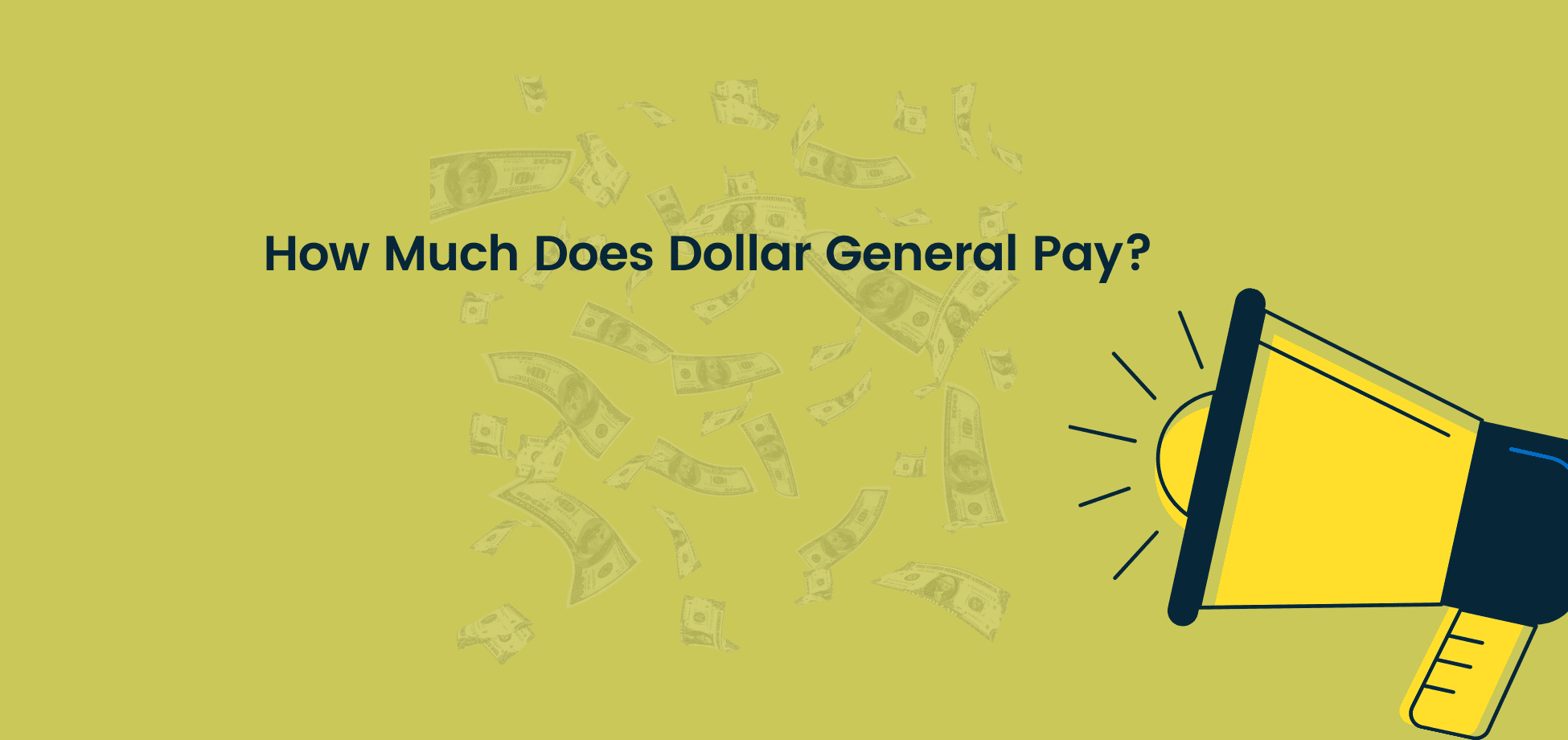 The starting pay for an entry-level Dollar General worker is approximately $8.20 an hour. This means you're starting salary will be somewhere around $17,056 a year if you work an average of 40 hours a week. Dollar Tree offers a similar pay structure as this company.
This is a fairly low starting salary in the retail business. However, dollar stores are notorious for paying their workers less than major retailers such as Target and Costco, for example.
Dollar General Full-time Hours
On average, a full-time worker at Dollar General gets between 25 to 40 hours of work every week.
This discount store is a little different from many other retailers in that you are considered a full-time worker if you work at least 30 hours a week.
Every store will be different in the handling of hours for their employees who work full-time. At DG, you may be lucky enough to secure a job at one of the stores that offer their employees at least 40 hours a week.
Regardless, expect to work some overtime with your manager's approval during the course of the year.
Dollar General Part-time Pay
The part-time pay for Dollar General is the same as what a full-time worker makes.
However, the biggest difference is that part-time employees receive very few benefits. As a part-timer, you'll have access to counseling and legal assistance, the financial wellness program, employee assistance program, and assorted discounts. 
Part-time Hours
This retail company states in its handbook that part-time workers will work an average maximum of 29 hours or less per week.
This retail chain does not guarantee how many hours you can work in a week. However, management needs to try their best to make sure full-time employees work at least 30 hours and part-time employees get as many hours as possible up to 29 hours a week.
Work Schedule
As a store hourly employee, you can expect to work the following types of shifts:
8 AM to 2 PM
9 AM to 2 PM
2 PM to 10 PM
6 PM to 10 PM
For warehouse positions at the distribution centers, the shift very greatly. Here are some examples shifts:
6 AM to 12 PM
12 PM to 5 PM
3 PM to 10 PM
4 PM to 12 PM
Salaried employees at Dollar General, such as corporate positions, work as many hours as needed until the job gets done for that particular day. Store assistant managers and managers typically work anywhere between 40 to 60 hours a week.
There will always be either an assistant manager or store manager on duty. This means if you're in a supervisory position, you will most likely work at least every other weekend.
How much does Dollar General pay Sales Associates?
Now that you know the minimum entry-level salary, you'll be surprised to know that the average Dollar General associate brings in approximately $9.10 an hour.
This indicates that this retail chain does give its hourly employees raises throughout the course of their employment. The $1.10 difference compared to the starting wage also reveals there are many workers who are willing to work at this store for more than 1 to 2 years.
The salary range is from $8 an hour to $16.50 an hour. A sales associate can earn somewhere in the neighborhood of $18,928 a year.
How much does Dollar General pay Stockers?
The average salary for this position is $8.92 per hour. This is roughly 25% below the national average for this type of position. 
Based on the average hourly rate, the yearly salary comes in at 18,553.
This is a very physical position and you will definitely have to be prepared to break a sweat during your shift!
How much do Dollar General Lead Sales Associates make?
Lead sales associates' average hourly wage is $10.25 an hour. This amounts to $21,320 a year.
The salary can start at $8 an hour and go up to $17.50 an hour. Be aware of the huge responsibility you can have with this position. When store managers are not on duty, you will assume their role and be responsible for the entire store.
Dollar General Assistant Manager Pay
The average salary for an assistant manager is approximately $36,600 per year. This means your hourly rate is equivalent to $17.60 an hour.
However, due to the number of hours, you will work at this position, you will get paid much less if you base it on your hourly rate. For example, if you average approximately 47 hours a week and you calculate the figure using the number of hours worked in a week, your hourly rate drops to $14.97 per hour.
Dollar General Store Manager Pay
The average store manager at Dollar General makes approximately $51,300 per year. Remember, this job comes with many hours of work and plenty of responsibilities.
It's not uncommon for a manager to work about 70 hours during any given week! The average pay for this type of job at this retail chain is slightly below the national average.
Dollar General District Manager Salary
The average salary for this position is about $83,500 per year. In this job, you'll oversee approximately 100 employees in your district and you will be directly responsible for increasing profitability on a yearly basis.
The salary can range from approximately $68,500-$103,000 per year. This is another job that's going to have plenty of hours of work involved but you can generally count on working Monday through Friday.
Dollar General Warehouse Worker Pay
The average hourly wage for a Dollar General warehouse worker is approximately $16.50 an hour. This is actually slightly above average.
Something very attractive about this job is that it usually operates its distribution centers as a 12- hour facility. Obviously, this means you don't have to worry about working an overnight shift. On the flip side, for those of you who like to work midnight shifts, there are few positions in this company with that type of work schedule.
Break Policy
The policy for taking breaks at this company is as follows:
You get one unpaid 30-minute meal break if you are scheduled to work six hours or more
Consult with your manager for the best time to take your meal break
Keep in mind that for a meal break, you have to clock out and clock back in
Generally, you will be allowed two paid 15-minute breaks during the course of your shift
Dollar General will work with you and help you make arrangements if you're breastfeeding your child
Dress code
For Dollar General stores, here's what you can wear:
Plain polo shirts and short or long sleeve collared shirts without logos
Pants or skirts (management staff will approve the colors)
Black jeans and Capri pants are acceptable
Shirts have to be tucked in and a shirt or blouse must cover your belly area
You can't wear any open-toed shoes or sandals
Hosiery or socks must be worn
All hair on your body must be neat and groomed and has to be of natural color
Nobody piercings are allowed unless they are on your ears
For distribution centers and Store Support Center dress codes, see the Dollar General employee handbook.
Does Dollar General pay weekly?
Before we get into when Dollar General pays its employees, first you should know the company pays its employees through:
A direct deposit
A debit paycard
An actual paycheck
For salaried employees, you will be paid twice a month, on the 15th and the 30th. The exceptions are if your payday falls on the weekend or a holiday. In this case, you'll receive a check on the Friday afternoon before your pay date.
For hourly employees, you will be paid weekly. Your pay period will begin on a Saturday and will end on the following Friday. Be aware that one check is always held at the beginning. This means you will not receive your first paycheck until you have worked two weeks at the store.
For the Store Support Center and the workers in the Distribution Center, the pay period will begin on a Sunday and will end on a Saturday. In these positions, you are also paid weekly.
Featured image courtesy of Random Retail from PA, United States, CC BY 2.0, via Wikimedia Commons.