Currently, over 90% of Domino's pizza stores are franchise-owned. Why is this important and what does this mean to you? This may be an important statistic for somebody wanting to get their feet wet in the pizza business by learning the business inside and out and eventually owning their own store. 
In fact, many of Domino's franchise owners started out as customer service representatives or delivery drivers. If you have dreams of owning your own business, this may be an incredible opportunity for you because the amount of money it takes to open up a franchise is something that can be within reach for you if you set your mind to it.
On the contrary, joining forces with a franchise owner puts you in a position where you may not get the same types of benefits other workers get when they work full-time.
Working at Dominos
Surprisingly, for a pizza store chain, people who have worked at Domino's generally give good reviews based on their experiences.
Here are some pros and cons of working at this pizza chain as reported by employees who are currently working as well as those who have worked there in the past:
Pros
The working atmosphere is fun and fast-paced
It's an excellent job to improve your customer service skills
Working as a customer rep teaches you how to multitask efficiently 
For students attending college, it's the perfect part-time job because of the work schedules
50% discount off food while working, and sometimes the food is free
Management generally treats their employees very well
Cons
The pay is too low
It's difficult to take a break
For delivery drivers, it puts too much wear and tear on your vehicle
No health benefits package unless you are the store manager
The temperatures can get very high in the kitchen/baking area
As a customer service rep, you have to manage multiple calls and take orders as efficiently as possible
History of Domino's
Domino's Pizza started in 1960 in Ypsilanti, Michigan and was originally called DomiNick's. 
Brothers Tom and James Monaghan both worked hard to make the first store a success and before the first year was over, James Monaghan gave up his share of the business and move on while his brother Tom continued until he had three pizzerias by 1965.
One of Tom Monaghan's employees, Jim Kennedy, suggested that he change the name from DomiNick's to Domino's in 1965, and Monaghan officially began Domino's Pizza, Inc. It currently has over 17,000 locations worldwide and employs over 290,000 workers.
Jobs at Domino's
There are four main categories of jobs at Domino's which make the the store run as efficiently as possible. They are:
Delivery driver
Customer service rep
Assistant manager
General manager
Domino's Delivery Driver
Delivery drivers are obviously a huge part of the success of this pizza chain. Domino's now also offers electric bike delivery and each franchisee who wishes to participate invests up to $1,400 for each of those bikes.
You are not required to deliver each pizza order in 30 minutes or less like in the old days. However, you are expected to get the pizza to the customer as quickly and as safely as possible.
To be a delivery driver for this pizza chain, you have to be at least 18 with a valid driver's license and a driving record that's safe enough to meet the company standards. Your vehicle has to have the required insurance and you have to have a mobile phone to be able to navigate and read a map to locate customers' addresses.
Domino's Customer Service Rep
This is the most basic position where you will be sometimes referred to as a team member or a crew member at Domino's.
Customer service representatives are the jack of all trades at each Domino's. They prepare the food, provide customer service, fill the orders, take calls, and maintain the cleanliness of the store.
Your assistant manager and other designated team leaders at your store will be able to provide you on the job training. 
This is a position where you will be required to stand for long periods of time to be able to get the work done. You're also required to be able to lift boxes that contain supplies and ingredients and way up to 50 pounds.
Applicants who want to become pizza makers will be hired as a customer service rep and trained specifically in the kitchen area. Most employees who apply at this team member position learn how to perform work in every area of the pizza take-out restaurant.
Domino's Assistant Manager
This is a fast-paced and stressful position where you will be handling everything that happens in your store regarding employees and customers during your shift. 
As an assistant manager at Domino's, you'll be controlling all the costs of the store as well as the inventory going in and out. You will also be helping your general manager work out the staff's schedules, and you will be focusing on making the store as profitable as possible.
For this job, you will have to possess some good basic employee management skills so that you can help them reach their full potential well keeping the morale high.
You will also be expected at times to actually make and bake the pizza and make deliveries when other drivers are not available!
Domino's Manager
As a general manager for your Domino's Store, you are directly responsible for its profitability. You'll be able to achieve this by:
Supervising the efficiency of your employees as they work hard and  provide excellent customer service
Hiring the right personnel and terminating employees if and when necessary
Controlling the costs associated with your store
Guiding your assistant manager to reach the stores goals
A Domino's general manager may also have to make pizza deliveries if he or she believes it will help make the store more profitable during rush hours. 
This is a position where even though you are the head supervisor, you may have to take it upon yourself to take charge of any part of your store in order to make it a success.
You will report directly to the franchise owner or upper management and they will give you occasional directives and/or initiatives.
Domino's Distribution Center Jobs
Domino's has 18 warehouses known as its distribution centers, located mostly in the United States but also one in Canada.
This allows this pizza chain to get their ingredients out quickly to its stores and keep the success of their stores building on a daily basis. 
There are many different types of positions to choose from in their warehouses. 
Some examples of available jobs are:
Warehouse team member
Associate-warehouse lead
Yard jockey
Team leader
Receiver/inventory control
Sanitation team member
Delivery and service helper
Warehouse supervisor
Transportation supervisor
Manager-supply chain center
Domino's Warehouse Team Member
This is a position where you will be very hands-on and physical while moving the inventory from the trucks and loading them onto other trucks for delivery.
You will perform other duties which include maintaining the cleanliness of your warehouse and doing whatever it takes to meet your distribution center's goals as directed by your supervisors. This means you may have bathroom duties! 
As a warehouse team member, you will be a full-time employee eligible for a comprehensive health benefits program. 
Domino's Internships
Domino's offers summer paid internship programs in Ann Arbor, Michigan, and New Boston, Michigan. They run from the middle of May to August, every year.
It has a leadership development program that prepares college students to be able to lead and help grow Domino's brand. This is a program that teaches young adults how do you become strategic leaders as vice presidents and directors of the company.
Participants can take the summer internship program that lasts between 8 to 10 weeks then moves on to bigger and better things as students get a chance to become assistant managers and general managers for 6 to 12 months, for example.
It's a program that paves the way to success for many young adults and worthy of considering.
Here are other internship programs available to Domino's:
Accounting and finance
Franchise operations and training
Information technology
Communications
International
Legal 
Marketing
Supply chain
Human resources
How to Apply at Domino's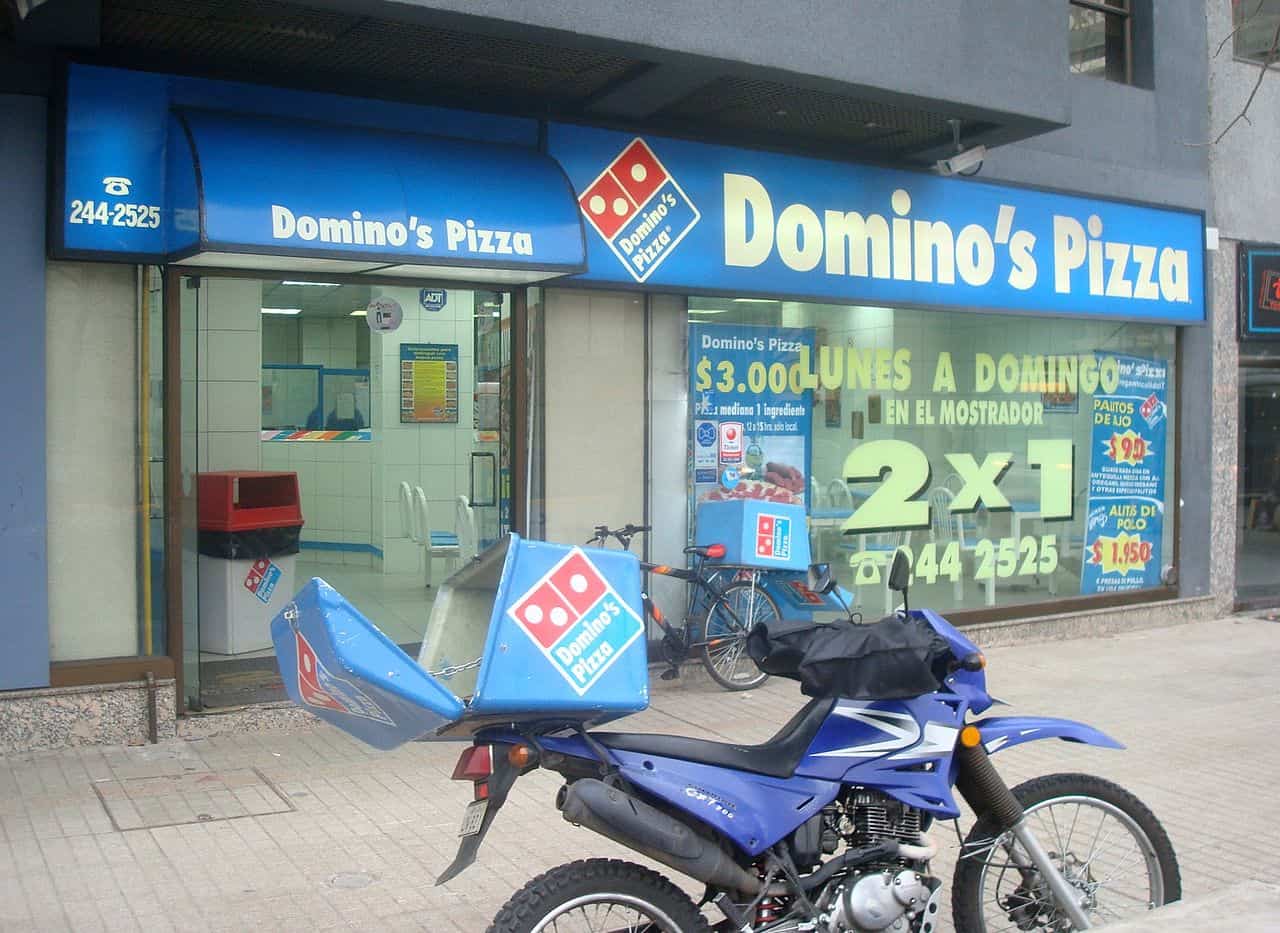 Applying at Domino's is very straightforward and simple if the store you choose allows you to apply online. However, there are many locations that would prefer for you to apply in the store. Use this Domino's PDF application as a guide.
My recommendation is to apply in person whenever possible. That way, you can dress up looking your best in business casual clothing, introduce yourself to the general manager or possibly even the store owner, and say that you would like to fill out an application.
If you are going this route, be clear and decisive about which job you would like to apply for. Even if you are told to go home and apply online, you have an advantage over other applicants because the store personnel will have already gotten a chance to know who you are.
Make sure you leave your contact information with someone who can make a decision or is involved in the decision making process, such as the general manager or assistant manager.
If you are going to apply online, visit the careers website and follow the steps below:
Click on the "Stores" link on the navigation bar.
Select from one of the "Job  function" categories and make sure your location is entered just above it.
Look at the available positions, choose one, and begin the application process.
You will have to register with an email and a password to be able to access the application.
Domino's Application Process
For hourly positions, it's not uncommon to walk into a Domino's store, ask to apply in person, and get hired on the spot. This sounds like it's very old-school but the truth is, you can imagine how many job openings there are at any given time to work at your nearby Domino's.
However, for most applicants, once you apply either in person or online, you can expect to be interviewed in person at the store of your choice within one week. Additionally, you will more than likely not be subjected to a background check or even a drug test if you are going after one of the hourly positions.
Therefore, it's important to show up at the store while you apply with the basic information you need when you apply anywhere, such as; your work and education history, personal references, and your Social Security number. Be as prepared as possible by looking sharp and bringing a pen to write with.
For store management positions, there is a chance you will be subjected to a background check as well as a drug test. This all depends on the preference of the franchise store owner. 
The most effective way to become an assistant manager or general manager is to work your way up to that position. If you are coming cold off the street with managerial experience elsewhere and trying to land a job as a general manager, you can apply online and submit your resume and CV by following the easy instructions. 
You will probably be given an interview over the phone within 1 to 2 weeks, and if you pass that stage, you will be asked to come in and interview in person. If you are selected for the position, you will probably be hired within 1 to 4 weeks after applying.
Minimum Age to Work at Domino's 
The minimum age to work at this pizza chain is 16-years-old but you are not allowed to be a delivery driver until you are 18. Therefore, you can consider one of the many part-time customer service rep jobs in your area if you are under 18.
Many teenagers boast about how working at Domino's is a lot of fun and it gives you a chance to earn a decent amount of extra money. Additionally, there are quite a few stories about people who have joined Domino's at the age of 16 and have gone on to own their own franchises.
Does Domino's Drug Test?
Generally, it does not drug test applicants who are trying to get an hourly job. The costs involved are generally far too great for an individual franchise owner.
If you're applying as a general manager, you might have to take a drug test in certain stores. Again, this all depends on how your franchise owner conducts his or her business.
Keep in mind if you are applying for any job in one of the few stores fully-owned by Domino's (not franchise-owned), you may be subjected to a drug test before being hired.
Benefits Plan
For hourly store positions, you're generally not going to be offered any benefits plan other than some stores which offer their part-time and full-time employees a matching 401(k) as well as discounted food. 
In some instances, hourly full-time workers who are loyal to their employers may be able to secure a health benefits package from the store owner/franchisee.
Distribution center workers, store managers, other salaried, and corporate employees are entitled to the comprehensive health benefits package which includes:
Medical, dental, vision care
Flexible spending accounts
Health savings accounts
Wellness program
Domino's clearly states on their careers website that benefits programs at franchise-owned stores vary greatly.
Final Thoughts
If you are a teenager who is 16 to 17 years of age, this may be the perfect part time job for you while you finish high school.
It gives you a great chance to learn all about customer service and to actually deal with sometimes difficult customers. It will also teach you to be responsible and help you make quite a bit of money along the way.
This job is also very good for people who need a second job to meet their income goals. The delivery driver position is ideal for somebody with an economical car who wants to make some extra cash on the side on a consistent basis. In some areas, delivery drivers say they make quite a bit of money on tips every night.
And finally, if you're looking for a career at Domino's, the only goal I would recommend is to choose the franchise owner route. You can gain enough experience in the store by immersing yourself in every facet of the business and get all the experience necessary to open up your own franchise one day. 
Keep in mind that there are some franchise owners who have more than one store and each store brings them an average gross income of approximately $80,000-$120,000 a year.