7-Eleven usually hires workers on a constant basis. If you can present yourself well, you can march down right now to your local 7-Eleven, meet the owner or manager, and inquire about any open positions.
You will likely have a great shot at getting hired.
Before you do so, I've listed some important information to help you determine whether this job is for you.
In this article, you'll see:
The starting pay to work at 7-Eleven
The full-time hours usually assigned
Part-time pay and part-time hours
Jobs available and what they pay, on average
Does 7-Eleven pay weekly?
How often 7-Eleven gives raises
The 7-Eleven break policy for employees
Dress code information
7-Eleven Starting Pay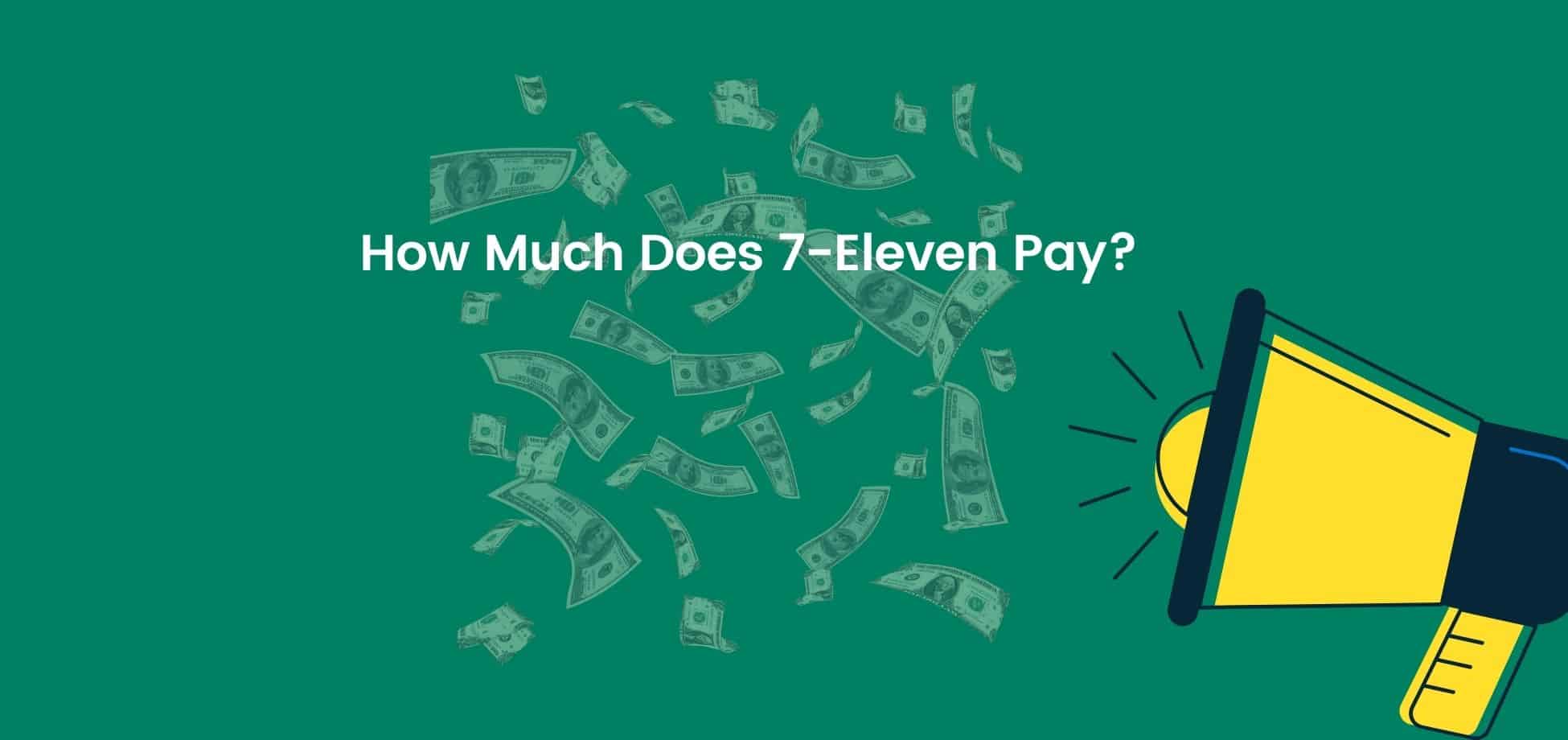 The starting pay for an entry-level associate is usually at the state's minimum wage or slightly higher.
So, for example, if you find employment at the entry-level in South Carolina where the minimum wage is currently $7.25, you would make approximately $7.50 to $8 an hour.
This would only be approximately $320 a week and a yearly salary of $16,640. With this type of salary, you could never even consider supporting a family, and you would have a hard time even supporting yourself. 
Therefore, it's not unusual for this job to actually be a second job for the average person. Those who can survive on $16,640 a year are probably living in extremely modest conditions or are in a home where they don't have to pay much rent.
7-Eleven Full-Time Hours
Full-time workers receive approximately 40 hours of work every week. It is not uncommon for the average sales associate to have to work at least one overtime shift every two weeks.
In retail jobs such as these, workers routinely call out sick. This places management at a disadvantage and a manager will typically rely on someone who is dependable to cover their shift.
7-Eleven Night Shift Pay
In many 7-Eleven stores, and definitely the ones that are corporate-owned, you will receive an extra $.50 an hour for working the night shift.
Franchise-owned 7-Elevens don't have to adhere to the same policies as corporate stores do. Therefore, if you are going to be working the night shift, it would be wise to inquire if your store is corporate-owned or owned by a franchisee.
Keep in mind some franchisees adhere to this policy and will pay you the extra $.50 an hour.
7-Eleven Sales Associate Pay
The average sales associate working at 7-Eleven makes approximately $11.35 per hour. This amounts to $454 a week and a yearly salary of $23,608.
Since this job requires many employees to occasionally work overtime, you can figure one overtime shift into many of the 26 pay periods throughout the year. This will give you an extra $2,500 a year, on average.
7-Eleven Senior Sales Associate Pay
A senior sales associate at 7-Eleven makes about $11.85 an hour, on average. This would equal $474 a week and $24,648 a year in salary.
Just like the sales associate, with this position, you can expect to work occasional overtime. Many senior sales associates work about twice the overtime the average worker would have to, so it could mean an additional $3,000-$5,000 a year.
7-Eleven Assistant Manager Pay
Assistant managers at 7-Elevens are poorly paid in comparison to other retail store jobs. The typical hourly rate for this position is $12.75 an hour.
That's only $510 a week and $26,520 in yearly salary. This is about 50% below the national average for this position.
On the bright side, if you can work an assistant store manager job at 7-Eleven, it translates into excellent work experience if you decide to apply for an assistant manager job in another higher-paying retail store.
7-Eleven Store Manager Pay
A typical 7-Eleven manager makes roughly $16.25 an hour. This is far below the national average for a retail management position.
It amounts to $650 a week and a yearly salary of only $33,800.
Does 7-Eleven Pay Weekly?
Some 7-Elevens pay biweekly and some pay on a weekly basis. Corporate-owned stores pay biweekly and franchise-owned stores pay on a weekly basis.
The payday for both is usually on a Thursday. 
How Often Does 7-Eleven Give Raises?
While corporate-owned 7-Elevens offer you a yearly performance review and give raises after every year of employment, franchisee-owned stores don't have to adhere to this policy.
This is both good and bad.
For example, a franchise owner has the flexibility of offering a faithful employee a $1 an hour raise at any given moment while corporate stores don't offer that option.
There is no requirement for 7-Eleven to give you a raise after a certain amount of days worked. 
The most important thing is to keep the lines of communication open with your management staff to let them know you believe you have worked hard for the company and are worthy of either a raise or promotion.
Break Policy
The break policy at 7-Eleven is pretty liberal. As long as you work it out with your coworkers and management staff, you shouldn't have a problem when you have to take a paid break during your shift.
Simply try not to make it excessive and expect two 15-minute breaks during each 8-hour shift and you should be fine.
Additionally, for an 8-hour shift, you should receive one unpaid 30-minute lunch. Some franchise owners will grant you up to one hour for an unpaid lunch or meal break.
Dress Code
7-Eleven will issue shirts with the logo and all you need to do is wear dark colored slacks, in most stores.
Some stores vary in what they expect employees to wear. For example, while one store allows jeans, another one does not.
The best thing you can do is consult with your management staff before you arrive for your first day of work. Before you apply, you may want to visit your local 7-Eleven and see what the employees are wearing.