Are you looking for a restaurant career and wondering, "How much does Chili's pay an hour?" If you are, take a look at this article and use it to not only find the type of job you want at this restaurant chain; see the type of money you can earn doing something you love.
In this guide, you'll see:
Chili's Starting Pay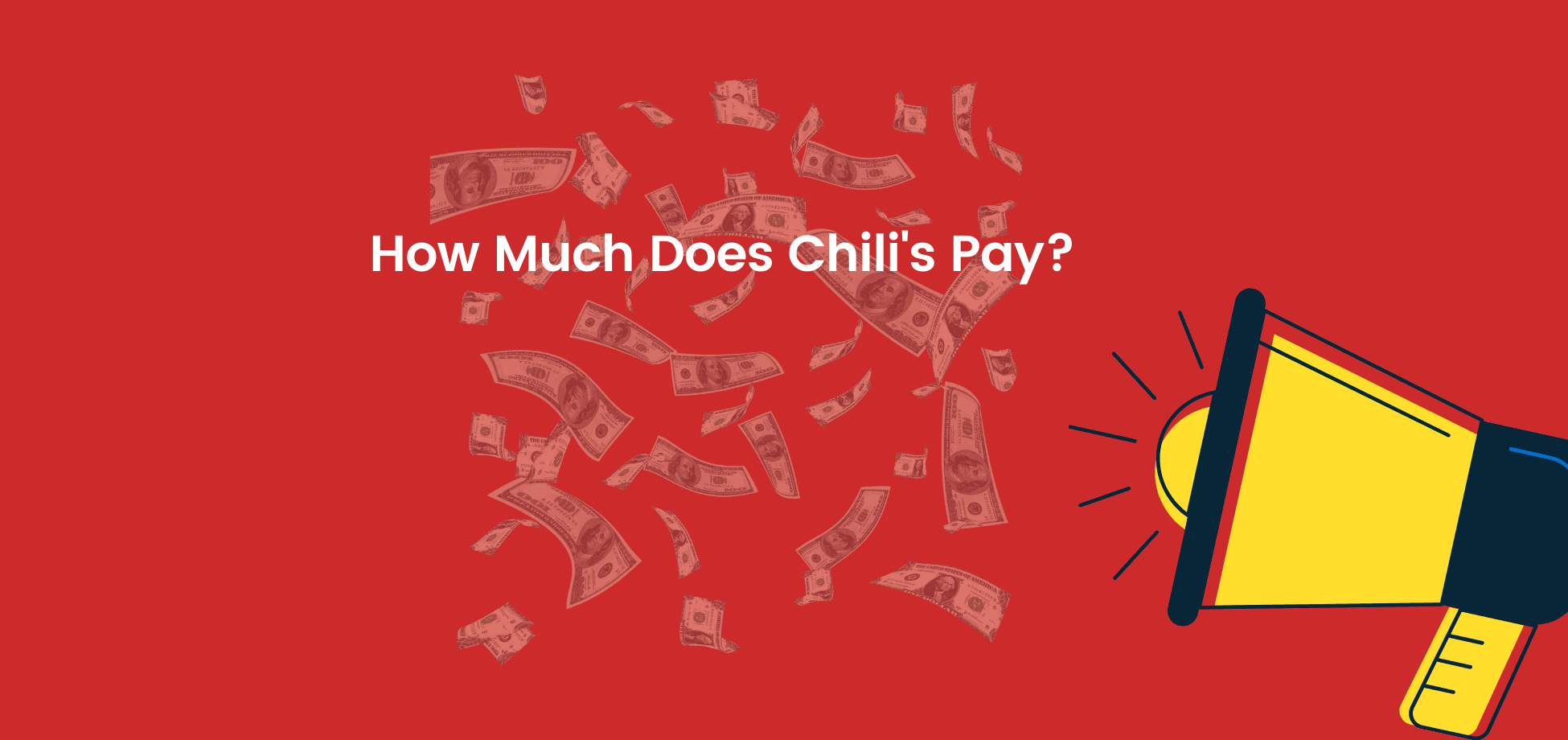 The starting pay at Chili's for entry-level hourly workers such as a host or dishwasher is between $11 and $12 an hour. If you are starting out as a server, you can expect to make roughly $15 an hour with tips right away, and it should increase thereafter.
Chili's pay is slightly above average all-around when it comes to casual dining restaurant salaries.
Chili's Host Pay
*Chili's pay rate for host/hostess is about $11.47 an hour. This would be approximately $458 a week, assuming you work a full-time schedule, and $23,857 a year.
The host is responsible for providing a warm and friendly environment to guests, seating them, and ensuring that the restaurant is clean and neat at all times.
Chili's Server Pay
*Chili's pay per hour for servers is around $18.12 an hour, with tips included in this figure. So, it would be a weekly paycheck of about $724 and a yearly salary of $37,689.
The server is responsible for providing excellent customer service to all guests in a timely and professional manner. He or she is responsible for the cleanliness of the restaurant, maintaining the restaurant's food and beverage inventory, making sure guests are well taken care of, and ensuring that all guests are treated with respect.
Chili's Dishwasher Pay
A dishwasher at Chili's can earn about $14.68 an hour, or $587 a week. This equates to a yearly salary of approximately $30,534.
The Dishwasher is responsible for cleaning and maintaining the restaurant and dishwashing equipment at Chili's restaurants.
Chili's Bartender Pay
A bartender at Chili's works his or her tail off and earns about $18.29 an hour, as a result. This equals $731 weekly and $38,043 yearly.
The Chili's Bartender is responsible for maintaining the highest level of customer service and safety in order to provide a quality experience to every guest. This worker is also responsible for ensuring that the restaurant keeps up with industry standards and that all guests are provided with a safe and fun environment.
Chili's To Go Pay
A Chili's "To Go" specialist earns a respectable $16.78 an hour, and this includes tips. Assuming a part-time employee at this position works 30 hours a week, he or she would make about $503 a week and a yearly salary of $26,176. That's not bad for a part-time job!
The Chili's To Go job responsibilities include preparing and serving food, taking orders, and running the food out to the vehicles in the "to go" lanes.
Chili's Line Cook Pay
A Chili's line cook can make an average of $15.24 an hour. This will translate into $609 a week and a salary of $31,699 yearly.
The Line Cook is responsible for preparing and cooking food in the kitchen. This includes cooking all meals, maintaining the food station, and ensuring that everything is ready for the guests.
Chili's Cook Pay
The *Chili's pay for cook averages $15.76 and this makes it $630 a week and $32,780 a year.
A Chili's cook is responsible for preparing and cooking all hot, cold, and room temperature foods in the kitchen. The cook is responsible for the preparation of ingredients, as well as the cooking, plating, and presentation of food. He or she also performs other duties in the kitchen to ensure that service times and food quality is at a high standard.
Chili's Shift Leader Pay
Chili's pay per hour for a shift leader is approximately $14.82. This comes in at around $592 a week and a yearly salary of $30,825.
A Chili's shift leader is responsible for the daily operations of the restaurant and must be able to work under pressure with a high level of accuracy and efficiency. This includes leading the shift, supervising and training employees, conducting inventory, ordering supplies, managing operational risk, and ensuring company policies are followed.
Chili's Assistant Manager Salary
An assistant manager at this restaurant chain makes an average of $58,389 yearly, plus up to $5,100 in bonuses.
The Chili's assistant manager will be responsible for supervising, training, and coaching the staff, ensuring that guests receive a great experience, and ensuring that the restaurant operates efficiently to achieve operational goals. This position also manages the operational aspects of the restaurant such as scheduling, inventory control, and ordering.
Chili's General Manager Salary
A general manager can earn an average of $72,980 a year and up to $13,400 in bonuses.
The General Manager is responsible for managing all components of Chili's operation and ensuring that the restaurant is profitable. These salaried employees may be required to cook, serve, manage guest relations, maintain a clean and safe environment, and perform other tasks as they see fit to keep operations running smoothly and efficiently.
Does Chili's pay weekly?
At Chili's, you get paid biweekly. The pay starts on a Monday and ends on the second Sunday after that Monday.  
Therefore, any days you work during that 14-day period is going to reflect on your paycheck on the following Friday after the pay period ends on a Sunday.
Chili's Pay Raises
Pay raises rarely occur in the restaurant industry, and Chili's is no exception. Employees who have worked there say it's extremely difficult to get a raise. If you are a server or bartender, some say you can forget about it.
Even people who have worked as a host say it's very difficult to be considered for a raise. Generally, according to employees, management, and kitchen staff members are more likely to get a raise than any other employee at Chili's.
Chili's Full-time Hours
At Chili's, if you work more than 34 hours a week, you are considered a full-time employee. Full-timers normally get anywhere between 35 and 40 hours of work every week.
Chili's Part-time Hours
Part-time employees at Chili's can get anywhere between 10 and 30 hours of work every week. Don't be surprised if you're asked to work a double shift on occasion. This is because the restaurant industry is known for people calling out sick.
Chili's Shift Hours
There are a variety of shifts you can work at Chili's.
Here are a few examples:
6 AM to 3 PM
7 AM to 4 PM
8 AM to 2 PM
11 AM to 4 PM
3 PM to 8 PM
3 PM To 11 PM
4 PM to 12 Midnight
5 PM to 10 PM
11 PM to 7 AM
Chili's Sick Leave
Hourly employees say there is no opportunity to accumulate paid sick leave days. Managers are able to accumulate up to 9 sick days a year, however.
Basically, if you can't come to work because you're sick one day, and you are an hourly worker, you don't get paid. This is typical in the restaurant industry due to the high turnover of employees every year and the slim chance of becoming a full-time staff member with good benefits.
Chili's Break Policy
Breaks are hard to come by at Chili's. Most workers say breaks are highly inconsistent and that you have to communicate with your management in order to be able to consistently get paid breaks during your shift.
Featured image courtesy of Anthony92931, CC BY-SA 3.0, via Wikimedia Commons.