You probably landed on this page because you were wondering, "How much does ShopRite pay its employees?" Below, I'll provide, in great detail, the type of pay you can expect if you want to join forces with this company.
ShopRite is now one of the largest supermarket chains in America, with over 320 locations across six states in the US. It offers customers grocery shopping, pharmacies, and an online presence.
See the following ShopRite information below:
ShopRite Starting Pay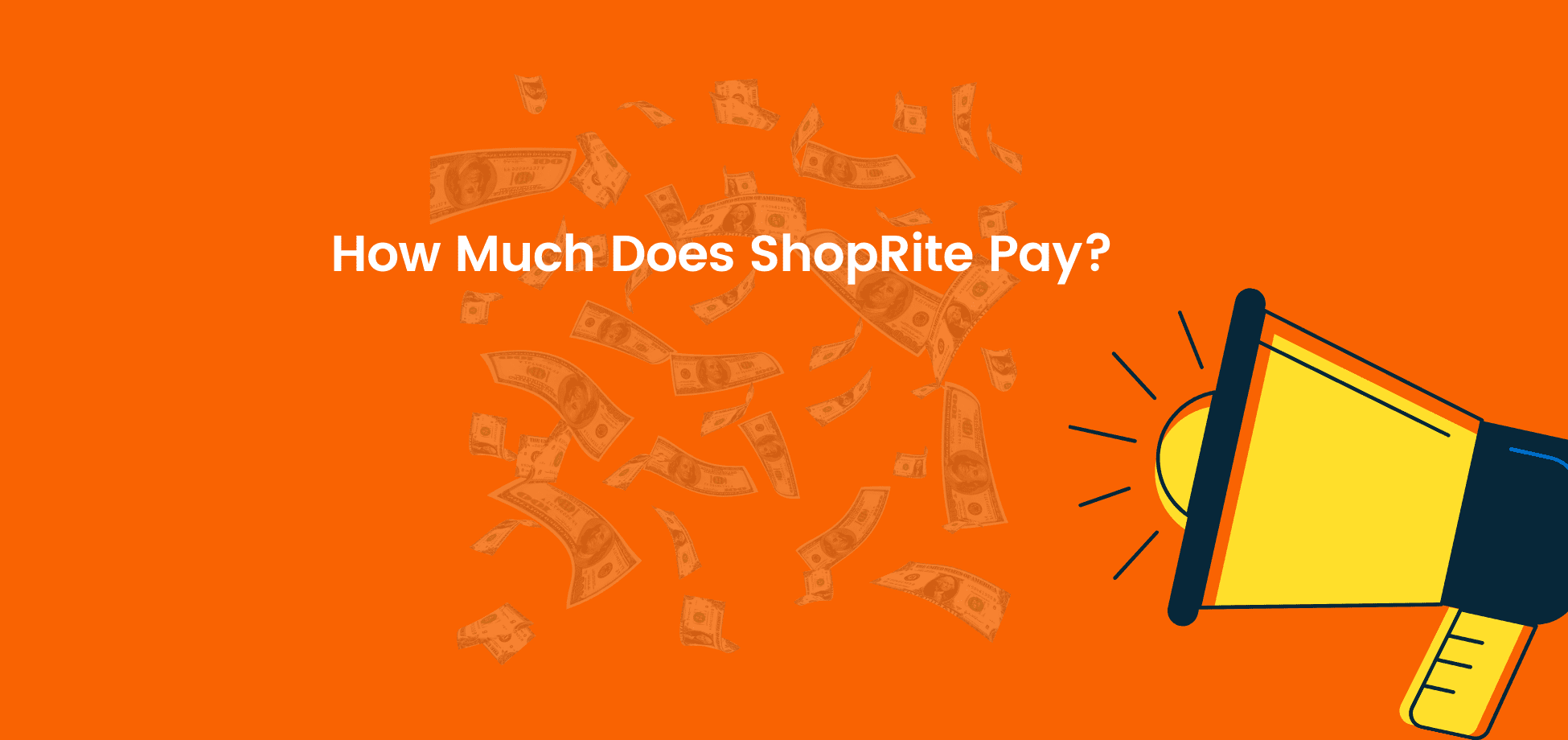 The ShopRite pay for entry-level workers is between $10 and $11 an hour. That's hardly a living wage, but many employees say there's a chance to earn pay raises periodically for hard work.
ShopRite Cashier Pay
The ShopRite pay per hour for cashiers averages around $11.93 an hour. That's $477 a week for full-time workers and a yearly salary of $24,814.
The cashier at ShopRite is responsible for providing a wide range of customer services, including checking out customers, maintaining store displays and inventory, and handling returns and exchanges. They also perform duties related to cash handling, processing transactions, and issuing credit cards.
ShopRite Bagger Pay
Baggers can make an average of $10.55 an hour at ShopRite, and this doesn't even include tips for helping customers load their products onto their vehicles. Potentially, these workers can make about $422 a week and this is equal to a $21,944 yearly salary.
These are great jobs for younger workers who want to gain some retail and customer service experience.
ShopRite Deli Associate Pay
A deli associate at ShopRite can earn an average of $12.91 after a couple of years of experience. This makes it a $516 weekly salary and about $26,852 a year.
The deli associate is responsible for assisting customers in the deli and bakery. This includes helping customers in selecting items, preparing them, and/or packing them for their orders. The deli associate is also responsible for maintaining a clean and orderly store while making sure customers are satisfied.
ShopRite Produce Clerk Pay
The ShopRite pay rate for produce clerks is around $13.22 an hour. This will give a worker in this position a chance to earn $528 a week and a yearly salary of $27,497.
There are other clerk jobs in ShopRite stores, and they all pay similarly to the produce clerk. You'll find clerks in the following departments:
Service
Bakery
Seafood
Pharmacy
Food
Sales/Store
ShopRite Pharmacy Technician Pay
The ShopRite hourly pay for a pharmacy tech at this retail chain stands at an average of $13.27 an hour, and this equals a weekly paycheck in the neighborhood of $530 and $27,601 yearly.
This position carries the responsibility of assisting customers with ordering prescriptions, preparing medications, and dispensing prescriptions and over-the-counter medications. The pharmacy technician also assists with stocking pharmacy shelves, shelving products according to the established guidelines, and maintaining a clean work area.
ShopRite Pharmacist Salary
A pharmacist at ShopRite earns, on average, $63.43 an hour. This high-paying position comes with many responsibilities and personal liability. These highly educated and trained employees make $2,537 a week and a yearly salary of $131,934.
The ShopRite pharmacist provides prescription, non-prescription, and over-the-counter medications to customers and handles customer questions and concerns. The pharmacist also assists with handling prescriptions by verifying name, date of birth, address, insurance information, and handling customer questions and concerns, including drug interactions.
ShopRite Assistant Store Manager Salary
A ShopRite assistant manager makes an average of $73,540 yearly. This position also potentially offers workers up to $4,000 a year in bonuses.
The assistant store manager is responsible for the daily operation of a ShopRite store. This worker is responsible for leading and directing the store team to align with company goals, executing marketing plans, and achieving sales targets.
ShopRite Store Manager Salary
A manager at ShopRite can potentially earn an average of $103,340 a year, and this does not include yearly bonuses that can total up to $21,000.
The store manager is responsible for overseeing the daily operations of the store and supporting the store's ability to consistently meet or exceed sales goals. This includes managing staff, promoting a positive team culture, leading safety initiatives, and providing guidance to customers.
Does ShopRite pay weekly?
ShopRite pays weekly, every Friday, for the work performed during the previous pay period. They do not hold your first paycheck, as some people believe. This would be illegal!
The confusion as to when you receive your first paycheck begins with the fact that companies use pay periods to determine how many days they need to pay their employees for a set period of time. It's likely that you will start midway through the first pay period and get paid only one or two days on your first paycheck!
ShopRite Pay Raises
ShopRite is pretty good about giving employees pay raises based on merit. For example, some employees say they initially received a .35 to .50 cent spay raise after three months of work after they were hired.
Others say it takes between six months to a year to begin seeing 2 to 3% pay raises.
ShopRite Full-time hours
ShopRite full-time employees work an average of 35 to 40 hours a week. Store managers and other store salaried positions demand that you work over 40 hours just about every week.
ShopRite Part-time Hours
Part-time workers are scheduled an average of 20 to 30 hours every week. 
You can improve this if you're a part-time worker by communicating well with your managerial staff. Let them know you're available to work for other employees who call out sick.
ShopRite Shift Hours
The shift hours can vary with each store, but here are some example shifts you may work at ShopRite:
5 AM to 1:30 PM
5 AM to 10 AM
6 AM to 2:30 PM
8 AM to 1 PM
9 AM to 5 PM
10 AM to 6:30 PM
10 AM to 3 PM
2 PM to 10:30 PM
2 PM to 7 PM
4 PM to 12 Midnight
4 PM to 9:30 PM
ShopRite Sick Leave
You can accumulate up to five sick days a year at ShopRite. If you're going to be calling out sick for any reason, make sure you call your manager well ahead of time so he or she can find a replacement for you for your scheduled shift.
ShopRite has a pretty flexible break policy. It's important to communicate well with your manager and work out predetermined scheduled paid breaks, as well as a meal break which is going to be unpaid.
Featured image courtesy of Daniel Case, CC BY-SA 4.0, via Wikimedia Commons.