Anyone who has ever driven along the streets and highways just about anywhere in the United States has come into contact with a Circle K store. As a customer of this retail chain myself, I can vouch for the fact that the cashiers at the stores always work very hard to try to get you out of there with the products you need as quickly as possible.
If you're looking for a job at a convenience store, this retail chain is in direct competition with Wawa and Speedway. In order to compare Circle K to these other stores which are also a good choice, I have including the following information in this article:
How much does Circle K pay an hour?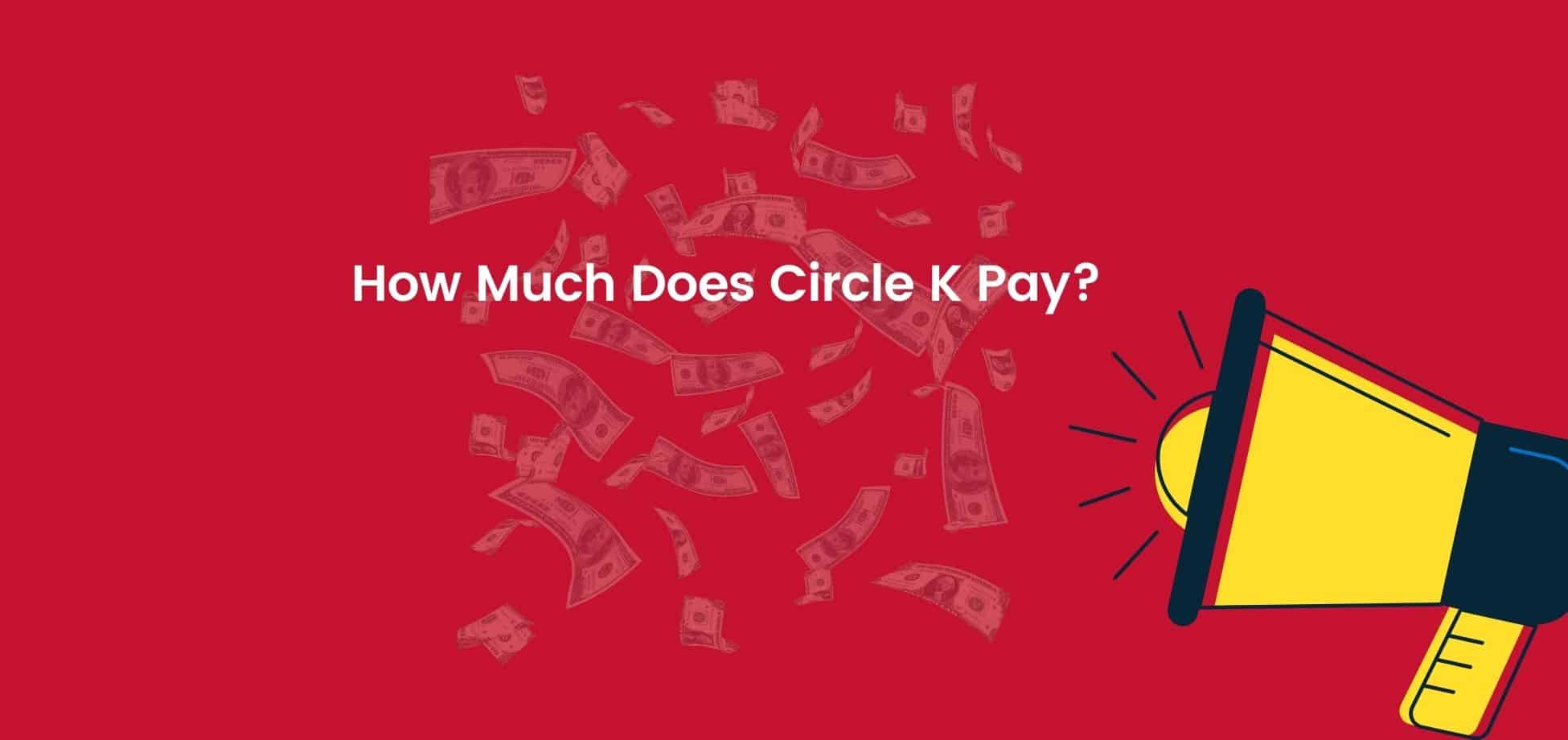 Circle K is a very successful company, so it's surprising how low it pays its entry-level workers. The average new employee makes approximately $8.50 to $9 an hour.
This is nowhere close to being a living wage. At best, if you worked 40 hours a week at Circle K at the entry-level, you would have to work another part-time job for approximately 20 hours just to be able to pay your monthly bills and cover your other expenses.
On a positive note, if you have your sights set on a management career, then a Circle K entry-level job becomes much more attractive.
Circle K Full-Time Hours
Full-time workers are assigned, on average, between 32 to 40 hours every week. Keep in mind that Circle K has a high employee turnover rate and plenty of employees calling out sick, daily.
This means a solid worker has the potential to work plenty of overtime shifts during any given month. This can lead to a much higher yearly salary even though it takes a lot of work.
Shift Hours
Examples of shift hours you might work at a Circle K are as follows:
8 AM to 4 PM
12 PM to 4 PM
12 PM to 7 PM
2 PM to 10 PM
2 PM to 7 PM
4 PM to 10 PM
10 PM to 8 AM
12 midnight to 8 AM
Circle K Part-Time Hours
Part-time workers usually get anywhere between 20 to 30 hours assigned each week. A part-timer who's not getting assigned enough work hours to be able to substantiate the reason they are working there is probably not fulfilling their potential as an employee. You have to impress management with your work ethic if you want more hours.
If you show up to work and don't prove yourself to be a dependable and hard worker on a daily basis, it's highly likely that it will take you a long time to become a full-time employee, if that's what you are going after.
Circle K Customer Service Representative Pay
The average customer service rep at this company makes about $10.35 an hour. This equals approximately $414 a week and a yearly salary of $21,528.
In this position, you can expect to work quite a few overtime hours when necessary. This will bring up your total salary to approximately $23,000-$24,000 a year.
Circle K Lead Customer Service Representative Pay 
If you're a lead customer rep, you will be in charge of the store operations when the assistant manager or store manager is not present. You will also have the responsibility of motivating and coaching your fellow associates.
The average employee working this position makes around $10.90 an hour. This would give you approximately $436 a week and $22,672 in yearly salary.
Employees in this position are also able to work a few overtime hours here and there. This may put your salary at the level of $26,000 a year.
Circle K Assistant Manager Pay
The average assistant manager in this company earns approximately $12.70 an hour. This means you'll earn approximately $508 a week and a yearly salary of $26,416.
You can also potentially earn a yearly bonus of approximately $600-$700.
Circle K Manager Salary
The average manager for this retail convenience chain earns approximately $46,350 a year. This does not include an annual bonus somewhere along the lines of $4,000-$5,000.
This salary is just about average for this type of position in a convenience store chain. However, a better choice to work as a manager would be at Wawa, where the average salary for this position is over $90,000.
Circle K Market Manager Salary
Market Managers have a job with a lot of responsibility, liability, and plenty of travel and excitement. For their efforts, they get paid an average of $67,900 a year.
The average annual bonus for this position is approximately $8500-$9000.
Does Circle K pay weekly?
Circle K employees either get paid weekly or biweekly. You're going to have to consult with your particular store.
The pay period is pretty consistent throughout the organization. It usually starts on a Friday and ends the following Thursday. Then you get paid on a Thursday or Friday of the following week.
How often does this company give raises?
After the first 90 days of full-time work, Circle K will review your performance and offer you a raise if it is well deserved. Usually, this raise is in the amount of $.25-$.35 an hour.
After one full year of work, based on your performance review, you will likely be offered an additional raise of another $.25-$.35 an hour. Therefore, an entry-level worker making $8.75 an hour on his or her first day could possibly be making from $9.25 an hour to $9.45 an hour after a year of work.
Break Policy
Breaks are very hard to come by when it comes to convenience stores. Circle K is no exception as it offers breaks whenever it's possible.
There are a few states in the US that require employers to give mandatory 10-minute breaks after every four hours of work. Simply perform a Google search and find out if your state qualifies for this.
Your best bet is to be in constant communication with your management and perform your job well so you can be rewarded with regular breaks. See more information on the different types of benefits on the Circle K careers website.
Dress Code
This company issues you a red Circle K polo shirt, a name tag, and you are expected to purchase the rest of your uniform.
You will be wearing black or khaki slacks or black or khaki Bermuda shorts that hang over the knee. Your shirt has to be tucked into your pants and you must wear a belt. A red cap can optionally be worn.
Here are a few other particular things to pay attention to:
For males, if you wear a beard, it must be neat and trimmed
In some stores, body piercings other than earrings are not allowed
For men and women, colored hair is allowed
All types of tattoos are generally allowed except for offensive ones