The following information will answer the question "how much does Culver's pay its employees" and this will give you a better idea of what you can expect to earn while working there once you are hired.
Not all employees seem to agree that the pay is good enough, according to Glassdoor.com and Indeed.com reviews. While some say it's worth it for the benefits and working environment, others say that they deserve more pay for their work.
Below, you'll see:
Culver's Starting Pay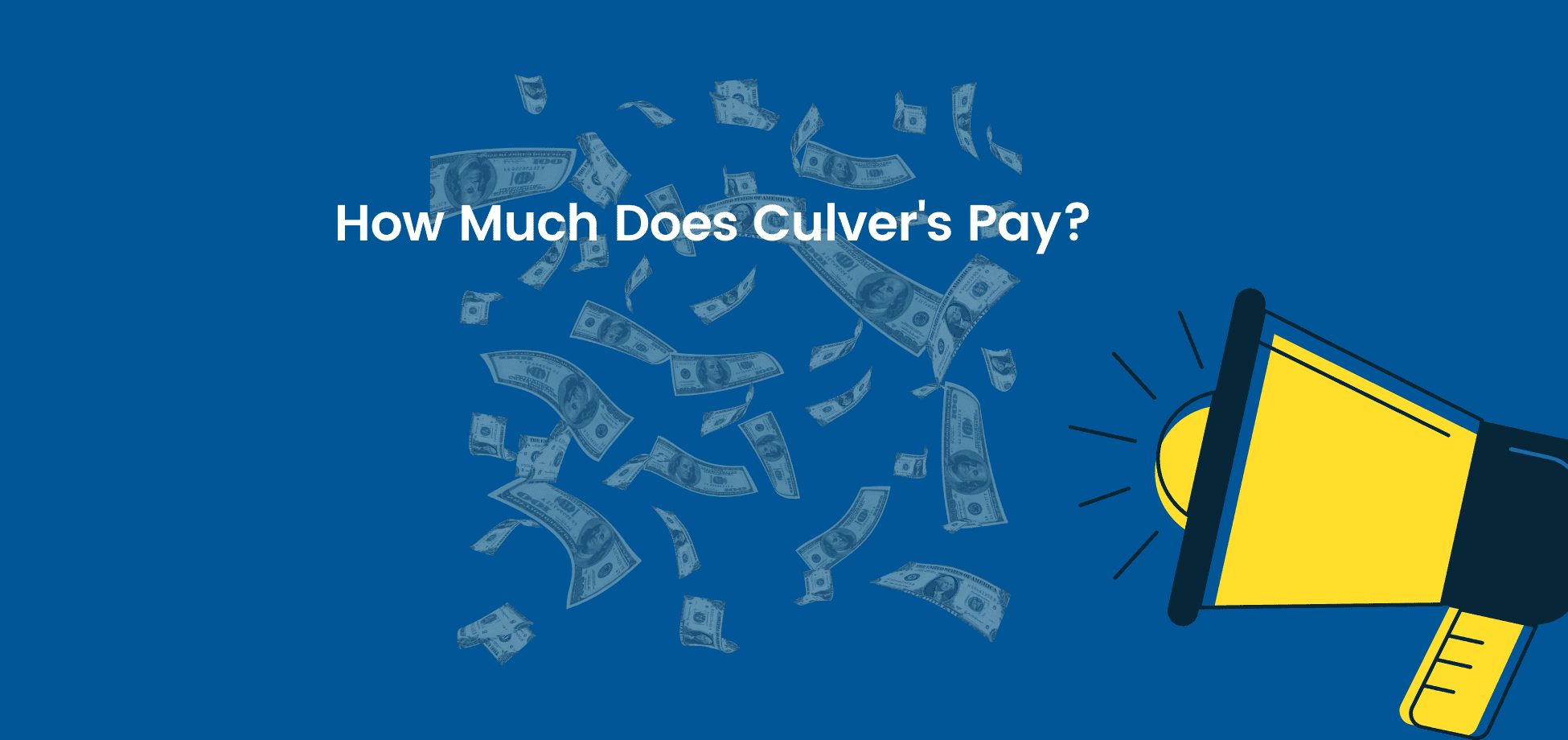 The Culver's hourly pay for entry-level workers is $10.10 an hour unless you live in a state with a higher minimum wage. Additionally, employees in some areas report they started out making only the minimum wage in their state.
Many employees say you can get periodic pay raises fairly quickly if you perform well and prove you are dependable. Therefore, it appears even though the starting pay is low, you have an opportunity to move up the ranks in your location if you put forth the effort and communicate with your management team.
Culver's Crew Member Pay
The average crew member makes $11.37 an hour, and this translates into $454 weekly and a salary of 23,648 yearly.
The Culver's crew member helps to serve the meal, clean the tables, and get food from the kitchen, and put it on their plates. Candidates should have excellent people skills as they will be interacting with customers on a daily basis.
Culver's Cashier Pay
A cashier at Culver's makes approximately $10.96 an hour. This equals $438 a week and a yearly salary of $22,796.
Culver's needs people who have previous cashier experience as well as good customer service skills, even though work experience is not required. They also want someone who is able to work in a team environment and be open-minded about different responsibilities.
Culver's Cook Pay
A Culver's cook is responsible for ensuring that all food is prepared, cooked, and served correctly in the restaurant. This employee will work with other cooks to ensure smooth operations with food preparation and service according to the company's high standards, company policies and procedures.
For this type of work, you can expect to make an average of $13.46 an hour and this equals about $538 a week and a yearly salary of $27,996.
Culver's Shift Leader Pay
The Culver's pay rate for shift leader is approximately $13.92 an hour. This means you can earn about $556 a week, and this equals a yearly salary of $28,953.
The shift leader manages the employees on their shift and makes sure they are providing excellent customer service. He or she ensures that every customer is taken care of in a timely manner with great efficiency.
These workers also respond to customer questions or complaints while maintaining the utmost professionalism.
Culver's Assistant Manager Salary
An assistant manager at Culver's makes, on average, $16.45 an hour. However, many jobs advertised for this position offer a starting salary of $16 to $20 an hour based on experience and other factors.
The Culver's assistant manager's responsibilities include staying on top of inventory levels and adhering to company policies and procedures. These workers will engage with customers, train, and coach staff members on work practices and product knowledge, and be good leaders in setting a positive example for all other staff members.
Culvers Manager Salary
A manager at Culver's can earn approximately $54,380 a year, but this does not include the possibility of earning an additional $7,000 a year in bonuses.
The Culver's manager is the person who oversees the company's restaurants and provides leadership, direction, and support to all supervisors and team members. Other duties include managing restaurant budgets, overseeing employee training, and developing strategic objectives for growth.
Does Culver's pay weekly?
Culver's pays its employees biweekly and the pay period starts either on a Saturday or Monday. If the pay period starts on a Saturday, it ends on the second Friday after that. Then, you will get paid the following Friday for the days you worked during that pay period.
The Culver's pay schedule (pay period) starts on a Monday, it will end on the second Sunday after the pay period begins. Then, you will get paid on the following Friday after the pay period ends on that previous Sunday.
Culver's Pay Raises
At Culver's, pay raises are given every 6 months to a year, depending on how your location handles giving out raises.
While some crew members have said they received a $1.00 raise on their first year anniversary, others say they have received a little less. Some have even said they received their first raise after working just 3 months.
This indicates the company culture is one where if you perform well and prove you are a dependable worker, you will likely be compensated fairly.
Culver's Full-Time Hours
Full-time employees at Culver's typically work 30 or more hours per week in order to qualify as "full time". However, while some workers say their hours fluctuate between approximately 30 to 40 hours per week, some say they work up to 60 hours every week!
Part-Time Hours
Culver's part-time hours are a great option for anyone who wants to work in the restaurant industry, but doesn't want to make it their full-time job.
Part-time workers have great flexibility at most locations, so they can work the extra hours they want every week. This is a great opportunity for people who need extra cash on the side for whatever personal reason.
The average part-time worker at Culver's works between 21-30 hours a week.
Culver's Shift Hours
Each location has its shifts scheduled by different management teams, so there are bound to be differences at each store.
However, the following are some common shifts you may be scheduled to work:
6 AM to 2 PM
8 AM to 1 PM
8 AM to 4 PM
4 PM to 10 PM
4 PM to 11 PM
6 PM to 11 PM
Culver's Call Out Sick Policy
If you don't call your supervisor ahead of time when you're going to be out sick, it can result in the manager being unprepared and unable to cover for your absence. This will likely cause issues with your management team and possibly subject you to disciplinary action.
So, if you know that you will have to call out sick, call your manager at least 3 hours ahead of time, so he or she can cover your shift with a replacement.
Culver's Break Policy
Due to most of Culver's locations being franchisee-owned, breaks given to employees differ greatly.
For example, at one location, employees may get an unpaid 30-minute break during a shift where they work 6 hours or more, plus a chance to go to the bathroom whenever they need to.
At another location, you might see employees barely getting any breaks at all because of a shortage of manpower. Some locations may even give employees a paid 15-minute break to scarf down a meal during their shift!
There are a few states in the US that require mandatory breaks for every 4 hours of work, so keep this in mind.
Featured image courtesy of Corey Coyle, CC BY 3.0, via Wikimedia Commons.