Menards is a home improvement retailer that operates more than 335 stores in the United States and 12 distribution centers. The company offers a wide range of items such as lawn and garden supplies, household goods, and tools.
So, how much does Menards pay its employees to keep the company running successfully? And how do employees feel about the pay and benefits?
Let's take a look at:
Menards Starting Pay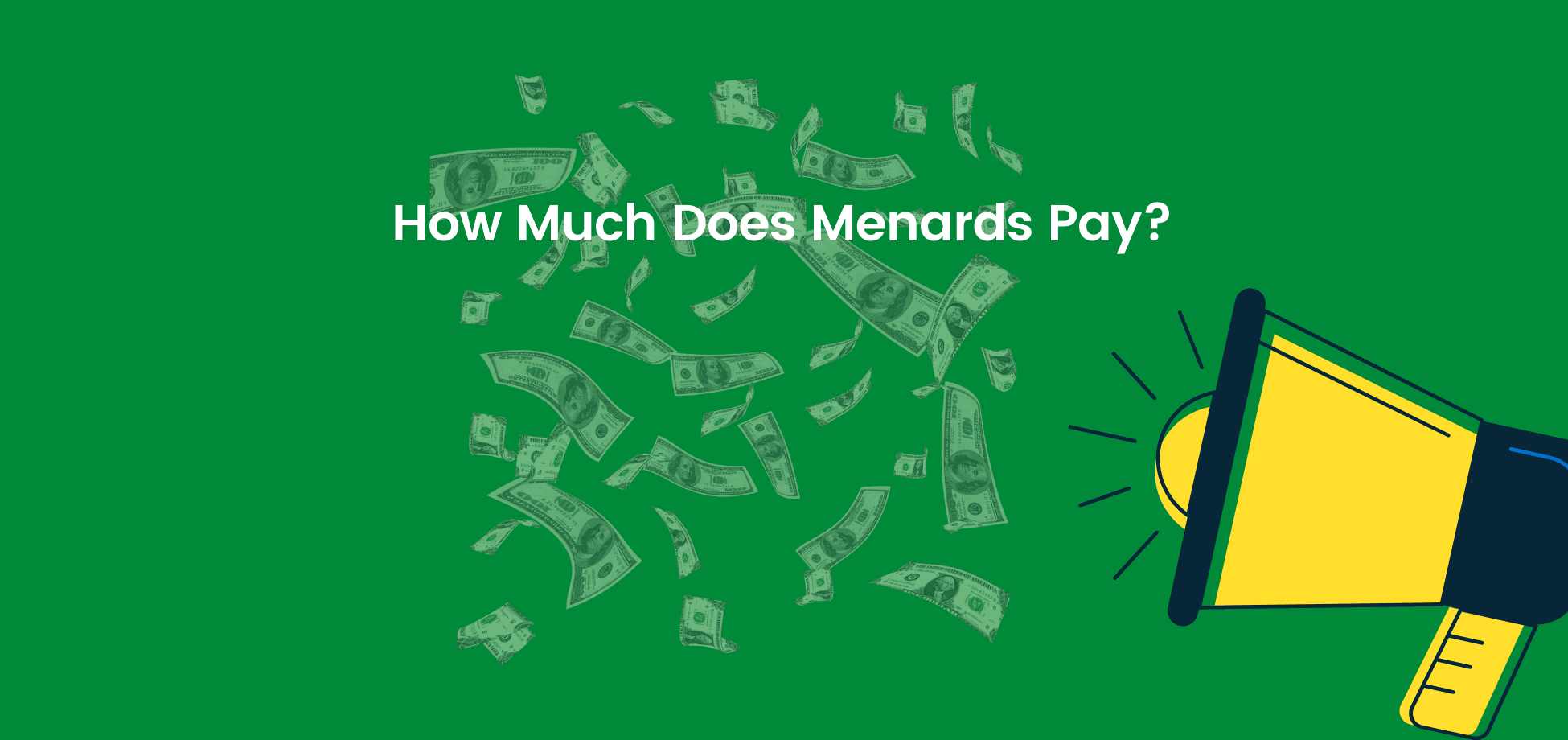 The typical starting *Menards pay rate for entry-level jobs such as cashier and sales associate is $10.50 an hour, unless your state has a higher minimum wage.
This is very low but as you'll see, this company offers you a chance to move up the ladder of success and move on to other higher-paying positions.
Menards Sales Associate Pay
A sales associate will typically earn about $10.92 an hour, which equals $436 weekly and a yearly salary of $22,713.
The store's success relies on the individual store associates, who are responsible for creating a pleasant customer experience.
The Menards Sales Associate is responsible for assisting customers in locating products or services, resolving product or service questions, and processing transactions. They also maintain the appearance of the store, ensuring that displays are stocked and neat, and help with loading and unloading trucks when necessary.
Menards Cashier Pay
On average, the *Menards hourly pay for cashier will be approximately $11.23 an hour. This would be about $449 a week and $23,358 in yearly salary.
The cashiers at Menards are responsible for scanning and bagging items, as well as answering any questions customers might have. They need to ensure that they can always provide the customer with the best price and product possible.
Menards Stocker Pay
A stocker at this company makes an average of $12.27 an hour. This amounts to $490 a week and a yearly salary of $25,480.
The responsibilities of a Menards stocker are to ensure that the store has enough supplies for customers, to help customers find what they are looking for, and to maintain the store.
The stockers are also responsible for picking up items off of the floor, cleaning up spills, organizing products, labeling products if needed, and checking expiration dates on food products to make sure they are not expired.
Menards Assistant Manager Salary
An assistant manager at Menards earns an average hourly wage of $18.10. So, the weekly salary would be in the neighborhood of $724 and $37,648 yearly.
The Menards Assistant Manager is responsible for overseeing and coordinating the operations of all store departments and works on a team led by the General Manager to ensure that the company objectives are met.
Menards Manager Salary
A Menards manager earns an average of $98,765 a year. This does not include bonuses that can drive that amount up to $20,000 more, every year.
A Menards manager oversees the operations of the store. This includes managing the inventory, monitoring finances, hiring and training employees, and handling customer service issues. A manager is also responsible for ensuring that all safety procedures are followed.
Menards Warehouse Associate Pay
The average pay for warehouse associates is $18.57 an hour. This means you can possibly earn approximately $742 a week and a yearly salary of $38,584
The job responsibilities of a Menards warehouse associate are to work in a fast-paced and highly physical environment stocking items, picking products, processing orders, and performing other tasks that help keep the warehouse running smoothly.
Does Menards pay weekly?
Menards pays its employees weekly on a Friday, unless you are in the state of Illinois, where you get paid biweekly.
The pay period begins on a Sunday and ends on the following Saturday for those who get paid weekly, or the second Saturday for those who get paid biweekly.
Menards Pay Increase (Raises)
Depending on your location, you may get a small incremental raise of 1% every 3 to 6 months during your first year of work, followed by a 1 to 3% raise after your first full year. The company tries hard to keep its best employees motivated, so perform well, and you may be able to get steady pay raises.
Make sure you have open lines of communication with your management about expecting a pay raise. A lot of people find it difficult to ask their managers whether they can get a raise or not, but if you are competent and show your skills, then there is no shame in asking.
Menards Full-Time Hours
The company's policy is that a full-time Menards employee works a minimum of eight hours per day at the store.
Additionally, in many stores, there are opportunities to work overtime hours regularly and this can substantially increase your yearly pay.
Menards Part-Time Hours
Part-time employees are usually defined as those who work fewer than 30 hours per week. Menards offers different part-time options for its employees. They can work 25, 25, or 20 hours per week depending on their availability and the needs of the business.
On average, a part-time employee works between 20 -30 hours a week.
Menards Shift Hours
There are various shifts available at Menards, and here are some examples of what you may be assigned:
6:30 AM to 2 PM
6:30 AM to 2:30 PM
7 AM to 3 PM
8 AM to 1 PM
9 AM to 5 PM
9 AM to 2 PM
10 AM to 6 PM
11 AM to 5 PM
2 PM to 10 PM
6 PM to 11 PM
Menards Employee Call Out Sick Policy
Menards employee call-out sick policy outlines what the company considers as a "legitimate need to be absent from work".
One of the reasons why Menards has such an employee call-out sick policy is because it is a retail business. Retail businesses are often open 7 days a week because customers will go elsewhere for what they need if the store isn't open. If employees take time off, this results in lost revenue for the company.
The policy also states that employees can be absent from work for illness, injury, or other legitimate needs (such as caring for family members). Employees must provide notice of absence to their supervisor or manager at least 3 hours before their scheduled shift.
Menards Break Policy
The Menards employee break policy clearly states that the company has an expectation of its employees and that it should be followed at all times. The policy also outlines what constitutes an employee break and the length of time for these breaks.
At Menards, you get two paid 10-minute breaks during an 8-hour shift. You also get a 30-minute unpaid meal break.
Menards will discipline employees who violate the company's break policy, which will include a suspension of up to 30 days and a possible termination for serious offenses.
Featured image courtesy of Corey Coyle, CC BY 3.0, via Wikimedia Commons.