QuikTrip has a great reputation for being one of the best convenience store chains. Employees have rated this company very high when it comes to working conditions, how much they pay, and many other reasons.
In this article, I want to give you an overview of what to expect as far as:
QuikTrip Starting Pay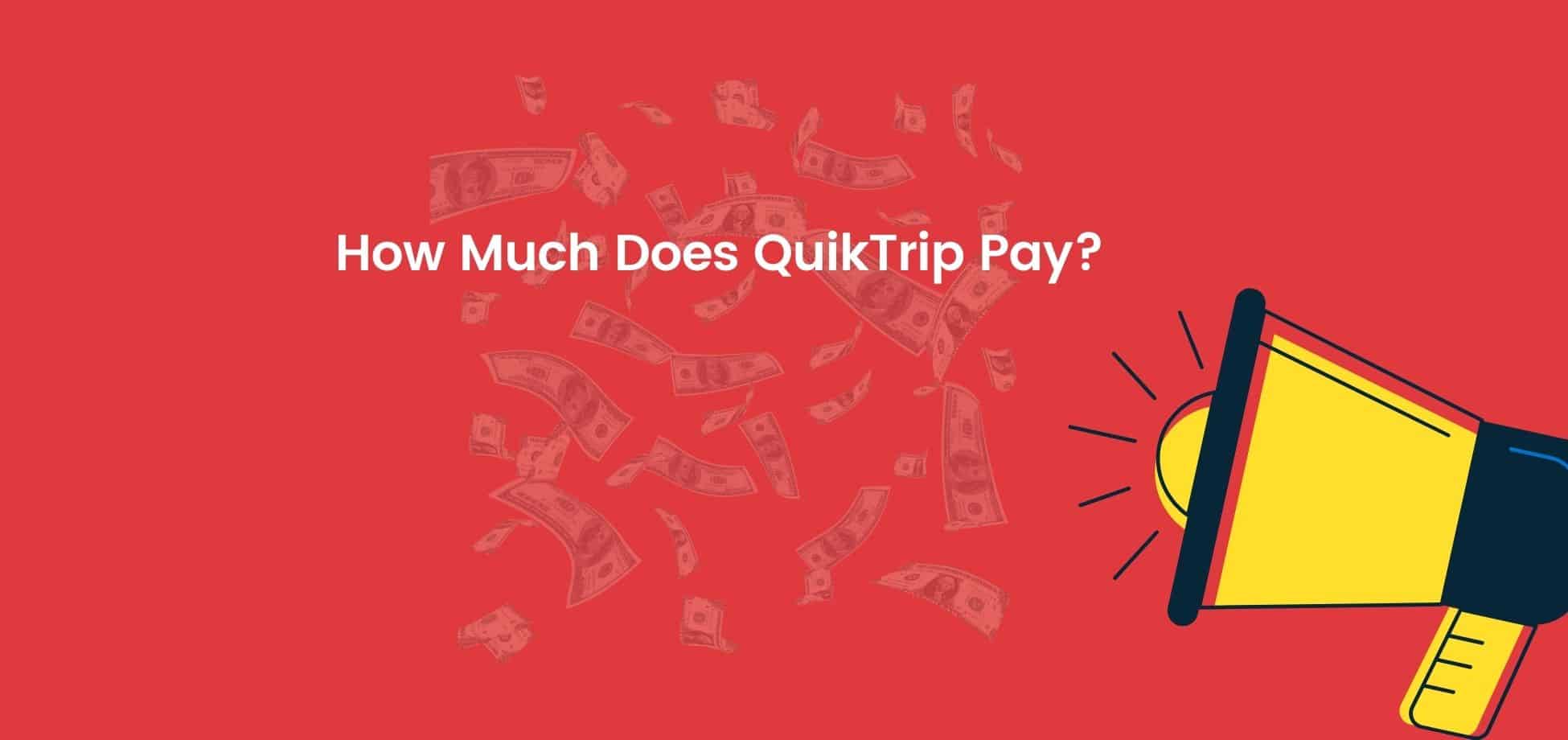 When we talk about the starting pay at Quiktrip, we are referring to the entry-level hourly position of a store clerk. These jobs are considered part-time and QT encourages these workers to advance within the company by performing exceptionally well. 
This approach seems to work well for this company. Many store clerks have gone on to become excellent and highly paid managers, making more than three to five times the salary of a store clerk.
How much does QuikTrip pay per hour?
An entry-level part-time store clerk makes on average, $10.50 to start. This can vary slightly, depending on the location.
This hourly wage doesn't seem like much but when you factor in how many of these employees are given the option to work overtime, you can actually make a living and at the very least, get by on this salary.
Additionally, once you get promoted to the next position, it's a $1 an hour bump in pay and more hours of work each week. I would say, on average, it's a $5,000 to $7,000 a year raise!
QuikTrip Full-Time Hours
Full-time hours are reserved for the 5 different management positions you will see below. Relief assistant managers and night relief managers are already assigned 46 hours every week.
Of course, this means these managers are guaranteed 6 hours of overtime work every single week but you can rest assured that during many weeks, they are going to be working more than that.
QuikTrip Part-Time Hours
Part-time hours are reserved for store clerks and they average anywhere between 25 to 35 hours a week. In some stores, part-time employees consistently work over 40 hours a week.
I know this may sound contrary to what a part-time worker is supposed to be, but that is how QuikTrip structures its employees' hours and job classifications. 
This company basically wants a store clerk to be considered a part-time worker in order to motivate these employees to work hard and advance to a management position as quickly as possible.
QuikTrip Shift Hours
The following are examples of how QT schedules its employees:
7 AM to 3 PM
7 AM to 4 PM
2 PM to 10 PM
3 PM to 11 PM
9:30 PM to 6:30 AM
10 PM to 7 AM
QuikTrip Pay Structure
The pay structure for this company is intentionally set up to inspire and motivate hard-working individuals to make the stores successful and get promoted as quickly as possible.
As you'll see, the entry-level store clerk position starts you out with an average hourly wage but it includes bonuses you rarely see in any other company. These additional payments are intentionally given in order to boost employee morale and reward them for their hard work.
QuikTrip Store Clerk Pay
The average hourly pay for a store clerk is $11.30 an hour. Based on a 32 hour work week, you would make approximately $361 every week.
Your base yearly salary would be approximately $18,803. However, you are more than likely going to work plenty of overtime if you're available. This would place your salary well over $21,000-$22,000 a year.
QuikTrip Relief Assistant Manager Salary
An experienced relief assistant manager makes on average, $44,250 a year. The night relief manager has the same duties and responsibilities but works overnight and makes roughly the same amount.
As you can imagine, a promotion from store clerk to this position can almost double your salary right away! This figure includes plenty of overtime as well as yearly cash bonuses in the amount of $4,000 to $6,000.
QuikTrip Assistant Manager Salary
There are two other assistant manager positions at every store.
The second assistant manager makes an average of $50,960 a year. This includes bonuses and profit sharing.
The first assistant manager makes approximately $63,900 a year. This also includes a cash bonus of over $10,000 as well as stock bonuses and profit sharing.
QuikTrip Store Manager Salary
On average, a QuikTrip store manager makes approximately $84,600 a year. This includes a handsome cash bonus, stock bonuses, and profit-sharing.
As you can see, all the management positions at QuikTrip have above-average pay. This company definitely rewards its employees who are willing to work hard and make sacrifices and the yearly bonuses are what make the difference.
Does QuikTrip pay weekly?
This company pays its workers on a weekly basis. This is great news, especially for part-time employees who rely on a steady stream of income in order to keep up with the demands of their home lives.
The QuikTrip pay period begins on a Monday and ends on the following Sunday. Then, you are paid either on Tuesday night or Wednesday morning through direct deposit. If you don't have access to direct deposit, you can use the company's payroll card.
Apply for QuikTrip jobs in your area here.
How often does QT give raises?
QuikTrip rewards its employees very well by giving them a raise in pay once a year and hefty bonuses every 6 months for good job performance. The pay raise is usually about 3%.
So, a store clerk making $10.50 an hour to start would get a $0.32 cent raise (10.50 X .03). That may not sound like much at a new hourly wage of $10.82 but in another 6 months, you can get bumped up again to $11.14 an hour.
QuikTrip 6 Month Bonus
Even part-time store clerks are given a bonus after every 6 months of work at QuikTrip. The amount is based on how well your store performs and how many hours you've worked during that time period.
Additionally, you will receive an anniversary bonus after your first year of work and you can expect a bonus every 6 months thereafter. A typical bonus is in the amount of $200-$600 for these entry-level workers.
Break Policy
Supervisors at QT do everything in their power to allow their employees to take breaks. With that said, convenience store employees generally have a tough time finding the opportunity to take an occasional break.
At QT, you may be able to take a 10-minute break twice during your shift on certain days, and on other days, you may find it impossible. It's important to work with your management team to resolve this issue.
Keep in mind that some states have laws making it mandatory for employees to take their allotted breaks. Many employees at this company say they take very quick breaks by working it out with other fellow employees. 
Dress Code
QuikTrip will issue you two red shirts with the company logo after you are hired. You will have to purchase khaki slacks or shorts. 
Here are a few things you can't wear while on duty because this company has a very strict dress code:
Men cannot wear beards in some stores
No goatees but mustaches are allowed
Visible tattoos need to be covered
You can't wear body piercings or tongue posts
Other things to consider are that you can wear any type of non-skid shoes of any color, unnatural hair color is frowned upon, and anything on your person which makes you appear unprofessional will not be allowed.