Use this guide to find out the Whataburger pay for hourly and salaried employees before you apply. According to Indeed.com, this company receives above-average ratings from its employees in the categories of work/life balance, compensation, work culture, management, and job security.
Whataburger Starting Pay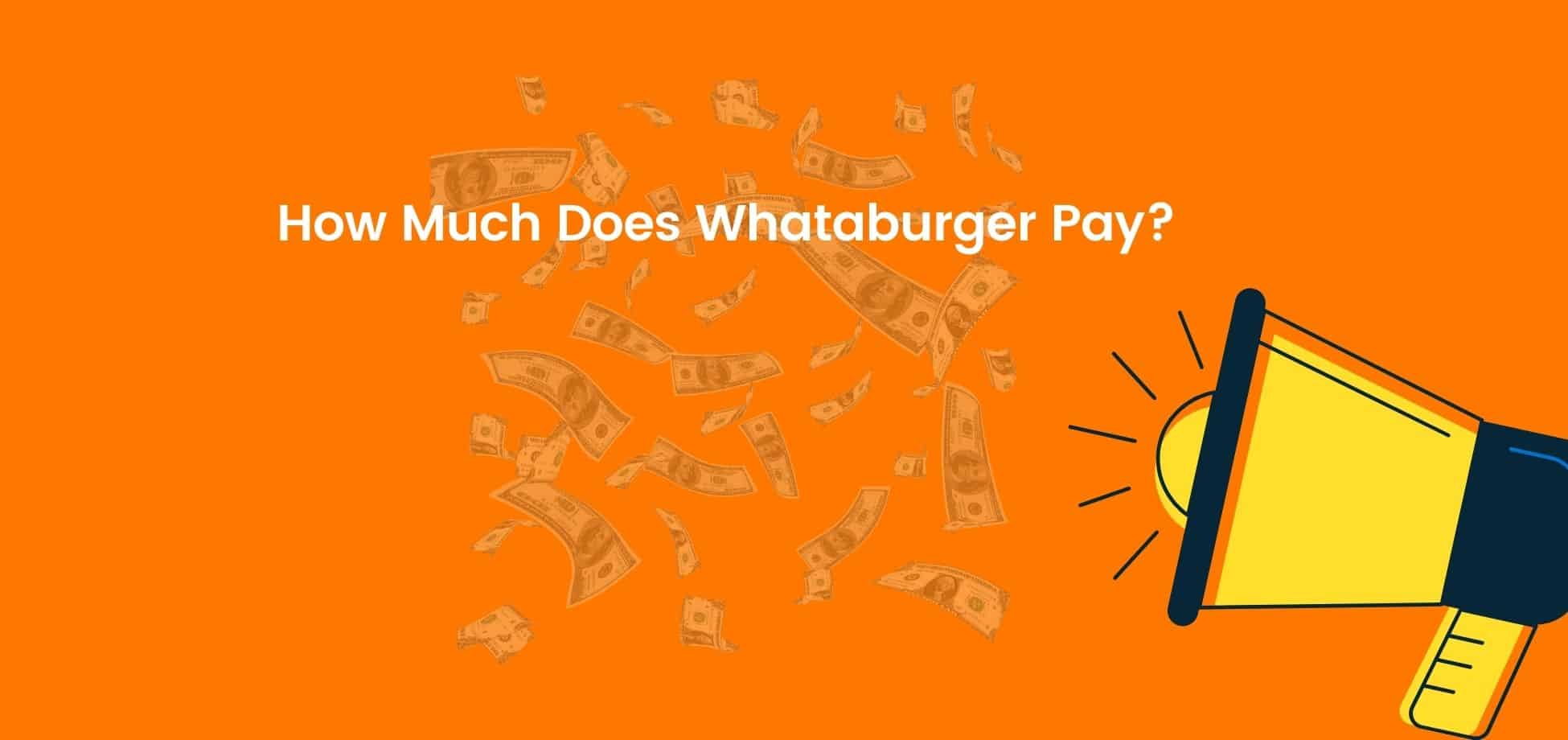 The Whataburger pay for entry-level workers is between $9 to $10 an hour. In certain areas, the starting pay can be a little higher or lower, depending on the minimum wage in your state. Additionally, since the vast majority of these fast-food restaurants are individually owned by franchisees, you may find a location that compensates employees really well, or very poorly!
Here's a great tip; when you apply, try to find out if the location you are choosing is either franchisee-owned or corporate-owned. If the location is owned by the parent company, the starting pay is usually fair and consistent. In franchisee-owned locations, the owner gets to decide the amount for the starting pay, and this can sometimes exceed your expectations or fall very short of what you hoped for.
Whataburger Team Member Pay
This is an entry-level position that pays an average of only $9.75 an hour after a couple of years of experience. So, for example, let's say you started out three years ago at $9.25 an hour, which is typical for this fast-food restaurant.
Within 2 to 3 years, after getting two to four raises at $.15 cents each, you would end up so far at approximately $9.95 hourly. This would amount to about $398 a week and a yearly salary of $20,696.
Whataburger Cashier Pay
In this team member position, you will be specifically assigned to cashier duties throughout most of your shift. This usually happens when a manager notices a certain team member exceeding expectations and showing they are very efficient at taking orders and handling money transactions.
The average pay for this position is typically somewhere around $10.10 an hour. This equals approximately $404 a week and a yearly salary of around $21,008.
Whataburger Cook Pay
The average hourly Whataburger pay rate for cooks is approximately $10.65 an hour. Of course, this hourly rate can vary according to your location and what your franchisee is willing to pay. 
At this rate, you can expect to make $460 weekly and a yearly salary of $22,152. In some locations, you may be called upon to work a few overtime hours here and there, and this can increase your yearly salary by a couple of thousand dollars a year.
Whataburger Team Leader Pay
A tram leader carries plenty of responsibility at every Whataburger, such as motivating team members and ensuring customers get top-notch customer service at all times.
For your efforts, you can expect to make $11.67 an hour, and this equates to $466 a week and $24,273 a year in salary. The best team leaders eventually get promoted to assistant managers, almost doubling their salaries.
Whataburger Assistant Manager Salary
The assistant manager at Whataburger earns approximately $41,345 a year. The salary for this position is fairly average for fast-food restaurants. However, don't be surprised if a franchisee owner pays you much more or a little less than the average. 
This is a job that places you in the front seat at your location because you will be the one dealing directly with customers. Additionally, you will be in charge of scheduling team members and training entry-level employees. 
Whataburger Manager Salary
The general manager at Whataburger will typically earn approximately $54,985 a year. This includes either monthly or yearly bonuses, depending on your location.
Just like the assistant manager position, this figure is about average for this type of role in a fast-food restaurant. Salaries for this position can range up to approximately $132,000 a year.
Whataburger District Manager Salary
The average district manager for Whataburger earns about $91,235 a year, and this includes periodic bonuses. Some of the highest earners in this position earn a commanding $135,000 a year or more.
Oftentimes, general managers are eventually promoted to this position once they have met the many qualifications necessary to land this job. The best-performing managers are always being groomed for these future positions.
Does Whataburger pay weekly or biweekly?
Whataburger pays its employees via direct deposit, either on a Friday or Saturday. If you don't have a direct deposit, the company will issue you a check on a Monday.
The Whataburger pay period usually begins on a Tuesday and ends the following Monday. Then, you get paid as early as the next Friday for the hours worked during that pay period from Tuesday to Monday.
Does Whataburger hold your first paycheck?
Contrary to what some people believe, Whataburger does not hold your first paycheck because it is illegal to do so. You have to understand that when you get hired and begin working, the hours have to be processed, and most companies need about a week to do this. 
Therefore, when you first start working, find out when your location's pay period begins and ends. You can expect to get paid for those hours on a one-week delayed basis. 
What time does Whataburger direct deposit hit?
As noted above, your direct deposit for the hours worked during the last pay period, which ends on a Monday, is on Friday or Saturday. Those who don't have access to a direct deposit will have to wait until Monday to receive a paper check.
Whataburger Pay Raise
Most Whataburger locations conduct employee evaluations twice a year, and team members usually get a $.10 to $.15 cents pay raise for each evaluation. Those who don't perform well may not have the opportunity to get a raise at all.
If you're hoping to get promoted to a team leader position and get a hefty raise in pay, you'll have to work very hard and do the following:
Network with your management staff and let them know you're interested in becoming a team leader in the near future
Show up to work on time every day
Never miss any scheduled workdays unless it's an emergency or something you can't avoid
Strive to be the best employee at your location
What are Whataburger full-time hours?
Full-time hours assigned to the best full-time team members and leaders are approximately 32 to 40 hours a week, and sometimes a few more. In order for a team member to qualify for full-time benefits at a corporate-owned location, he or she has to average at least 30 hours a week during a 12-month period.
What are Whataburger part-time hours?
Part-time hours assigned to Whataburger employees are typically in the 20 to 31 hours a week range. The quickest way to get promoted to full-time is to show you are a highly dependable and hard-working employee.
Whataburger Shift Hours
There are quite a few shifts you may be able to work. You can request a specific timeframe through your manager and oftentimes, they will work around your schedule.
Here are some example shifts you may work:
6 AM to 12 PM
7 AM to 3 PM
8 AM to 2 PM
11 AM to 5 PM
2 PM to 7 PM
3 PM to 11 PM
5 PM to 11 PM
11 PM to 5 AM
11 PM to 7 AM
Whataburger Sick Leave Policy
While some franchisee-owned locations don't offer full-time team members or team leaders any sick pay at all, company-owned stores offer a chance to earn up to 6 to 12 sick days every year.
If you are working part-time, and you call out sick, management will not look at you in a favorable light. It is imperative that you don't miss any days if you are working part-time and hoping to get promoted to a full-time position.
Regardless, if you're going to be taking days off due to illness or other important reasons, make sure you inform your management as soon as possible, so they can find a replacement for the day.
Whataburger Employee Breaks
Whataburger usually gives its employees two 10 to 15-minute breaks during an 8-hour shift and an unpaid 30-minute meal break. This is not always the case at every location. 
This is due to how busy any given shift can be and taking into account that sometimes, there aren't enough employees working on a certain day to be able to cover for each other.
Check with your state laws to find out if your state requires breaks, and for how long. For example, California requires employers to give hourly employees an unpaid 30-minute meal break if they work a shift for 5 hours or more.
Featured image courtesy of Jonesdr77 at en.wikipedia, CC BY-SA 3.0, via Wikimedia Commons.