Working at Wendy's is a great place for a teenager and young adult to start a career in the fast-food industry and make a steady paycheck. A job here can even teach you how to run some type of customer-service-oriented business because it will help you develop customer service skills rather quickly!
Working at Wendy's Reviews
During peak times, it can get very busy and stressful at Wendy's. Additionally, if one or two of your coworkers call out sick, you are left with the task of performing their work as well. This can make the job very hectic.
However, if you are up to the task, you will be able to handle it and gain excellent customer service experience.
The following are some pros and cons of working at this restaurant chain:
Pros
It's a fun place to work, depending on how well management treats its employees and how well you get along with your coworkers
A great place to learn all about customer service, being dependable, and having discipline
It's a very fast-paced atmosphere, so your days go by very quickly
In the opinion of quite a few people, this is the best fast-food job for teenagers
Work hours are flexible and with hard work, you can work the hours you want to, based on your personal life if you can impress management
Cons
You have to work a lot for very little pay
No health benefits for hourly employees
Very few breaks, if any, during your shift
For hourly workers, not much room for advancement
It's difficult to deal with rude and angry customers at times
History of Wendy's 
Dave Thomas created Wendy's when he opened up the very first restaurant on November 15, 1969, in Columbus Ohio. His restaurant was an instant success and well known for its fresh beef patties shaped in a square, as well as the famous Frosty desserts.
Throughout the 1970s, Mr. Thomas introduced the first drive-through window with a modern feel and he called it the "pick up window." The whole idea was to attract hungry people who were joyriding and cruising down the streets.
Some notable milestones for this company include:
In September 1975, Canada's first Wendy's opened its doors in Hamilton, Ontario, Canada
In March 1978, in Springfield, TN, the 1000th Wendy's restaurant opened
Wendy's introduce the salad bar as a major part of its menu
Baked potatoes were added to the menu in October 1983
In March 2020 breakfast became part of Wendy's menu
Jobs at Wendy's
Wendy's offers careers in the following areas:
Restaurant positions include crewmember, shift manager, assistant general manager, and general manager
Corporate positions include jobs such as facilities technician, human resources business partner, administrative assistant, recruiter, senior human resources business partner, associate product owner, specialists, executive assistant, customer care advocate, and many others
The following are the job descriptions for the restaurant positions.
Wendy's Crew Member Job Description
In this position, you're going to be standing for long periods of time and you're required to carry and lift between 25 to 50 pounds. You will be taking orders from customers using a headset and you'll learn how to use restaurant equipment such as a fryer, warmer, grill, etc.
As a crew member, you are expected to be on time every day and work well with your coworkers. You have to perform your duties accurately and be able to concentrate on applying the policies and procedures of the company.
You will also be expected to help in maintaining the cleanliness of the restaurant, and this includes bathroom cleaning duties!
Wendy's Shift Manager Job Description
In this job, you are a very important part of Wendy's leadership team. You're going to be working with your management staff to provide training for hourly workers so they can meet and exceed the type of service customers expect.
This job also puts you in a position where you can learn and greatly develop your management skills. You will be overseeing your staff, so you can take the pressure off your assistant manager, you'll inspire your workers to perform at their very best, and you'll try to create a positive and enthusiastic working atmosphere.
Wendy's Assistant Manager
This job puts you in the driver's seat to oversee the shift manager and crew members. You'll be representing the general manager in the day-to-day activities of the restaurant.
The whole idea of this position is to make the job easier for the general manager by being an effective administrator. You will be in charge of basically running the show at your particular Wendy's and creating a warm and positive atmosphere for all of the workers.
You can bet you'll also be handling the finances and profitability of your restaurant, and you will perform just about all the duties of a general manager when he or she is not available.
Wendy's General Manager
This career puts you at the very top of the food chain in your restaurant. You are responsible for all workers who are employed at your restaurant, and you will ensure that every single customer's needs are met and exceeded.
You will be entrusted to inspire your employees to be the best they can be and he will help each one try to advance within the company by helping them develop their skills.
This is a very responsible position that places you in complete control of the profitability of your store. Therefore, your job will occasionally lead you into the surrounding community so you can engage with potential customers.
How to Apply at Wendy's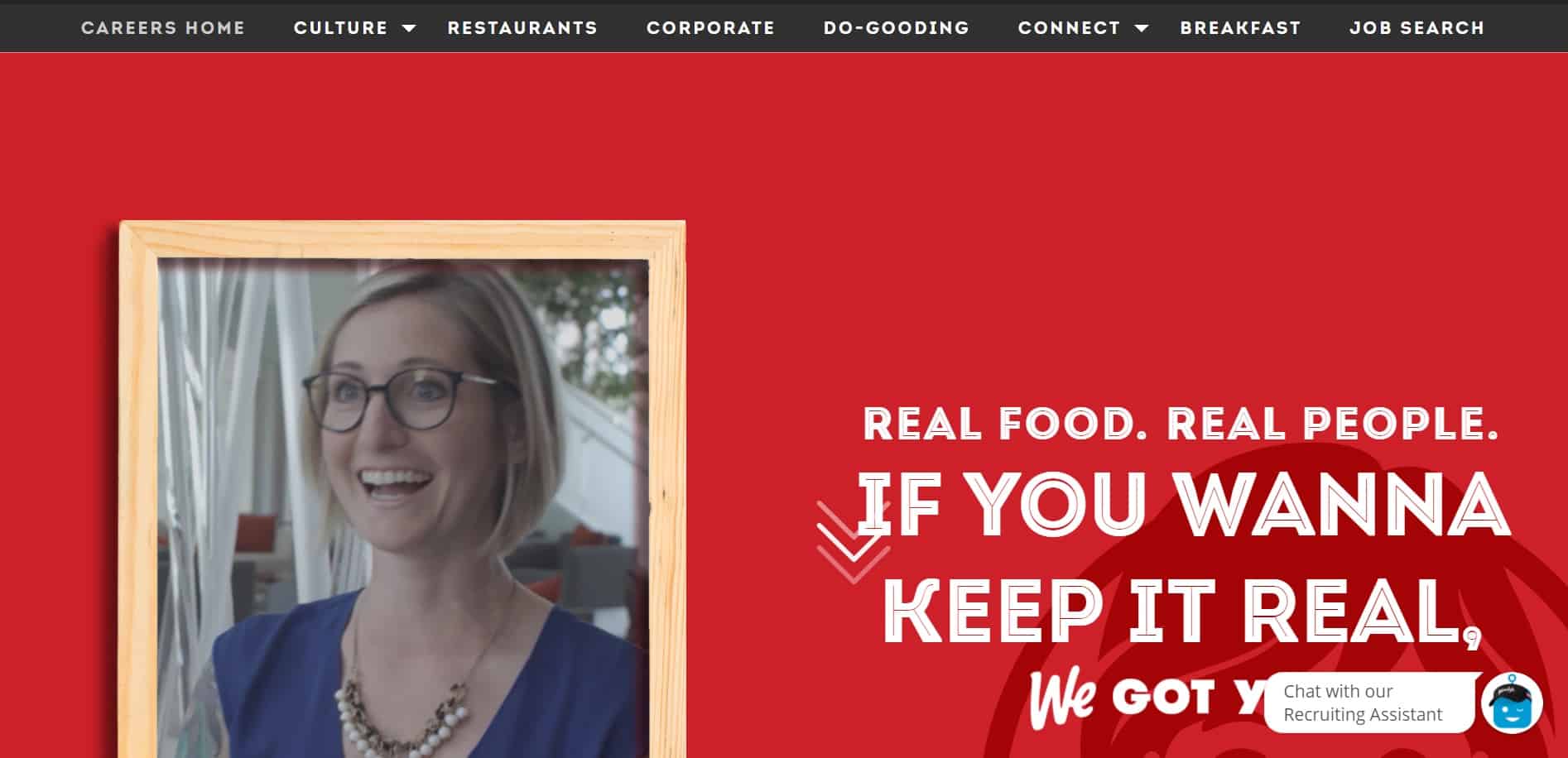 The application process for Wendy's is very simple. Here are the steps you can take:
Visit the Wendy's careers website.
Click on the "job search" link in the navigation bar.
On the following screen, you can choose from the crew, restaurant management, or corporate jobs. You must also select a city, state, and ZIP Code, and optionally, you can include a keyword or job number.
Once you have made your selection, click the "search" button.
You will be redirected to a screen showing the available positions in your area.
Click on your desired position.
Read the job description and click the "apply now" button.
You will be redirected to a screen that says either cancel or leave Wendy's.com and be redirected to the application site. Click the "leave Wendy's.com" button.
Follow the easy instructions and begin Wendy's job application online process.
Wendy's Application Process
The average time it takes to hear back from Wendy's after you apply online is approximately two days to one week. Within a week after applying, you will receive a call to get an interview.
You will usually be interviewed by either the assistant manager or general manager right there at the restaurant. They will ask you very simple and basic interview questions.
The most important thing is to be honest while answering the questions and painting yourself as someone who can get along well with other workers and is willing to provide excellent customer service.
Some questions they may ask hourly applicants during the interview are:
Why do you want to work at Wendy's?
If you were not getting along with one of your crewmembers, what would you do?
Do you have any goals of making it to a management position?
How would you handle an extremely rude customer who didn't receive their correct order?
Can you work flexible shifts?
Many hourly employees report that they have been hired on the spot during the interview. When it comes to salaried employees, you can expect to have a full background check conducted before being hired.
Minimum Age to Work at Wendy's
16 years old is the minimum age to be able to work at Wendy's. However, in some states, you can work at the age of 15 with a work permit. Consult your state laws for this.
It's important to realize that a job at Wendy's after school may sound and look ideal, but it can easily get in the way of your academic performance if you are not careful. It's always best to take it slow and see how it goes at the beginning so that it doesn't interrupt the progress you're making in high school or college.
Does Wendy's Drug Test During the Application Process?
Since many Wendy's are franchise-owned, there's no way for you to tell whether or not you're going to be drug tested before getting hired. For the most part, franchisees would rather not spend the money to drug test every applicant that comes along.
However, if you are applying for a salaried position in management, it is likely that you will have a full background check as well as a drug test.
Wendy's Job Benefits
Since many Wendy's are franchise-owned, benefits offered to hourly employees vary greatly. For example, while one store does not offer any benefit plan at all to its hourly workers, another one may offer a comprehensive benefits plan.
Generally, you can expect to receive your benefits after at least 90 days to a year of employment if you're going to receive any benefits at all from your particular Wendy's store.
Typically, the benefits you will receive are regular health, dental, and vision care. You'll also be offered a 401(k) either matched or unmatched and paid time off.
Final Thoughts
Wendy's is well known for being one of the best places for a teenager to get their first job in the fast-food industry. However, a job here can serve other people such as senior citizens, homemakers wanting to get into the workforce, people switching careers, and just about any other life situation you can think of.
The point is this fast-food restaurant offers a chance to make a decent wage and the only negative aspect is the apparent consistent lack of benefits for its hourly workers. This is a major negative but you can set your goals on making it into a management position if you want to, and eventually receive excellent benefits.
When you apply at your particular Wendy's, don't be afraid to ask management if benefits are available at that particular location for its hourly workers.
Featured image courtesy of Rick Obst from Eugene, United States, CC BY 2.0, via Wikimedia Commons.