The following information will provide you with the answer to, "How much does Wendy's pay its workers?" This fast-food company can provide a great future if you learn how the company operates while working as a crew member. With a little entry-level experience, you can eventually land a supervisory job such as shift leader, assistant manager, or general manager.
Here are the points covered in this article to help you make an informed decision before applying:
Wendy's starting pay for entry-level workers
How many full-time hours of work are you assigned each week
Part-time hours available for you
The hourly shifts you may be assigned to work
Average pay and salary for each position
The dress code
Break policy
Employee pay schedule
Whether Wendy's gives raises
Wendy's Pay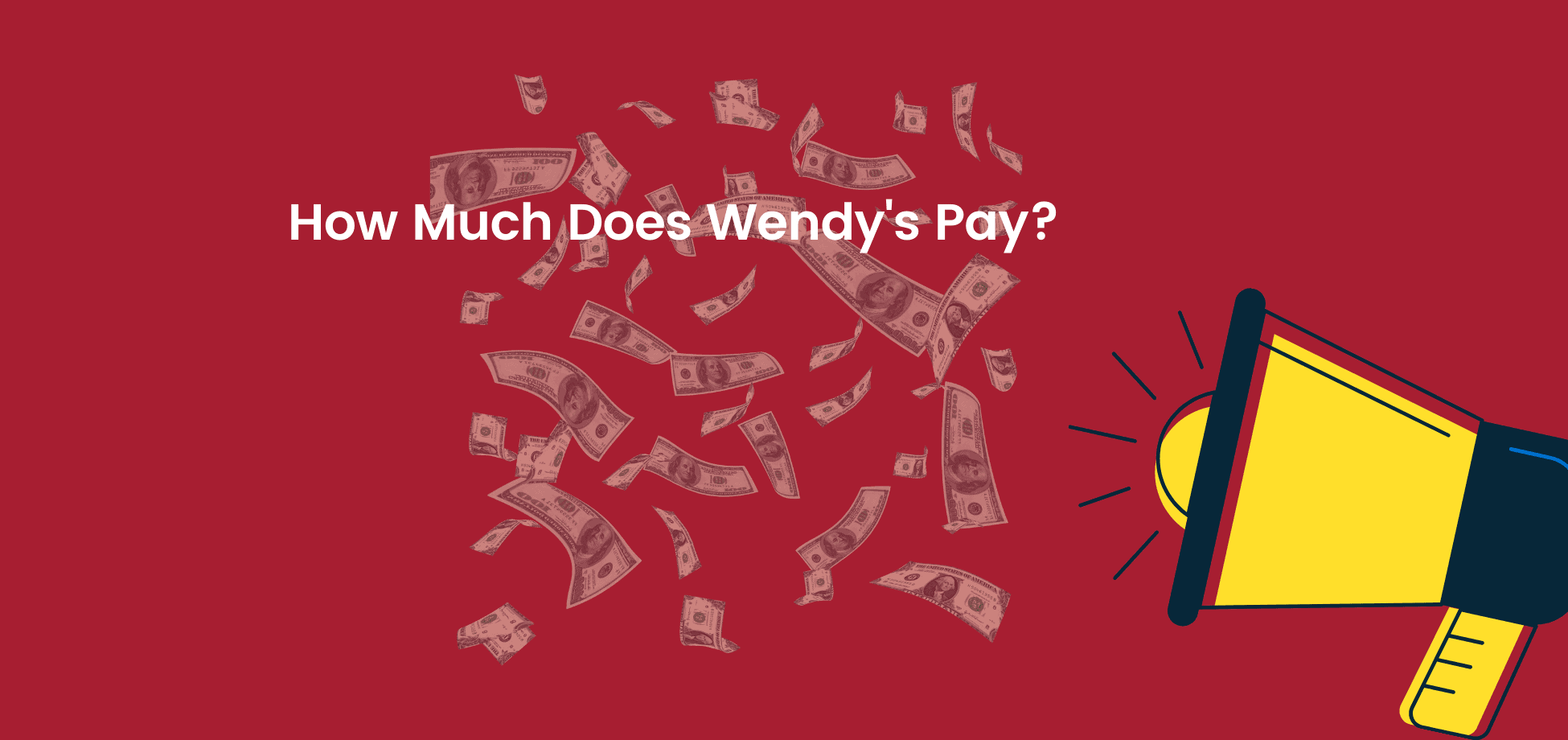 The entry-level pay for the average person trying to get a crew member job at Wendy's is approximately $9 an hour. This figure can vary because many Wendy's restaurants are franchises owned by individuals or private entities.
It's up to the franchisee to determine what their starting pay would be, depending on the location and the market value in that particular area.
Some Wendy's across the United States start out their employees at $8 an hour, while some start their employees at $10 and $11 per hour.
With a $9 an hour salary, you could potentially make approximately $18,720 a year. Some restaurants do reward their workers with steady or occasional overtime hours to increase their paychecks.
Wendy's Full-time Hours
You can usually expect to work a full schedule when you are hired as a full-time worker at Wendy's. Many of these restaurants are tightly staffed to the point where you may sometimes even have to work an overtime shift.
It's not unusual to work an 8 to 10-hour shift on any given day and sometimes even a 12-hour shift. For management, you can expect to have a normal working schedule which will also have to work some long days when necessary. An average supervisor works anywhere between 40 to 55 hours a week.
An example of the possible shifts you might work are: 
7 AM to 3:30 PM
8 AM to 4:30 PM
9 AM to 5:30 PM
3:30 PM to 12 midnight
10 PM to 8 AM (night shifts)
Wendy's Part-time Hours
You are considered a part-time worker if you are hired on that basis, and you work 39 hours or less per week. 
Depending on your restaurant's needs, for example, you could work 15 hours one week and 35 hours the next.
Examples of the types of shifts you may work part-time are:
7 AM to 11 AM
8 AM to 12:30 PM
9 AM to 1 PM
3:30 PM to 8 PM
4:30 PM to 9 PM
Wendy's Salaries
Most of the jobs available at every Wendy's are entry-level crew member positions. These are not exactly high-paying jobs, but as you will see, there is a chance you can advance within the company into a management position and earn a pretty good salary.
Wendy's Crew Member Salary
The average crew member at this fast-food chain makes approximately $10.05 an hour. This amounts to a salary of $20,904 per year, assuming you work a full 40 hours per week.
If you are able to work a few overtime hours here and there, you can increase your yearly salary to $about 22,100 to $24,900 a year. You may be able to do this if you prove yourself to be a worthy employee to your management staff. You can do this by being the most dependable employee at your restaurant.
For those of you interested in a more exciting entry-level position, you may want to check out the carhop server job at Sonic.
Wendy's Shift Manager Salary
A shift manager at Wendy's can make somewhere in the neighborhood of $27,900 per year. The pay isn't bad for what you do but remember, you will be expected to perform much of the work and assistant manager and even the general manager will be doing.
One minute, you may have to ring up food orders on the cash register and next, you may have to shuffle to the back of the kitchen area to assist your crew member in properly cooking the food. Then, you may have to attend to an unsatisfied customer asking for a refund!
Wendy's Assistant Manager Salary
An assistant manager position at Wendy's will give you an average of $32,700 per year. 
That salary is just about average when it comes to being in this position at a fast-food restaurant. The job comes with a huge amount of responsibility, but it also has great benefits and is the stepping stone to becoming a general manager.
If you eventually want to get promoted, your best course of action is to have a good relationship with your general manager and ask him or her to help teach you how to excel in that position.
Wendy's General Manager Salary
The average general manager at Wendy's makes approximately $55,300 per year. The salary is consistent with what most general managers in fast food restaurants make every year.
One of the most important parts of this job is to learn how to delegate responsibility among your employees. That way, you can concentrate on the most important aspects of your job as a general manager, which includes handling the profitability of your store.
Does Wendy's Pay Weekly?
Wendy's pays its employees once every two weeks, usually on a Friday after the pay period ends the week before.
For some restaurants, the pay period will start on a Saturday and end two weeks later on a Friday, giving you 14 days of work during that pay period. Of course, using that example, you would get paid the following Friday after the pay period ends.
Some restaurants begin their pay periods on a Thursday and end their pay period 14 days later, on a Wednesday before you get paid on Friday during that same week, or Tuesday of the following week.
Regardless of the day you get paid, the money usually goes into your account just after midnight on your pay date if you have a direct deposit.
Does Wendy's Give Raises in Pay?
This is hit or miss because many Wendy's are franchise-owned. So, while one manager at a Wendy's restaurant may have a policy set forth by the ownership to give periodic raises, another manager at another store may not have that directive by ownership.
So, raises at Wendy's for hourly workers are very inconsistent. Generally, raises are given anywhere between six months to a year of work. 
They are also usually based on merit and amount to roughly 1% to 3% of your pay. So for example, if you are making $9 an hour and receive a 3% pay increase, you will receive a $.27 raise per hour. See the official Wendy's careers site.
Wendy's Break Policy
Wendy's workers consistently report they are not able to get any breaks during their work shifts. Company policy states that you can request a break for 10 minutes for every four hours you work on your shift.
It's possible that some management teams are not following this policy, so make sure you protect yourself by pointing this out after you are hired and are in need of a break.
Additionally, if you work at least five hours during your shift, you are entitled to an unpaid 30-minute meal break.
If you would like to take your lunch at Wendy's, they offer hourly employees 50% off if you eat your meal 1/2 hour prior to the start of your shift or 1/2 hour after your work shift as well as when you are taking a break.
Also, when you are not working, you will always receive a 10% discount for yourself when you visit any Wendy's.
For managerial employees, you can get up to a free $8 meal for every eight hours you work on your shift. You also get a 50% discount on your meals if you bring yourself or even your family to a Wendy's.
Wendy's Dress Code
This company will supply you with some parts of your uniform. You'll be given shirts, aprons, and a cap or visor.
To be a Wendy's employee, you have to look clean and neat. There are plenty of guidelines to follow but they all have to do with looking presentable to the customers.
Along with the uniform they furnish you with, you will be wearing your own black pants with dark-colored slip-resistant shoes. Jeans are not allowed.
You'll also have to wear your own dark-colored socks and a name tag that will be provided for you on your right upper chest. If you need to wear a sweater, jacket, or sweatshirt on cold days, it must be approved by the management staff.
Featured image courtesy of Nheyob, CC BY-SA 4.0, via Wikimedia Commons.